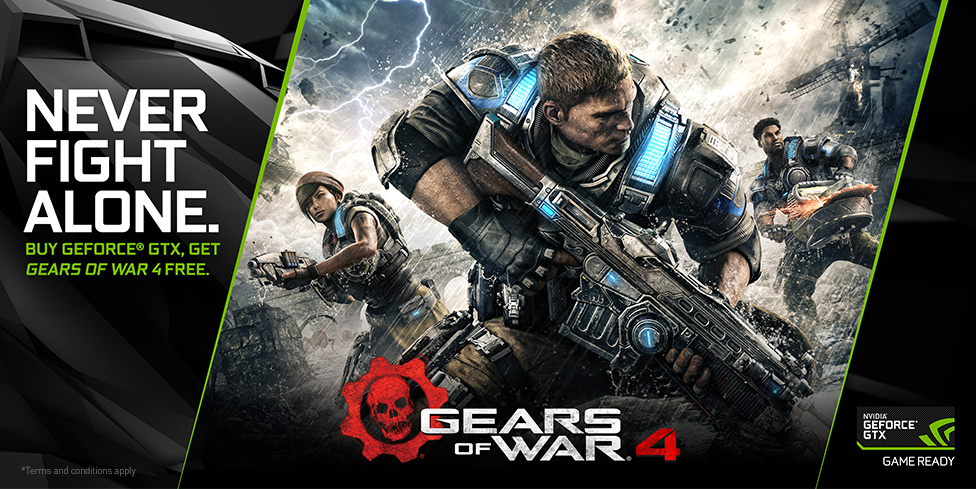 for a limited time, get Gears of War 4 free
when you buy a GeForce GTX 1080 or GTX 1070 graphics card or notebook.
Already have a code? Please visit our Redemption Portal to redeem your code.
To buy the bundle, select the country you live in:
© 2016 NVIDIA Corporation. NVIDIA, the NVIDIA logo, GeForce, and NVIDIA GameWorks are trademarks or registered trademarks of NVIDIA Corporation. All Rights Reserved. By downloading Gears of War 4, you agree to the Microsoft Services Agreement (microsoft.com/msa). Download code valid for one-time use. Requires significant storage, broadband (ISP fees apply), and account on Xbox Live (xbox.com/live). Xbox Live Gold (sold separately) and additional hardware and storage may be required for some features and updates. Requirements subject to change over time. PC performance may vary; please visit gearsofwar.com/games/gears-of-war-4 for more information on PC systems requirements. Offer not available in Japan. © 2016 Microsoft. Microsoft, the Microsoft logo, Xbox, Xbox One, the Xbox logo, and Gears of War are trademarks of the Microsoft group of companies. Qualifying graphics cards or notebooks: GeForce GTX 1080, GeForce GTX 1070, GeForce GTX 1080 notebook, GeForce GTX 1070 notebook.