Where to Buy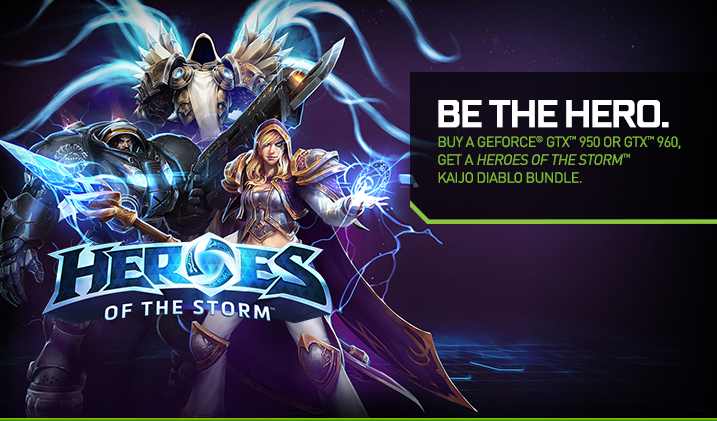 For a limited time, begin your conquest of Blizzard's Heroes of the Storm™ with an exclusive Kaijo Diablo Bundle. It includes the Diablo hero, Kaijo skin, and 7-day Stim Pack, and it's free when you purchase a qualifying GeForce® GTX™ 950 or 960 graphics card.
For MOBA gamers, the GeForce GTX 950 provides the competitive edge in every battle with blazing fast performance and an incredible level of responsiveness. Get 3x the performance of a GeForce GTX 650 and the power of NVIDIA Maxwell™ architecture to transform your PC into a full-HD gaming rig capable of playing the latest titles. Or choose the GeForce GTX 960 for even faster performance!
Combine the GeForce GTX 950 or 960 with GeForce Experience™, and you'll be able to record, broadcast, and stream your games to your friends and the world with just one click.
Experience Heroes of the Storm™ The Way It's Meant to be Played with GeForce GTX.
ALREADY HAVE A CODE?
Please visit our redemption page to redeem your code.
Terms and Conditions apply.
TERMS AND CONDITIONS
This offer is available for GeForce® GTX 950 and GTX 960 only. The promotion is available for a limited time or while supplies last. The offer is available from selected retailers only. Additional terms and conditions may apply.
© 2015 NVIDIA Corporation. NVIDIA, the NVIDIA logo, GeForce, GTX, NVIDIA Maxwell, and GeForce Experience are trademarks or registered trademarks of NVIDIA Corporation. All Rights Reserved. Heroes of the Storm is a trademark, and Blizzard Entertainment is a registered trademark of Blizzard Entertainment, Inc., in the U.S., and/or other countries.