NVIDIA VR Funhouse Mods Starter Guide
Combining NVIDIA GameWorks, PhysX, and VRWorks, VR Funhouse is a powerful sandbox of technology and fun. The VR Funhouse Mod Kit provides gamers and VR content creators with access to assets and blueprints via Epic's Unreal Engine 4 editor, allowing the community to create their own mods, new levels, and brand new games. Creators can then upload their mods directly to Steam Workshop for gamers around the world to download and enjoy!
How To Download and Play VR Funhouse Mods
To download and play VR Funhouse mods, go to VR Funhouse's Steam Workshop page and click "Subscribe" on the desired mod.
NVIDIA has created a few of our own mods to show what's possible.  Give them a try today!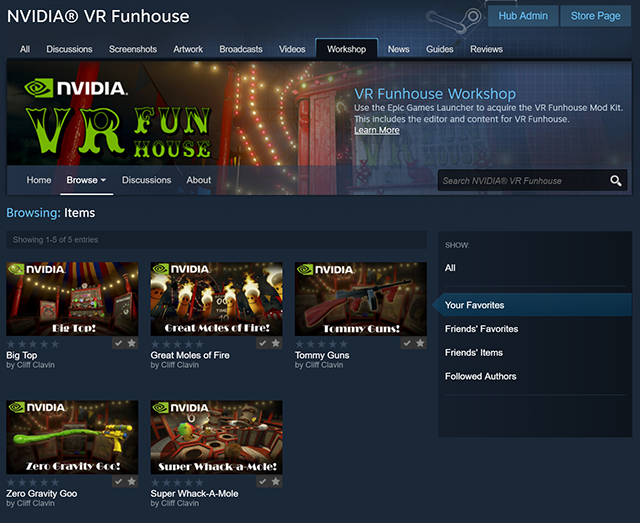 Create & Upload Your Own VR Funhouse Mods
Thanks to the power of Unreal Engine 4's Blueprint system, anyone can create mods without having to code in C++. You can modify an existing game asset or function, or create brand new levels or games.
If you are interested in creating a mod for Funhouse, follow these steps:
Sign-up (or sign-in) and download the Epic Games Launcher (by clicking 'Get Unreal').
After installing the Epic Games Launcher, go to the Modding tab. Click "VR Funhouse" then "Install". (Note: installation may take a while).
Review the Documentation to modify and create your custom mod. Additional documentation on Unreal Engine is available here.
When you are ready to share your mod on the Steam Workshop, follow these steps:
Make sure your mod and any content that it utilizes (blueprints, art assets, etc.) are located in "\Content\Mods\".
From the editor, click File → Cook Mods folder for SteamWorks upload.  (Note: cooking may take a while)
After cooking is complete, use the provided scripts to upload your mod to Steam Workshop.
If you have questions about VR Funhouse Workshop and modding, post on the forum.
Accessing VR Funhouse Source Code
In addition to the Funhouse Workshop Mod Kit, NVIDIA has also made the full source code of VR Funhouse available to game developers to create their own experiences.  
In order to access the NVIDIA VR Funhouse UE4 integration, you will need a UE4 and GitHub subscription. 

Once you have those, you can access the NVIDIA VR Funhouse UE4 integration here.
Visit this page for more information.
We hope you enjoy your time in the VR Funhouse!