Where to Buy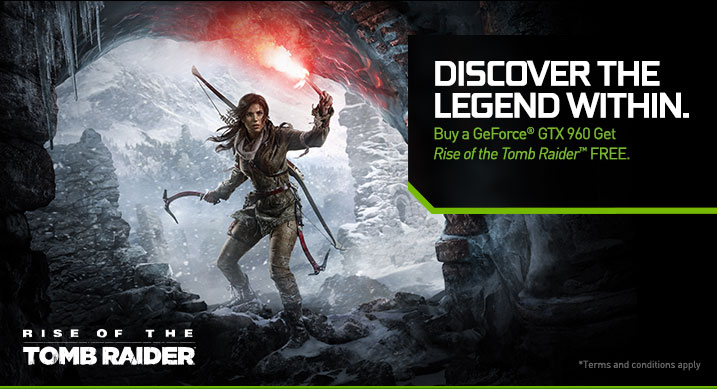 Step into the shoes of the legendary Lara Croft in an epic search for immortality through some of the most treacherous and remote regions of the world. Experience intense guerilla combat featuring new weaponry, traverse mechanics, crafting, and silent kills that turn your gameplay into a cinematic experience. Nothing brings Lara's adventure to life like the advanced technology and exceptional performance of a GeForce GTX 900 series GPU.
For a limited time, get Rise of the Tomb Raider™ FREE when you buy a GeForce GTX 960 graphics card.
Experience Rise of the Tomb Raider™ The Way It's Meant to be Played with GeForce GTX.
-->



Terms and Conditions apply.

TERMS AND CONDITIONS
This offer is available for GeForce® GTX 960 graphic card only. The promotion is available for a limited time or while supplies last. The offer is available from selected retailers only. Additional terms and conditions may apply.
© 2016 NVIDIA Corporation. NVIDIA, the NVIDIA logo, GeForce are trademarks or registered trademarks of NVIDIA Corporation. All Rights Reserved. RISE OF THE TOMB RAIDER © 2015, 2016 Square Enix Ltd. All rights reserved. RISE OF THE TOMB RAIDER, TOMB RAIDER, CRYSTAL DYNAMICS, the CRYSTAL DYNAMICS logo, EIDOS, EIDOS-MONTRÉAL, the EIDOS-MONTRÉAL logo and LARA CROFT are registered trademarks or trademarks of Square Enix, Ltd. SQUARE ENIX and the SQUARE ENIX logo are registered trademarks or trademarks of Square Enix Holdings Co., Ltd. Uses Bink Video. Copyright © 1997-2015 by RAD Game Tools, Inc. Portions of this software Copyright © 2015 Jenkins Software, LLC. All rights reserved. Used under license. Uses Scaleform GFx © 2008 Scaleform Corporation. All rights reserved. Dolby and the double-D symbol are trademarks of Dolby Laboratories. DTS® is a registered trademark and DTS Digital Surround™ is a trademark of DTS, Inc. Uses Simplygon®, Copyright©-2012 Donya ® Labs AB Nixxes and the Nixxes logo are trademarks of Nixxes Software BV. ©2015 Valve Corporation. Steamworks and the Steamworks logo are trademarks and/or registered trademarks of Valve Corporation in the U.S. and/or other countries. All other trademarks are properties of their respective owners.