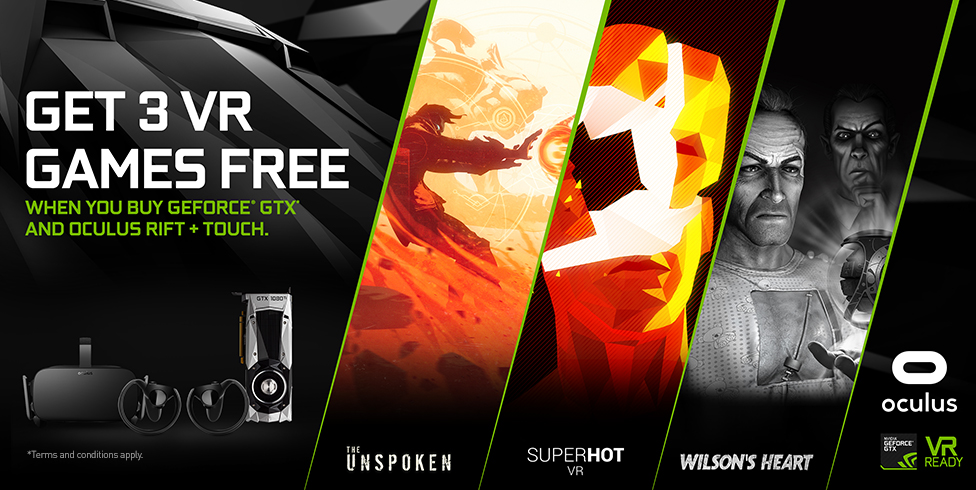 FOR A LIMITED TIME, get 3 Vr games free
WHEN YOU BUY A GEFORCE
®
GTX 1080 Ti, 1080, 1070, OR 1060 GRAPHICS CARD, SYSTEM, OR LAPTOP, PLUS AN OCULUS RIFT AND TOUCH.
Already have a code? Please visit our instructions page to find out how to redeem your code.
Sorry, this promotion is now finished. You can check out our latest promotions on your local NVIDIA website.




© 2017 NVIDIA Corporation. NVIDIA, the NVIDIA logo, and GeForce are trademarks or registered trademarks of NVIDIA Corporation. All rights reserved. OCULUS, RIFT, OCULUS TOUCH and the OCULUS Logo are trademarks of Oculus VR, LLC. © 2017 Oculus VR, LLC. All Rights Reserved. Copyright © 2017 Insomniac Games, Inc. THE UNSPOKEN is the trademark and INSOMNIAC and the INSOMNIAC GAMES logo are the registered trademarks of Insomniac Games, Inc. All rights reserved. © 2017 SUPERHOT. All rights reserved. SUPERHOT logo is a trademark or registered trademarks of SUPERHOT company. All other trademarks are property of their respective owners. TWISTED PIXEL, TWISTED PIXEL GAMES and the TWISTED PIXEL logo are trademarks or registered trademarks of Twisted Pixel Games, LLC. © 2017 Twisted Pixel Games, LLC. All rights reserved. Offer only available in North America and Europe. Qualifying graphics cards, systems, or laptops: GeForce GTX 1080 Ti, GeForce GTX 1080, GeForce GTX 1070, GeForce GTX 1060, GeForce GTX 1080 Ti system, GeForce GTX 1080 system, GeForce GTX 1070 system, GeForce GTX 1060 system, GeForce GTX 1080 laptop, GeForce GTX 1070 laptop, GeForce GTX 1060 laptop. Codes may only be redeemed until July 15th, or while supplies last. Content must be redeemed via Oculus Store by July 15, 2017, and may not be redeemed for cash; no cash value. Redemption and use subject to Oculus Terms of Service and Privacy Policy. See Oculus.com/legal for more details.