Terms & Conditions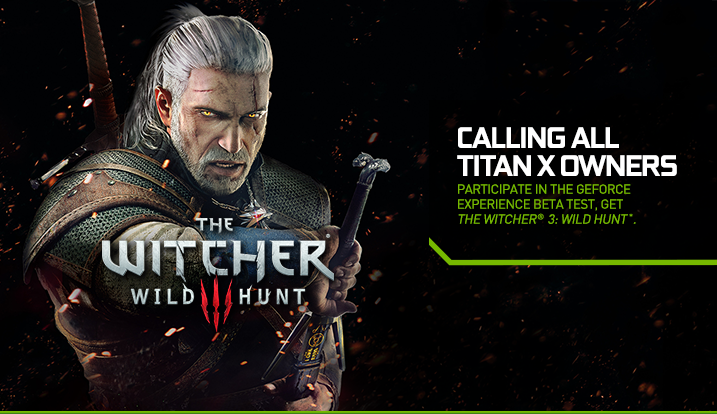 CALLING ALL TITAN X OWNERS.
Participate in the GeForce Experience beta test, get the Witcher® 3: Wild Hunt. See Terms and Conditions below.
TERMS & CONDITIONS
This offer is available for GeForce® GTX™ TITAN X graphics cards only. The promotion is available for a limited time or while supplies last. The offer is available from GeForce Experience only. Additional terms and conditions may apply.
Game code offer good from May 19, 2015 through June 19, 2015, or while supplies last. Offer good for one digital download of the PC version of THE WITCHER® 3: WILD HUNT only. Limit one download code per customer. Offer valid only through GeForce Experience and redeemable at http://redeem.GeForce.com. Offer may not be substituted, exchanged, sold or redeemed for cash or other goods or services. Offer valid worldwide, excluding China. Offer may not be combined with any other offer, Game Time card, rebate, or discount coupon. Product subject to availability, quantities are limited. Retailers, distributors and employees of NVIDIA, CD Projekt Red, and their agencies/affiliates are not eligible. Void where prohibited. Offer code will be provided to customer with the purchase of a qualifying NVIDIA product and the installation of GeForce Experience. Game will be available on the day CD Projekt Red launches the game, (May 19, 2015). This date is subject to change at CD Projekt Red's sole discretion. Check your GOG.com account for preload availability.
ALL THIRD PARTY CONTENT ARE PROVIDED ON AN "AS IS" AND "AS AVAILABLE" BASIS AND, TO THE MAXIMUM EXTENT PERMITTED BY APPLICABLE LAW, ARE PROVIDED BY NVIDIA WITHOUT WARRANTIES OF ANY KIND, WHETHER EXPRESS OR IMPLIED, INCLUDING BUT NOT LIMITED TO IMPLIED WARRANTIES OF MERCHANTABILITY, FITNESS FOR A PARTICULAR PURPOSE, TITLE, OR NON-INFRINGEMENT.
IN NO EVENT SHALL NVIDIA, ITS SUBSIDIARIES, ITS AFFILIATES, OR ITS LICENSORS BE LIABLE FOR INDIRECT, INCIDENTAL, SPECIAL, EXEMPLARY, PUNITIVE, OR CONSEQUENTIAL DAMAGES OF ANY NATURE, INCLUDING BUT NOT LIMITED TO LOSS OF INCOME, PROFITS, DATA OR USE, BUSINESS INTERRUPTION, COST OF SUBSITUTE SERVICES, OR OTHER ECONOMIC LOSS, ARISING OUT OF OR IN CONNECTION WITH YOUR ACCESS OR USE, OR INABILITY TO ACCESS OR USE, THE THIRD PARTY CONTENT, WHETHER BASED ON CONTRACT OR TORT, INCLUDING NEGLIGENCE, OR ANY OTHER LEGAL THEORY, EVEN IF NVIDIA, ITS SUBSIDIARY, ITS AFFILIATE, OR ITS LICENSOR HAS BEEN ADVISED OF THE POSSIBILITY OF SUCH DAMAGES. NVIDIA'S TOTAL AGGREGATE LIABILITY FOR DAMAGES OF ANY NATURE, REGARDLESS OF FORM OF ACTION, SHALL IN NO EVENT EXCEED TEN U.S. DOLLARS (U.S. $10). SOME STATES AND JURISDICTIONS DO NOT ALLOW FOR THE EXCLUSION OR LIMITATION OF INCIDENTAL OR CONSEQUENTIAL DAMAGES, SO THIS LIMITATION AND EXCLUSION MAY NOT APPLY TO YOU.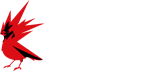 © 2015 NVIDIA Corporation. NVIDIA, the NVIDIA logo, GeForce, GTX, GeForce Experience, and The Way It's Meant to be Played are trademarks or registered trademarks of NVIDIA Corporation. All Rights Reserved. The Witcher® is a trademark of CD PROJEKT S. A. The Witcher game © CD PROJEKT S. A. All rights reserved. The Witcher game is based on a novel by Andrzej Sapkowski. All other trademarks and copyrights are the property of their respective owners.