Produce Videos in Adobe Premiere Pro up to 50x Faster with GeForce GTX
Adobe
,
Premiere Pro
,
Video Editing
,
GoPro
,
GeForce GTX 10 Series
,
Pascal

These days you don't have to be a professional videographer to be passionate about video. The proliferation of everyday devices that shoot and record quality high resolution video, combined with the ever expanding services to view and share that video, means the number of people interested in creating great quality video is at an all-time high. When it comes to making video look amazing, the combination of Adobe® Premiere® Pro CC and NVIDIA® graphics cards is simply unbeatable. The Mercury Playback Engine within Premiere Pro has been designed from the ground up to leverage the power of NVIDIA's GPUs to accelerate the most important parts of the video processing pipeline within Premiere Pro, allowing users the freedom to unleash their creative potential.
One of the key challenges for video enthusiasts today, is that the video formats themselves are becoming more demanding. For example, the latest GoPro™ HERO5 cameras now support 4K video recording and advanced ProTune color options. 4K video files contain 4x the video information of 1080p HD video, which was the industry standard just a few years ago. This means that editing 4K video requires the ability to process 4x the data. Using GoPro's Flat ProTune color options allows the camera to capture more usable detail in both bright and dark areas of the frame. However, due to its log curve, this video can appear washed out and lacking contrast, it requires color post-processing to achieve high quality results. Additionally, while the GoPro camera's lens captures a wide field of view, it can show noticeable lens distortion which may be undesirable in a finished video.
NVIDIA graphics cards are the perfect solution to address these types of challenges. Our example workflow uses a 4K video clip shot on a GoPro HERO5 using ProTune the ProTune Flat color option to output a 1080p final output file. By applying a GPU accelerated Lumetri Color effect, we use a predefined "look" to color grade the clip, adding contrast and vividness back into the video. In this use case, we also use a GPU-accelerated lens distortion correction filter to help correct the GoPro's wide angle lens distortion. The GeForce GTX GPU accelerates the image scaling from 4K to 1080p. The end result is a clean looking video output that is processed and encoded to a final file up to 50x faster than the same workflow processed in Premiere Pro using the system CPU alone.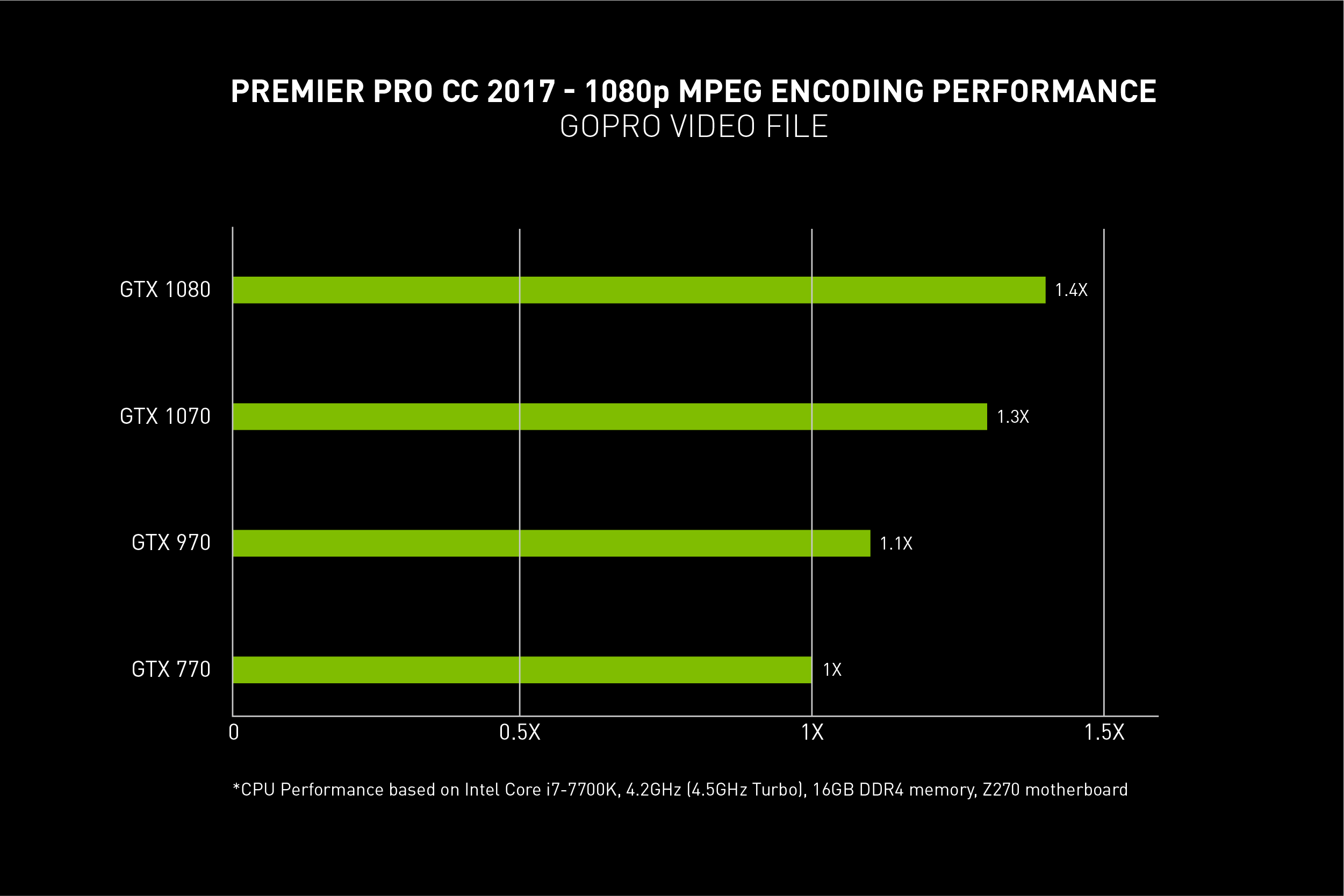 GPU acceleration allows for a significant reduction in total time to a finished output file. Our 4 minute 48 second GoPro footage takes over 3 hours to output using only the system CPU. Using an GeForce GTX 1080, the exact same output is complete in 4 minutes, completing the processing and output in less time than it would take to watch the video clip.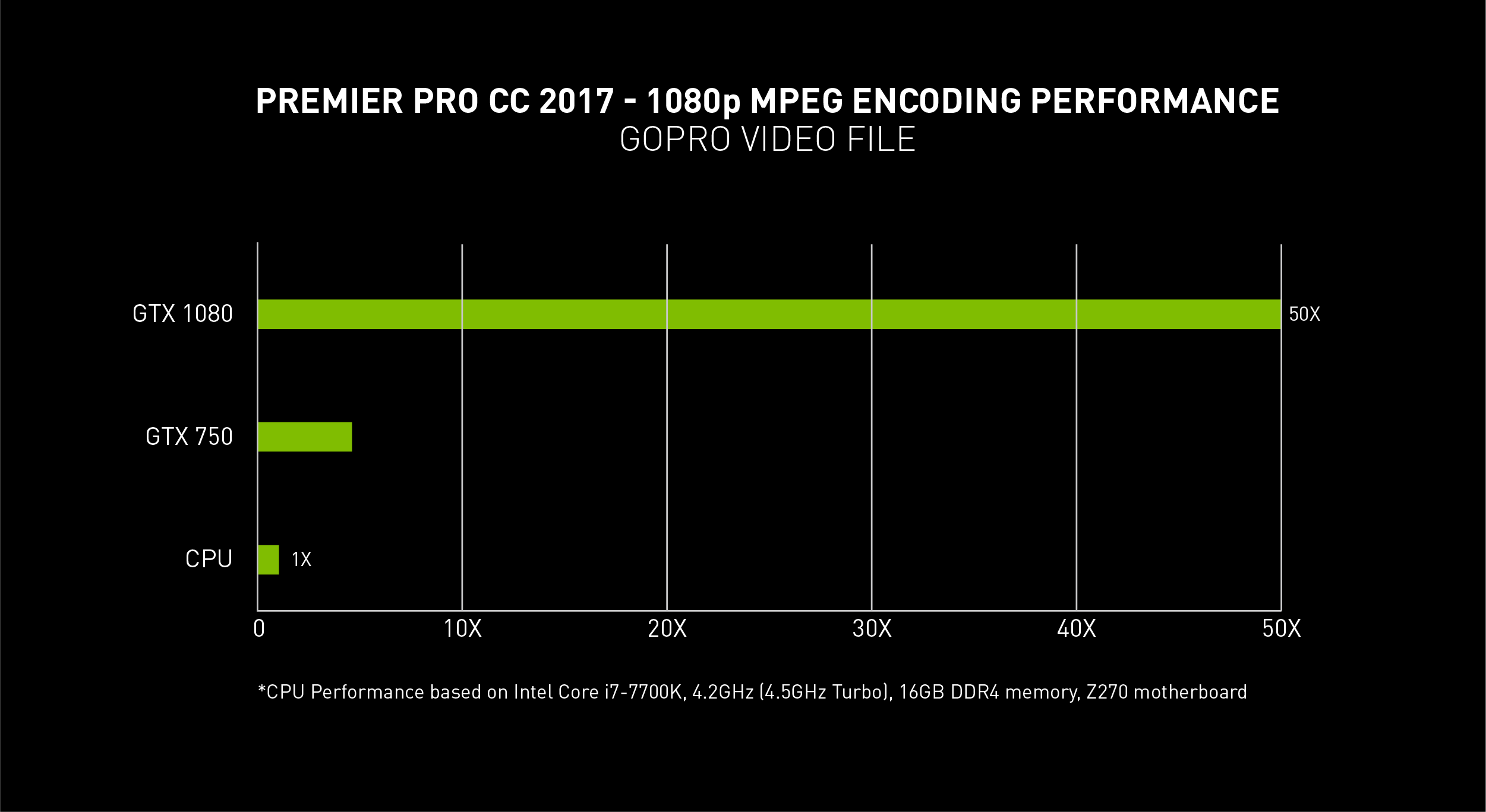 By accelerating Premiere Pro, NVIDIA GPU's allow video enthusiasts to spend more time shooting and far less time editing. Shoot.Edit.Post. It's that simple.