Arma 3 Adds HBAO+ In Free "Eden" Update
Featured Stories
,
NVIDIA GameWorks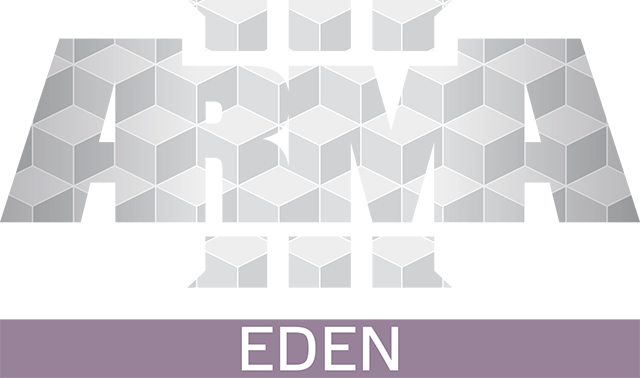 One of the best things about PC gaming is the breadth of experiences on offer - whether you like World War I hex games, side-scrolling co-op puzzle platformers, or twitch multiplayer shooters, there's something for you. If your jam is modern-era, combined arms, tactical military shooters, there's no better choice than Arma 3. Offering land, air and underwater combat, in single-player missions and online with dozens of other players, Arma 3 is the culmination of Bohemia Interactive's tactical-gaming efforts that began back in 2001 with Operation Flashpoint: Cold War Crisis.
Today, Arma 3 players have received a new, free update named "Eden". Included is a much-anticipated scenario editor, a revamped server browser, a significant audio update, parallax mapping for improved surface fidelity, and the addition of NVIDIA HBAO+ Ambient Occlusion rendering, which further improves image quality and immersion in Arma 3's massive world.
If you're unfamiliar with Ambient Occlusion (AO), it adds contact shadows where two surfaces or objects meet, and where an object blocks light from reaching another nearby game element. The AO technique used and the quality of the implementation affects the shadowing's accuracy, and whether new shadows are formed when the level of occlusion is low. With HBAO+, the quality of Arma 3's AO is improved, bolstering overall fidelity, which further increases graphical fidelity.
To learn more about Arma 3, the Eden Update, the addition of HBAO+, and much, much more, we spoke to Petr Kolár, Arma 3's Project Lead.
For those unfamiliar with Arma 3, could you please give an overview of the game?
Arma 3 can be a lot of things, but first and foremost it's an authentic tactical military shooter, set in a massive sandbox terrain, focused on infantry combat but supported by tanks, boats, helicopters, jets, and other vehicles. However, it's also a platform for user-created content and modding. That means we've got users playing as full-blown milsim Tier One operators, cops and robbers, survivalists, and everything in-between.
Arma 3 launched in 2013. How has the game changed since that time?
It's been quite a journey, and we still have lots to explore. Following the public Alpha and Beta releases, and then the main release in September 2013, the first thing we added was a solid single player campaign, which was missing from the initial release. Spread across 3 free episodes, these 'campaign' updates also brought in some other free additions to Arma 3's arsenal, such as 2 fighter jets and other vehicles, and more. Staying true to the aspects of opportunity and diversity of our game, we then released the free Arma 3 Zeus DLC, which provided a completely new multiplayer framework to Arma 3. In Zeus, players can take the role of a curator, someone who can adjust the scenario on-the-fly for players on the ground - like a 'Game Master' does in pen and paper RPGs. Then, after we released Zeus, we focused more on helping new players get into the game, so we released another major free platform update (Bootcamp), which added a small tutorial campaign, a VR training environment, and additional features.
In terms of premium DLC, it took us a while to design a DLC strategy. We wanted to prevent a split within our (multiplayer) community between people who own a certain DLC and those who don't. To explain it in short, our approach to DLC and premium content is that new platform features (such as weapon resting or NVIDIA PhysX-supported sling loading of cargo with helicopters) are free to everyone, but DLC content (such as DLC weapons and vehicles) are paid. That said, everyone will still have access to all of the paid content, but several restrictions apply to people using DLC premium content that they do not own. To test this approach, we first released the smaller Karts DLC, from which a portion of the profits went to charity. Our first proper premium DLC was Arma 3 Helicopters, followed by our most recently released premium DLC, Arma 3 Marksmen.
Since Marksmen, our most recent platform updates have been building towards Arma 3's first expansion: Arma 3 Apex. One of these updates is the 'Eden Update', which was released for free today, and implements the much-anticipated 3D Scenario Editor, a new Launcher-Based Server Browser, improved combat audio, various game optimizations, and of course HBAO+, which should provide better ambient occlusion at a minimal performance cost.
What are the key features and enhancements that gamers can look forward to in Apex?
We have not yet revealed Arma 3 Apex's exact content and features. However, there's plenty to look forward to. Serving as the crown jewel of the Apex expansion is the 100 km2 lush tropical archipelago terrain, Tanoa. As part of the Apex expansion, there will also be a free platform update for Arma 3, which will enhance the game's graphics. This applies both to the original content and terrains, as well as Tanoa of course. The Visual Update will consist of color map changes, and new sea shaders, which will allow a proper reflection of water around the islands (as can be seen in the Tanoa Reveal Trailer). Other than that, we have a lot more features under investigation and development. Of course, as we want to deliver a complete package, Arma 3 Apex will also present a bunch of new vehicles for players to use, including light strike vehicles or planes that are capable of vertical take-off, plus an introductory co-op campaign.
As already mentioned, today's free, new Eden update has added NVIDIA GameWorks HBAO+ Ambient Occlusion. How does it enhance the game, and how does it improve over the already-included SSAO?
For those who don't know what Ambient Occlusion does, it basically adds soft shadows and helps accentuate small surface details to give a scene a more realistic look. In comparison to previous ambient occlusion techniques in Arma 3, HBAO+ is simply faster, more efficient, and looks significantly better by improving the 'feeling of depth'. But to really show the benefits, I can best refer to the comparison shots below, so you can see for yourself.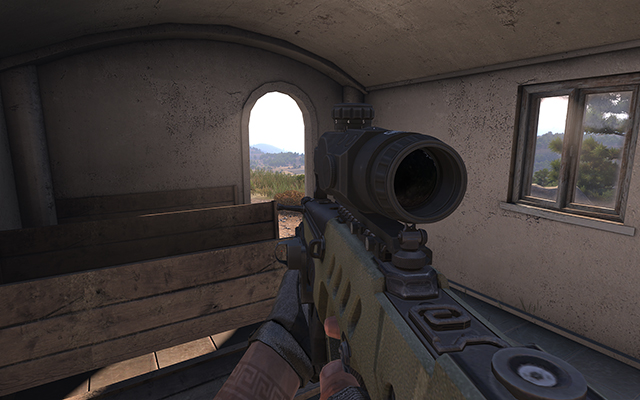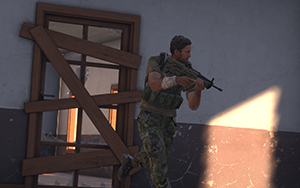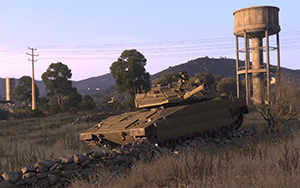 Click to load interactive comparisons
Mods for Arma games are extremely popular, famously leading to the creation of the DayZ mod and the standalone DayZ. Out of the many available mods, which are your favorites?
There are a lot of great mods for Arma 3, making it extremely hard to pick only a few. Did you know we also organized a modding competition with € 500,000 in prize money? (check out the winners at makearma.com!). But, if I had to choose one, it would be probably be Arma 3 CUP. CUP stands for Community Update Project, and is based on licensed data samples from our previous games. It is a community project for porting and improving content from previous Arma games into Arma 3. If you want to check it out yourself, you just have to subscribe to the CUP collection on the Steam Workshop, and you can start enjoying an extremely broad library of assets immediately right after.
Included in the new Eden update is a 3D Scenario Editor. How will this help modders, and will it enable more gamers to dip their toes into the world of modding and mission making?
The 3D Scenario Editor, which we also refer to as Eden 3D Editor, is going to redefine scenario creation as we know it. This new editor should still feel familiar to users of Arma's original 2D editor, but with the added comfort of the third dimension, which makes it possible to place objects with extreme precision, and get an immediate sense of your scenario's atmosphere and composition. And, if you are a new user: you won't be overwhelmed as we've added simple tutorials that make it easier than ever to get into Arma 3 content creation.
Arma 3 players can look forward to much in Apex and Eden then, but after that what's next? And what's next for Bohemia Interactive?
As the name implies, we consider Arma 3 Apex to be the ultimate pinnacle of Arma 3's development. That said, it's definitely not going to be the end of the road for Arma 3. While it's too early to share our longer-term plans and ideas, we expect Arma 3 to remain very relevant in the upcoming years. Meanwhile, Bohemia Interactive is also working on DayZ, which should go into Beta later this year, and will be the first game to run on Bohemia Interactive's new Enfusion engine. Take On Mars, [a Mars exploration simulator], is also getting close to completion, and the Red Planet is now almost within reach. So, all in all, it's going to be an exciting year at Bohemia Interactive, and we're extremely grateful to have such a passionate community join us for the ride!
---
If you like what you hear and see, you can pick up Arma 3 on Steam. If you already own Arma 3, simply download the new Eden update to get HBAO+ and all the other additions.