GeForce GTX 970: NVIDIA's Recommended GPU For Call of Duty®: Black Ops III
Featured Stories
,
System Requirements
,
GPU Recommendations
Call of Duty: Black Ops III is the latest entry in the explosive Call of Duty franchise, and this one is packing 4-player campaign co-op, Zombies mode, high-speed player versus player multiplayer, and a whole lot more. If you have a GeForce GTX GPU, our Game Ready driver, and GeForce Experience, you'll get a great gaming experience the second Black Ops III launches.
However, if you're looking to gear up for Black Ops III and maximize your experience for 60 FPS and high graphics settings, we've got a set of recommended NVIDIA GPUs for you.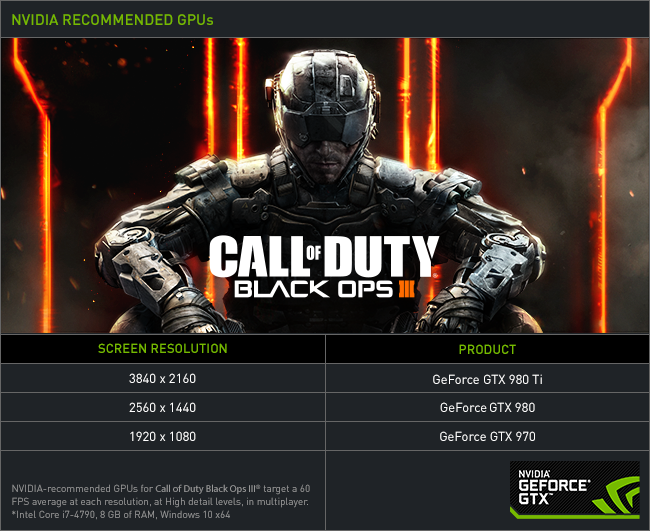 For Black Ops III, we're recommending the GeForce GTX 970, which will enable you to experience the fast-paced shooter at 60 FPS at 1920x1080, at a high level of detail.
If you wish to step up to 2560x1440 or comparable resolutions, the GeForce GTX 980 is your go-to graphics card. At the highly demanding 4K (3840x2160), or at 1920x1080 with 200% Render Resolution enabled in-game, nothing short of the GeForce GTX 980 Ti will suffice due to the additional demands on VRAM and performance that these screen modes make.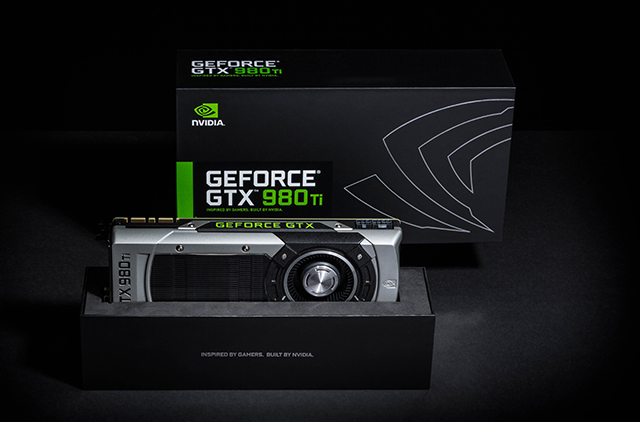 In addition to delivering blistering performance, the recommended GeForce GTX 900 Series GPUs also support a vast range of game and experience-enhancing technologies. Of those many enhancements, G-SYNC is particularly beneficial for gamers, offering a smoother, more responsive experience thanks to innovations that change the inner-workings of computer monitors. Learn more about how G-SYNC can enhance your gameplay experience on our G-SYNC technology page.
Finally, to ensure you have a great experience on November 6th when Black Ops III launches, download and install the Call of Duty: Black Ops III GeForce GTX Game Ready Driver. With the driver, our SLI profile, and our GeForce Experience Optimal Playable Settings, you'll be battling your foes with optimized frame rates and minimal latency.
The above is solely NVIDIA's opinion, and is not an official Call of Duty communication. All performance claims and recommendations relating to NVIDIA's hardware and operation with Call of Duty: Black Ops III are made solely by NVIDIA, and have not been tested nor verified by Activision.