Celebrating In Win's 30th with New PC Builds
GeForce Garage
2016 marks 30 years of In Win creating beautifully crafted PC cases. To celebrate this milestone, the NVIDIA social teams built high-end PC's with a few of our favorite In Win gaming chassis currently available, including the new H-Frame 2.0!
But it's not enough to just build high-end PCs. Next, we'll be taking each of these builds and adding our own design spin through customization. Check out the completed cases below and stay tuned to find out what we'll be doing next.
---
The H-Frame 2.0 is a Limited Edition open air full tower chassis developed in honor of In Win's 30th Anniversary. This chassis features LED lights on the edges of the outer aluminum blade and tempered glass side panels. Logan (Corporate Channels) will be modifying the H-Frame 2.0 to be in NVIDIA green (of course) and will use the large real-estate of the panels to etch the GeForce claw on the front panel.
---
In Win 909
The 909 is a incredibly sleek brushed aluminum chassis with tinted tempered glass panels, making it perfect for internal LED lighting. This chassis also provides ample room for creating custom water cooling, exactly what Evan (GeForce Social Media) will be doing to his 909 - plus all that metal and glass is ripe for etching.
---
In Win 805 Infinity
The 805 Infinity is a mesmerizing mid-tower featuring a high quality aluminum chassis with a Infinity Mirror front panel that gives an illusion of endless rows of LEDs. This stunning PC belongs to Peter (SHIELD), who is also a talented artist. Peter will use his skills to create custom artwork on the 805, including creating a unique design for the infinity mirror.
---
In Win 303
The 303 is an affordable chassis that is excellent for creating a very clean build. The steel and tempered glass makes a simple, yet incredibly sleek-looking PC. Eric (GeForce Community) had to do very little work to hide the wires and create such a clean looking PC because of the 303's excellent design. Eric plans to take this all white case and turn it into an R2D2 themed PC complete with custom fan grills, backplates and custom cable sleeves.
---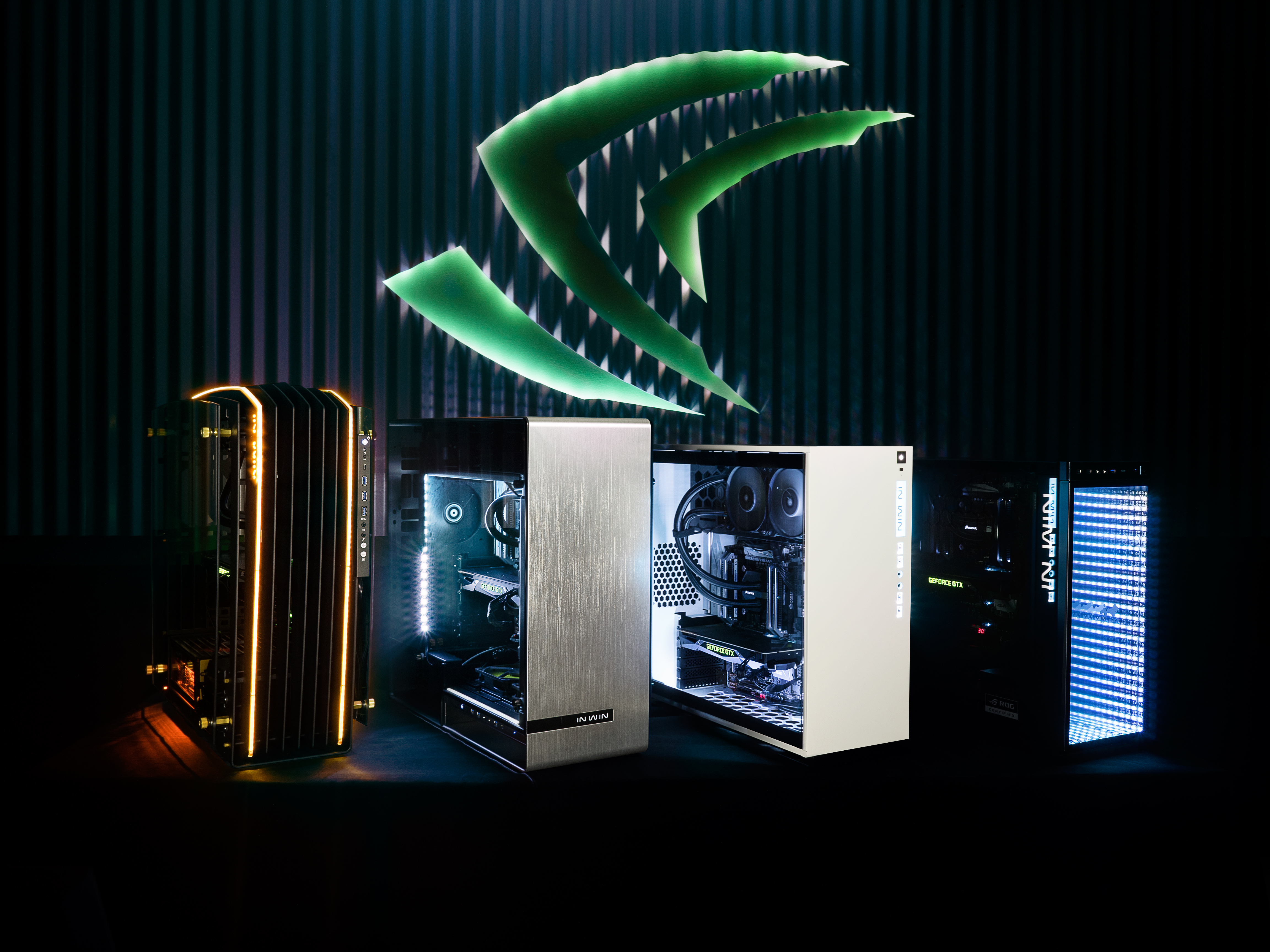 Be sure to keep an eye out for the completed custom work our social team will be doing for these amazing In Win chassis. Special thanks to In Win for providing our team with these beautiful towers and OZC for providing SSDs.