GeForce Destiny 2 4K 60 FPS PC Beta Trailer
Featured Stories
,
Videos
On October 24th, Destiny 2, Activision and Bungie's eagerly anticipated action first-person shooter sequel, officially launches worldwide on PC. Ahead of its forthcoming release, gamers can experience its gripping FPS action early by participating in the PC beta, which kicks off August 28th for those that pre-order, and is available free to everyone during the Open Beta from August 29th through August 31st.
For a taste of what's in store for Destiny 2 PC Beta participants, Activision, Bungie and NVIDIA have unveiled a GeForce PC Beta trailer featuring all-new gameplay footage of the PC edition of the game, running in 4K at a lusciously smooth 60 frames per second. Watch the new 4K trailer below:
In terms of the PC Beta experience, you'll be able to play the Beta in stunning 4K, with uncapped framerates, a full suite of adjustable graphics settings, full keyboard and mouse support, and 21:9 monitor support.
When you jump into the PC Beta, you'll be able to play Destiny 2's opening campaign story mission "Homecoming"; the team-based co-op Strike the "Inverted Spire"; as well as competitive multiplayer with two different maps, including the never-before-seen Javelin-4 map!
The three new subclasses will also be playable during the Beta: Sentinel (Titan), The Dawnblade (Warlock) and the Arcstrider (Hunter) as well as three original subclasses: Voidwalker (Warlock), Gunslinger (Hunter) and Striker (Titan).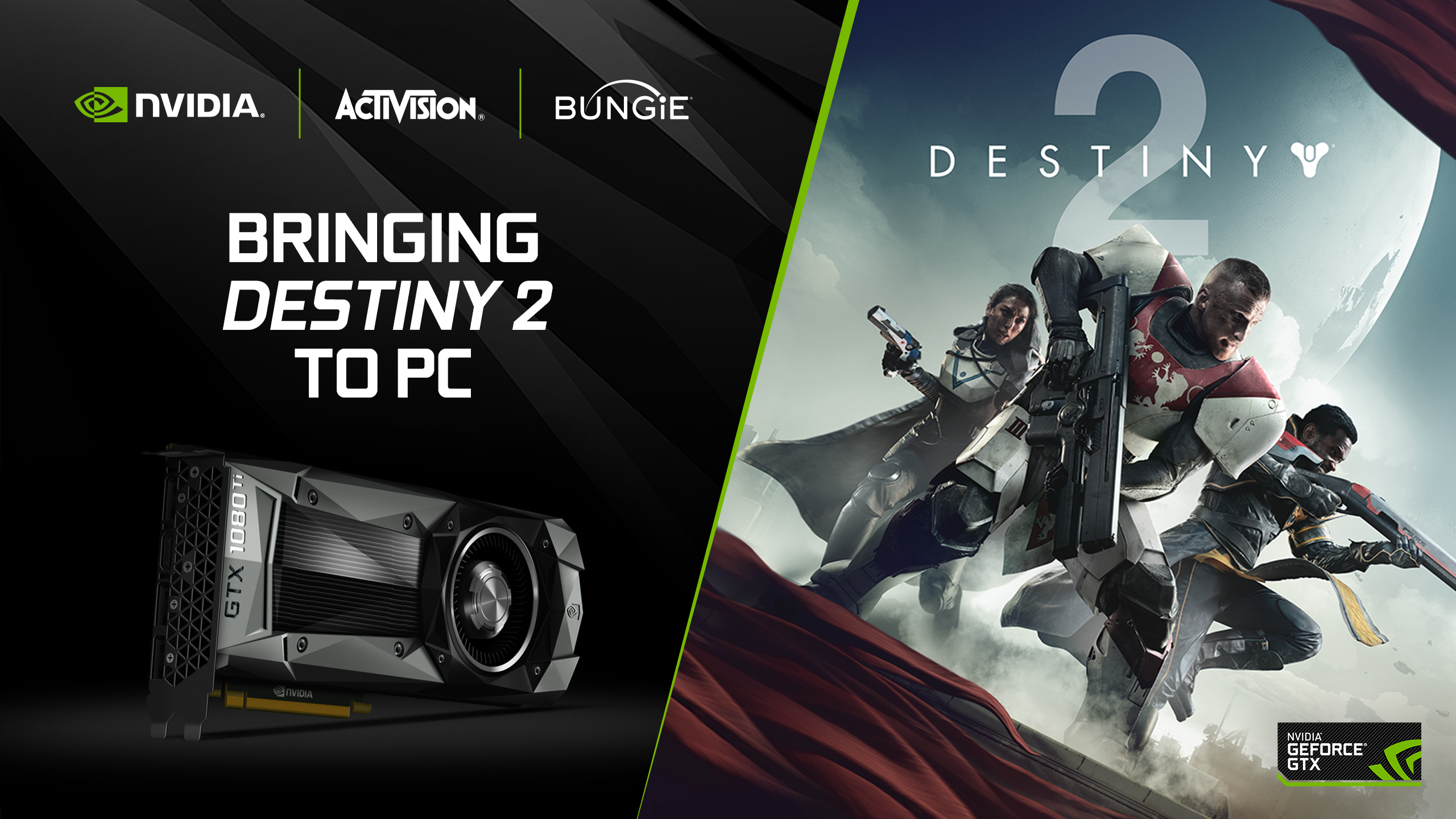 NVIDIA, Activision, & Bungie Bringing Destiny 2 to PC
Activision, Bungie and NVIDIA have been working closely together to ensure gamers get the best possible visuals and performance with Destiny 2 on PC. The development team leveraged NVIDIA's developer resources and advanced technologies to bolster that experience, too, with Bungie CEO Pete Parsons explaining that "the GeForce PC platform offers technologies and performance that allow gamers to see the Destiny universe the way we envisioned it for PC players."
In order to get the optimal performance during Destiny 2's PC beta, you will need a GeForce GTX 660 (or GeForce GTX 1050 if you're upgrading) to meet the minimum system requirements. However, if you want the level of visual fidelity showcased in the 4K trailer above, you'll want to arm your rig with our obscenely fast GeForce GTX 1080 Ti.
Check out the full minimum and recommended PC system requirements below.
Destiny 2 PC Beta Minimum System Requirements
Destiny 2 PC Beta Recommended System Requirements
On top of ensuring your setup is ready to get the best possible Destiny 2 experience during the Beta, you will want to remember to download the Destiny 2 Beta Game Ready driver via GeForce Experience, which will be available before the beta goes live on August 28th.
In the coming weeks, keep your browser locked to GeForce.com for everything Destiny 2 on PC.