Dota 2 Kiev Majors: Powered By The GeForce GTX 1080 & NVIDIA G-SYNC
Featured Stories
,
esports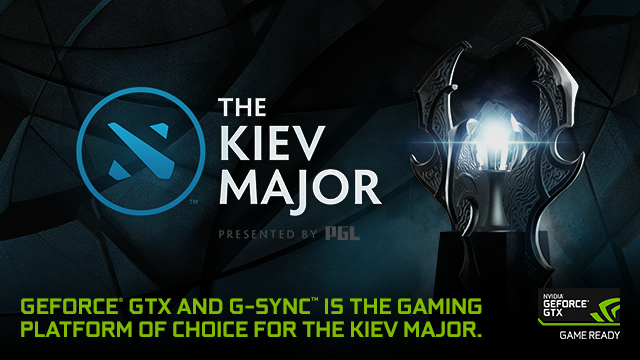 For several years GeForce GTX GPUs and G-SYNC monitors have been powering Valve's incredibly popular Dota 2 Esports tournaments, giving competitors the highest possible performance, the lowest levels of input latency, and smooth, stutter-free visuals.
From April 27th to April 30th, 16 of the world's best Dota 2 teams will be competing in the Kiev Major for spots in The International, the year's biggest Dota 2 event that sees winning teams awarded vast sums of money (last year, the prize pool was over $20 million!). To ensure that these critical matches are running at their very best, each pro will be competing on GeForce GTX 1080 PCs with Acer Predator XB241 24" 180Hz NVIDIA G-SYNC monitors.
This winning combination enables smooth, stutter-free gaming that runs at high frame rates, ensuring a player's reaction time isn't slowed by lagging gameplay or behind the scenes slowdowns.
It's for this reason that pros train on GeForce GTX PCs and G-SYNC monitors at their team houses, and fly to NVIDIA offices around the world for intensive Boot Camps, where they can play and train on the same hardware just before the tournament begins. For this latest event, NVIDIA played host to Thunderbirds and Team Secret, who exclusively use GeForce GTX 10-Series GPUs when training.
"When the team is going into a huge event such as the Kiev Major it's always a great feeling to know we will be able to experience the best preparation possibly when boot camping with NVIDIA." – Matthew Bailey, Team Manager Team Secret
"The best boot camps are those where you can train under tournament conditions. NVIDIA provided top notch systems with the latest GeForce GTX 10-Series graphics cards and G-SYNC monitors. The game ran extremely smooth we were all universally impressed with the quality." – Alyssa Thompson, Team Manager Thunderbirds
To see how Team Secret and Thunderbirds fare, tune in to the Kiev Dota 2 2017 Major on Twitch.