GeForce GTX 970: NVIDIA's Recommended GPU For Fallout 4
Featured Stories
,
System Requirements
,
GPU Recommendations
Fallout 4 arrives today! It's been five years since Fallout: New Vegas and anticipation is at fever pitch. If you have a GeForce GTX GPU, our Game Ready driver, and GeForce Experience, you'll get the definitive Fallout 4 experience the second the game launches, and 60 FPS Optimal Playable Settings.
If instead you're looking to gear up for Fallout 4, and maximize your experience with 60 FPS high detail graphics, we've got a set of recommended GeForce GTX GPUs that'll deliver an experience The Way It's Meant to be Played.
The official Fallout 4 system requirements call for a GeForce GTX 550 Ti with 2GB of VRAM for 1280x960, minimum setting, 30 FPS gameplay, and a GeForce GTX 780 with 3GB of VRAM for a higher level of detail. Neither of these previous-generation cards are available to purchase, however, so if you're looking to build a system for Fallout 4 today, or to upgrade an older rig, what GeForce GTX GPUs should you be targeting for High setting, 60 FPS gameplay?
According to our comprehensive benchmarking, the GeForce GTX 970: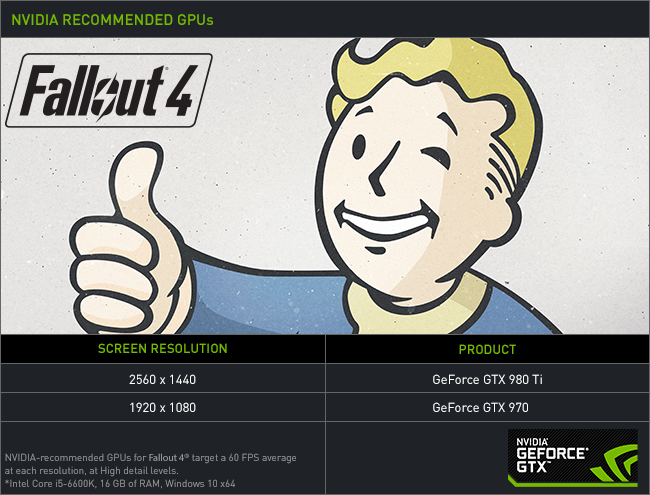 In addition to giving you the performance to play Fallout 4 at a High level of detail, and with NVIDIA Volumetric Lighting effects enabled, the GeForce GTX 970 supports our vast array of critically acclaimed technologies, giving you the definitive gaming experience, unmatched by any other platform.
Of these technologies, G-SYNC is particularly beneficial in Fallout 4, delivering a smoother, more responsive experience thanks to innovations that changed the inner-workings of computer monitors. Learn the specifics of how G-SYNC can enhance your Fallout 4 experience on our G-SYNC technology page.
Regardless of your system configuration, all NVIDIA GPU users will automatically receive Optimal Playable Settings for Fallout 4 through GeForce Experience, and those with sufficiently-speedy, compatible GPUs will have NVIDIA Volumetric Lighting effects enabled in-game. With a single-click, Fallout 4's 20 settings will be auto-configured for your system, with a target of 60 frames per second, delivering a responsive, smooth experience.
With our Optimal Playable Settings, Game Ready drivers, and Volumetric Lighting effects, the definitive Fallout 4 experience will be on GeForce GTX PCs. If you do need or desire an upgrade to attain this experience, our recommended GeForce GTX 970 can be won in Radiation Check contest, along with an amazing, themed Fallout 4 PC, and copies of the game.