GeForce Experience Beta Adds 4K GameStream, 1080p60 Broadcast, and YouTube Live Streaming
Featured Stories
,
GeForce Experience
Last month we launched the GeForce Experience Share early access beta, an opt-in preview of a new major GeForce Experience update that introduces an in-game overlay for gameplay recording and streaming, new recording and upload features, and the ability to share your games with friends through an innovative remote play feature. Check out the video below and our announcement article to learn more.
If you're not familiar with GeForce Experience, it's the go-to application for enhancing your GeForce GTX gaming. From one central location you can automatically download and install new game-improving Game Ready drivers, ensuring you have the definitive experience the second a new title goes on sale; you can download new SLI profiles that are released between driver launches; you can optimize your game settings and performance using our one-click Optimal Playable Settings; and you can record and stream gameplay with Share (formerly known as ShadowPlay). GeForce Experience also streams your PC games to SHIELD devices using GameStream technology, and can even control the LEDs on your reference graphics card.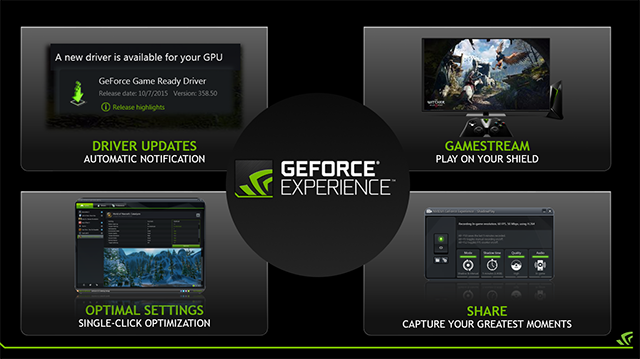 Today, we're bolstering Share's streaming capabilities with the introduction of 1920x1080 60 FPS YouTube Live Streaming and 1920x1080 60 FPS Twitch Streaming, and upgrading our PC-to-SHIELD-to-TV GameStream technology with 4K 60 FPS 5.1 Surround Sound support for SHIELD Android TV. Download the required GeForce Experience Beta client update here.
GameStream: Now At 4K 60 FPS With 5.1 Surround Sound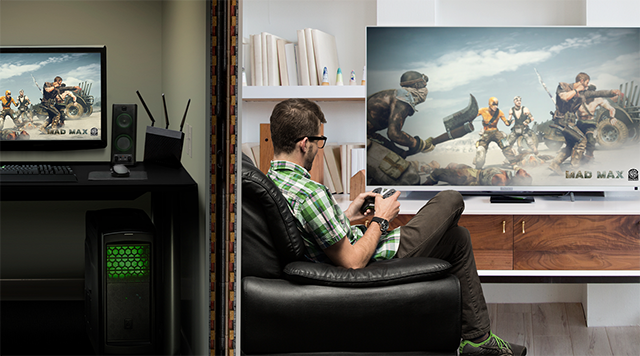 If you own a GeForce GTX PC and a NVIDIA SHIELD device, you can stream games from your PC to your hand with GameStream.
Before today, you could stream your games at up to 1080p60 with stereo sound on SHIELD Android TV. In concert with a new SHIELD Hub update available on the Google Play store, and today's GeForce Experience beta update, you can now stream at up to 4K 60 FPS and with 5.1 Surround Sound, through an Ethernet connection, on a 4K 60 FPS TV. We recommend a 4K capable PC with a GeForce GTX 980 Ti and a Haswell Intel i7 CPU, and a home network connection of 100Mbps. Make sure you use a CAT 5E or better cable for your network, and an HDMI 2.0 cable between your TV and SHIELD Android TV. If necessary, you can make changes to 4K GameStream settings through the SHIELD Hub.
Similar to how we optimize games in GeForce Experience, we also provide optimized GameStream settings for your 4K-capable PC. We optimize the most popular games and provide a list of compatible 4K GameStream titles and titles that support 5.1 Surround Sound in our forum thread. For games not on this list, you can manually GameStream at 4K/60 by making in-game setting adjustments. Try it out and detail your experience in our feedback thread for the benefit of others in the community.
YouTube Live Streaming
YouTube recently launched YouTube Gaming, a new game-focused portal for YouTube content, and the ability to live stream to YouTube and YouTube Gaming. From today, you can stream to YouTube Gaming at up to 1080 60 FPS directly from GeForce Experience Share, with just a couple of clicks.
To get started accept YouTube's streaming terms and conditions if you haven't already, open GeForce Experience, and select "Connect…" from the drop-down on the top right of the window.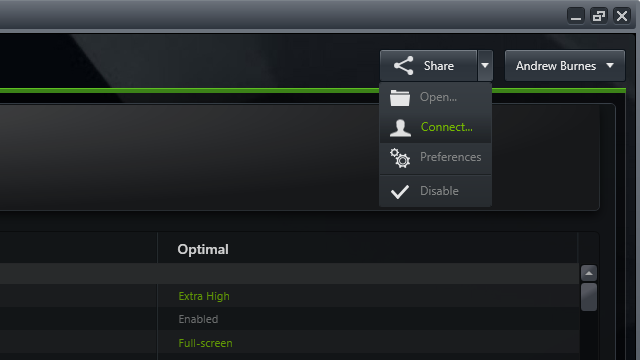 Select YouTube in the new window that appears, click "Log in", and follow the prompts to link your YouTube account to GeForce Experience.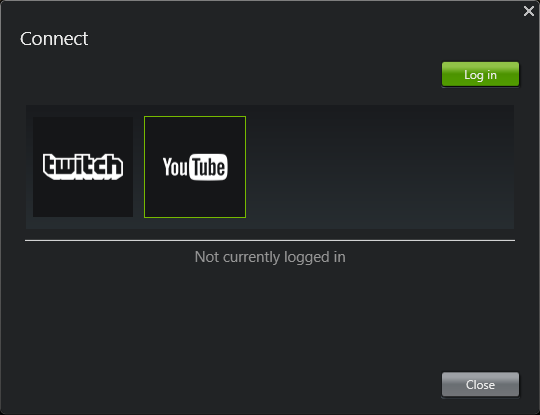 Now that your account is configured, press Alt+Z to load the GeForce Experience Share overlay, and "Customize" in the "Broadcast" drop-down.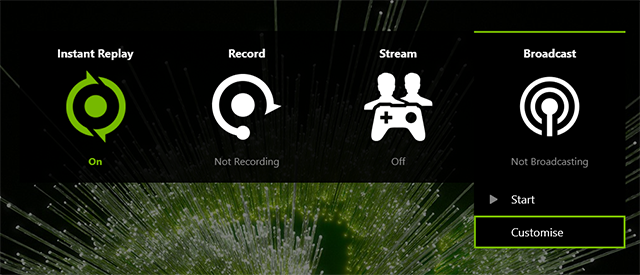 In the new window that appears, you can configure your streaming resolution, frame rate, and bit rate.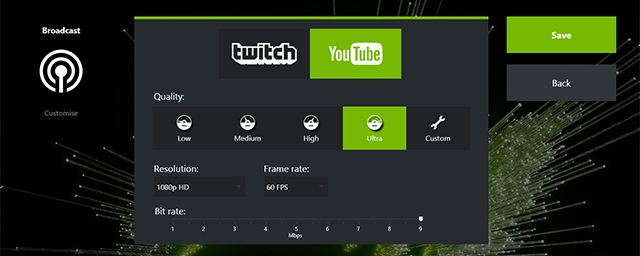 Click "Save", then "Back", and you can begin your live stream with "Start".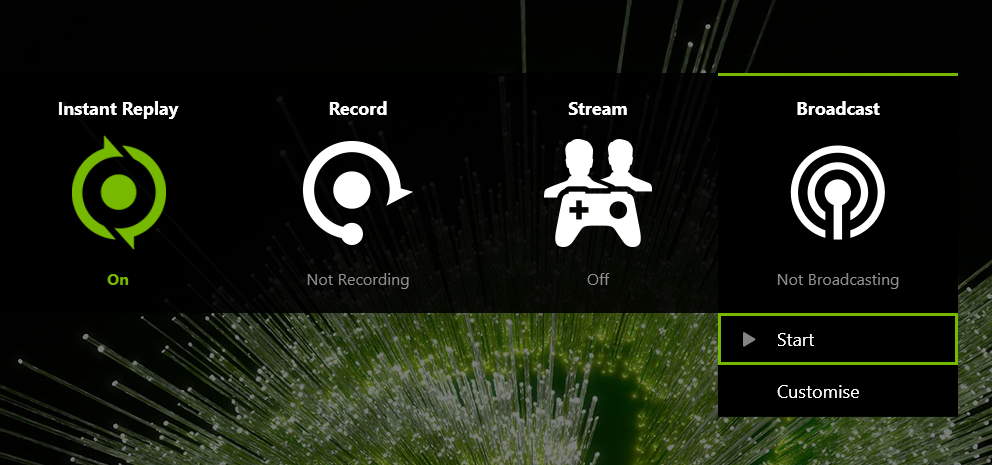 By default, "Start" will ask whether you wish to stream to YouTube or Twitch. You can change this behavior by opening the "Preferences" tab of GeForce Experience, and scrolling down to the "Broadcast" options.
Here you can select to automatically stream to YouTube or Twitch when clicking "Start" in the Share overlay, or you can select "Do not broadcast" to completely remove the Broadcast option from the overlay. You can also select the "Pause when switching apps" option to prevent your desktop being streamed when loading a new game or switching between windows and applications.
Twitch.tv 1080p 60 FPS Streaming
GeForce Experience added Twitch.tv live streaming back in 2013, and since then the feature has been refined and updated with new functionality and options. Today, we're adding the ability to stream at up to 1080p60 at 9 Mbit/s, increasing the maximum quality of GeForce Experience Twitch streams by a considerable degree.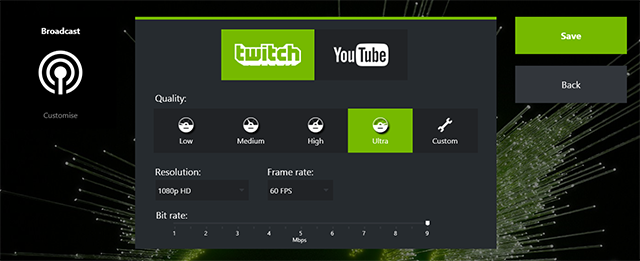 To configure and stream to Twitch, follow the steps for YouTube above, and simply select "Twitch" instead when pressing "Start" in the "Broadcast" drop-down.
Automatic Access To Game Ready Drivers, The Latest News & Other Cool Stuff
With GeForce Experience you get automatic access to Game Ready drivers, which provide you with the ultimate gaming experience in the latest top titles.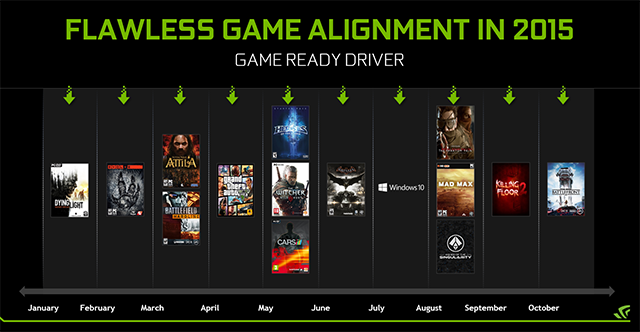 In the new GeForce Experience Beta update we're adding an email registration feature so we can better support and communicate with our users; the next time you download a Game Ready driver through GeForce Experience you'll be asked for a verified email address. After that you'll have instant access to drivers, will receive NVIDIA product news and announcements, and have the chance to win hardware, free game codes, early access to game betas, and other cool stuff.
GeForce Experience Beta: Now Even Better
In addition to the goodness listed above, there are over a dozen additional fixes, tweaks and changes in the new GeForce Experience beta release, which you can download automatically through the client itself, or manually from GeForce.com.
To make these features even greater, we want your feedback. Tell us how easy the new additions were to use, tell us what you'd change or add, and what you'd like to see next in GeForce Experience update.
Thanks for testing this new release, and stay tuned to GeForce.com for news of future updates.