Rig Spotlight: Hunter Pence's Champ Build & Lexi's Piña
GeForce Garage
,
Rig Spotlights
,
Videos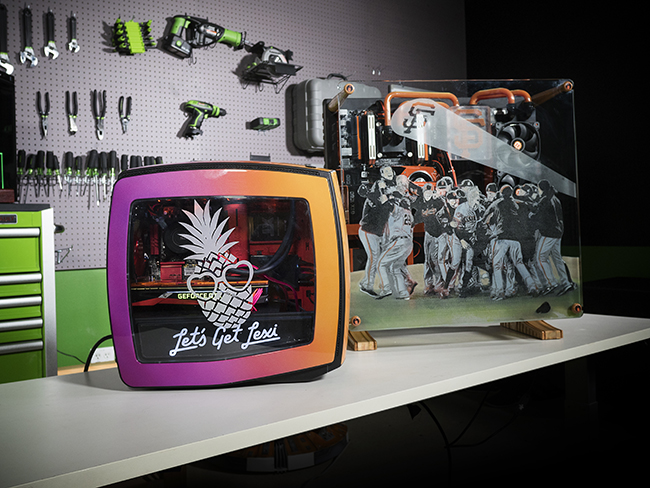 NVIDIA recently got the chance to assist professional baseball player and two-time world champion right-fielder Hunter Pence and his wife - the YouTube sensation and Twitch Streamer Alexis from LetsGetLexi - in raising money and awareness for two of their favorite charities, Project Open Hand and GameChanger. The entire project was a monumental opportunity to give the gift of giving to both San Francisco Giants fans and the online gaming community at large. Plus we vastly upgraded Hunter and Lexi's game life with two jaw-dropping custom rigs each uniquely themed after the couple's individual suggestions and pastimes. These builds are powered by our industry-leading GeForce GTX 1080 video cards made possible using NVIDIA Pascal, the most advanced GPU architecture on the market. When paired with the components selected, Pascal makes an ideal choice for the couple's hardcore gaming and game streaming needs.
Yet, selecting worthy components is the easy part for us. For the aesthetics and themes, we huddled-up with the premiere gaming couple of the MLB to make sure each system is cut from a mold they themselves have designed. Hunter bleeds black and orange, so his gaming rig had to be the ultimate symbol, representing not only the SF Giants but their success as a team and their Bay Area stomping grounds. It's a shared local pride that we at NVIDIA were thrilled to bring to the big leagues. Lexi's rig was built for game streaming and is decked out with her signature pineapple logo and a beautiful color scheme to match the heart and soul of her popular YouTube channel. It's a build so adorable Lexi said she wanted to hug the thing as soon as she saw it.
Though some of Hunter's requested mod inclusions sounded out-of-left-field, we partnered with GeForce Garage modding wizard, Brian Carter of Bod-Mods, to work his special sort of magic and bring it all to life.
---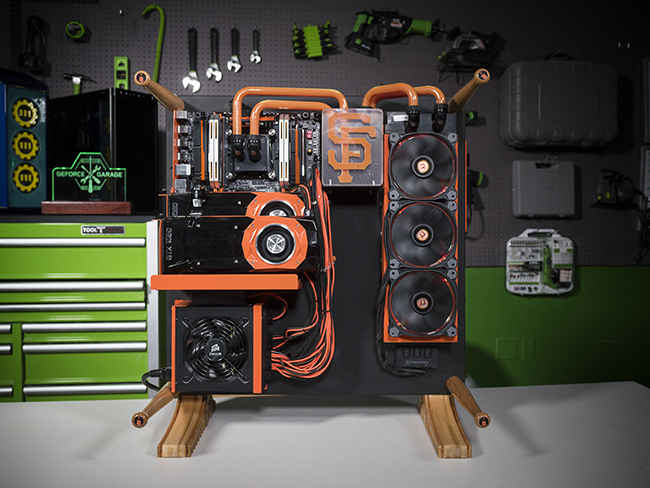 HUNTER'S RIG
Thermaltake Core P5
The potential for customization with the unique open-air Core P5 case is seemingly endless and makes a perfect template for the various aspects of baseball iconography for which Brian planned to adorn around the chassis—most specifically the hallmark leather-stitching and leather backing synonymous with baseball gloves. The Core P5 offers a dizzying array of slick features including easy access and ample room to build, customizable drive bays for expandability or extra real estate to work within the case, 3-way positioning (including wall-mount support) panoramic viewing, optional riser cables for vertical GPU installation of our GeForce GTX 1080 2-Way SLI setup and a wealth of liquid cooling accommodations. Brian leveraged these to create a custom loop using Primochill Cables and the frosty EKWB Predator AIO cooler.
2-Way SLI GeForce 1080s
From the ground up, our NVIDIA Pascal architecture was forged for next generation gaming and rendering and no other card personifies this more than our GeForce GTX 1080. It is the definitive solution for both 4K and VR gaming with baked-in support for DirectX 12.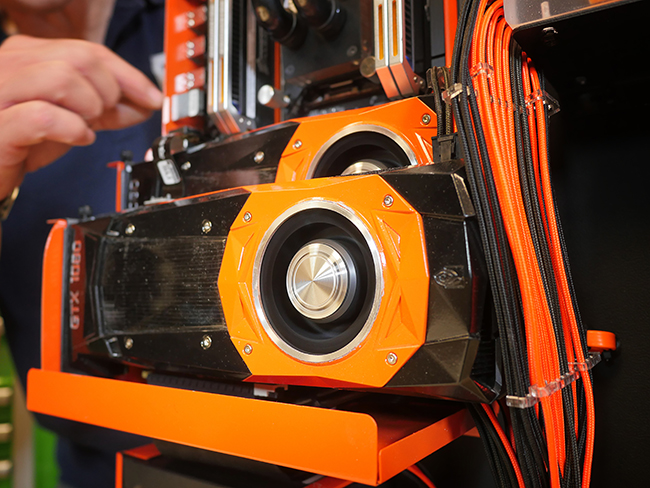 These GeForce GTX 1080 cards are packed with a whopping 2560 NVIDIA Cuda Cores for a total of 5120 CUDA Cores in Hunter's 2-Way SLI configuration.  The cards each sports a base clock of 1607MHz that can boost to 1733MHz. The GTX 1080 features a frame buffer using 8GB of GDDR5X capable of 10Gbps memory speed with a 256-bit memory interface. That large memory buffer is essential for rich 4K gaming. Hunter has plenty of connectivity options as well for single or multi-monitor setups with these 1080 GPUs, including DisplayPort 1.4, HDMI 2.0b and DL-DVI and conveniently, each card draws power from a single 8-pin PSU connector.
Additionally, Hunter is armed with a powerful team of NVIDIA's cutting edge software to aid and enhance his gaming experience. Customary with all GeForce GTX cards, the GTX 1080 supports NVIDIA GameStream, G-SYNC, DSR, MFAA and more. Much of which is governed by our GeForce Experience companion software for GTX GPUs, where gamers will find bold comprehensive tools for sharing the most memorable gaming moments via video or screenshots.
Gigabyte X99 SOC
No matter how "great" our part selection might be, their performance can only shine brightest when seated atop an industry-leading platform. Enter the Gigabyte X99 SOC Championship Socket 2011 motherboard. The board is a favorite among hardcore gamers and demanding overclockers looking to squeeze out every bit of performance a system can muster. It features support for Extreme Editions from Intel Haswell and Broadwell processor families and comes with support for DDR4 quad-channel memory up to a speedy 3400MHz across the board's 8x memory slots and support for next-gen high performance NVMe M.2 and SATA Express SSD storage solutions as well as offering 10x SATA port connectors for current gen SATA3 storage options. The board is equipped with a Realtek 7.1 AMP-Up onboard audio processor, Dual BIOS support and full 16x speeds across the PCIe slots for our 2-Way GeForce GTX SLI configuration to ensure Hunter enjoys silky smooth performance and framerates in his favorite games. Plus it's standard orange and black color scheme made it a shoe-in for the build.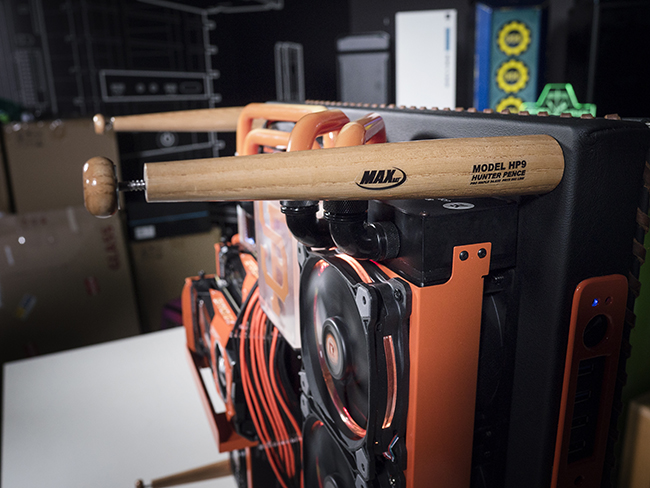 Intel i7-5930K Haswell-E 6-Core Processor
This is one beast of a CPU, weighing in at 6-cores and 12-thread (6T/12T), this hexa-core processor is a go-to choice for our 2-Way SLI with improved Hyperthreading and has a default stock clock at 3.5GHz with a max Turbo speed of 3.7GHz. Yet the 5930K features an unlocked multiplier and has proven itself to be a rock stable CPU choice for overlclocking when using the right components and adequate cooling – both of which modder Brian Carter had in mind when building Hunter's SF Giants monster gaming rig.
32GB Corsair Dominator 3200Mhz with Orange Upgrade Kit
These particular kits were designed for Intel X99-chipset motherboards to ensure stability and performance, leveraging the improved clock speeds and expanded capacity of the DDR4 platform. At 32GB capacity Hunter is set, exceeding the max recommended memory requirements of any modern PC game title. Pulling double and triple duty, the Dominator series supports Corsair Link software for expanded system monitoring and can also be decked out beyond the swank SF Giants orange top bars we have used. A light bar kit can be installed to add custom lighting to the LEDs.
Storage
As many gamers know managing storage can be a tedious uphill battle. As games continue to grow in complexity and visual fidelity, so do their storage requirements. For Hunter's extreme gaming rig we spared no quarter granting him the best in both speed and virtually bottomless capacity.
The OCZ RD400 NVMe is the latest in high-speed high performance NVMe storage solutions with Read/Write speed reaching a benchmark crushing 2600/1600 MB/s. The drive comes in a slim gum stick form factor that connects to the M.2 connector on our X99 SOC motherboard and allows the machine to boot up almost immediately.
The Samsung 850 EVO 1TB is a more traditional SSD and an outstanding performer among SATA3 SSD products featuring a slimmer form factor than physical platter HDDs. The 850 EVO kicks out a peppy and responsive 540MB/s sequential read speeds and 520MB/s sequential write speeds making it an ideal solution for games that suffer from prolonged load times. While our Western Digital Black 4TB 7200RPM platter HDD does all the bulk lifting with its deep storage capacity. It also features a dual-core processor onboard for added processing performance and a beefy 128MB cache.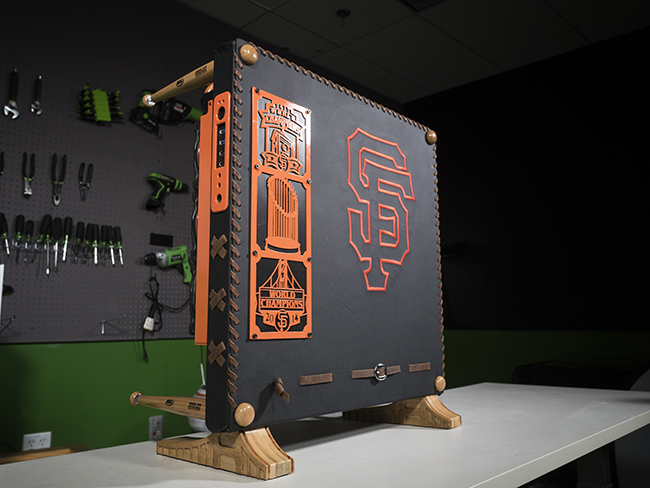 Corsair AX860W
We turned to Corsair and their AX860W 860 Watt 80 Plus Platinum Certified PSU for both of our featured rigs. This is a fully modular PSU allowing Brian to use only the color-coordinated custom cables necessary for our selected components, making for a more Spartan chassis environment and easier cable management in each machine. This is an efficient solution generating low noise and less wasted heat under the 80 Plus Platinum certification, yet still delivers sufficient power to all our components, including the dual GTX 1080 SLI setup in Hunter's rig.
---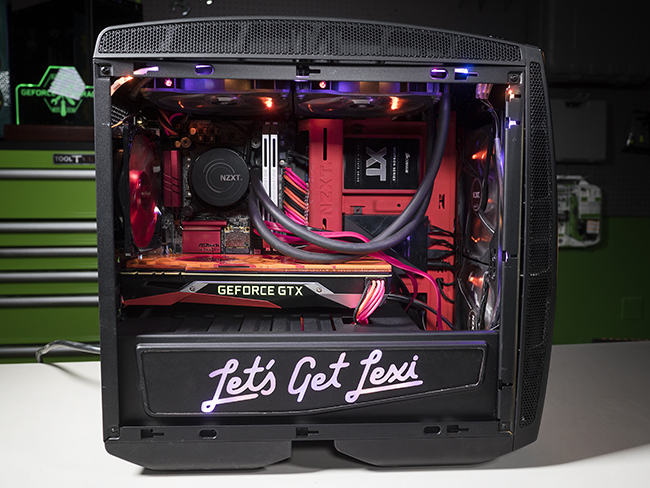 LEXI'S RIG
NZXT Manta with NZXT HUE+ Illumination System
Housing Lexi's elegant and colorful game streaming rig is the Manta case from NZXT. The Manta impresses with its super sleek styling and curved sci-fi inspired lines. The case is ready to go with Dual 280mm liquid cooling support and a fully filtered removable intake. This is an ITX case with a curved steel side paneling and open window to display the radical disco of colors dancing around inside. The wild spectrum of colors within is thanks to NZXT's HUE+ PC lighting and companion CAM digital control software. The illumination can even be set to respond to changing PC conditions or system audio. Brian has also emblazoned the exterior with a retro style multi-color scheme matching the same found on the LetsGetLexi YouTube channel.
GeForce GTX 1080 with Custom Backplate From V1Tech
We are going with a single Pascal-powered GeForce GTX 1080 born of the same stock as those used in Hunter's 2-way SLI configuration. Yet Lexi's focus is on game streaming, and not high definition gaming at extreme resolutions. We did slap a custom V1Tech backplate on the 1080 for Lexi's machine to tie it in with the rest of the case.
ASRock Fatal1ty Z170 Gaming-ITX
This Intel's Z170-chipset motherboard features support for 6th Gen Intel Core Processors as well as DDR4 dual-channel memory up to 4000MHz overclocked. Lexi's GTX 1080 connects to a single full-speed 16x PCIe connector and features a single SATA Express connection, 6x SATA3 ports and 1x Ultra M.2 via PCIe Gen3 connector. ASRock has even managed to toss in support for USB 3.1 (Type-A and Type-C) as well as 8x USB 3.0 ports.  Onboard 7.1 Realtek audio with Purity Sound 3 and DTS Connect and dual band 802.11ac WiFi + Bluetooth support round out some of the more attractive aspects of the ASRock Fatal1ty Z170 Gaming-ITX motherboard. It is an applauded mobo choice among builders looking for a wealth of features and impressive performance in a modest and diminutive ITX form factor.
Intel i7-6700K Skylake Quad-Core Processor
This is an enthusiast level CPU using 4-cores and 8-threads with a base clock of 4.0GHz (turbo to 4.2). It's also an incredible overclocker when using the right components and cooling. Like the far more expensive Broadwell die, this is a 14nm process offering a host of features not even found in the initial run of Haswell-E like support for higher performance NVMe storage solutions, USB 3.1, support for 3x independent displays and more. It will make an ideal processor for Lexi's streaming machine and should help to boost her productivity for content creation and editing her YouTube videos.
32GB Corsair Dominator 3000Mhz with purple upgrade kit
We used virtually the same kit of memory in each of the Pence couple's PCs, with a couple small iterations. Lexi's 32GB kit is clocked just under hardcore game hubbie's (3000MHz vs 3200MHz respectively) and we customized each differently to match their selected themes.
Storage
Like Hunter's gaming rig, Lexi's stream machine is kitted with three different storage drives. The OCZ RD400 NVMe 512GB SSD and the WD Black 4TB physical platter HDD are also used in Hunter's PC. The third drive is the Corsair Neutron XT 480GB SATA style SSD. This is an excellent choice in both aesthetics, matching the jubilant rave of colors within Lexi's streaming PC; plus it is a high performing storage solution capable of 560MB/s and 540MB/s read/write transfer rates making it a sought-after choice for both content creation, encoding and garden variety file transfer.
---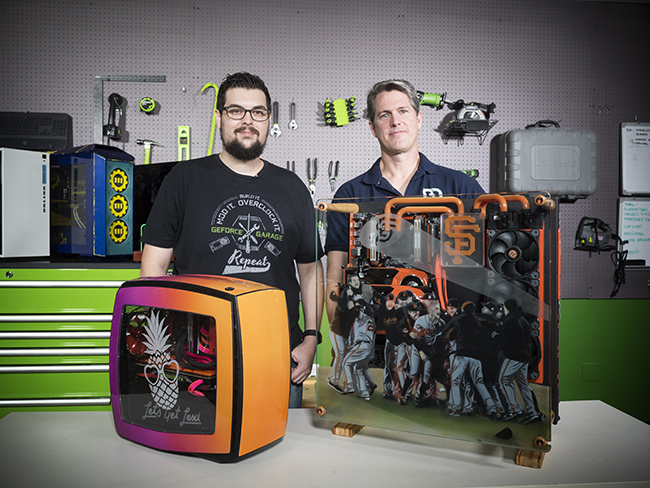 That's it! It's the bottom of the 9th and we could not be more pleased! This was a marvelous opportunity to create another pair of killer gaming machines and place them in the capable game-hungry hands of community heroes like Hunter and Alexis Pence. We turbo-charged Lexi's productivity while also giving their gaming experience a much-needed shot in the arm and together NVIDIA, Let'sGetLExi, GameChanger and Project Open Hand all hit a homerun for the community.
To see how how you can get your own high-end gaming system and support GameChanger, check out the auction page.