GeForce GTX 1080 11Gbps & GeForce GTX 1060 9Gbps Custom Card Roundup
Featured Stories
,
GeForce GTX 1080
,
GeForce GTX 1060
,
Hardware
,
Pascal
When the GeForce GTX 1080 Ti launched, NVIDIA introduced the world to its 11Gbps GDDR5X video memory, resulting in increased memory bandwidth and speed. That same advanced G5X VRAM is now available on custom GTX 1080 graphics cards at 11Gbps. But we didn't stop there; our partner's GTX 1060 cards have been similarly bumped-up with 9Gbps GDDR5 memory. That means better framerates and quicker asset and texture loading times on the both the GTX 1080 and GTX 1060's upgraded memories, resulting in ideal gaming experiences.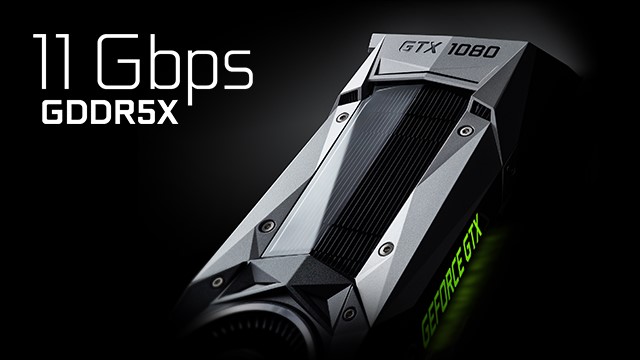 Since NVIDIA enjoys an expansive list of worldwide partners, there are many custom GTX 1080 11Gbps and GTX 1060 9Gbps graphics cards to browse. Additionally, there are numerous styles and types—some cards are geared towards intense overclocking, with all-powerful heatsinks and fans, while others focus on areas such as silent running, smaller form factors, and artistic creativity (to name just a few).
Because of the amount of choices, you'll find it useful to focus in on your particular needs. Do you want a card that has the most overclocking potential? Do you prefer a 2-slot card over a 2.5 version? Is it more to your tastes that the color and shape of the graphics card match your PC's motif? Do you have a soft spot for LED logos with custom lighting profiles and adjustable effects? The more you can distill what's most critical to your setup, the easier your adventure for a new GTX 1080 11Gbps or GTX 1060 9Gbps will be.
And don't worry, we include at-a-glance vital info for each graphics card in every entry, including data such as the manufacturer's website, recommended retail price, number and type of required power connectors, memory and core clock speeds, card size, and links to professional reviews, when possible. You should also be aware that a large majority of custom cards send their exhaust inside your chassis, rather than out of it. Due to that, if you're running a setup such as a Mid-ATX chassis with stock accessories, you'll want to tidy up your cables and add a few extra case fans to ensure optimal airflow.
When it comes to finalizing your purchase, shopping online is a better bet than hitting the brick-and-mortar outlets, as they typically offer better deals, and you're more apt to stumble across a price cut or special promo. The more websites you check out and compare, the better.
*Please note, all prices are those as of publishing, and are subject to change. Cards without current pricing are listed as TBD.
Custom GTX 1080 11Gbps Cards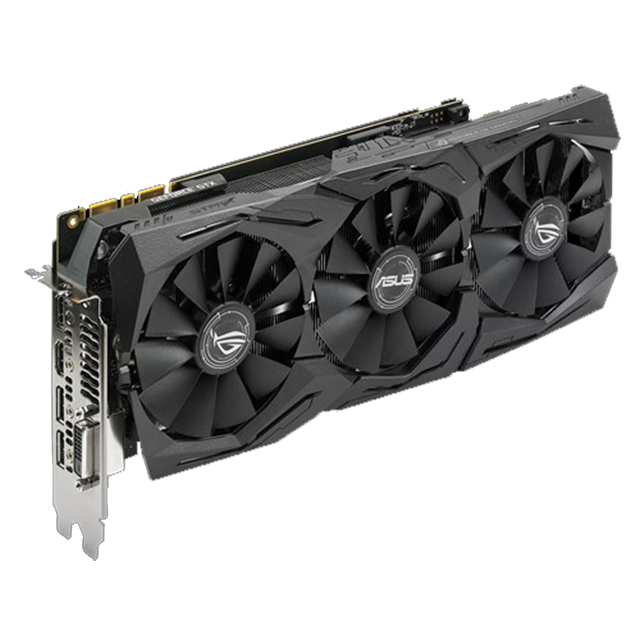 ASUS ROG Strix GeForce GTX 1080 OC Edition 11Gbps
ASUS went with a 2.5-slot cooler on the ROG Strix GeForce GTX 1080 OC Edition, and they claim this design allows for a 40% increase in the surface area of the card's heatsink, resulting in up to 30% more heat dissipation and three times quieter performance. Additionally, the heatsink's copper heat-spreader contacts the GPU directly via ASUS's MaxContact technology. ASUS claims that this enhanced surface area provides up to two times more contact with the GPU than the standard design, which unlocks better thermal transfer.
Three patented wing-blade fans are perched over the heatsink, ready and willing to provide the airflow needed to send hot air away from the card. ASUS claims these uniquely created fans provide 105% more air pressure than traditional designs. The fans are also IP5X-certified dust resistant, which, according to the manufacturer, ensures optimal cooling even under high-usage gaming sessions. For those looking for full control over their system fans, ASUS offers FanConnect II—a pair of hybrid-controlled headers with 4-pins each that interact with both the CPU and GPU; ASUS claims the connected fans then behave automatically based off which component (CPU or GPU) has the current higher heat.
This particular graphics card is manufactured with Auto-Extreme Technology, an ASUS-exclusive production process that involves 100% automation, removing human error from the equation. ASUS further claims that this setup incorporates premium materials and hardware, such as 8+2 phase super alloy II components, to further bolster the card's reliability, power efficiency, and overall ruggedness. And lighting enthusiasts will be happy to hear that there are loads of options to modify (via the Aura Sync tech), including effects such as breathing, strobing, color cycling, music effect, and GPU temperature.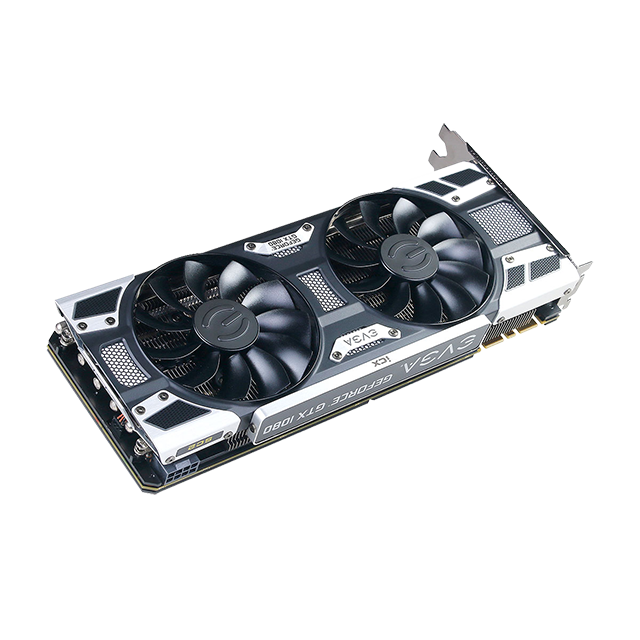 EVGA GeForce GTX 1080 SC2 11Gbps Gaming
The EVGA GeForce GTX 1080 SC2 11Gbps Gaming is armed with the iCX technology cooling system, which involves a brand new PCB, LED, thermal modules, and Precision XOC software. EVGA claims that iCX features nine additional sensors and numerous MCUs on the PCB, and asynchronous fan control, which allows you to adjust fan curve and separate the left and right fan speeds on the cooler. If you prefer to let the fans take care of themselves, EVGA claims the speed of the left fan is based off the temperature of the GPU, and the right fan's speed is based off the heat generated from the power and memory section. Plus, you can always monitor the overall temps and fan behaviors inside EVGA's Precision XOC software, which is a free download. For those with a windowed side-panel on their case, there's a handy at-a-glance thermal display on top of the card that changes color based off heat.
In the heatsink kingdom, EVGA claims they optimized the airflow and fin design, using fin holes to route the airflow more efficiently, and L-shaped fins to better increase their contact to the surface. EVGA also includes a die-cast, form-fitted baseplate to the back of the card.
You can also check out EVGA's other 11Gbps GTX 1080 options with similarly equipped coolers, such as the EVGA GeForce GTX 1080 FTW2 Gaming (with a 1721 MHz base clock, 1860 MHz boost clock, and 11 Gbps memory), EVGA GeForce GTX 1080 Gaming (with a 1607 MHz base clock, 1733 MHz boost clock, and 11 Gbps memory), and the EVGA GeForce GTX 1080 FTW2 DT Gaming (with a 1607 MHz base clock, 1733 MHz boost clock, and 11 Gbps memory).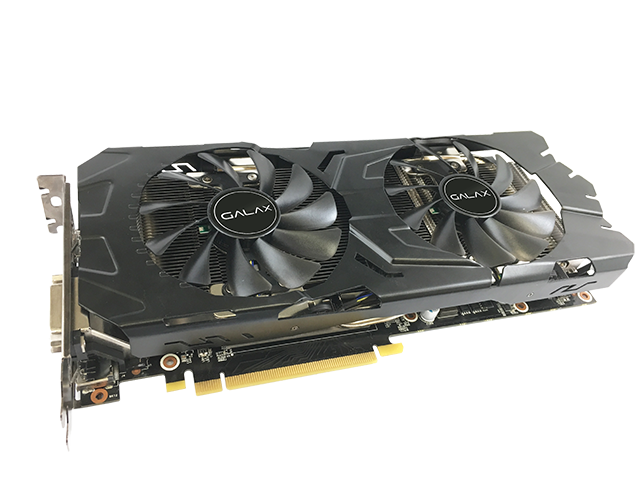 GALAX/KFA2 GeForce GTX 1080 EXOC SNPR Black 11Gbps
Base Clock: 1657 MHz
Boost Clock: 1797 MHz
Memory Speed: 11 Gbps
Power Connectors: One 6-Pin, One 8-Pin
Size: 2.5-Slot
MSRP: TBD
GALAX put some serious work into altering the GTX 1080 EXOC SNPR Black 11Gbps's PCB. The manufacturer claims their card offers optimized modules and circuits, high-quality components for superior performance (including a 5+2 phase power supply, 5-phase core, and 2-phase memory), and unique SMD inductors to help keep noise levels low. GALAX also claims that their aluminum RGB-lit backplate adds better heat dissipation and extra protection for the card. There are two generously sized 100 mm LED fans on top of the shroud, and according to the manufacturer, they'll remain off and stay utterly silent until the GPU temp goes above 45° C.
The same card is also available under the KFA2 brand (for Europe only).
Gigabyte's AORUS cooling system is designed to take care of not only the GPU, but the MOSFET and VRAM as well. There are two copper cooling plates that make up the configuration, one on the bottom of the aluminum heatsink, and one on the card's backplate. Gigabyte claims the copper base on the heatsink contacts the GPU and VRAM directly, and connects into the fin array's composite heatpipes, while the back plate's version adds an extra layer of heat removal, making for a well-rounded solution. The heatsink itself is comprised of angular and unequal fins, which Gigabyte claims makes the contact surface more prominent, and increases cooling capacity.
Three 100 mm, double-ball-bearing stack fans (dubbed Windforce) send the hot air off the heatsink and away from the card; the middle fan spins in the opposite direction of its two neighbors. Gigabyte claims these fans and their configuration result in larger and smoother airflow, with 10% better cooling performance. Gigabyte also claims that their 3D-Active fan tech keeps the fans stopped for low-power gaming, and will only kick back on when required. The AORUS GTX 1080 Xtreme Edition 8G 11Gbps also includes four separate areas of LED lights and lighting effects to fine-tune.
Other extras are a fully automated production process (which Gigabyte claims removes sharp protrusions of the solder connectors, keeping your hands scratch-free), LED indicators on the card's power connector ports, 12+2 phase power phases, Titan X-grade chokes and capacitors, an aerospace-grade PCB coating, which the manufacturer claims keeps the board resistant to dust, hair, dropped screws, and abrasion. Tying everything together is a four-year warranty, which you can obtain by registering on the AORUS website.
As a secondary option with a related cooler, Gigabyte has the AORUS GeForce GTX 1080 8G 11Gbps, with a base clock of 1708 MHz, a boost clock of 1847 MHz, and a memory clock of 11 Gbps.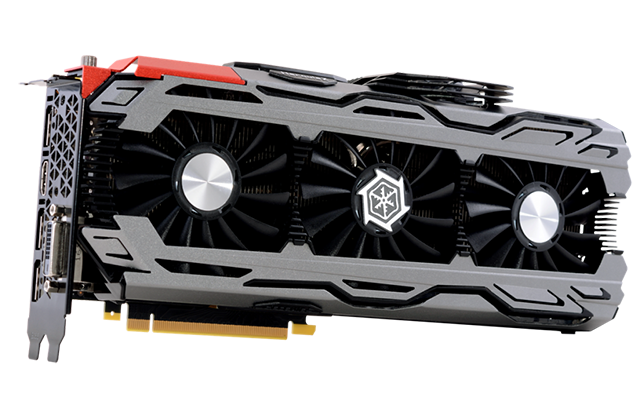 Inno3D iChill GeForce GTX 1080 11Gbps X4
The Europe-only Inno3D iChill GeForce GTX 1080 11Gbps X4 goes all-in on fan cooling. It uses four of them total, with three 92 mm turbine designs and a single 50 mm fan on top of the card, near the display connector area. Inno3D claims this vast cooling setup maximizes the airflow to the GPU and memory. If you prefer to clean and dust you card often, the entire fan shroud is removable without any additional tools, and the front-most 92 mm fan can be taken off as well. Underneath the fan assembly is an aluminum heatsink with 123 fins, and a set of high-heat flux heatpipes. Inno3D also added a 6-pin power port to accompany the usual 8-pin one, which the manufacturer claims adds to the stability and dependability of the overclocks.
Rounding off the card is Inno3D's intelligent fan stop technology, which, according to Inno3D, saves power and cuts down noise by placing all the fans in idle mode when unneeded. You can check on the current GPU load by having a glance at the LED indicator built into the card, which glows red for intense gaming, green for low-power gaming, and blue for low-power applications.
Inno3D also has the iChill GeForce GTX 1080 11 Gbps X3, which drops the smaller top fan, and has a base clock of 1759 MHz, a boost clock of 1898 MHz, and a memory clock of 11.4 Gbps.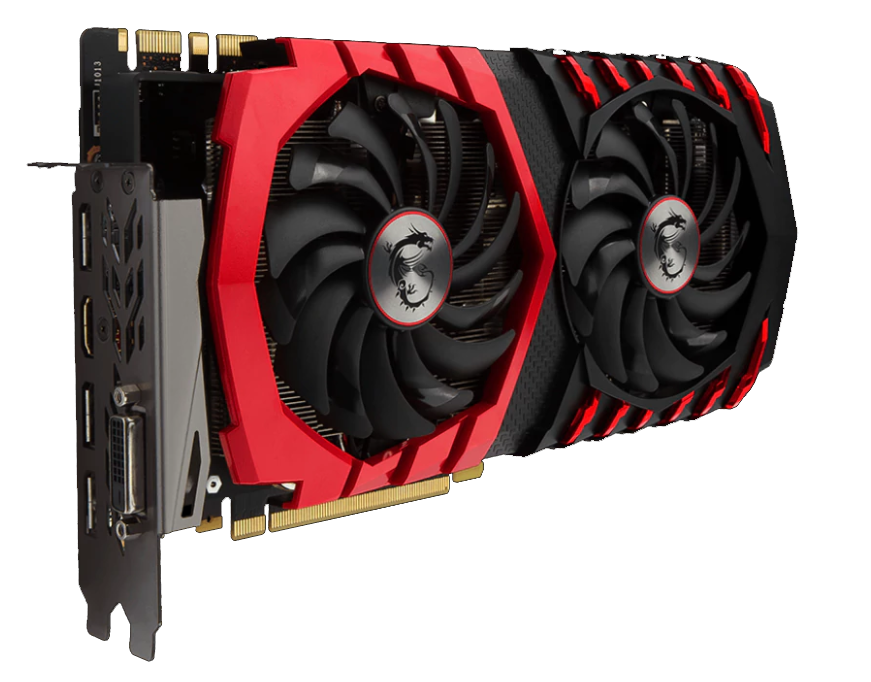 MSI GeForce GTX 1080 Gaming X+ 8G
The MSI GeForce GTX 1080 Gaming X+ 8G uses the manufacturer's Twin Frozr VI thermal design. The cooling unit holsters a pair of double-ball-bearing TORX 2.0 fans, which have traditional fan blades as well as dispersion blades, which MSI claims generates 22% more air pressure for better heat removal and quieter operation. Speaking of silent running, MSI claims their ZeroFrozr technology removes fan noise under low-load situations; it does this by halting the fans entirely when the card drops beneath 60° C. The black and red fan shroud contains various LED strips, and you can tweak their effects, such as by having them respond to music a certain way, or simply flashing or breathing on timed intervals. If you'd like to disable the lights altogether, that's an option too.
On top of the GTX 1080 Gaming X+ 8G's PCB is a long aluminum heatsink with various smoothed heatpipes and specialized deflectors, which MSI claims enlarges the surface area and creates lower temperatures. The heatpipes sprawl out from a nickel-plated copper baseplate, which contacts the GPU with a premium thermal paste. There are other features tucked beneath the heatsink on the PCB too, such as an anti-bending strip, a memory cooling plate, and an embedded PWM heatsink with microfins. MSI further claims that their hardware uses high-quality military class components for enhanced reliability.
There's also the MSI GeForce GTX 1080 Gaming+ 8G, which uses the same cooler design, but comes equipped with a base clock of 1620 MHz, a boost clock of 1759 MHz, and a memory speed of 11 Gbps.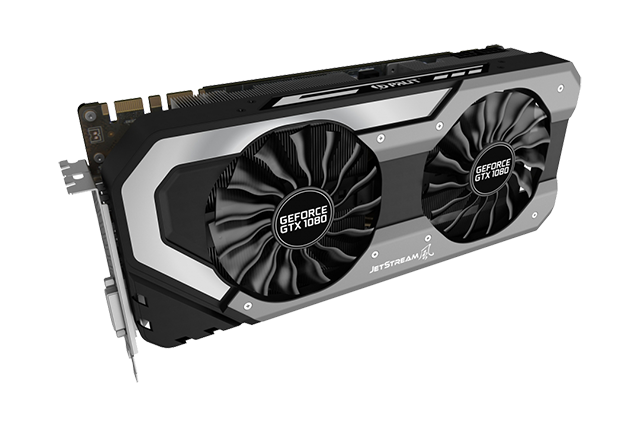 Palit GeForce GTX 1080 OC Super JetStream 11Gbps
Available only to those in Europe, Palit's GeForce GTX 1080 OC Super JetStream 11Gbps comes with a dual BIOS program, which Palit claims automatically activates an in-built protection program when an error is detected. This makes it ideal for hardcore overclockers looking to push their speeds to the absolute limit, without needing to worry about lasting damage to the components. The modified PCB also comes with a DrMOS MOSFET and an 8-phase PWM.
The card is outfitted with two 100 mm fans, with a blade design inspired by jet engines. Palit claims this TurboFan blade technology improves performance, air pressure, and operates quieter than traditional fans. Additionally, the fans spin in opposite directions, which the manufacturer claims reduces airflow conflicts and assists with superior heat removal. According to Palit, their 0dB tech turns the fans off until the demand is high, such as intense gaming sessions or when the GPU heat gets above 50° C. Underneath the two fans is a sizable aluminum heatsink with copper heatpipes.
ZOTAC GeForce GTX 1080 AMP Extreme+ 11Gbps
While 11 Gbps memory is fast to begin with, ZOTAC pumps that value up even more on their GeForce GTX 1080 AMP Extreme+ (11.2 Gbps, to be precise). The base and boost clocks get some similar OC treatment too, with 1771 MHz and 1911 MHz, respectively. Of course, strong overclocks need strong cooling, and for that, ZOTAC employs their IceStorm cooler. It incorporates variably sized heatpipes and a large aluminum fin array on the heatsink. There are three dual-bladed EKO fans, which ZOTAC claims stay quiet even under heavy demand, and increase airflow by up to 30% compared to traditional fans. ZOTAC also claims that the fans will stay idle when there's no need for the GPU—such as when you're surfing the web or not at your PC—thereby reducing wear and tear.
The fan-shroud and backplate go with a distinct carbon aesthetic, and both are constructed from rugged metal. And thanks to ZOTAC's Spectra lighting system, you can adjust the color and effects of LED strips on the front and back of the graphics—just download and launch the free FireStorm app to make it happen.
Custom GTX 1060 9Gbps Cards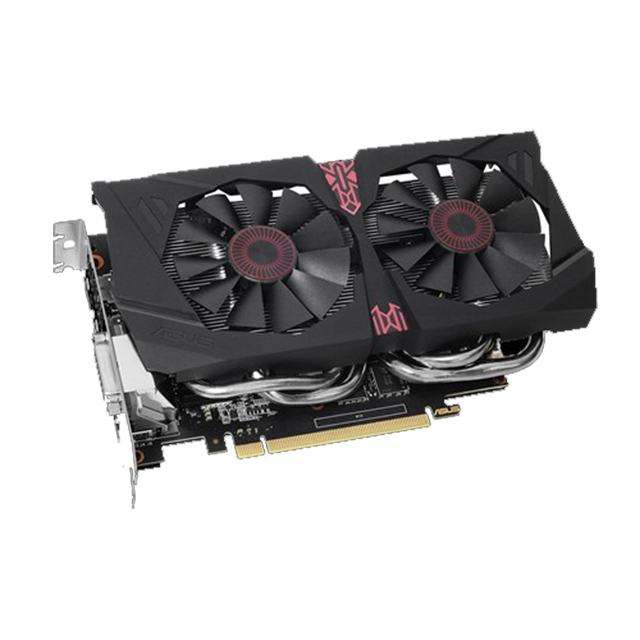 ASUS GeForce GTX 1060 OC Edition 9Gbps