GeForce GTX 970: NVIDIA's Recommended GPU For Just Cause 3
Featured Stories
,
System Requirements
,
GPU Recommendations
Just Cause 3 begins blowing stuff up from tomorrow. If you have a GeForce GTX GPU, our Game Ready driver, and GeForce Experience, you'll get the definitive Just Cause 3 experience the second the game launches, and high framerate Optimal Playable Settings.
If instead you're needing to gear up for Just Cause 3, to maximize your experience with max-setting graphics and high framerates, we've got a set of recommended GeForce GTX GPUs that'll deliver an experience The Way It's Meant to be Played.
The official Just Cause 3 system requirements lack specificity about the resolution, detail level, or framerate that will be possible on systems matching the outlined configurations.
Minimum Specifications
OS: Vista SP2, Win 7 SP1, Win 8.1 (64-bit Operating System Required)
CPU: Intel Core i5-2500K 3.3 GHz or AMD Phenom II X6 1075T 3 GHz
Memory: 6GB RAM
Graphics: NVIDIA GeForce GTX 670 with 2GB of VRAM
Recommended Specifications
OS: Vista SP2, Win 7 SP1, Win 8.1 (64-bit Operating System Required)
CPU: Intel Core i7-3770 3.4 GHz or AMD FX-8350 4.0 GHz
Memory: 8 GB RAM
Graphics: NVIDIA GeForce GTX 780 with 3GB of VRAM
In our testing, a GeForce GTX 780 delivered an excellent experience at 1920x1080 when paired with a suitably speedy CPU, but as the GeForce GTX 780 is no longer available for purchase you should instead look to the GeForce GTX 970 for an upgrade or new system build. It's faster, features additional video memory, and supports our latest range of technologies and effects that make your games even better. The minimum specs, meanwhile, are unable to play beyond low settings at 1920x1080.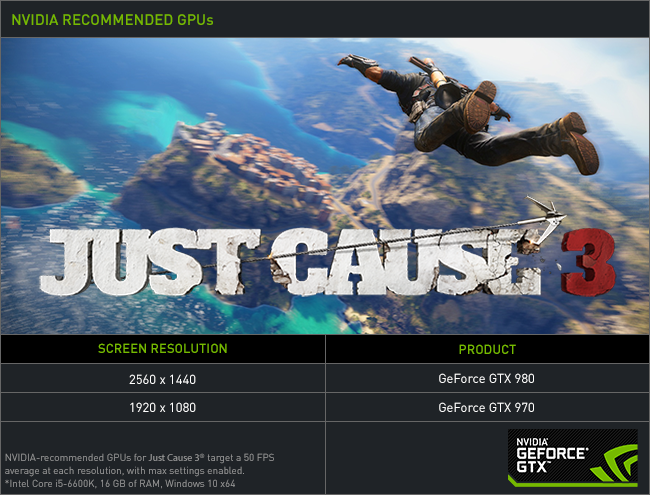 Regardless of your system configuration, all NVIDIA GPU users will automatically receive Optimal Playable Settings for Just Cause 3 through GeForce Experience. With a single-click, Just Cause 3's 13 settings will be auto-configured for your system, instantly delivering a high framerate experience, enabling you to enjoy Just Cause 3 the second you load the game.
For the complete lowdown on Just Cause 3 and it's amazing NVIDIA WaveWorks water, be sure to check out our Just Cause 3 Graphics & Performance Guide. Settings are explained and benchmarked, graphical fidelity is demonstrated in interactive comparisons, and much, much more.