The New Way To Game: The Future of Cloud Gaming Begins With GeForce NOW
Featured Stories
,
GeForce NOW
Each day millions of us stream music, movies, TV shows, Let's Plays, and eSports events to our devices. Streaming gives us instant access to content whether we're at home or on the go, is faster than downloading, and helps us to discover new bands, shows, and games that we may have previously ignored if an up-front purchase or visit to an actual store was required.
Starting today, you can add PC games to your streaming experience with GeForce NOW, NVIDIA's new on-demand cloud-gaming service for SHIELD devices. With a GeForce NOW membership, you can stream a library of more than 50 popular PC games to your SHIELD device at up to 1080p resolution and 60 frames per second. Plus, members can also purchase new releases from the GeForce NOW store and play them instantly.
SHIELD Android TV, tablet, or portable owners can play top PC games like Batman Arkham Origins, Borderlands, and Dirt 3 for free for the first 3 months of their GeForce NOW membership, and then just $7.99 a month thereafter. More than 60 games are available as of today, and we plan to add fresh titles regularly (track new releases on GeForce.com). To learn more about some of our favorite titles that you can access through GeForce NOW's membership pack and store, please see our companion article.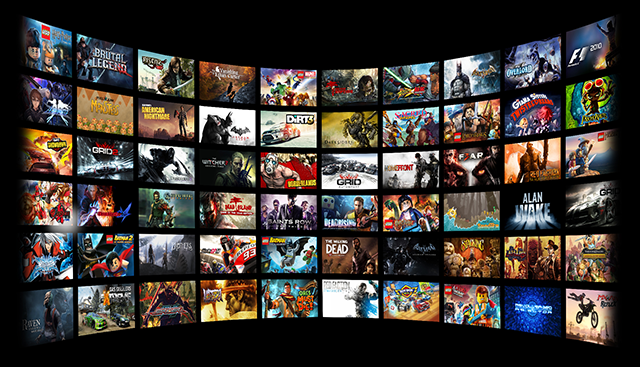 GeForce NOW is essentially a network of GeForce GTX-powered gaming supercomputers in the cloud that can deliver full 1080p resolution game streams at 60 frames per second—a feat no other game-streaming service in the world can match. Our engineers have worked hard for the last three years optimizing GeForce NOW's hardware and software to deliver the highest possible visual quality, with extremely low latency. This architecture, combined with the technologies and features embedded in the SHIELD platform, such as our low-latency Wi-Fi controller and Tegra processor, provides an ideal streaming experience.
The GeForce GTX GPUs in GeForce NOW's servers are the stars of the show, able to stream games at very high visual settings with all NVIDIA GameWorks enhancements enabled. This means GeForce NOW members enjoy a level of detail, and speed that is unprecedented on other streaming services or consoles, and previously only possible on high-powered GeForce GTX PCs.
It's also important to emphasize that access to the GeForce NOW store means members can purchase a new release the day it comes out and play it in less than a minute on their SHIELD device. There's no need to wait for massive downloads to finish. And we are working hard with publishers to bring as many new releases to the store as possible.
Furthermore, many games purchased in the store include digital download game keys so you can also play them locally on your gaming PC if you wish. The inclusion of download keys is determined by the publisher and all these details are clearly noted for you in the GeForce NOW store during the checkout process.
We've put a great deal of thought into the GeForce NOW interface to make this content as friendly, and easy-to-digest as possible. For example, all of our titles are listed by genre so you can get to the type of games you enjoy the most with just a button press. We also list the most popular games on our service based on what our members are playing the most, and we separate membership pack games and store games, too. Plus we even take a look at what you are playing to bring you recommendations on other games you might enjoy.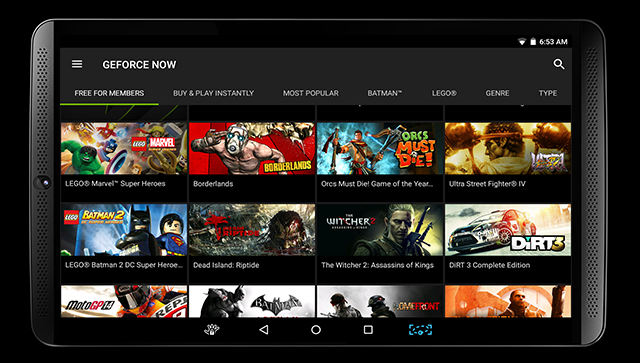 You can use voice commands to navigate all the awesome content on your SHIELD device, and GeForce NOW is no different. You can quickly jump to your favorite game using voice commands—simply open the search menu by pressing the NVIDIA button on your controller and say the name of the game you wish to play.
You'll also notice that many GeForce NOW games include multi-controller support. This feature allows you to connect extra controllers to your SHIELD and enjoy the game with up to three of your friends or family members.
Finally, for any parents out there that may be worried about your children accessing any game content you don't wish them to see, you can rest easy. Our highly-customizable parental control options make it simple to limit what content your children access based on ratings, while keeping it easy for you to play whatever you wish.

GeForce NOW is your gateway to high-fidelity PC gaming, and is available starting today on the complete range of SHIELD devices. By joining GeForce NOW you'll gain immediate access to a rich library of popular games, and have the option to purchase new releases from our store and play them instantly.
Plus, unlike with traditional game consoles, with GeForce NOW you can rest easy knowing you'll always be getting the best possible streaming experience. This is because we'll regularly update the GeForce GTX GPUs in our supercomputers so that they'll always have the power to handle the latest games.
To access GeForce NOW, simply go to the Google Play store to download the latest version of the SHIELD Hub app. Once installed, you'll have access to a whole new way to experience and play PC games.