IWANTMAXQ Contest: Win One Of The World's Most Powerful Thin and Light Gaming Laptops
Featured Stories
,
Contests
Want to win a high-performance GeForce GTX Max-Q gaming laptop? Simply take a creative photo of yourself gaming on any laptop in any outdoor location, and send it to us via Twitter, Instagram or Weibo, tagging @NVIDIAGeForce and including #IWANTMAXQ in your message.
Each week, for 4 weeks, starting today, we'll give away one Max-Q laptop to the taker of our favorite photo, enabling the lucky winners to play the latest games anywhere in the world at amazing levels of graphical fidelity, on the planet's thinnest and lightest portable gaming laptops.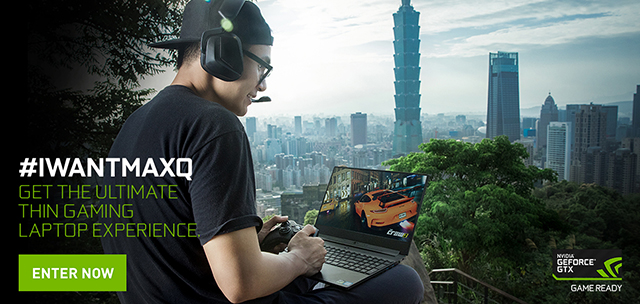 Upload your photo between June 5th and July 2nd to be in with a chance of winning one of these amazing Max-Q laptops:
There are no limitations on the number of entries per person, so if you want a higher chance of winning these amazing laptops, get more creative with each successive photo!
For the complete set of rules, and a list of countries eligible for this contest, head here.