"L.A. Noire: The VR Case Files" Is Coming to HTC Vive on November 14th
Featured Stories
,
Virtual Reality
Rockstar Games 1940's detective thriller, L.A. Noire raised the bar for realism in in-game performances. Featuring incredible digitized performances from well-known, real-world actors, L.A. Noire for the first time enabled gamers to 'see' someone lying or otherwise emoting. With this new tech, its great story, and its other features, L.A. Noire received critical acclaim, and pushed other developers to bring realistic performances to story-led titles.
Now, prepare to experience this thriller in a whole new way as you play seven select cases from the blockbuster original game in Virtual Reality in "L.A. Noire: The VR Case Files".
Coming November 14th for HTC Vive Virtual Reality headsets and GeForce GTX powered gaming PCs, The VR Case Files add new layers of immersion and realism to the crime thriller by putting you directly in the shoes of the protagonist, Detective Cole Phelps.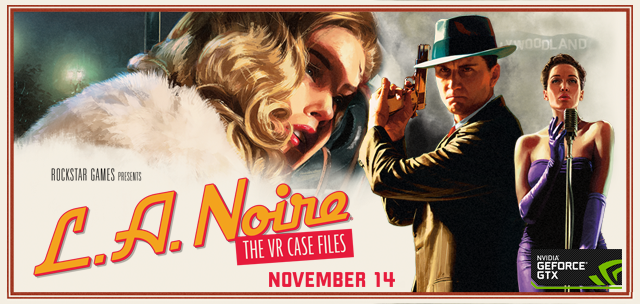 Set against the seedy and violent underbelly of 1940's Los Angeles, players become Cole Phelps as he investigates an escalating series of cases inspired by real-world crimes. Each successfully solved case brings Phelps greater success, but also brings him closer to the dark criminal heart of post-war L.A.
With each of the included seven cases specifically rebuilt for virtual reality, players can use real-world physical motions, including grabbing, inspecting and manipulating individual clues, or using the detective's notebook to make notes or draw freehand. And in new first-person VR driving sections, steer, operate car doors and other gizmos, change radio stations, and shoot at villains.
For further info about L.A. Noire: The VR Case Files, stay tuned to the game's official website as well as GeForce.com.