Mirror's Edge Catalyst Recommended GPU: The GeForce GTX 970
Featured Stories
,
System Requirements
,
GPU Recommendations
DICE and Electronic Arts' long-awaited Mirror's Edge Catalyst hits the streets, shops and rooftops soon. Gamers with a GeForce GTX GPU, our Game Ready driver, and GeForce Experience will receive the definitive experience thanks to class-leading hardware, driver optimizations, and GeForce Experience Optimal Playable Settings.
Set in a stunningly-rendered city, developed using DICE's Frostbite 3 engine, Mirror's Edge Catalyst will happily utilize all available GPU horsepower to further enhance graphical fidelity. As such, you'll want a powerful, modern graphics card to display the game's futuristic city as the developers intended.
To determine which GPUs are up to the task, we've worked closely with Electronic Arts to benchmark and test Mirror's Edge Catalyst on our complete range of GeForce GTX GPUs. Ultimately, we discovered the GeForce GTX 970 and GeForce GTX 980 Ti deliver an experience The Way It's Meant To Be Played. June 7th Update: With final retail builds and our Mirror's Edge Catalyst Game Ready driver, here are our updated recommendations: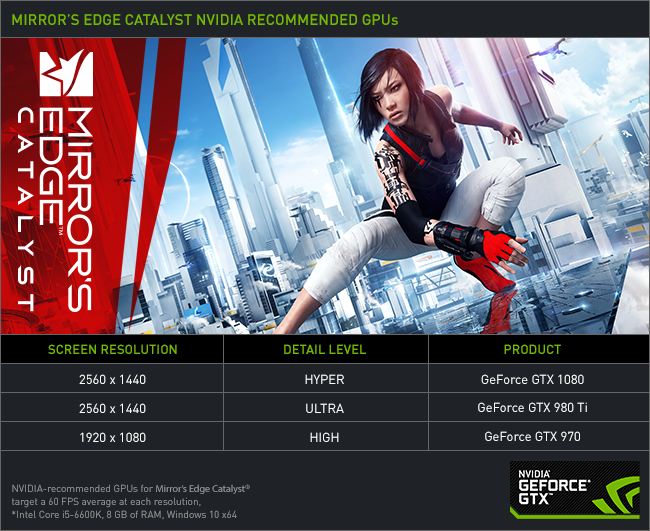 To determine the recommended NVIDIA graphics cards, our experienced team of testers played through the entirety of Mirror's Edge Catalyst. With that experience in hand, our technical marketing team was able to conclude that a 60 frames per second average in one of the most performance-intensive missions of the game corresponded to a smooth, responsive experience throughout every moment of the action game.
In addition to delivering the performance to smoothly play Mirror's Edge Catalyst, the recommended GeForce GTX 970 and GeForce GTX 980 Ti graphics cards support our vast array of critically acclaimed technologies, giving you the definitive gaming experience, unmatched by any other platform. And with GeForce Experience's ShadowPlay you can capture and share breathtaking, high-fidelity moments with your friends with ease.
Also courtesy of GeForce Experience, all NVIDIA GPU users will automatically receive Optimal Playable Settings for Mirror's Edge Catalyst, instantly giving gamers optimized settings that ensure a smooth experience on their system.
With our Optimal Playable Settings, Game Ready drivers, and technologies like G-SYNC, the definitive Mirror's Edge Catalyst experience will be on GeForce GTX PCs.
Note: Article originally published April 19th, 2016. Updated June 7th, 2016 with new recommendations based on testing with the final version of the game and the Mirror's Edge Catalyst Game Ready drivers.