Mod Spotlight: Skyrim's Legacy of the Dragonborn
Featured Stories
,
Mods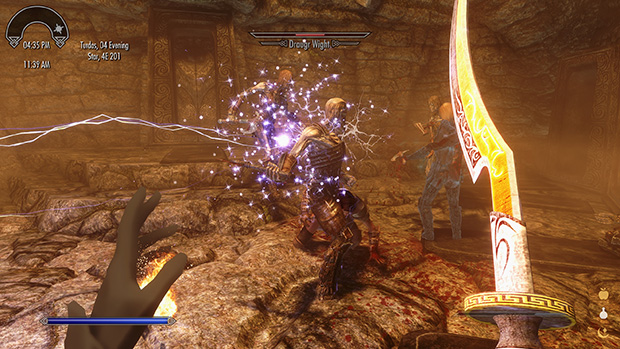 Affectionately referred to by some as "the insane completionist mod," The Dragonborn Gallery: Legacy of the Dragonborn is, for me, the ultimate mod for The Elder Scrolls V: Skyrim. Not only has it motivated me to play Skyrim yet again, it pushes me to explore every nook and cranny of the game.
Like many other Skyrim fans, I've gotten a bit addicted to modding the game during the last few years and find myself continually pushing the limits for what my PC can handle and the number of complex mods I can integrate into a stable game.
Many times I've managed to hit the limit of 255 mods, spending literally dozens of hours messing with load orders and mod patches to get everything to play nicely together, only to lose interest in playing the game by the time my character hit level ten.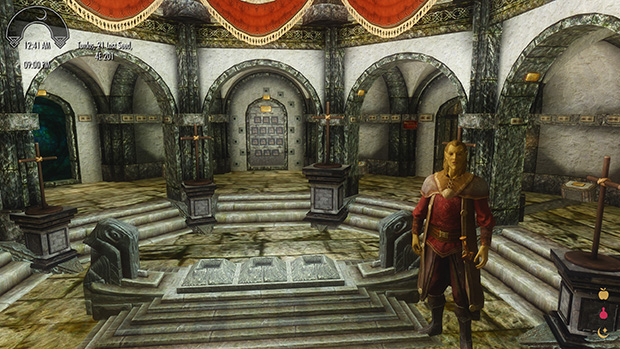 Welcome to the Hall of Heroes – the area in which many of the game's most impressive quest items will be displayed, eventually.
One Skyrim Mod to Rule them All
Enter Legacy of the Dragonborn, which is a massively ambitious mod that adds a huge museum and player home to Solitude, hundreds of custom items and many new quests to discover, and integrates many popular collection- themed mods.
Legacy of the Dragonborn challenges you to fill all of the museum's, or Dragonborn Gallery's, displays, which is a massive quest in and of itself. All told there are more than 2,000 items for you to find and bring back to put on display.
And, as you progress, you'll find the gallery grows in popularity with visitors who donate cash to your coffers, benefactors come by to donate relics (mostly in the form of awesome weapons), and staff gets added to the museum. Eventually, you will even have the option to create your own relic-hunting guild!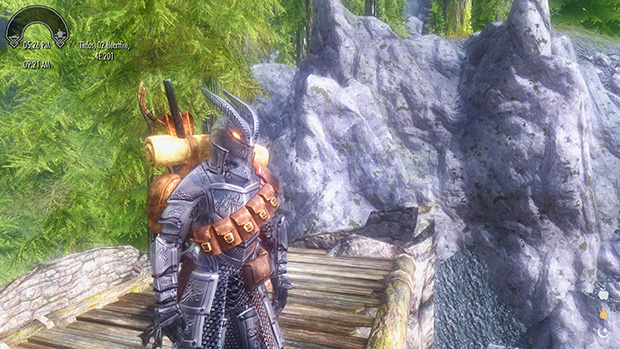 No matter how sweet your armor, you'll want to add a backpack, a bandolier, and as many pouches as you can to help carry all the sweet loot you'll be finding.
The mod has been a work in process for some time now, and early iterations were cumbersome to install and suffered from myriad small technical issues that turned me away from considering it for a serious play through. Until now, that is. The latest version, 15.4, feels very polished and complete – and effectively eliminates all the aforementioned issues for me.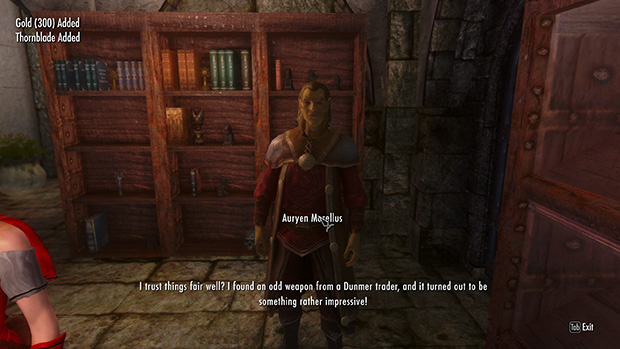 Auryen Morellus is the Dragonborn Gallery's curator and a fully-voiced guide for your relic -hunting adventure.
I'm waist deep into a new game now. My character has hit level 30 and I've filled 200 displays in the museum with well over two-thirds of Skyrim yet to be explored. And I've barely touched the main Dragonborn quest – nor do I really feel a need to, yet, other than to discover what new loot is hidden in those now-familiar grounds.
It's become a thrill to find something as simple as a missing book needed to complete a set for a bookshelf in the Gallery, or complete a side quest in the game to see an ornate display appear for visitors to admire.
I've still got more than 2,000 items to locate for the Gallery, and I am determined to find as many as I possibly can. Thankfully, you can access complete lists of all items for the Gallery via the Mod Configuration Menu to track what you've found, and have yet to find.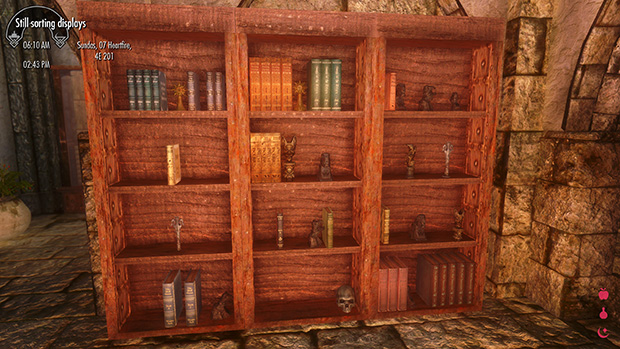 It will take a long time, and a good eye, to fill the museum's bookshelves.
Unique Items, New Quests, the Ultimate Player Home – and More!
The attention to detail in the Gallery is impressive – there's a spot for every notable book in the game, vast armories for you to display your spoils of war, and even a huge room to display Skyrim's flora and fauna.
And the player home wing, or "safehouse" as it's called in the Gallery, is impressive in its own right. There are item sorting boxes for everything from animal parts and ore to ingredients and weapons and armor types. Just drop everything into 'em and they get sorted into their appropriate containers that you can then access around the home. Light armor will all be found by clicking on the Light Armor display, for example.
There's a crafting room with everything needed to create and upgrade weapons and armor and forge ingots and all other crafting materials. Click on the anvil and all the related supplies you've gathered are available to use. Then go over to the kitchen and select the cooking pot and all of your gathered ingredients are there at the ready.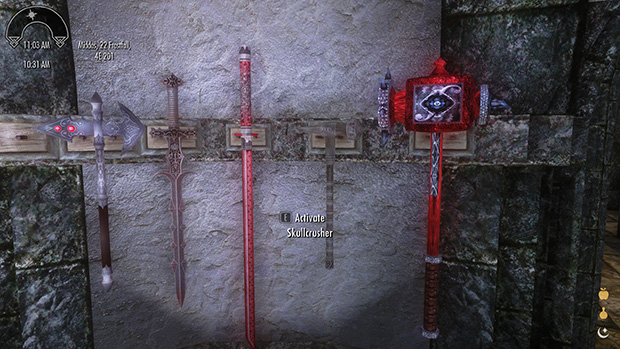 These are just a few of the very useful new weapons you'll earn for finding loot for the museum.
Everything is laid out and presented logically, and it's all wonderfully simple, convenient and immersive. And that's probably the most impressive thing about Legacy of the Dragonborn – it merges in with the game seamlessly without breaking immersion.
Time to Start Your Relic Hunter Career!
While it's possible to integrate the mod into an existing game it's best to start fresh. And I recommend combining this mod with Alternate Start and selecting Arrive by Ship, and then Solitude, for the quickest start to your Relic Hunter career.
You should also consider installing all of the supported mods for your play through, which include:
Unique Treasures
Great Jar Hunt
Helgen Reborn
Dev Aveza Airship
More Interesting Loot
Trophy Heads
Something Fishy (Fish Bowls)
Mad Masker
Aetherium Weapons and Armor
Captured Fairies
Falskaar
Gray Cowl
Immersive weapons/Armor
Konahrik's Accoutrements
Wheels of Lull
Wyrmstooth
All of these mods add a variety of items, quests, and new locations to explore throughout Skyrim. Without them, many of your displays in the Gallery will remain empty. Naturally, adding all of these will add mightily to your ESP count, but they are all well worth it.
Plus, Legacy of the Dragonborn integrates many mods, such as Big Leather Backpacks, Gemstone Collector, Moonpath to Elsweyr and Windcallers Pass, which means you no longer need them in your load order as they are included natively with Legacy.

Complete a quest and you just might be surprised with a new display when you get back to the museum.
I also recommend a follower mod to help carry all the loot you will be hauling back to the Gallery – and you can do no better, in my opinion, than Inigo. And, Bandolier – Bags and Pouches is most useful, too.  (Basically, anything that adds to your carry weight without breaking immersion will be a great boon.)
I've barely scratched the surface here of everything that Dragonborn Legacy includes, as the process of discovery is all part of the fun. Simply put: If you've been looking for a mod that will help inspire you to play Skyrim again Legacy of the Dragonborn is your Holy Grail.
Perhaps best of all, the mod is supported with a wealth of documentation to help guide you safely through the more-simplified installation process, all backed by an active community that can help troubleshoot any issues that may arise for you.
What's your favorite Skyrim mod? Let us know in the comment section below!