Discover The Thrill of Indie Games & Get One Free With Our New Bundle
Featured Stories
,
Bundles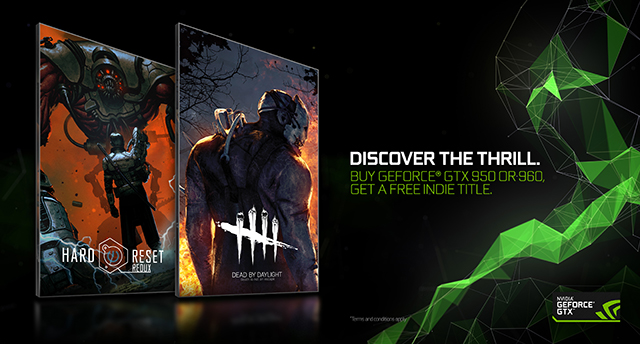 If you look at Steam's Stats page, the majority of the 100 tracked games are developed by independent developers, and the front page is a constant stream of new indie releases. In total, 2015 saw the release of over 3,000 new Steam games, almost all of which were indie-made. We want to help shine a light on the best of these releases, through our websites, YouTube channels, and social media pages. And in some cases bundling these thrilling indie games alongside our graphics cards, as we're doing today starting with Dead By Daylight and Hard Reset Redux, available now with participating GeForce GTX 960 or 950 desktop graphics cards, and notebooks powered by GeForce GTX 950M and 960M GPUs.
Dead By Daylight, from Behaviour Digital Inc., is an asymmetric 4 versus 1 multiplayer horror game where one player takes on the role of the savage Killer, and the other four players play as Survivors, trying to escape the Killer and avoid being caught, tortured and killed.
Survivors play in third-person and have the advantage of better situational awareness, while The Killer plays in first-person and is more focused on their prey. The Survivors' goal in each encounter is to escape the Killing Ground without getting caught by the Killer - something that sounds easier than it is, especially when the environment changes every time you play.
Hard Reset Redux, from Flying Wild Hog, is an action-packed single-player shooter that embraces the best qualities the genre has to offer, including over-the-top destruction, loads of enemies, great weapon variety, a challenging campaign with a 90's story, and a beautifully realized cyberpunk setting.
As the story tells it, "The world as we know it ceased to exist. Humanity is at the verge of extinction, living in the last closed city of Bezoar. Mankind wages war against the machines controlling vast areas of what became the 'Barrens'. Machines want to control and assimilate 'The Sanctuary' a network that holds billions of digitalized human minds."
If you want to gear up and snag a free game in the process, purchase a participating GeForce GTX 960 or 950 desktop graphics card, or a notebook powered by a GeForce GTX 950M or 960M GPU. Further details can be found on the GeForce GTX Indie Bundle homepage.