Obduction: The Stunning Spiritual Successor to Myst Hits PC and Oculus Rift
Featured Stories
Developer Cyan, Inc shook the gaming world in 1993 with the release of Myst, a groundbreakingly immersive adventure that dropped players in a surreal world shrouded in mystery. Now, more than two decades after Myst originally launched, its Kickstarter-funded spiritual successor Obduction has arrived on PC with full support for Virtual Reality on Oculus Rift.
Anyone who's played Cyan's legacy creation Myst and its sequels will be acutely, and nostalgically, aware of the immersive quality of the games. The strange steampunk worlds presented to the player were beautifully rendered and the mysterious and complex locations were graphically superior to anything else around at the time. Myst also set in place a template for puzzle adventures that is still providing inspiration to developers today. The concept of playing a mysterious character in a strange land who has to explore to uncover the truth about their predicament has been seen in numerous games since.
Given the uniquely immersive nature of Cyan's early output it makes sense the developer would revisit some of those themes and gameplay ideas as a starting point for Obduction, which has been designed to push the boundaries of modern PC hardware.
In Obduction, players finds themselves taking a gentle walk in the woods whereupon a sudden and inexplicable occurrence transports them to another world that is at once both familiar and jarringly alien. So begins a journey through various surreal environments containing mind-bending puzzles and the possibility of unravelling the great mystery of your obduction.
The nature of Obduction's design makes it a perfect fit for VR. Myst fans will remember the system of movement in the game. There was no free movement as such, so you would click on an area to be transported to the next viewpoint. This system of travelling via nodes has found a useful place in Obduction in VR. In addition to this "Blink" movement, players can freely roam around the game's detailed Unreal Engine 4 powered environments while exploring every nook and cranny.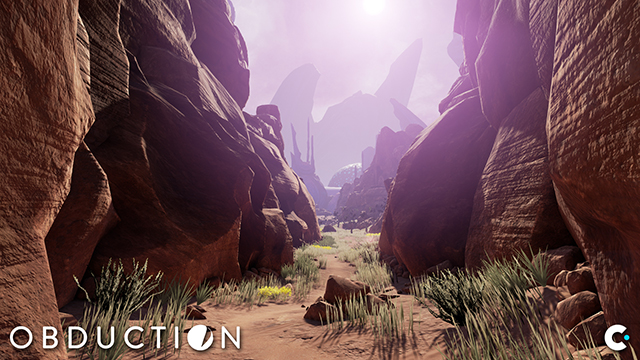 What's particularly interesting is that just as Cyan created something groundbreaking with Myst, they are determined to do so again with Obduction. They are doing so by taking advantage of the latest gaming technology in order to deliver a visually stunning fantasy world brought to life with a level of detail only possible with the latest gaming technology.
Cyan's adoption of new technologies extends beyond simply moving their unique brand of puzzle-adventuring from the flat screen into the VR space. They've also been working closely with NVIDIA to create something amazing and accessible to as many gamers as possible.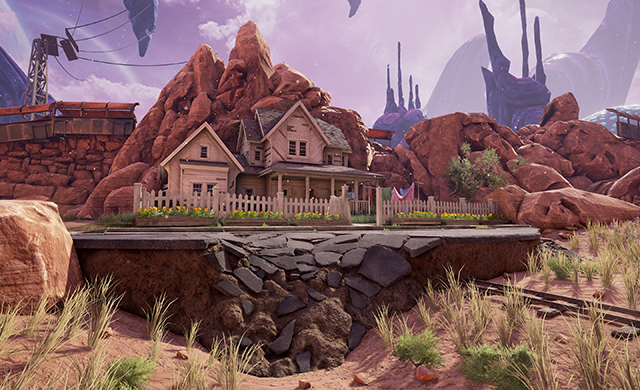 A PC with GTX 980 or GTX 1060 will meet the minimum requirements for playing Obduction in VR, however to really get the best possible VR experience you will want to play the game with a higher-end GPU such as the GTX 1080.
Obduction arrives on PC with support for NVIDIA Ansel, an advanced new technology that allows you to capture stunning 360 degree in-game screenshots. With Ansel, you can capture images in Obduction from any position and then adjust and tweak those shots with post-process filters.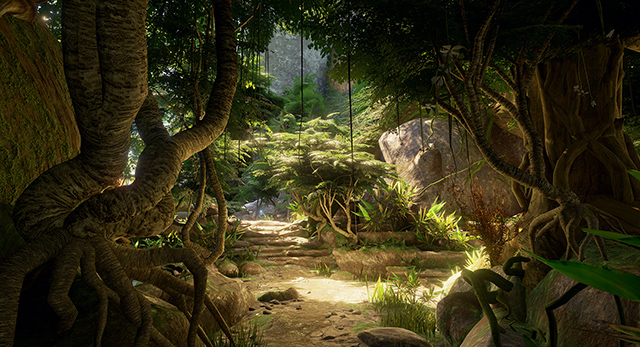 Cyan also worked closely with NVIDIA to integrate high-dynamic range (HDR) into Obduction. HDR enables developers to deliver a broader and much richer array of colors and contrasts in games. And with NVIDIA's sample HDR code, Obduction's development team modified the tech to specifically benefit their game's visuals. Obduction is now available for download on PC to play on Oculus Rift. The same version also allows for non-VR play on PC.