Oculus Spotlight: Experience the Thrill of the Game in VR Sports Challenge
Virtual Reality
,
Featured Stories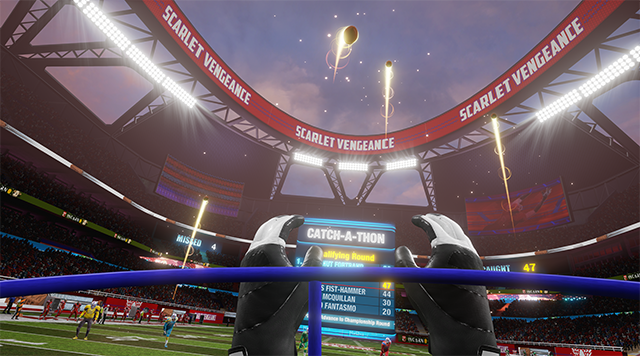 From the thundering roar of the crowd to the electric energy pulsating throughout the arena, there's nothing quite like attending a live sports event. That is until VR Sports Challenge, a highly-immersive, first-person sports game that drops players right in the action of the big four pro sports: football, baseball, basketball and hockey.
Football, Baseball, Basketball & Hockey Recreated in VR
Developed from the ground up for Oculus Rift, VR Sports Challenge simulates the sights and sounds of playing as an elite pro athlete in virtual reality. Tin Guerrero, Sanzaru Games Creative Director on VR Sports Challenge, explains that you don't even have to be a diehard sports fan to enjoy the full experience.
"It's very accessible but very deep," Guerrero says. "It's the first-person sports game you didn't even know you've been waiting for." He adds that regardless of your level of experience with VR—or even gaming in general—players instantly become immersed in the game once they put on the Oculus Rift headset and strap on the Oculus Touch controllers.
"Everyone I've seen that plays VR Sports Challenge comes out sweating, laughing, having fun, and craving more," Guerrero says.
Experience Pro Sports Like Never
While VR Sports Challenge can be enjoyed by all players, it also allows sports fans to play out their ultimate fantasy in VR: getting to gear up and hit the field, court and ice rink. "Think about this… in the world we live in there are only 32 starting quarterbacks in the NFL, 30 starting goalies in the NHL, and somewhere around 30 last-shot taking superstar basketball players in the NBA," Guerrero says. "In the VR Sports Challenge world you have the amazing opportunity to experience what it's like to be one of these elite alpha athletes during the crunch time of a game."
"Virtual reality has now made this dream, this fantasy, attainable," he adds. "I can't dunk in real life unless I lower an adjustable rim to eight feet. But I can dunk like a banshee in VR Sports Challenge."
First-person sports video games are virtually non-existent. With VR Sports Challenge utilizing this perspective in VR, Guerrero explains how exactly they are delivering an engrossing new sports experience to Oculus Rift players.
"Your teammates look you in the eye and tell you they are counting on you," Guerrero says, describing the game. "Sweaty opponents face up to you straining, grimacing, and trash talking all in an attempt to counteract your moves."  
"And the ever present rabid crowd is always one definitive play away from chanting your name or booing you out of the building." he continues. "Any sports lover around the world, regardless of the sport, dreams about being the player that has the ball in their hands with the game on the line. VR Sports Challenge' first-person perspective lets us put you directly into these mythical situations."
With the arrival of Oculus Touch controllers, the development team was able to enhance the tactile nature of how players interact with objects and other athletes in the game, too.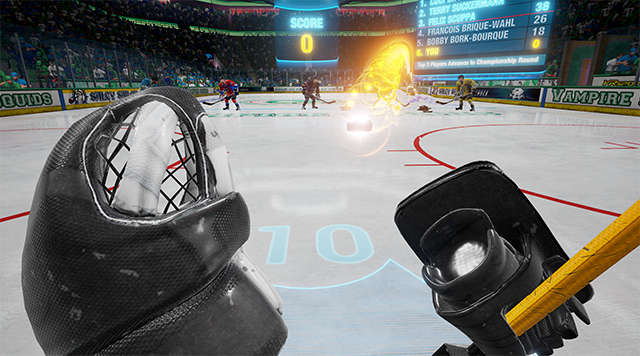 "We wanted to throw a pass in football by actually making a throwing motion instead of just pressing a button," says Guerrero, adding that early prototypes of the game were actually gamepad-only.  "Touch controllers allow for flexibility and expression in gameplay style."
In VR Sports Challenge, you aren't forced to one specific way to complete a physical action. In basketball, for instance, you have total freedom to attempt a free throw.  "Right handed, left handed, overhanded, no looking, even underhanded 'granny-style—these all work!" says Guerrero.
For Sports Novices & Hardcore Fans
With the game hitting Oculus Rift, it's already being well received by both casual and hardcore sports fans. The development team even showed off the game to NBA Commissioner Adam Silver earlier this year, who immediately took to the game. "Commissioner Silver was blown away by the sheer feeling of immersion," Guerrero explains, "and as a result he invited VR Sports Challenge to be featured at the 2016 NBA All-Star Technology Summit at the All-Star Weekend in Toronto."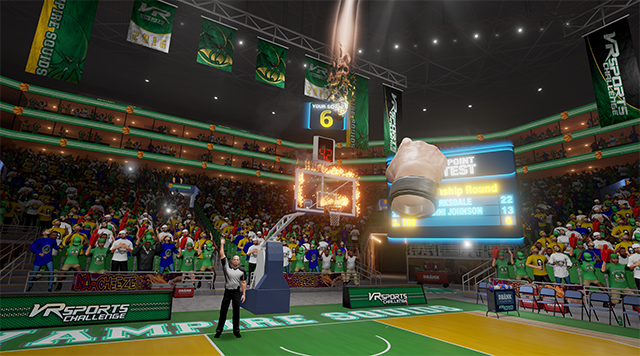 Guerrero tells us that despite the experience being embraced by sports fans, it's by no means intimidating and is designed to be inclusive to all players.
"It's hyper intuitive for experienced athletes, couch potatoes, and everyone in between," he says.
VR Sports Challenge will be available to download exclusively on Oculus Rift for VR ready PCs on December 6th and anyone who pre-orders Oculus Touch controllers, will get the game for free!  Learn more here.