How The New Pascal Architecture Supports Next-Generation Video Playback
Featured Stories
,
Pascal
,
GeForce GTX 1080
Video is going through a revolution, one that aims to deliver richer, more realistic pictures. At the forefront are two major technological advancements – 4K and High Dynamic Range (HDR).
The extra resolution of 4K adds more detail and depth to a picture, resulting in images that look incredibly life-like. HDR images, meanwhile, display more than twice the color gamut and a greater range of brightness and luminosity, showing colors and details which could not be seen before - 4K delivers more pixels, and HDR delivers better pixels.
Even though these capabilities have started appearing on televisions, PCs have not supported 4K streaming of premium content and HDR video playback until today, thanks to the new NVIDIA Pascal architecture, which makes its debut in the GeForce GTX 1080.
4K Streaming On PC
HEVC, also known as H.265, is a next-generation video codec offering significant bandwidth savings over the previous-generation H.264 AVC codec. The new Pascal architecture supports HEVC hardware decode acceleration, saving power and enabling the playback of high-resolution content, including 4K and 8K video.
In addition, we designed the Pascal architecture to meet the highest requirements of Microsoft PlayReady 3.0, allowing premium video content playback on Windows platforms. Content providers such as Netflix will be able to stream their latest content to Pascal-enabled PCs and have it play back at the highest supported quality, including 4K.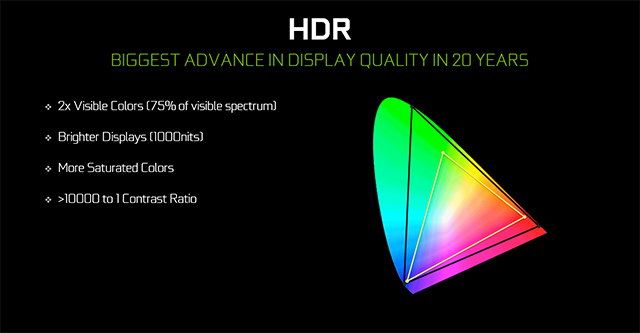 The Pascal architecture also provides native decode support for Google's VP9 video format. YouTube videos, in particular, will benefit when played back using the hardware acceleration offered by Pascal-powered platforms, greatly decreasing CPU usage.
High Dynamic Range Video
Traditional 8-bit video plays back on displays with limited brightness and color gamut. Next-generation video formats provide a much better approximation of our everyday experience, with 10- to 12-bit range in brightness and a wider color gamut closer to what our eyes can actually see.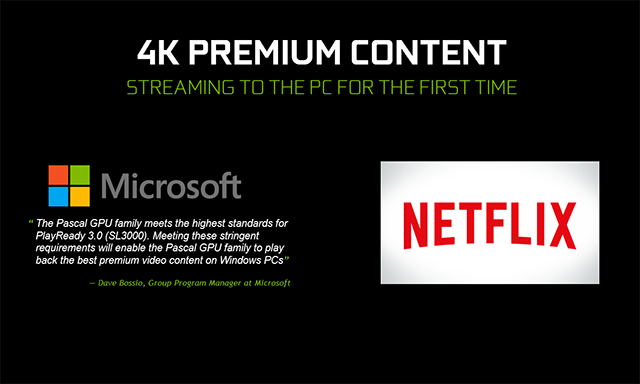 We designed the Pascal architecture to support various HDR video formats, including HDR10, and display them accurately on super-bright HDR displays. When providers are ready to roll out new HDR services for PC platforms, Pascal GPUs will decode and display this content as the director intended. CyberlinkPowerDVD has already demonstrated playback of HDR10 HEVC video files using the GTX 1080 with impressive results, and we expect other players to support this feature soon. "We are delighted to integrate support for NVIDIA HDR video playback technology into our latest products", said Cyberlink CEO Jau Huang. "NVIDIA's Pascal GPUs will enable users to enjoy the benefits of this new format as PowerDVD evolves to address this growing market."
NVIDIA's new Pascal architecture opens a doorway to a new world of video playback experiences on PCs. Make sure you tune in by picking up a GeForce GTX 1080.