PlayerUnknown's Battlegrounds NVIDIA Highlights Contest: Win A GeForce GTX 1080 Ti
Featured Stories
,
GamesCom
,
GeForce Experience
,
NVIDIA Highlights
,
ShadowPlay Highlights
,
Contests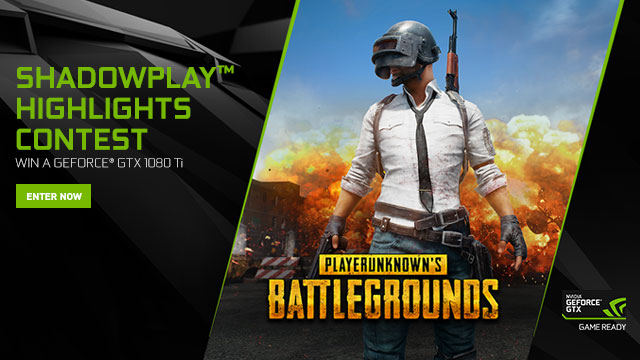 If you play PlayerUnknown's Battlegrounds (PUBG) and have a GeForce GTX graphics card, you can now automatically capture your kills, knockouts and wins using GeForce Experience's NVIDIA Highlights. In celebration of this new feature release we're partnering with developer Bluehole Inc. to launch the first PUBG NVIDIA Highlights contest.
The rules are simple, just play some PlayerUnknown's Battlegrounds, capture your amazing kills, knockdowns or crazy chicken dinners and share them on Twitter or Youtube, tagging @PUBATTLEGROUNDS @NVIDIAGeForce and #ShadowPlayHighlights.
Prizing includes 3 GeForce GTX 1080 Ti GPUs and 50 GeForce GTX USB drives. The contest is open until September 21st, after which time NVIDIA will select their favorite entries and pick the 3 winners and 50 runners-up. For the complete rules and a list of eligible countries, click here.
To learn more about PlayerUnknown's Battlegrounds addition of NVIDIA Highlights, and NVIDIA's wider partnership with developers Bluehole Inc., check out this article.