Pro Evolution Soccer 2018 GeForce GTX Recommended GPUs
Featured Stories
,
System Requirements
,
GPU Recommendations
If you're a soccer/football fan, KONAMI's Pro Evolution Soccer 2018 launches September 12th on PC with, "new lighting, reworked player models, and reworked animations, covering everything from facial expressions to body movement to bring the game to life."
The official recommended specs only call for a five-year-old GeForce GTX 660, so we were interested to know what GPU would be required for max settings at 1920x1080, 2560x1440, and 3840x2160 (4K).
To find the answers, we put our best players on the pitch for a good lengthy kick about in KONAMI's digital representation of the beautiful game: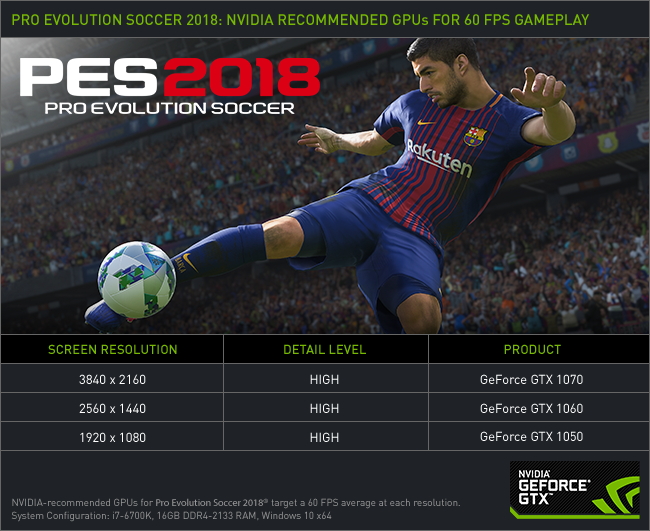 Based on our in-depth testing, the entry-level $109 MSRP GeForce GTX 1050 absolutely blitzes past the defense at 1920x1080, with a framerate far in excess of our 60 FPS target. At 2560x1440, the $249 MSRP GeForce GTX 1060 puts in a similar performance, besting the keeper to knock in a 60 FPS+ result. And at 3840x2160, the $379 MSRP GeForce GTX 1070 wins the league, tournament and world cup single-handedly, delivering the highest level of visual fidelity possible, plus a constant 60 FPS.
In addition to delivering the performance to smoothly play Pro Evolution Soccer 2018, the recommended GeForce GTX 10-Series graphics cards support our vast array of critically acclaimed technologies, giving you the definitive gaming experience, unmatched by any other platform. This also includes NVIDIA Ansel, an awesome photo mode that allows you to frame and capture unique screenshots in Pro Evolution Soccer 2018 and 23 other games. Learn more here.
And finally, before you start playing Pro Evolution Soccer 2018, be sure to download our GeForce GTX Pro Evolution Soccer 2018 Game Ready driver to get the smoothest, fastest, most reliable experience possible.