Rig Spotlight: BS Mods' GeForce GTX 1080 H-Tower
GeForce Garage
,
Rig Spotlights
Last month when we announced the GeForce GTX 1080 in Austin, Texas, we needed a showcase system that would not only top our TITAN X showpiece but also match the pure level of awesome of our new graphics cards. That's when we knew it would be the perfect time to bust out the In Win H-Tower. This Signature Series chassis is a unique mechanized beast that blooms open to display the system inside - the perfect case for the ultimate reveal!
To help us turn the limited-edition chassis into a one-of-a-kind system, we brought in Bob Stewart and Rod Rosenberg of the master modding team BSMods. In addition to a killer NVIDIA green powder coat and mirror black paint job, they enlisted the airbrushing skills of Ron Lee Christianson of Blue Horse Studios. We've nicknamed the final result "Tessie". Watch the video below to see what else it took to bring Tessie to life.
In addition to a amazing exterior, the system itself is no slouch. On top of two of the most advanced graphics cards we've ever made, Tessie also sports a top-of-the-line ASUS X99-E WS motherboard, 64GB of 2666MHz Corsair Dominator Platinum DDR4 RAM and an Intel i7-5960X CPU cooled by a custom EKWB loop.
Tessie Specs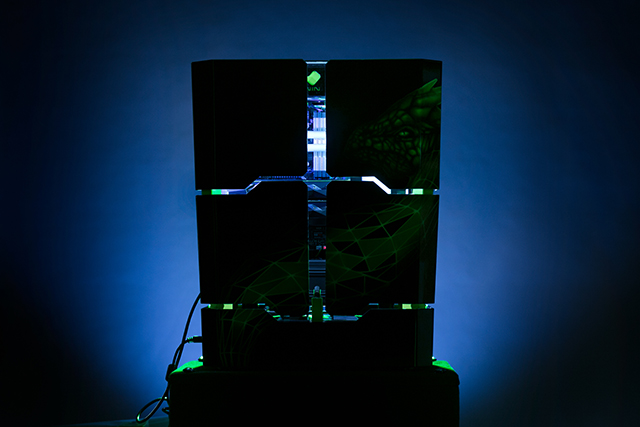 Shhhhh..... Tessie is sleeping.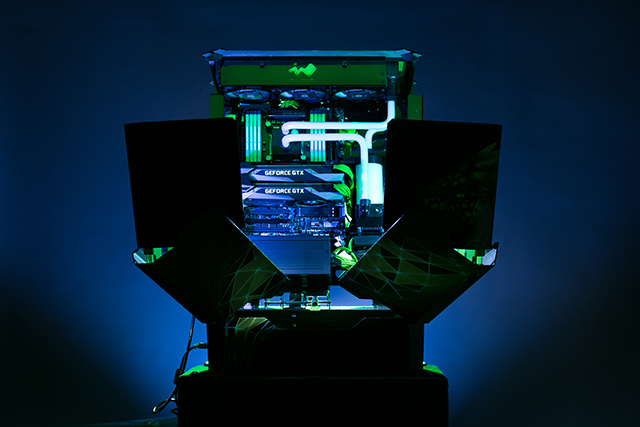 Show off that Pascal goodness!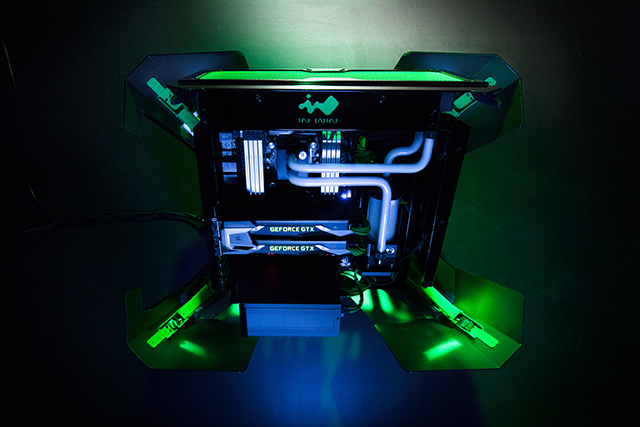 A top-down view when the panels and motherboard tray have retracted.

Two GeForce GTX 1080s with our new 2-way SI bridge.
Has this build inspired you to make your own, awesome GeForce GTX 1080 PC? If so, share pictures on Instagram and your system may be featured in the future.