Rig Spotlight: Custom Falcon Northwest Tikis for Alan Tudyk and Nathan Fillion
GeForce Garage
,
Rig Spotlights
,
Interviews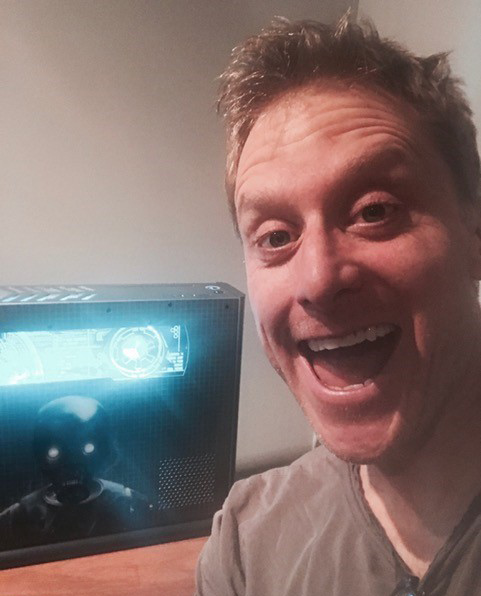 Today's GeForce Garage features not one but two smoking sci-fi themed PC's built by Falcon Northwest, the long-standing masters of the boutique PC.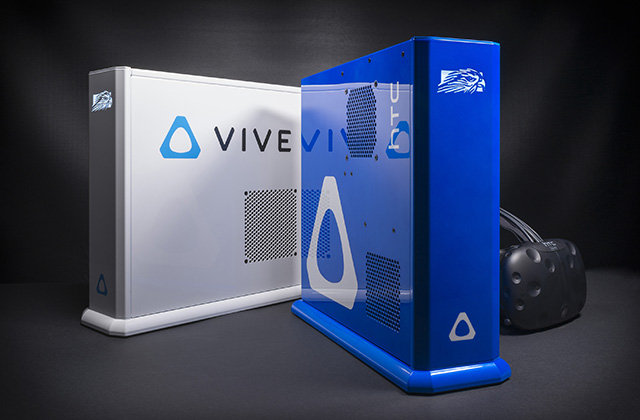 Recently we talked with president Kelt Reeves where he told us a wild story that led to two custom themed variants of their popular Tiki series of enthusiast computers for both Nathan Fillion and Alan Tudyk. It's a funny story centered on science fiction and powerful PCs packing some serious GeForce muscle. Of course we just had to share!
---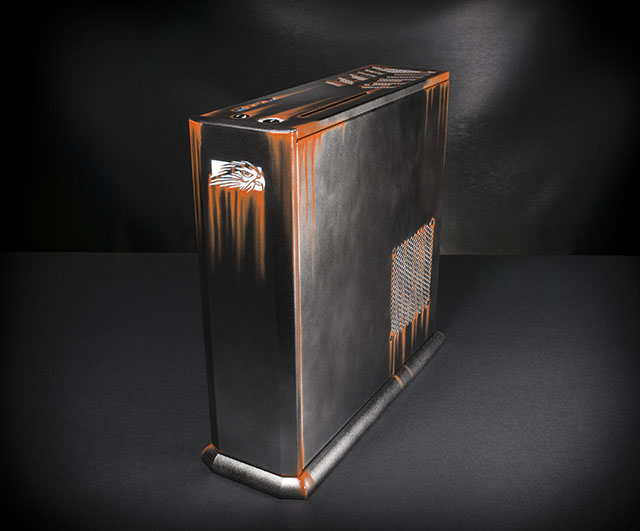 Nathan Fillion's Serenity Tiki
Interestingly, the first rig was a solo project for Nathan Fillion. Kelt tells us, "Nathan's project we did earlier last year. Nathan had just ordered a Vive to get into VR and wanted a PC to power it, so he ordered our Tiki micro-tower. It's a 4" wide, 13" tall PC that can still handle a TITAN Xp and 10-Core Extreme Edition CPUs. It's Oculus-Ready and a favorite of VR developers. Nathan planned to put it on a very small desk as a dedicated VR station, so the footprint of the PC was an important consideration."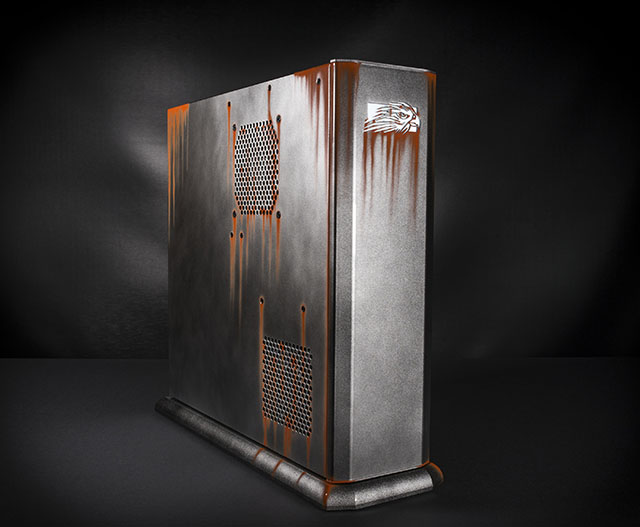 Nathan's Tiki was given a rusty paint treatment, reminiscent of the spaceship Serenity from Firefly.
"We assumed this was a Serenity-esque theme, but we didn't know to what extent until we saw the full keyboard and mouse setup Nathan had in store for this"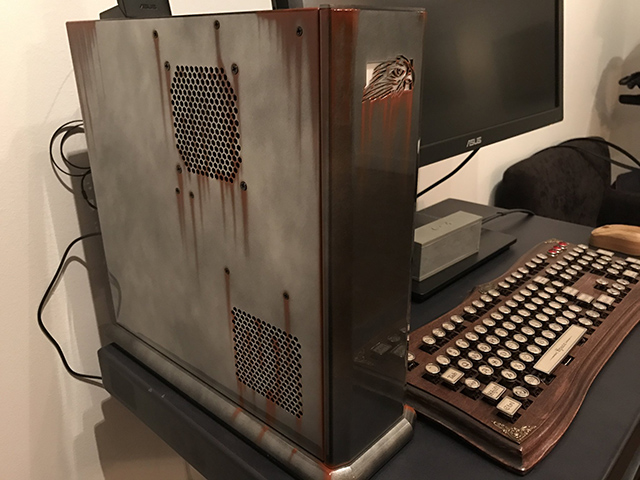 "That gorgeous wooden keyboard is by Datamancer. When Nathan received his system, I'd asked if he could autograph my wife's Firefly book. It came back with not just Nathan's signature, but Alan Tudyk's signature as well, along with "Me Next!" It was a fantastic surprise. Nathan loved VR so much he'd given a Vive to Alan as a wedding gift, and referred Alan to us for a PC capable of running it."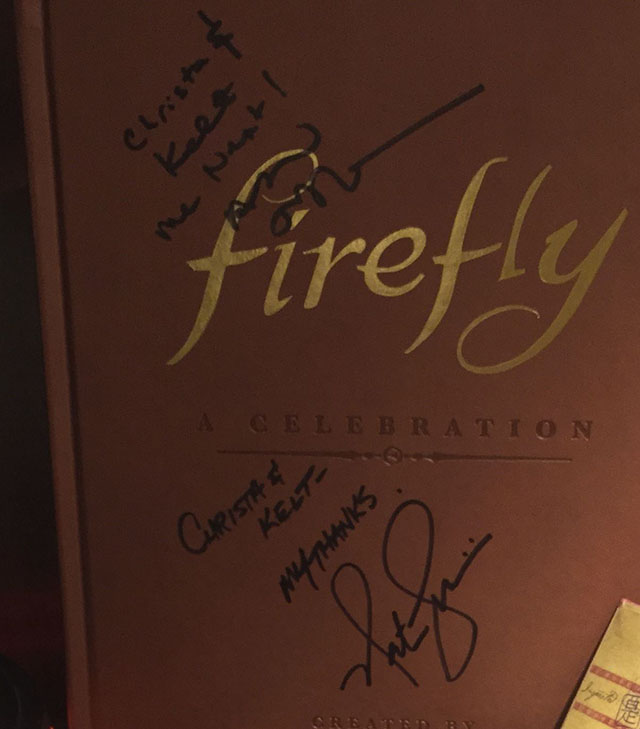 ---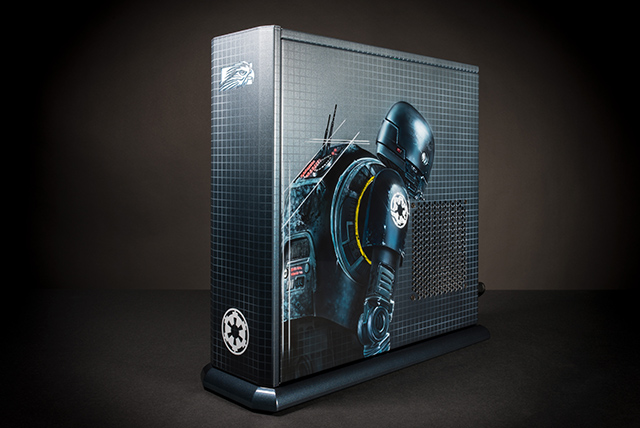 Alan Tudyk's K2SO Tiki
If necessity is the Mother of invention, then envy must be a close blood relation as it helped inspire FireFly's Alan Tudyk to seek out his own custom themed Falcon Norwest Tiki PC. Kelt writes, "Alan needed a PC capable of running the Vive without issue, but his main goal was to 'Make it cooler than Nathan's'. The 10-Series GPUs were launched between their systems, so on the hardware side that would be easy. He mainly meant aesthetically. Alan knew the K2SO theme would need Lucasfilm approval, so it was a long waiting game to see if they'd OK it. But they eventually did."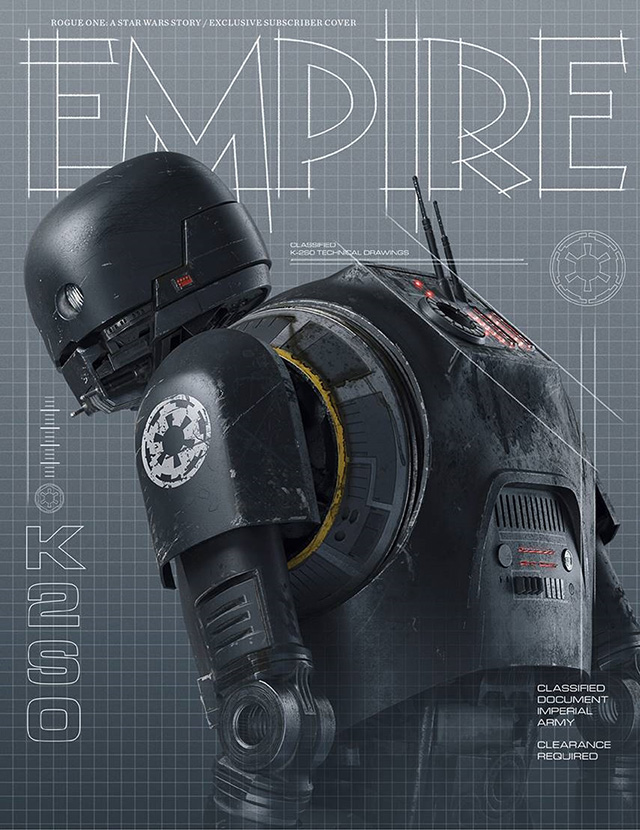 Kelt also mentioned, the visual inspiration for Alan's chassis was the K2SO imagery featured on the cover of Empire magazine. The other was a specific Topps trading card image, which had to be modified to match the final look in the film.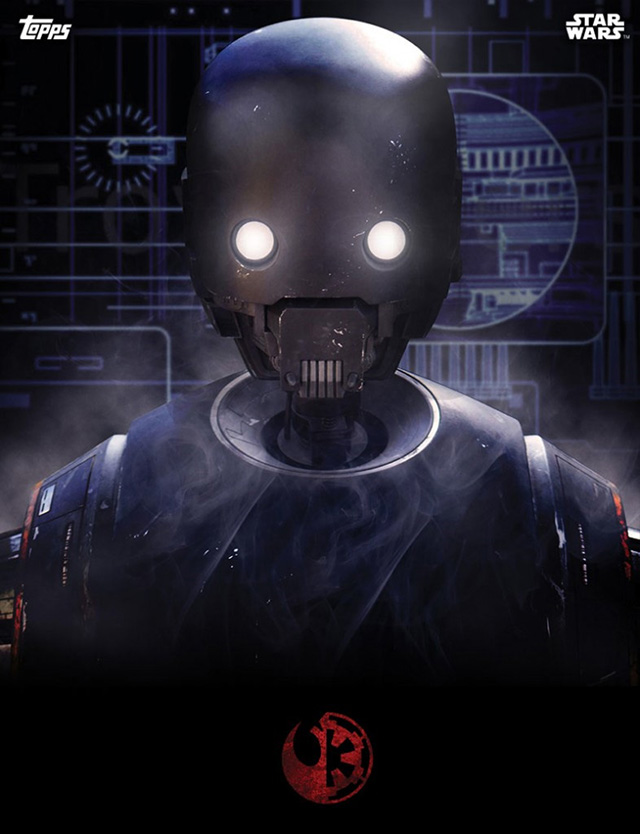 "So we laid it out for our artist in very basic beats to fit around the Tiki's air intake vents, and discussed what would be possible in airbrushing." Yet getting it all airbrushed is no easy task, as Kelt outlines below.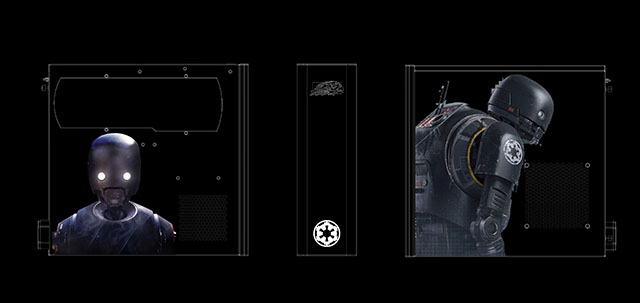 "K2SO was obviously computer generated for the film, and is literally pixel-perfect. Achieving that look in liquid automotive paints that can be hand-shot from an airbrush and then baked on under clearcoats is a very tall order. Airbrushing is not like oil painting on canvas. Every color has to go down as a separate layer, and fine detail is extremely difficult. Our artist Jeremiah started by cutting out 1:1 paint masks for the side panels of the PC, and holding them in place with magnets. This allowed him to lay down a base black & white image of K2 that had razor-sharp edges. Then all the detail he copied freehand. He's copied Monets on laptops before, but this level of technical airbrushing was more difficult. His skills never cease to amaze me. Then each layer of color goes down, one color at a time, cleaning and re-loading the airbrush between every color layer. It was one of the most time consuming paint themes we'd ever done."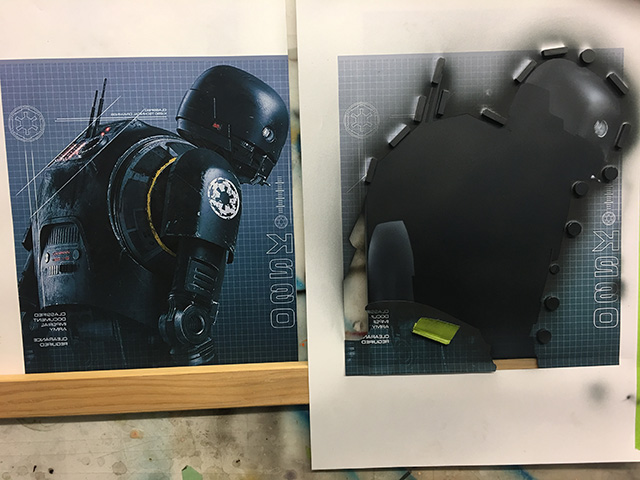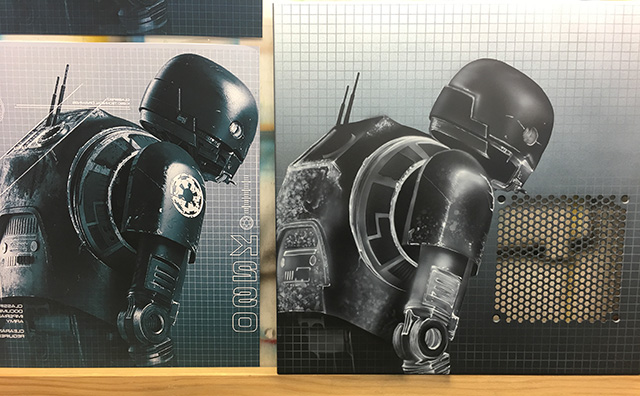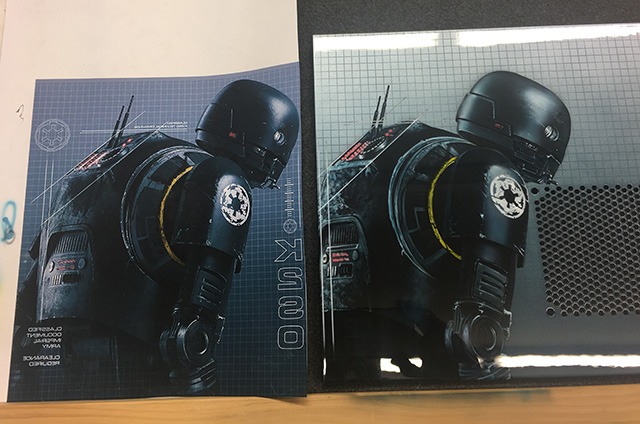 With airbrushing in good hands, Kelt came across another hurdle: obtaining structural plans for the infamous Death Star. "Someone should make a movie about how hard plans for the Death Star are to obtain. I asked Alan if he could get them for me; but I'm not sure he knew I was serious. I'd been inspired by the IMAX standee at the theater for Rogue One, which had the Death Star plans etched into edge-lit clear panels. I thought this would make an awesome look for the Tiki's side window: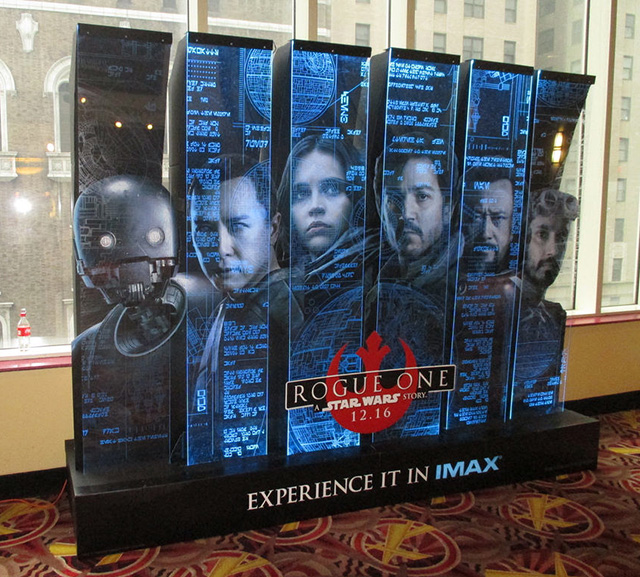 "I never did get the Death Star blueprints from the standee, but I did find a version of the blueprints that would work. We etched it into the side window, and cut an intake vent for the Titan X in the shape of an Imperial symbol. The result with the edge-lit RGB LEDs was pretty amazing: The text and symbols I added in Arabesh, a Star Wars language font, and each is actually a quote by K2SO from Rogue One. Then came the work of putting it all together, which is what Falcon does all day every day so that was the easiest part. This one just required white gloves!"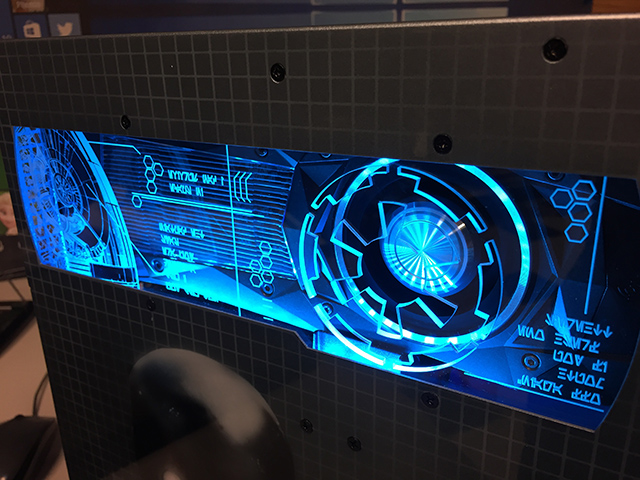 And of course, it turned out amazing.
Be sure to catch Nathan voicing Cayde 6 in the upcoming Destiny 2 game (which is included with any BattleBox system featuring a GeForce GTX 1080 Ti). And if you're interested in a Tiki of your own, check out your options at Falcon Northwest.