Rig Spotlight: JayzTwoCents' InWin Tou 2.0 for Terry Crews
Featured Stories
,
GeForce Garage
,
Rig Spotlights
,
Videos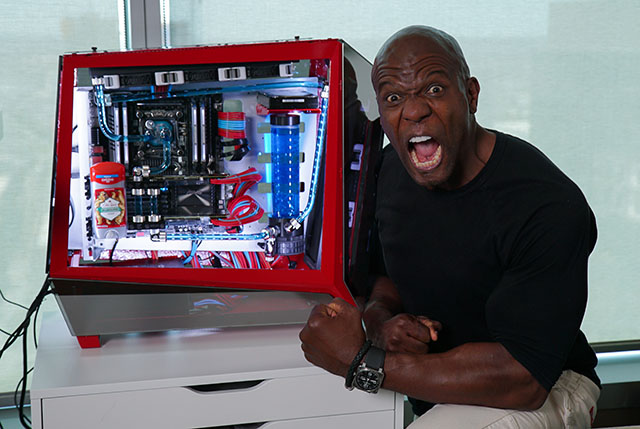 The GeForce Garage is on a road trip to help a couple friends in need! You know one from his hilarious Old Spice commercials. Terry Crews, the bigger-than-life star of Fox's sitcom Brooklyn Nine-Nine, was in need of a new gaming PC and YouTuber JayzTwoCents answered the call with an incredible custom build using a pair of our NVIDIA TITAN Xp video cards in a 2-Way SLI setup. And with GeForce Garage's help, Jay wanted to theme this build after "Bearglove"- the big man's favorite scent of Old Spice.
Yet when Terry's not gaming, this rig needs to serve as his video capture and streaming needs without missing a beat. Such a build requires ample processing and graphics crunching power, with an elegant theme that matches Terry's immaculate home décor. Plus, it somehow all has to tie into his favorite deodorant. Jay, what have you gotten us into?
---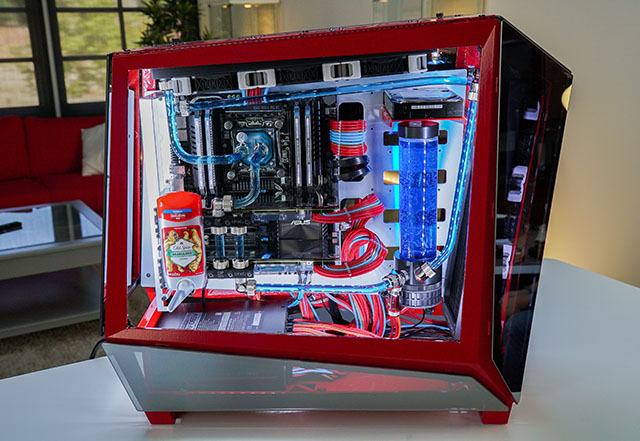 Terry's PC Specs
Chassis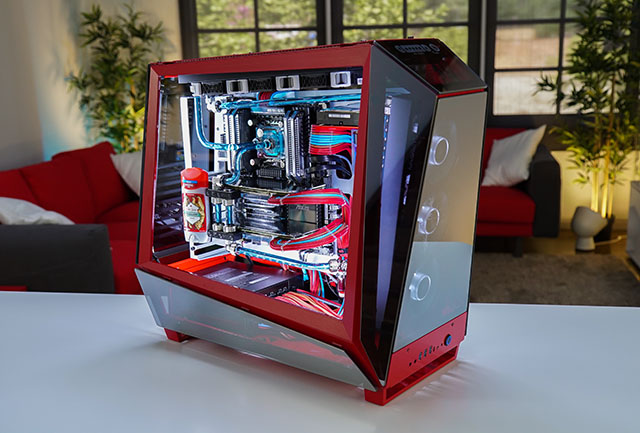 In Win Tou 2.0
Amazingly Jay found the perfect chassis to set things off right. The limited edition InWin Tou 2.0 chassis features a wildly unusual shape and design that does resemble a uniquely styled container of deodorant. The Tou 2.0 uses a strengthened aluminum allow frame that is shrouded in gorgeous tempered glass, which fits in perfectly with Terry's office. To spice it up, GeForce Garage was able to add a custom Old Spice logo courtesy of Ron Lee Christianson of Blue Horse Studios to the front and side glass panels with the help of Kurt Schuff of ThoseLightSigns. To 'stick' with Old Spice theme, the frame and motherboard tray was powder-coated in a computer-matched shade of red and gray, respectively.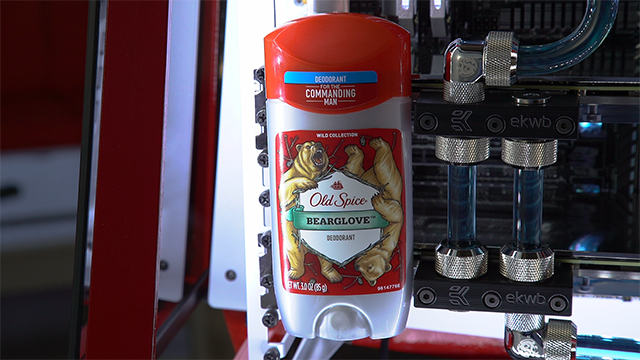 The inside offered up plenty of room for Jay to build and accommodates the large 360 radiators in the front and back for a wealth of water cooling options. The lower side panel offers all the modern input conveniences including ports for USB 3.1 Type-C and USB 3.0. It features a touch-sensitive interactive front-panel to control internal LED lighting and more. It's not only a stellar case, its #3 in a limited run of 500. Terry's one lucky fellow!
CPU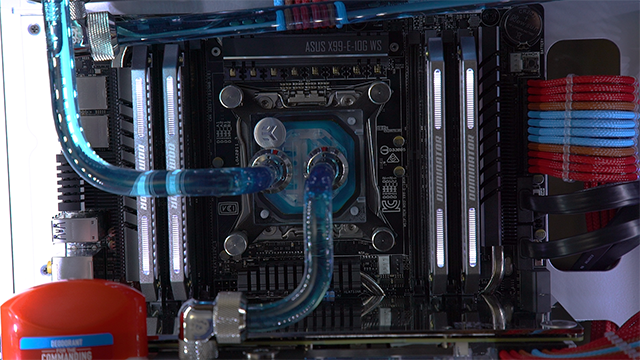 Intel i7-6950X Haswell-E 10-Core 3.0GHz CPU
Sitting atop Intel's line of Broadwell-E processors is the flagship i7-6950X 10-Core processor with its deep 25M cache. Offering the ultimate in performance, this CPU ships with a 3.0GHz stock clock that kicks up to 3.5GHz max Turbo frequency. But Jay selected this behemoth because of its stable and reliable overclocking ability, leading to substantial performance gains.
GPUs
2x NVIDIA TITAN Xp
The Pascal-powered TITAN Xp offers peerless performance in gaming and professional applications. Updated from last year's model, the TITAN Xp wields a 1582MHz Boost Clock, a brand new 12GB GDDR5X memory configuration and a 384-bit memory interface with the memory bandwidth dialed up to a blistering 547.7 GB/s.
Even for most enthusiast users, the TITAN Xp is overkill—so we gave Terry two! Moreover, Jay yanked the stock fans off and put them on blocks in a 2-Way SLI setup for increased performance and silent operation. With this setup Terry can stream and capture video in 4K or beyond, quite easily.
Motherboard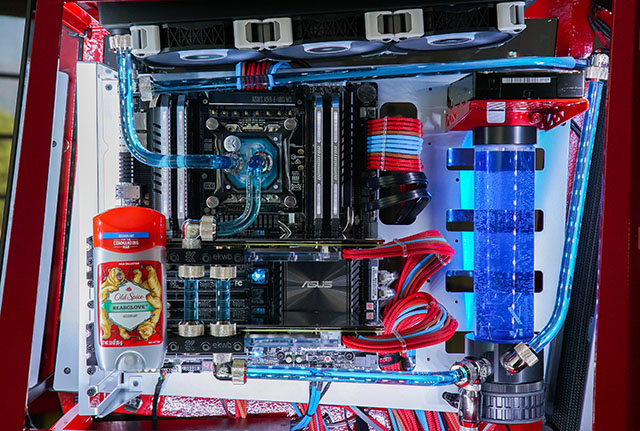 ASUS X99-E WS
To fully leverage the power of our chosen 10-core Haswell-E processor, we're going with an X99-chipset workstation motherboard. Jay selected this board for its resilience and extreme performance. Notably, this board also supports Xeon E5-2600/1600 processors. Additionally, we have next gen NVME support ports for M.2 x4 and U.2. Terry also receives incredible RAM support across the board's 8-DDR4 DIMM Talk about expansion slots-galore—we have 7x PCI-E Gen 3 slots each supporting full x16 speed.
Memory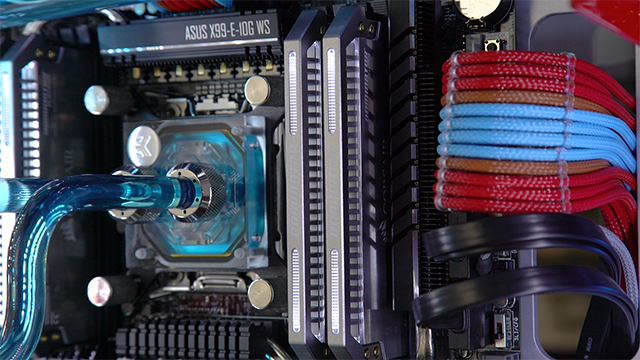 Corsair Dominator Platinum 32GB Special Edition
More than a leader in reliable high performance RAM, Corsair is our memory source here for its visual allure, high capacity and dependability. But this kit of chrome-colored Dominator RAM is also #94 in a limited product count. That's the exact same jersey number (#94) that Terry wore back in the 90s where he played pro Football for the LA Rams. Now that's special!
Conclusion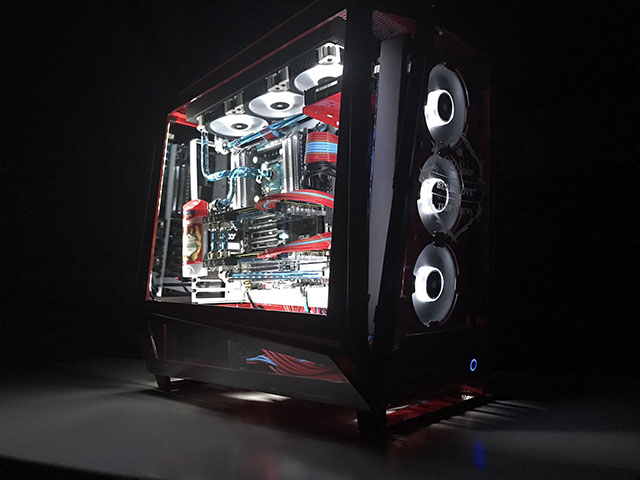 Terry's absolutely loves his new Pascal-powered gaming rig and plans to spend a lot more time gaming. So much in fact – we may have just killed the man's acting career. The excitement, joy and amazement that washed over him made us so proud and left the big lug beaming from ear-to-ear. And who wouldn't with this incredible work of art powered by an insanely powerful 2-Way SLI setup featuring the NVIDIA GTX TITAN Xp? Check out his full reaction below.
---
Know anyone else that needs an amazing custom PC? Make some suggestions below.