Rig Spotlight: Thomas Middleditch's Mid-Century Mod
GeForce Garage
,
Rig Spotlights
,
Videos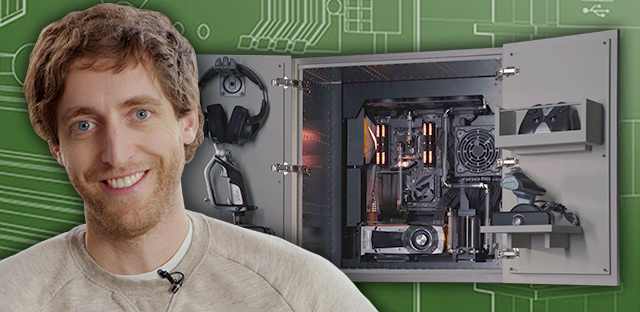 When he's not playing our second-favorite CEO (Hi Jensen!) on HBO's Silicon Valley, or starring in commercials for Verizon Wireless, actor Thomas Middleditch can be found indulging his passion for PC games. So when we asked him how we could improve his gaming experience, Thomas was quick to comment that while his old setup wasn't too shabby, he wanted a more 'mature' gaming rig -- one without the flashy RGB and extreme features. With that in mind, GeForce Garage set out to create a PC tailor-made to sit in his living room without anyone even realizing it.
Accomplished woodworker and PC designer Jeffrey Stephenson, of JSDStudios, is the craftsman responsible for this attractive piece of furniture. Formerly known as SlipperySkip, Jeffrey has completed well over three-dozen builds, each featuring skilled woodworking. In a previous interview, the modder revealed, "…I sucked at spray painting…" so veneering became his focus. He even developed his own meticulous method, taking considerable time and effort. Yet for Jeffrey, the time-consuming and impassioned details are what makes the hobby worthwhile. And it definitely shows in his work.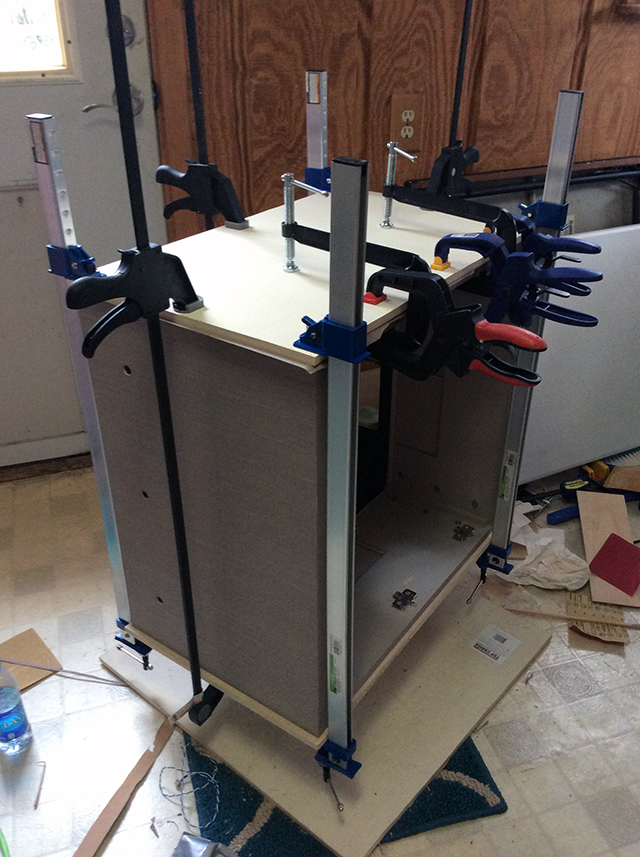 Working with wood required clamps, clamps, and more clamps.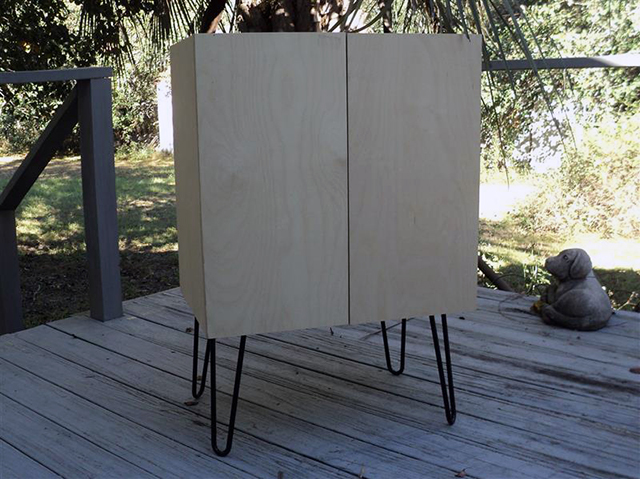 The nearly finished cabinet waiting for the veneer treatment.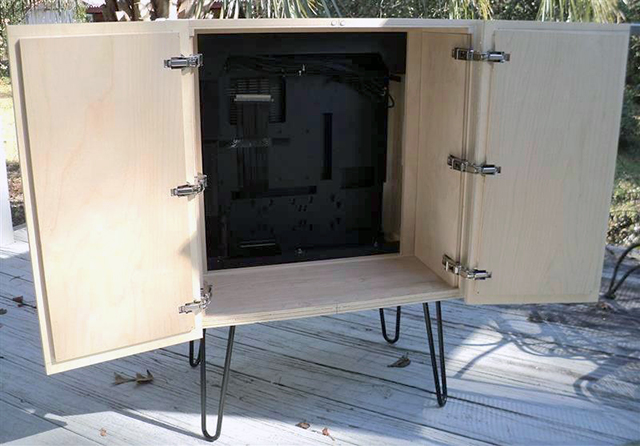 To match the sleek enclosure, an equally-amazing interior was also needed. That's where PC modder and watercooling pro Lee Harrington came in to help. He put together a formidable component configuration into a Lian-Li PC-07SX chassis, headlined by a two-way SLI GTX 1080 Ti setup, ready to take on Thomas' favorite games, Digital Combat Simulator and IL-2 Sturmovik. In fact, Thomas' love for flying is so strong that he recently acquired his pilot's license, so we made sure to incorporate an aviation touch to the build by setting the system LEDs to amber to give off a retro cockpit feel, and by adding inner panels with a metal rivet treatment.

The finished PC, with designer Jeffrey Stephenson of JSDStudios.
---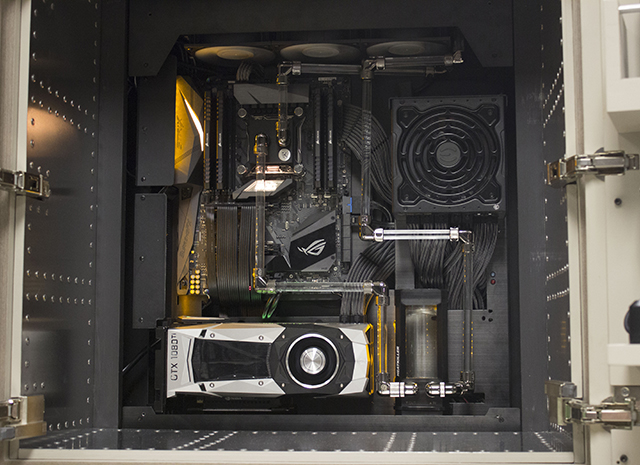 THOMAS' MID-CENTURY MODERN MOD
Component
Product
Chassis
Lian Li PC-07SX
Graphics Card
2x GeForce GTX 1080 Ti
CPU
Intel i9-7900X
Motherboard
ASUS ROG STRIX X299-E Gaming
Memory
Corsair Vengeance LED 32GB (4x8) 3000MHz
Storage
Samsung 960 Pro 1TB
WD Black 4TB
Power
EVGA SuperNOVA 850W G3
Cooling
EKWB
Lian Li PC-07SX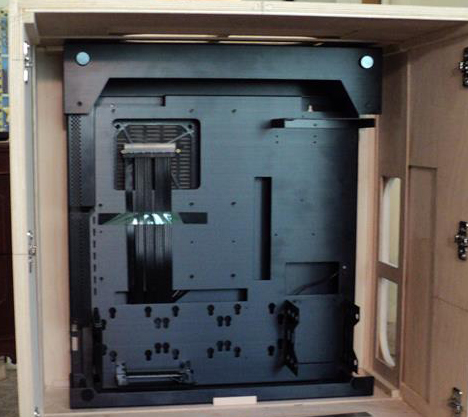 This sturdy aluminium PC chassis is the perfect option for this particular build. Not only is it wall-mountable making it easy to secure inside the wood cabinet itself, but its thin profile allows for more area to be used for storage.
2x GeForce GTX 1080 Ti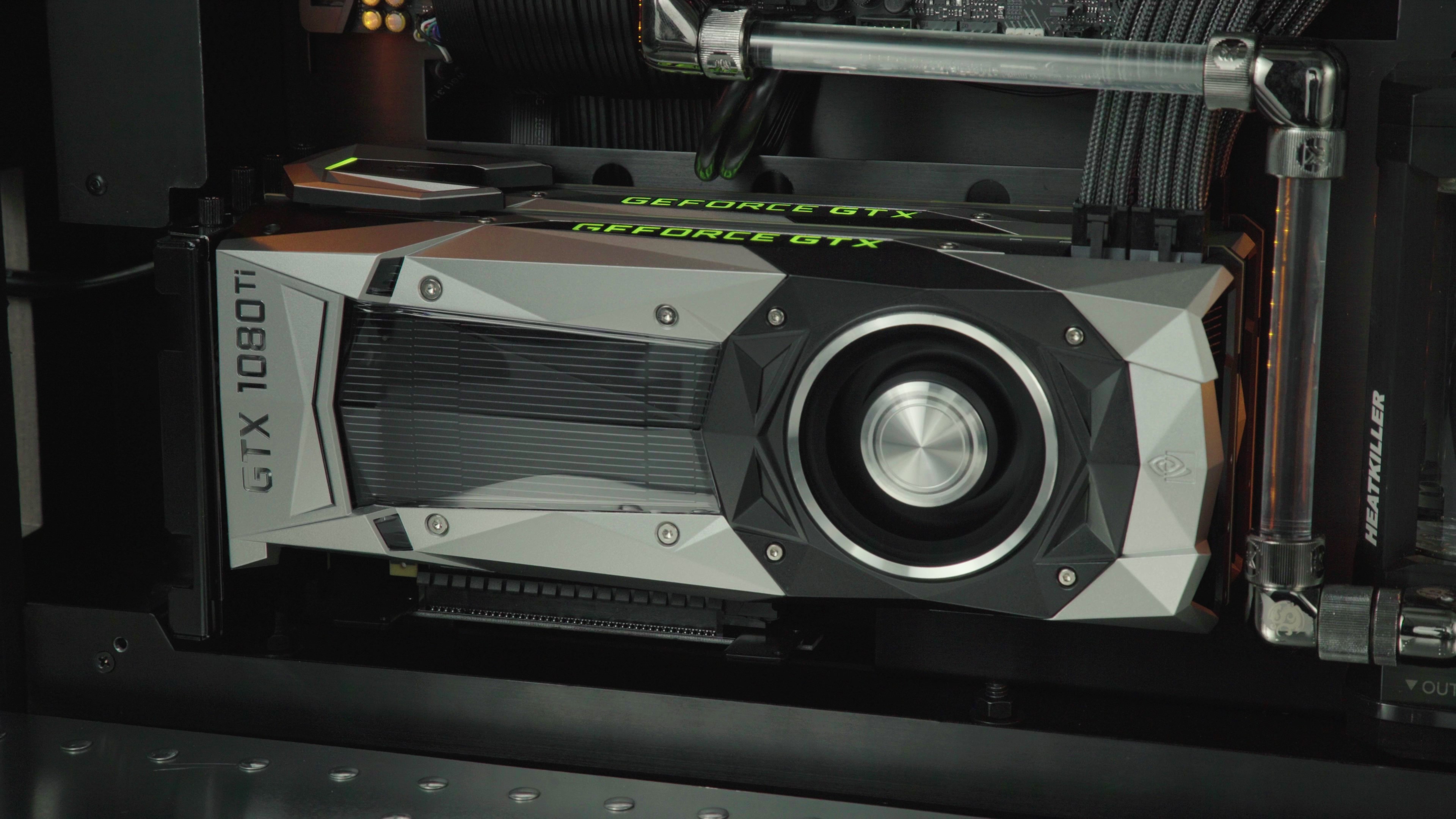 Each of our GTX 1080 Ti video cards wields a whopping 11GB of GDDR5X video memory, clocked at 11Gbs, with a 352-bit memory interface. These cards feature a staggering 1480MHz Core Clock, a 1582MHz Boost Clock, and 3584 NVIDIA CUDA Cores. And with the excellent ventilation of Thomas' custom enclosure, they can be overclocked for additional performance.
Intel i9-7900X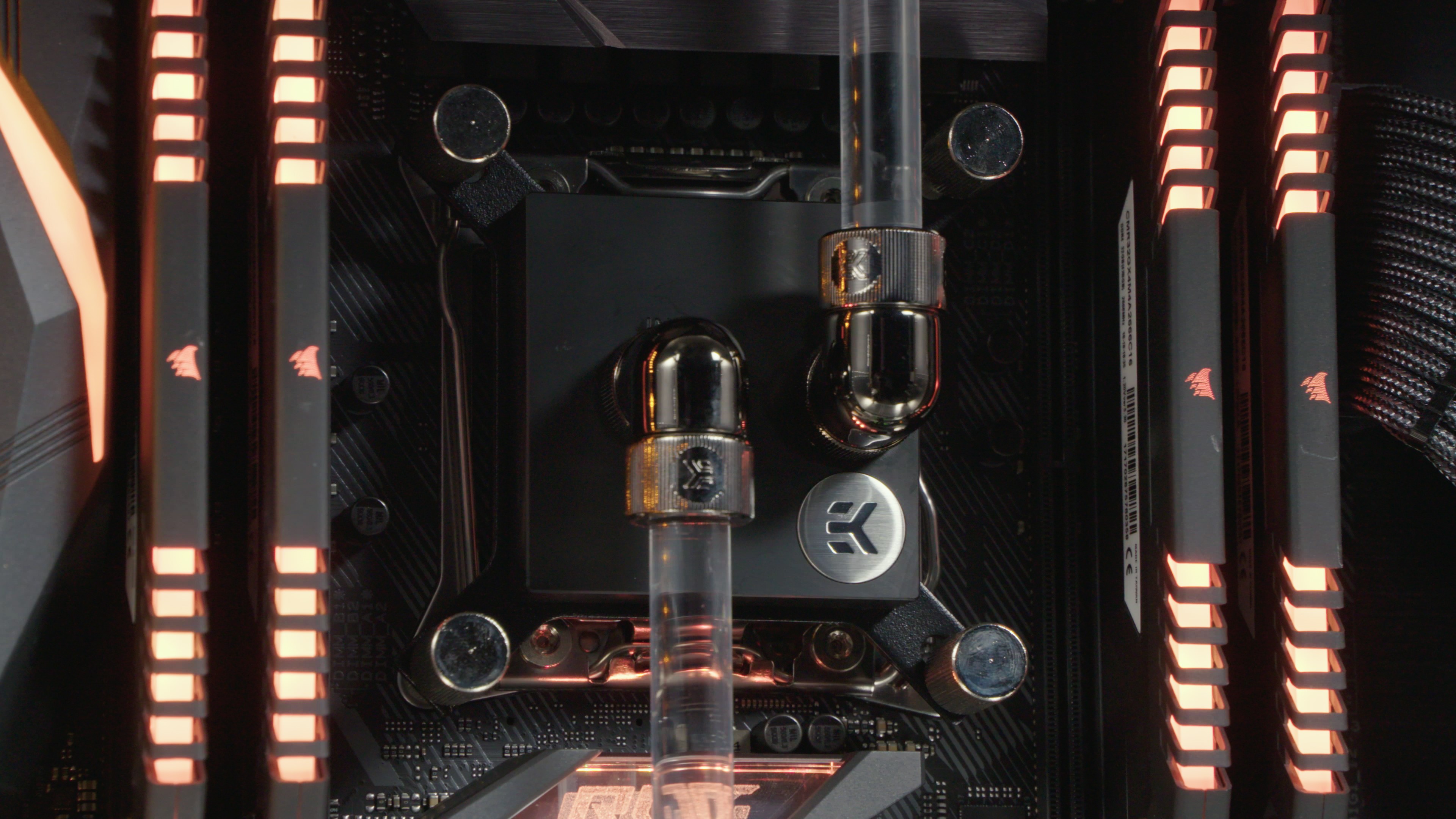 This particular X-series CPU is a 3.3GHz+ 10-core monster that will deliver best-in-class performance in multithreaded games like Kingdom Come: Deliverance, which Thomas is currently playing. And in single-threaded games like Digital Combat Simulator, which Thomas returns to time and again, it can Turbo Boost to 4.5GHz, ensuring peak CPU performance that doesn't bottleneck his GPUs.
And by being watercooled, the i9-7900X stays frosty even at 100% load.
ASUS ROG STRIX X299-E Gaming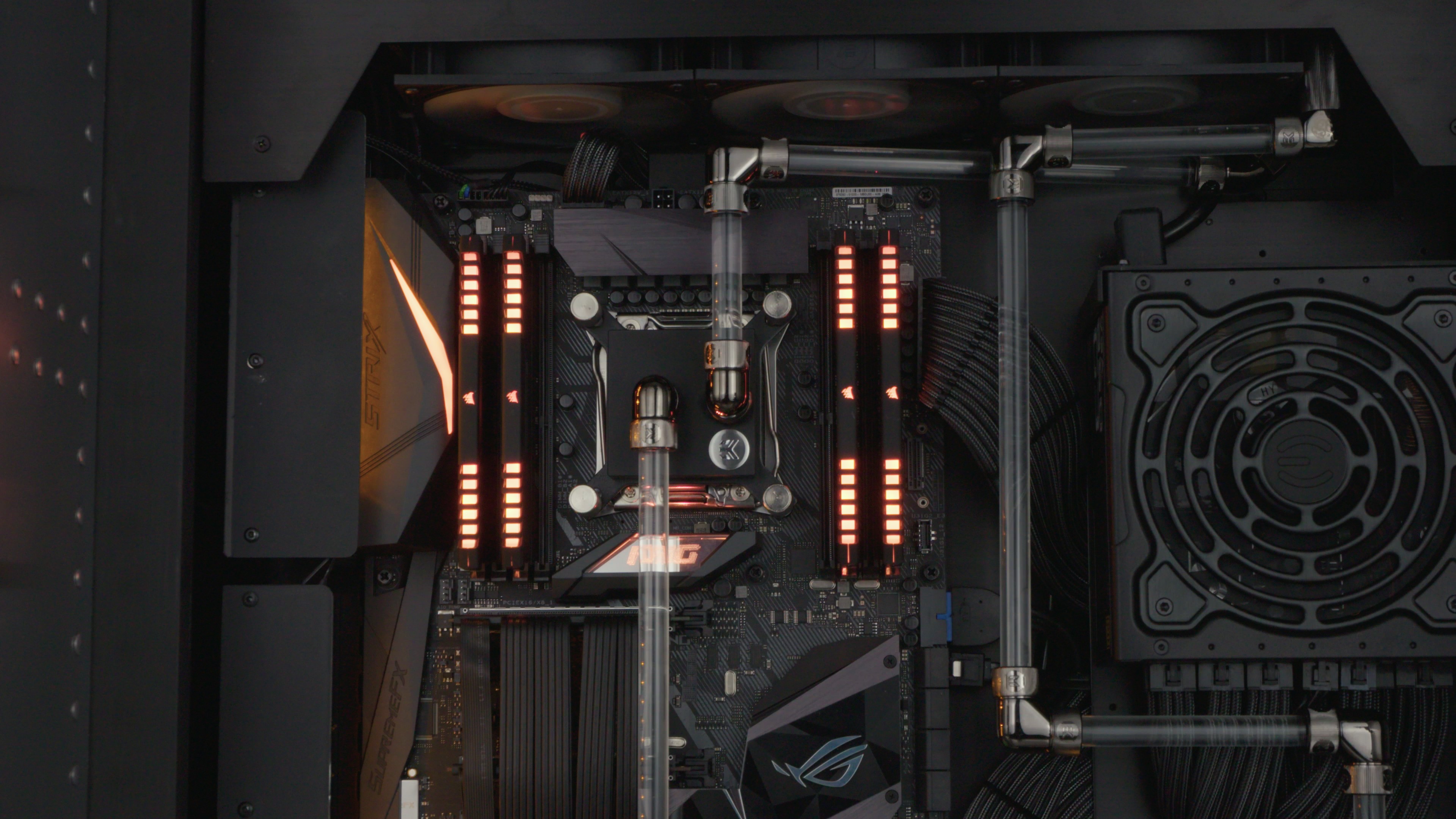 To give Thomas the power and stability required to game at the level he's aiming for, we needed a feature-rich, overclock-ready rock-solid foundation. ASUS answered that call with style with their top-range ASUS ROG STRIX X299-E Gaming motherboard, built for Intel Core X-Series processors using the LGA2066 socket.
The Intel X299 chipset is ready for the company's Intel Optane SSD product line and supports a max of 24 additional PCIe lanes (Gen 3.0), helping maximize performance from our 1080 Ti SLI setup. The chipset has support for nearly a dozen USB 3.0 ports, eight SATA 3.0 ports, plus the chipset can push three M.2 PCIe 3.0 SSD storage drives. Intel's Virtual RAID On Chipset (VROC) is also supported.
As usual, ASUS has put their own spin the board, giving it an attractive ebony PCB and all the customary enthusiast features we've come to rely on from ASUS. These include the powerful 5-Way Optimization and Auto-Tuning software for quick and easy overclocking and dynamic system cooling.
Corsair Vengeance LED 32GB (4x8) 3000MHz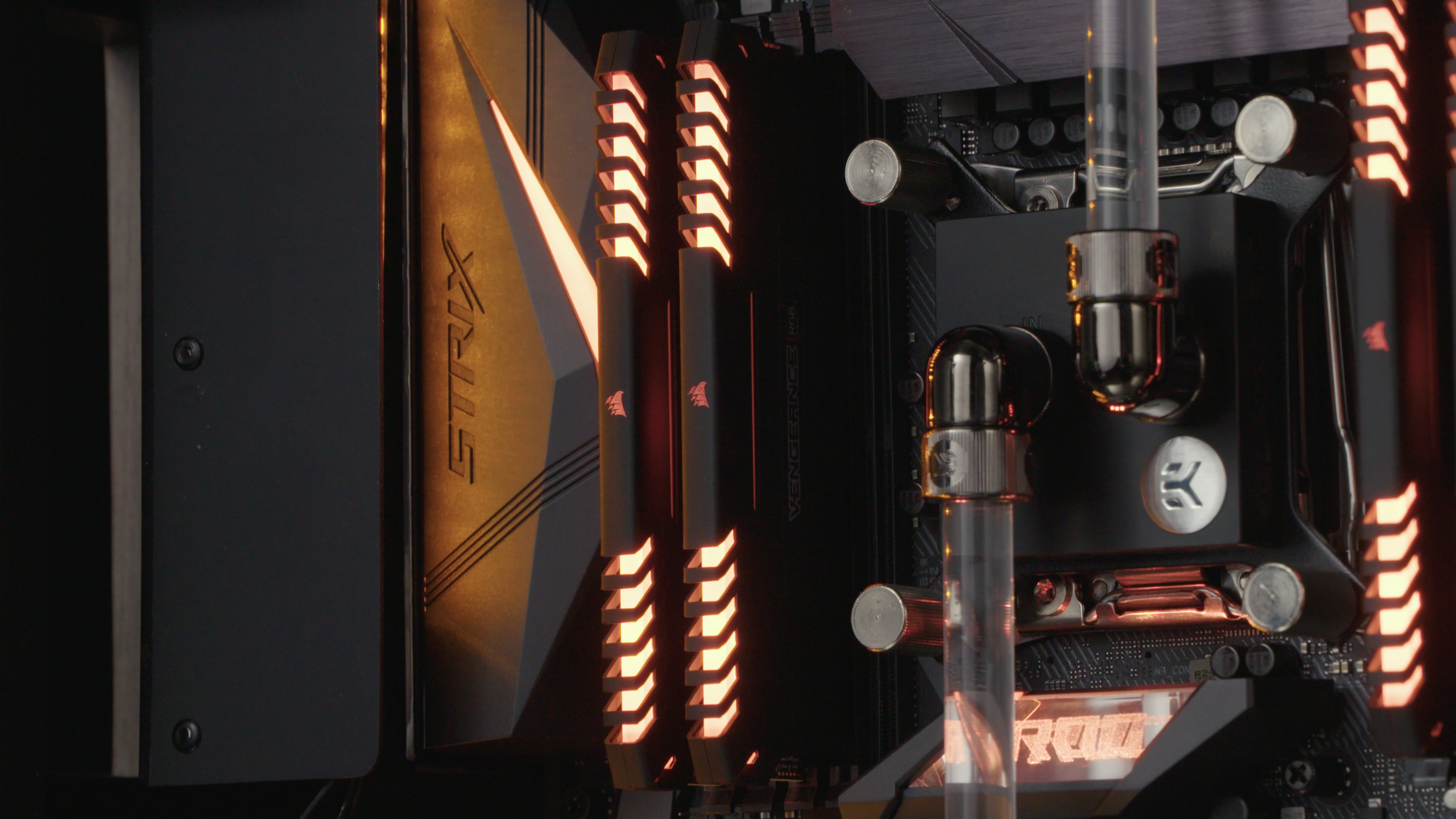 Corsair is the memory vendor of choice for this rig. This kit specifically is a 32GB set of DDR4 3000MHz quad-channel RAM sticks, built for unshakable stability and performance, ensuring Thomas' rig exceeds the RAM requirements of any modern PC game for the foreseeable. And by operating at 3000MHz, performance will maximized in games that see benefits from higher-speed RAM.
Samsung 960 Pro 1TB
One of the easiest ways to boost the performance of a PC is to drop in a speedy SSD flash drive, and this rig features one of the highest performers in its price segment. The Samsung 960 Pro 1TB M.2 2280 drive comes in the adorable gumstick form factor and uses the company's 3D NAND memory component technology and Samsung Polaris, controller. At 1TB the drive can reach speeds of 3500MB/s for Sequential Read and 2100MB/s for Sequential Write.
EVGA SuperNOVA 850W G3
Thanks to the modular design of this PSU, only the necessary cables are required, which gives the interior a cleaner look, bereft of unsightly cable-clutter. EVGA's SuperNOVA line is one of the best PSU product lines in the business, holding over 70 awards for stability and efficiency. Their SuperNOVA 850 G3 is an 80 Plus Gold certified 850w power supply. It is proven for reliability and even offers an ECO power option as an alternate choice to power down the system.
---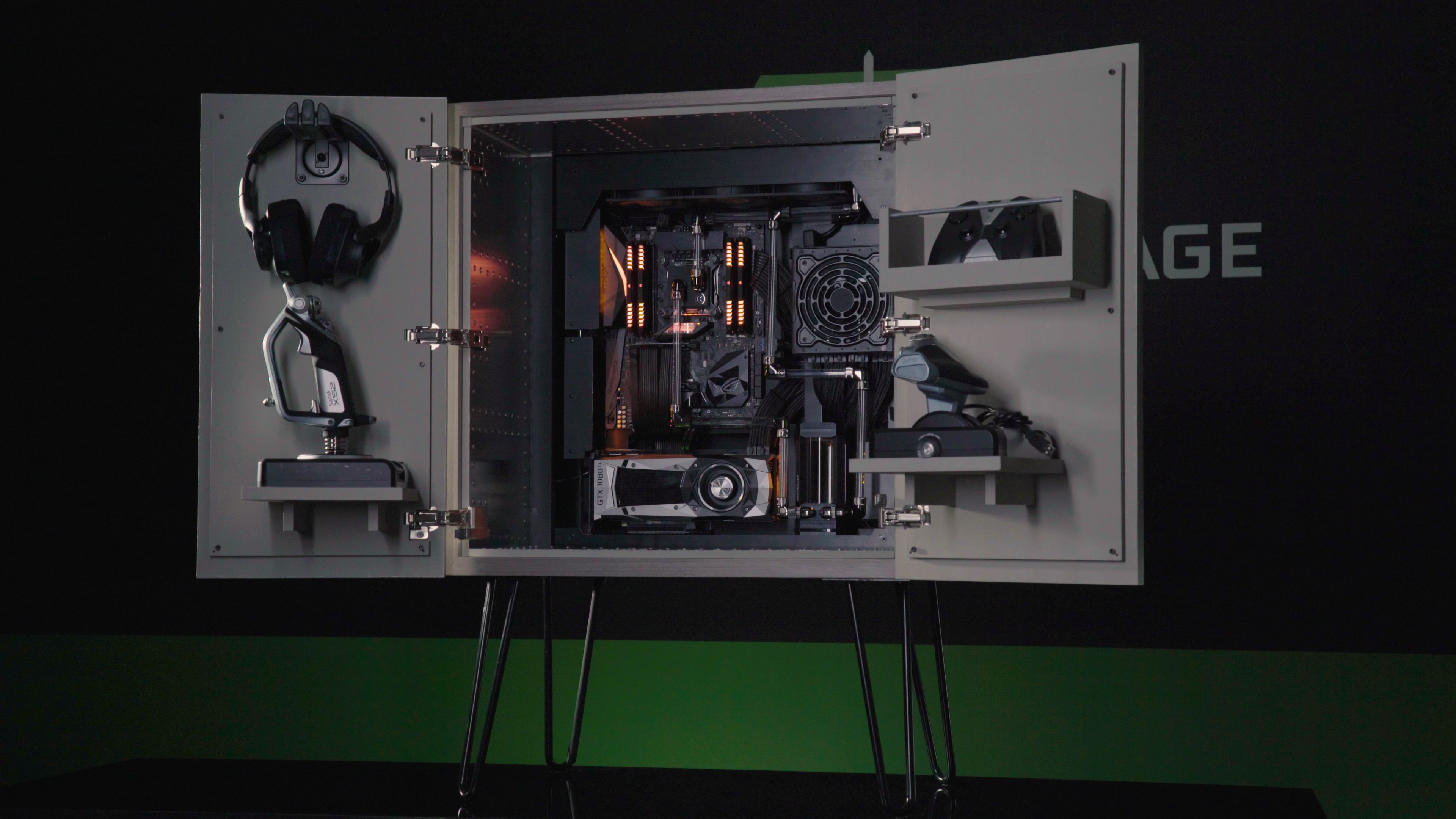 Jeffrey Stephenson nailed the build, beautifully fitting a beast machine into an amazing work of craftsmanship that offers a subdued elegance and décor uniformity of a distinguished piece of furniture.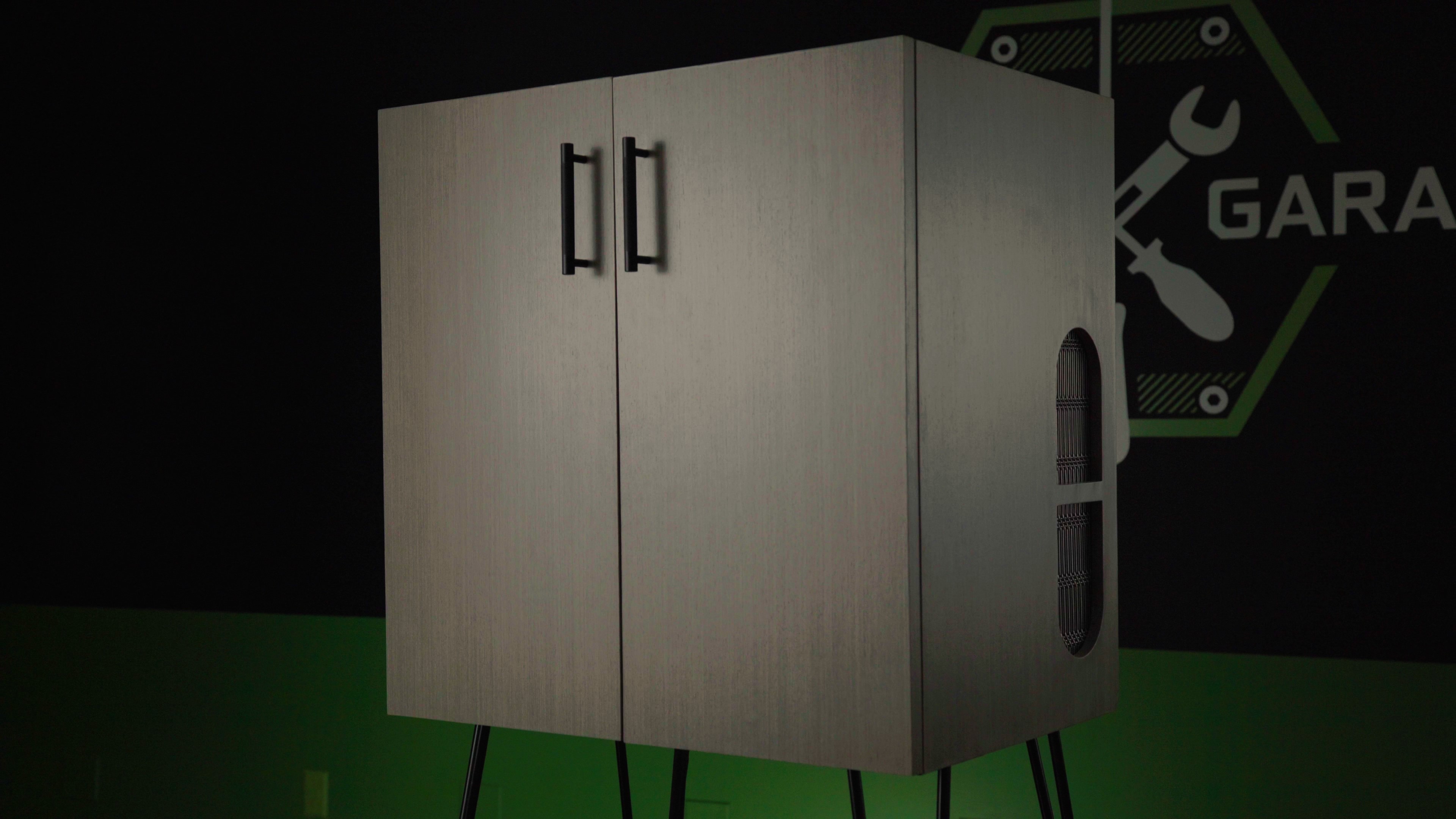 ---
Follow Thomas Middleditch on Instagram at Tombini and be sure to check out the season 5 premiere of Silicon Valley on March 25.