Rig Spotlight: PDXLAN Modding for Charity Rigs
GeForce Garage
,
Events
,
Rig Spotlights
A few weeks back, PDXLAN 27 held its Modding for Charity 2016 contest. The five volunteer teams were given identical components but were allowed choose their own case and themes. With raffle tickets for a chance to win any of these awesome mods costing just a mere $5, they were successfully able to raise $15,000 for one of NVIDIA's favorite charities, the Phil Scholz Memorial Foundation.
The Default Parts List
---
The Teams
---
First Order
By Nerdy Ninjas (Richard "Darth Beavis" Surroz & Travis Jank)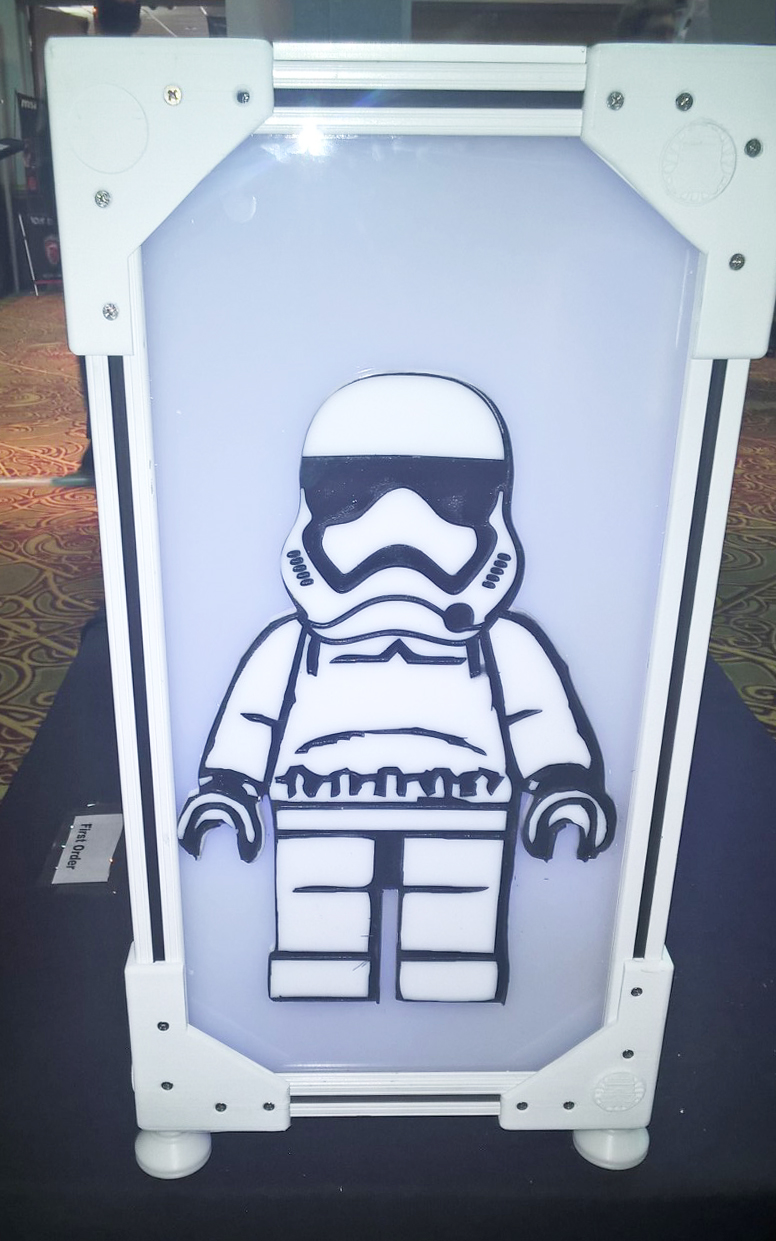 This Star Wars scratch build consists of an extruded aluminum frame, 3D-printed cornerpieces and acrylic panels that have been adorned with First Order logos, a laser cut LEGO-style Stormtrooper and even a multilayer, LED-lit Millennium Falcon. And it's all unassumingly done in a very clean white and blue scheme.
---
Your Name Here
By BS Mods (Bob Stewart & Rod Rosenberg)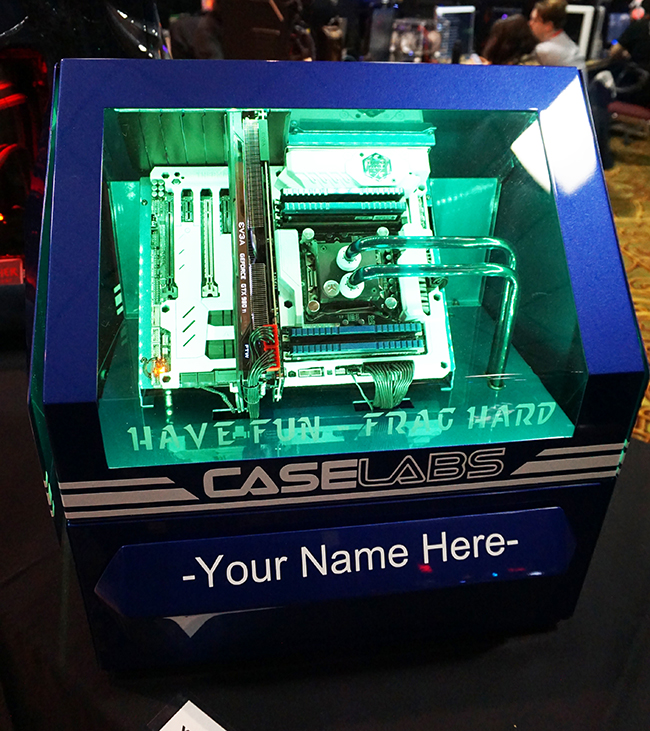 The guys over at BS Mods built their muscle car inspired rig from a prototype Caselabs test bench, which explains its non-standard form factor. Adding to the already unique shape, they hand-formed detachable aluminum panels and created a hidden magnet system to keep them in place. Hinged cowls provide even more interesting angles and extra airflow.
With a high gloss electron blue pearl metallic automotive finish on the exterior and color-matched interior details like the motherboard armor, RAM coolers, and even the Mayhems Aurora coolant, this build has the muscle car spirit right down to the bold sponsor decals. In addition, the lucky winner also gets to put their name (IRL or gamertag) where the "Your Name Here" sits, personalizing this beast of a machine.
---
Wolf Moon
By Moonlight Mods (Dennis Leach & Bren Leach)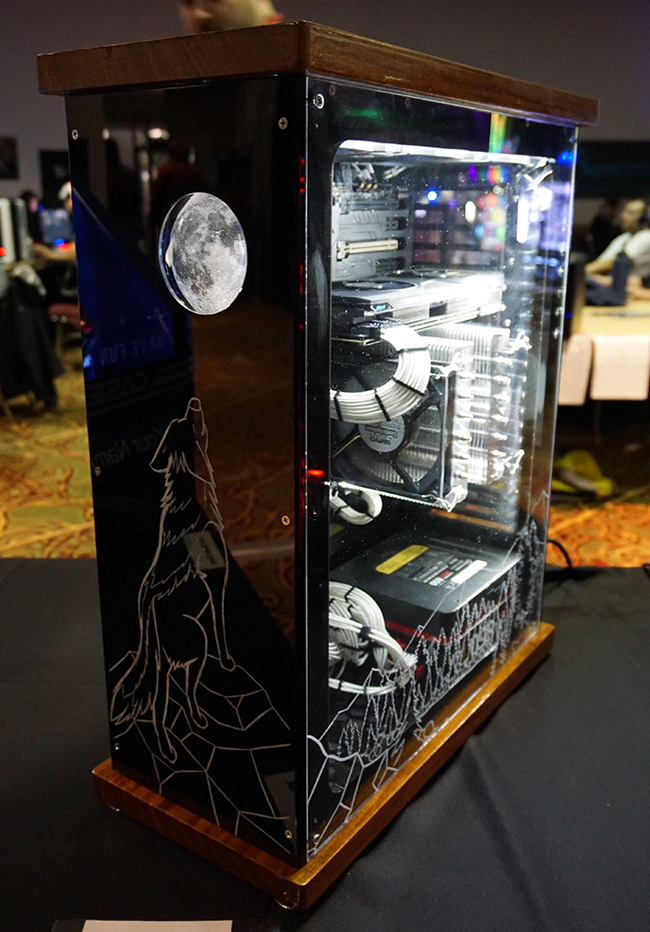 Moonlight Mods' plan was all about being different, opting against modifying an existing case. Instead they took one of their own designs and created something completely custom. Wanting to incorporate materials like plastic and wood, they created mahogany top and bottom panels with acrylic fan grill inserts. Expecting other entries to use standard paracord sleeving on their wires, they opted to embed their cables in routed paths in the motherboard tray. And to contradict expectations as former builders of water cooling equipment, they went with huge fin-stack air coolers.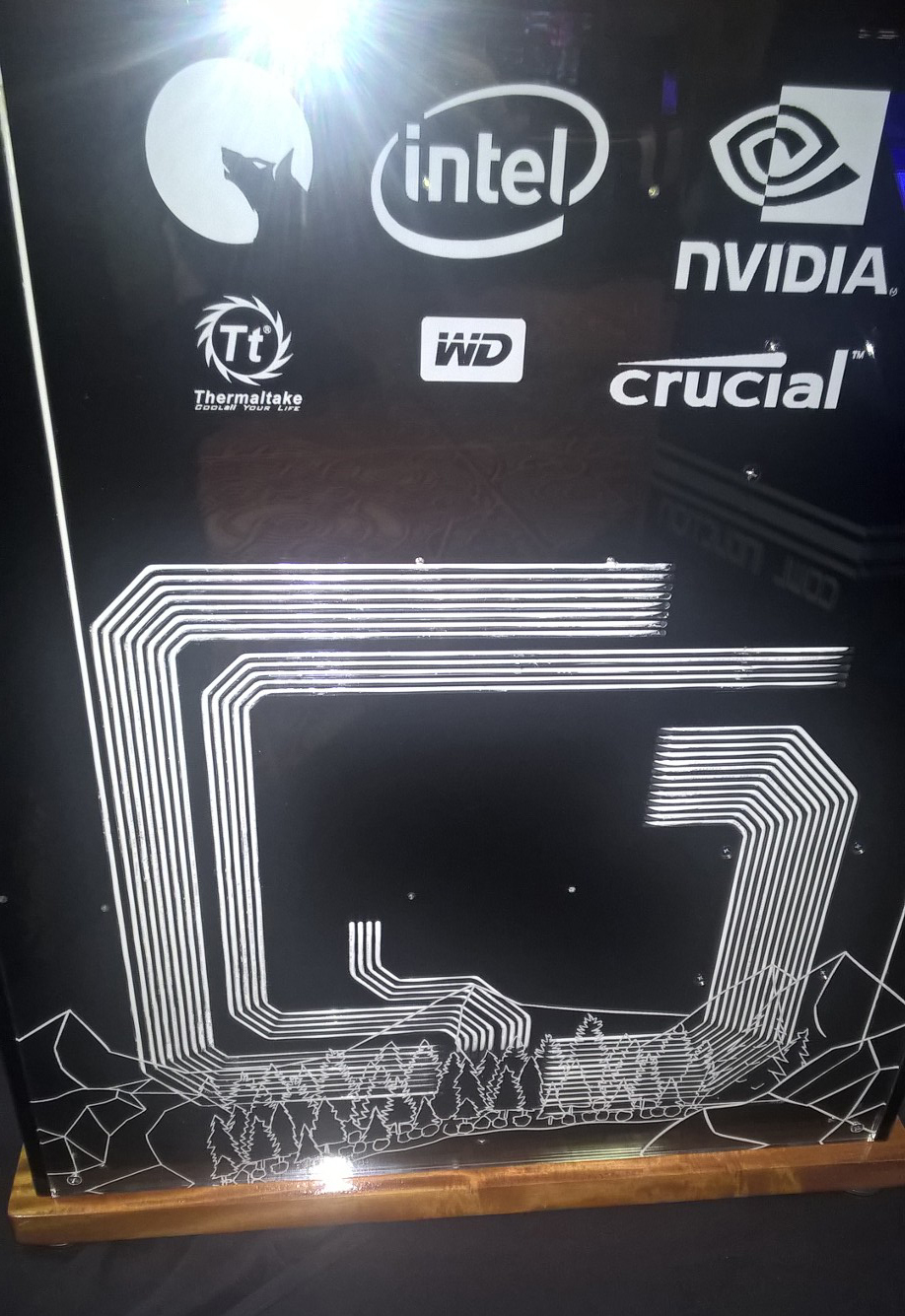 Then there's the details, like the moon on the front panel. Using 1/2" acrylic, an image of a full moon was placed between two custom ground and polished lenses that pick up the ambient light within the case, causing the image to appear 3D. Add the etched artwork on top of everything and you have yourself a build that is very different for your standard PC. It's no wonder that this was the mod that received the most raffle tickets entriespd!
---
Circuits
By Team Underdog (Kurt Schuff & Matt Baker)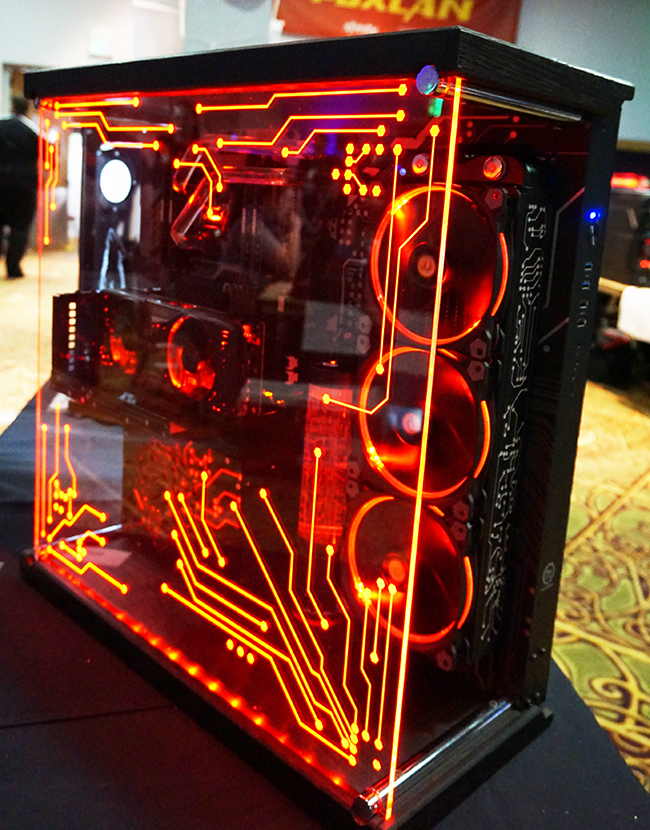 Circuits is a very fitting name for this stunning mod. The thematic circuit designs was applied to everything - and I do mean everything: laser etching or cutting the design into the front panel, the motherboard tray, the RAM coolers, the power supply shroud, the reservoir, the radiator, the GPU shroud, even the custom made resin-filled wood panels.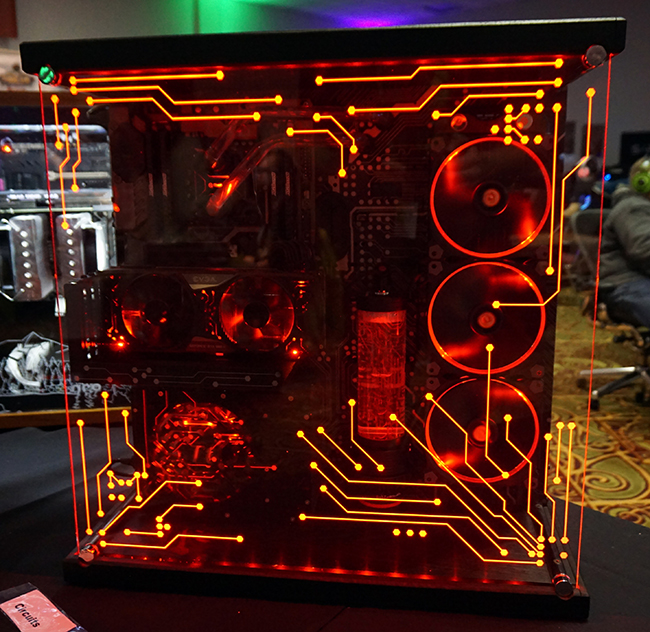 But visual circuit patterns weren't the only things done to this Thermaltake Core P5 based mod. Actual circuitry know-how was applied as well. Using his experience from ThoseLightSigns, Kurt added Bluetooth controlled LEDs. Now, the light color pattern can be controlled from a smartphone. And to create an even cleaner look inside the case, Matt flipped the motherboard connectors so that ALL wires were hidden behind. A great showing by Team Underdog.
---
The Witcher
By Rip City Modders (Jon Hansz & Ron Lee Christianson)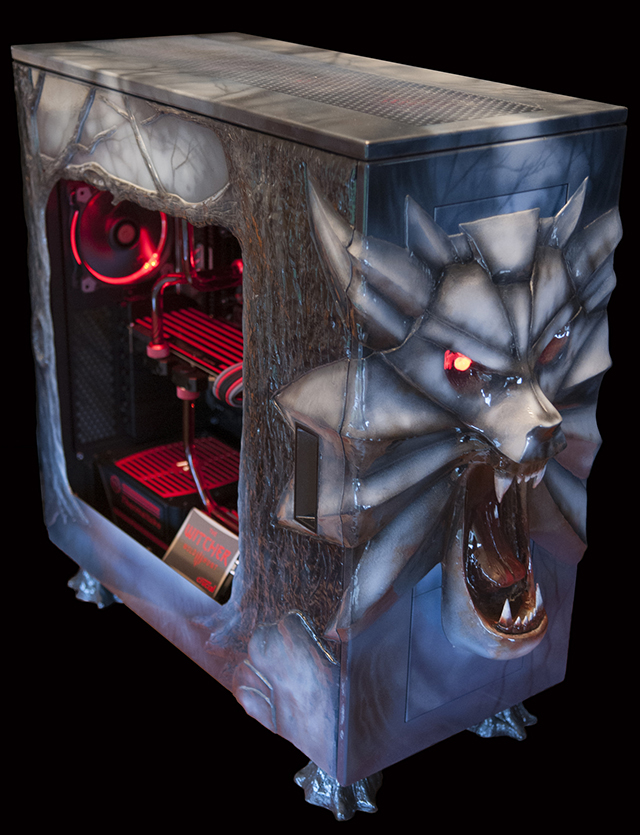 This breathtaking mod has it all: a cohesive theme, incredible 3D effects, a killer paint job, a clean and detailed interior, and case feet (can't forget those case feet). It wasn't a surprise when this beauty got the official nod for the best of the bunch, and both Jon and Ron each took home a SHIELD Android TV for their efforts.
On the outside, the focal point of the build is the wolf head with its eyes glowing red. Jon created a vacuum form for the basic shape, riveted it to the Caselabs Merlin SM8 and carved out the details of the head along with the texture for the forest trees using Magic Sculpt. Ron then applied his amazing airbrush skills to complete the eye-catching exterior.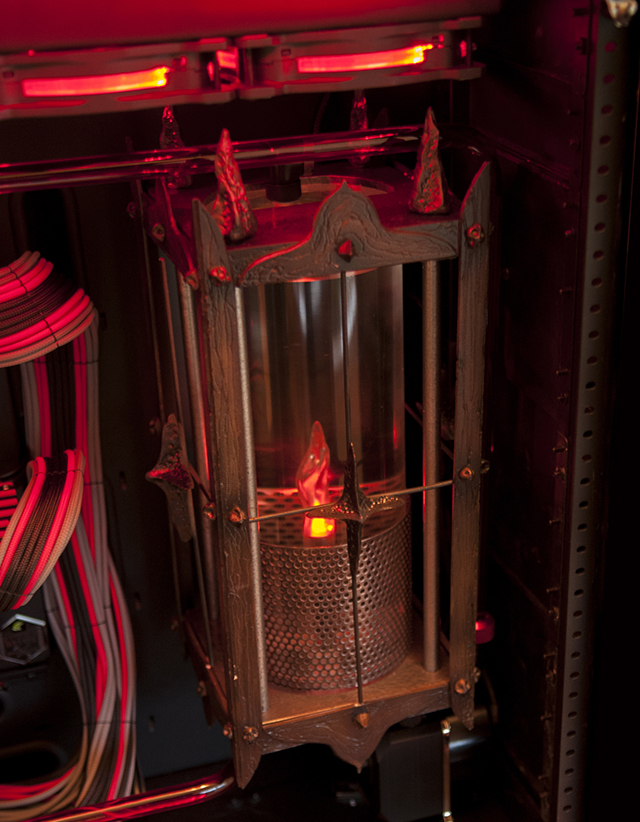 Inside the case, the components have been coordinated in a red, black and gray scheme, all tied together with custom vinyl decals on the SSD and a neatly handlaced set of cables. And that lantern? That's just a custom reservoir with a working flickering light. Epic build indeed!
Once again, PDXLAN continues to amaze with the outstanding quality of mods that the event continues to produce. Can't wait to see what PDXLAN28 in July will bring.
Share your gaming rig on Instagram and Twitter with #YIDIY and you may be featured next.