The Evil Within 2: NVIDIA's Recommended GPUs For 60 FPS Gameplay
Featured Stories
,
System Requirements
,
GPU Recommendations
If survival horror gets you pulse going, Tango Gameworks' The Evil Within 2 launches Friday, October 13th. It's filled with frights and twisted delights, courtesy of Shinji Mikami, director of Resident Evil 4 and the time behind the first Evil Within, which launched in 2014.
Like the original game, The Evil Within 2 layers cinematic, stylized effects on top of the gameplay, creating a warped, horrific world for players to explore and survive within. On PC, if you'd like to experience Tango Gameworks' latest survival horror at a high level of detail, with those effects enabled, at a smooth 60 FPS, here are our recommendations for GeForce GTX graphics cards up to the task: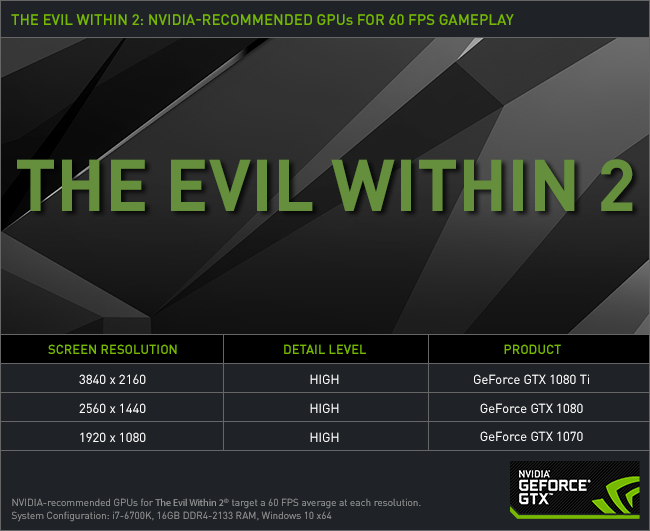 After hours of in-depth testing, the GeForce GTX 1070 was found to be the GPU of choice for 1920x1080, 60 FPS, High-detail gameplay in The Evil Within 2, averaging over 70 FPS in our benchmarks. At 2560x1440, the GeForce GTX 1080 is recommended, running at over 60 FPS average. And at 3840x2160 you'll want the world's fastest consumer graphics card, the GeForce GTX 1080, which tackled The Evil Within 2's general gameplay extremely well, though dips into the high 40s were recorded during the horror game's most taxing moments.
In addition to delivering the performance to smoothly play The Evil Within 2, the recommended GeForce GTX 10-Series graphics cards support our vast array of critically acclaimed technologies, giving you the definitive gaming experience, unmatched by any other platform. And if you're daunted by manually configuring the game's many graphics settings, load up GeForce Experience and click "Optimize" to instantly receive optimized Evil Within 2 settings that ensure a smooth experience on your specific system configuration.
GeForce Experience will also enable you to quickly and easily download and install our Game Ready driver for The Evil Within 2, giving you the smoothest, fastest, most reliable experience possible the second the game launches.