The Witcher 3: Wild Hunt GeForce GTX Bundle Now Available
Featured Stories
,
Bundles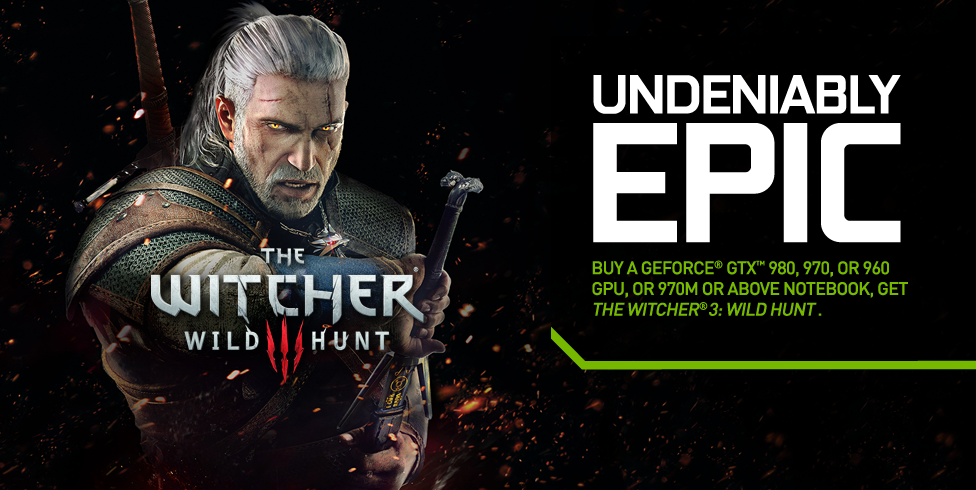 There are many great games coming to PC this year, and if you're a fan of RPGs The Witcher 3: Wild Hunt is undoubtedly on your 'most anticipated' list. If you've somehow avoided the hype, the jaw-dropping screenshots and trailers, or the many previews, The Witcher 3 is the conclusion to a trilogy of action RPGs that each feature excellent storytelling, branching quests with morally ambiguous choices, and advanced graphics that use all available horsepower to render incredible scenes.
For The Witcher 3, developer CD Projekt Red has raised the bar for all others, creating the most detailed game ever seen. New techniques and the latest effects are employed to bring fantastical scenes to life, and on PC the stunning graphics are further enhanced by a host of NVIDIA GameWorks effects, including HBAO+, HairWorks, and PhysX. For further details stay tuned.
To experience The Witcher 3: Wild Hunt at its very best, with every effect enabled at a high resolution, you may well need an upgrade, so kill two wyverns with one stone by buying an "Undeniably Epic" GeForce GTX 980, 970 or 960, which'll give you the performance you need as well as a free copy of The Witcher 3: Wild Hunt*.
A list of e-tailers and retailers selling the "Undeniably Epic" Witcher 3: Wild Hunt GeForce GTX bundle can be found here, and if you're in the market for an entirely new gaming PC or notebook you'll also find a list of partners selling qualified "Undeniably Epic" GeForce GTX desktops and notebooks at the same link.
Please note, NVIDIA cannot provide The Witcher 3: Wild Hunt game codes for purchases made at non-participating e-tailers and retailers.
*Terms and conditions apply.