TITAN X Unveiled, Powering GDC
Hardware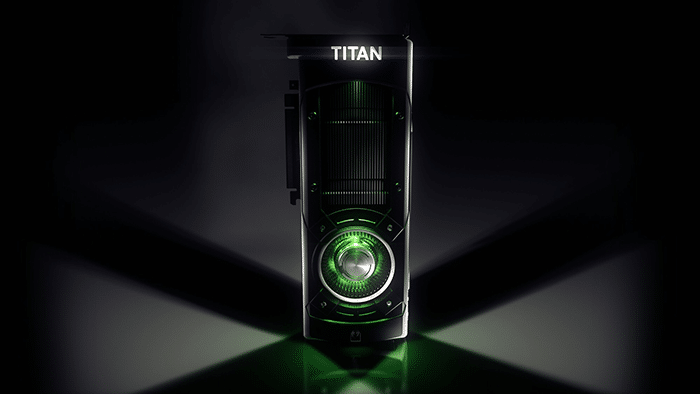 Game Developer Conference (GDC) kicked off with lots of exciting news from NVIDIA. First, we announced the NVIDIA SHIELD, the world's first Android TV console.
The next day we surprised the world with a second announcement during Epic Games' State of Unreal keynote. As Epic's CEO and founder Tim Sweeney discussed Unreal Engine 4 and virtual reality (VR), he turned to the crowd and asked if there was a graphics solution powerful enough to deliver the promise of these new VR experiences.
NVIDIA CEO Jen-Hsun Huang came forth from the audience and unveiled the first production model of GeForce GTX TITAN X - the fastest, most powerful graphics card in the world.

Jen-Hsun Huang introduces the TITAN X and presents the first production unit to Tim Sweeney
GeForce GTX TITAN X is NVIDIA's next-gen flagship GPU based on the Maxwell architecture. Loaded with 12 GB of frame buffer and 8 billion transistors, it has the power to drive the most amazing and impressive content and unique VR experiences unveiled by Epic Games, Oculus, and Crytek at GDC 2015.
Virtual Reality is More Real than Ever
The buzz of this year's Game Developer Conference was virtual reality. Virtual reality was found almost everywhere around GDC with people waiting for hours to try the latest virtual reality demos at NVIDIA, Epic, Oculus, and Crytek's booth. With demos like Thief in the Shadows, our partners needed a GPU faster than the current champ, GeForce GTX 980. Fortunately NVIDIA announced TITAN X just in time to ensure there was a graphics solution truly capable of delivering true next-gen VR.
The product of a unique collaboration between Weta Studios, Epic Games, Oculus and NVIDIA, Thief in the Shadows is an extraordinary virtual reality experience that is so powerful it requires the horsepower of a TITAN X GPU to hit the needed 90 FPS.
"When you come face to face with an enormous dragon, that experience has to be believable, visceral and emotional" said Alasdair Coull, Head of R&D at Weta Digital. "NVIDIA's new TITAN X GPUs provide the platform to deliver exactly that."

In Thief in the Shadows Smaug gets up close and personal. ©2014 WARNER BROS. ENTERTAINMENT INC. AND METRO-GOLDWYN-MAYER PICTURES INC.
Thief in the Shadow takes attendees right into the heart of Lonely Mountain, to the lair of Smaug and his hoard of treasure. As you glance around the cavern, which stretches for miles- the level of detail in the scene is unbelievable. From the gold coins and ingots, the carved stone columns or Smaug himself, each detail is meticulously crafted and generated. Driven by Epic's Unreal Engine 4, powered by TITAN X and displayed by Oculus's Crescent Bay prototype, Thief in Shadows truly shows what the next generation of VR has in store.

See how others reacted to CRYENGINE VR Demo at GDC 2015 here.
Crytek brings back a piece of history with Back to Dinosaur Island in their latest CRYENGINE VR demo. Back to Dinosaur Island brings you right into a dinosaur's nest, showcasing the texture of the hatched egg shells and the leaves in the dark jungle. The king of dinosaurs, Tyrannosaurus Rex suddenly approaches and looks right at you, the amazing graphics showcases the texture in his skin, the malicious glimmer of his eyes as he grins and then opens his jaw showing his razor sharp teeth.
We also did got a sneak peek behind closed doors of Valve's new VR headset, created with HTC. Their VR experience was powered by GTX 980.

Steam VR Development Milestones
Open worlds and 4K
In addition to virtual reality, TITAN X is essential for driving amazing 4K and open world experiences.
Valve demoed the new Unreal Tournament playing on SteamOS. The Falcon Northwest's Steam Machine harnessed the power of TITAN X to deliver a jaw dropping 4K experience in the living room. The sheer realism and detail in the base and terrain (which included a realistic waterfall!) surrounding Outpost 23 truly demonstrates the advancements in visuals of the newest generation of gaming. Proving once again, the graphics power of PC gaming is better than ever.

Outpost 23 sets the visual bar and Valve demonstrated it in 4K glory.
Epic continues to push the envelope and delivering state-of-the-art graphics with Kite, a photo-realistic, open world environment, spanning 256 square miles of rendered grass, trees, and mountains. Navigating through this experience, you float and explore the terrain, gliding through swaying grass, rustling leaves, and rocky terrains as the kite. The virtual world of Kite can only be fully realized on the powerful performance of TITAN X and its 12 GB memory buffer.

Check out the full Unreal Engine 4 (2015) Features Trailer here.
TITAN X is truly the ultimate graphics card, to drive the future of gaming from 4K to VR. Built on Maxwell architecture, TITAN X continues our TITAN legacy to delivering powerful performance and our commitments to gamers to for state of the art graphics.

TITAN X singularly powers the best of GDC from 4K to VR. See what it took to make this one-of-a-kind build.