The Ultimate GeForce PC: We Made It, You Can Win It
Featured Stories
,
Contests
The Pascal architecture's vapor chamber, fan and shroud, found on the GeForce GTX 1080 Ti, 1080 and 1070, not only keep the world's fastest GPUs stable when heavily overclocked, but also look cool, with a striking, angular, polygonal design that elevates your build's appearance from 'ok' to 'amazing'.

This game-changing design enables the world's fastest GPUs to run at record speeds, with incredible looks. And now, thanks to our friends at Parvum, there's a chassis that embodies this cutting-edge combination of performance and style.
Behold, the Ultimate GeForce PC!
Months ago, we decided the GeForce GTX 1080 Ti deserved a PC worthy of the power and design our top-tier GPU brings to gaming. So we went to our friends at PC case maker Parvum with one request: create the Ultimate GeForce PC, and make it glorious.
As I think you'll agree, they delivered. This one-of-a-kind powerhouse is custom-built out of milled aluminium. It's smaller than most ATX chassis, yet feels incredibly dense at 48 pounds. It's the Ultimate GeForce PC of our dreams - and we're partnering with the GameChanger charity to give it to one of you.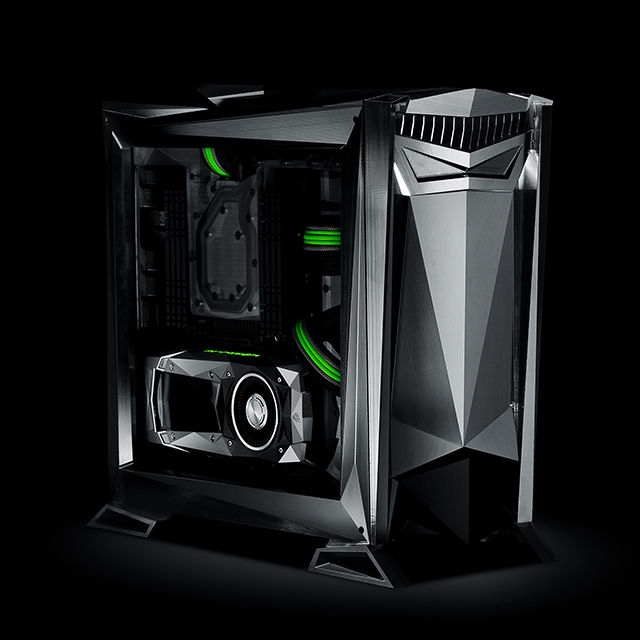 To win the Ultimate GeForce PC, enter the GameChanger charity raffle, which will use all proceeds to help ease the suffering of children facing life-threatening illnesses, using technology. Because only one of you can win the Ultimate GeForce PC, we're sweetening the pot to include GeForce GTX USB Drives, and PC download codes for Destiny 2. Plus, our friends at Razer and Toshiba are contributing with Razer Kraken Pro V2s, a full suite of Razer Gunmetal accessories, and Toshiba 1TB SSDs!