YIDIY: Alex Ciobanu & the Jedi H500P Build
GeForce Garage
,
YIDIY
,
Videos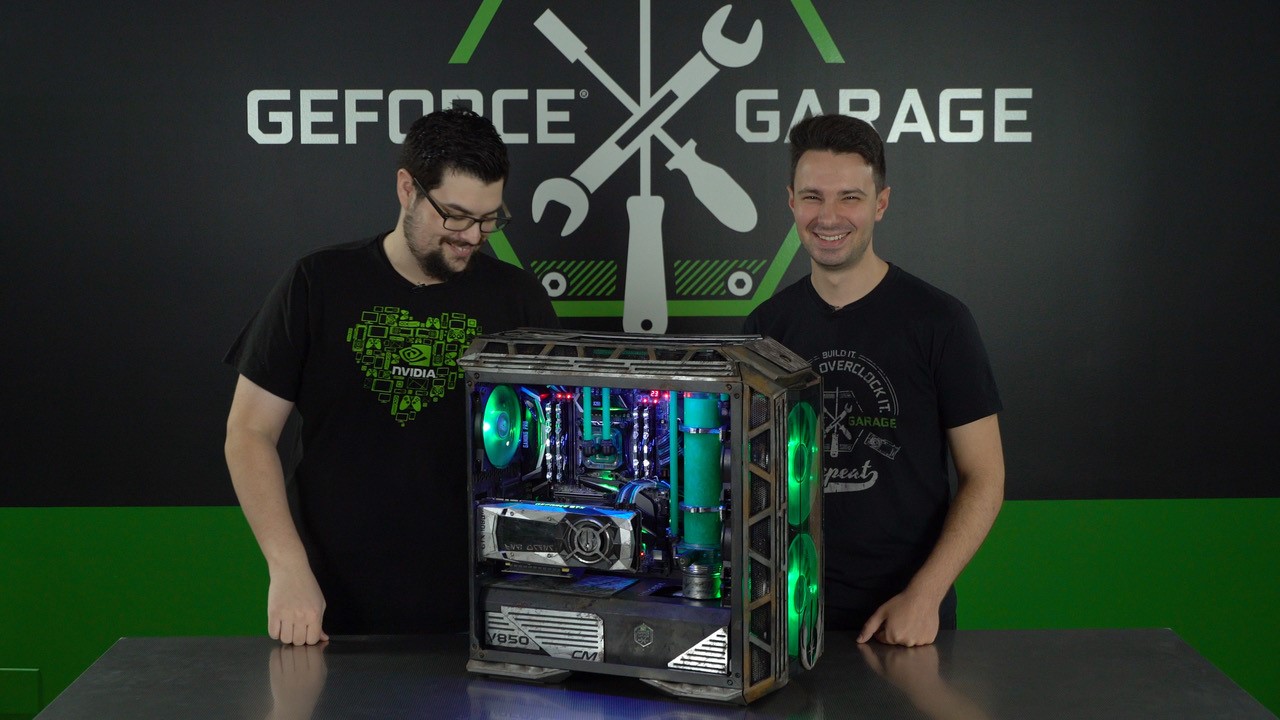 PC cases speak to us all in different ways. How well they silently appeal to our unique affections is part of what fuels our decisions when buying. The Cooler Master H500P whispered something special to Alex Ciobanu of Simple Modz. After cutting, fabricating and hand-finishing the chassis, he was left with something incredibly unique. All we can say, "The Force is strong in this one!"
Born in Romania, Alex has moved around a bit, but now calls Australia his home. He's an avid modder at 26 years old. But when he's not building new rigs, he's creating content for his new YouTube channel where he does reviews for PC cases and motherboards. Alex is also a hardcore gamer who loves to play his favorites like PUBG, Fallout, and The Witcher series. Gaming was his gateway into the mod scene, which eventually led Alex to fully explore liquid cooling and case modding.
Today we're featuring his impressive H500P Jedi Order. It expresses a distinct styling and inspiration that is irrefutably "Star Wars." Ironically, the theme is based on NVIDIA's own Star Wars branded Titan Xp Collector's Edition video cards. Below, Alex shares what inspires him, how he works, and how several of his skills were leveraged to push this build across the finish line. Also be sure to check out his equally mesmerizing time lapse build video on his YouTube channel.
---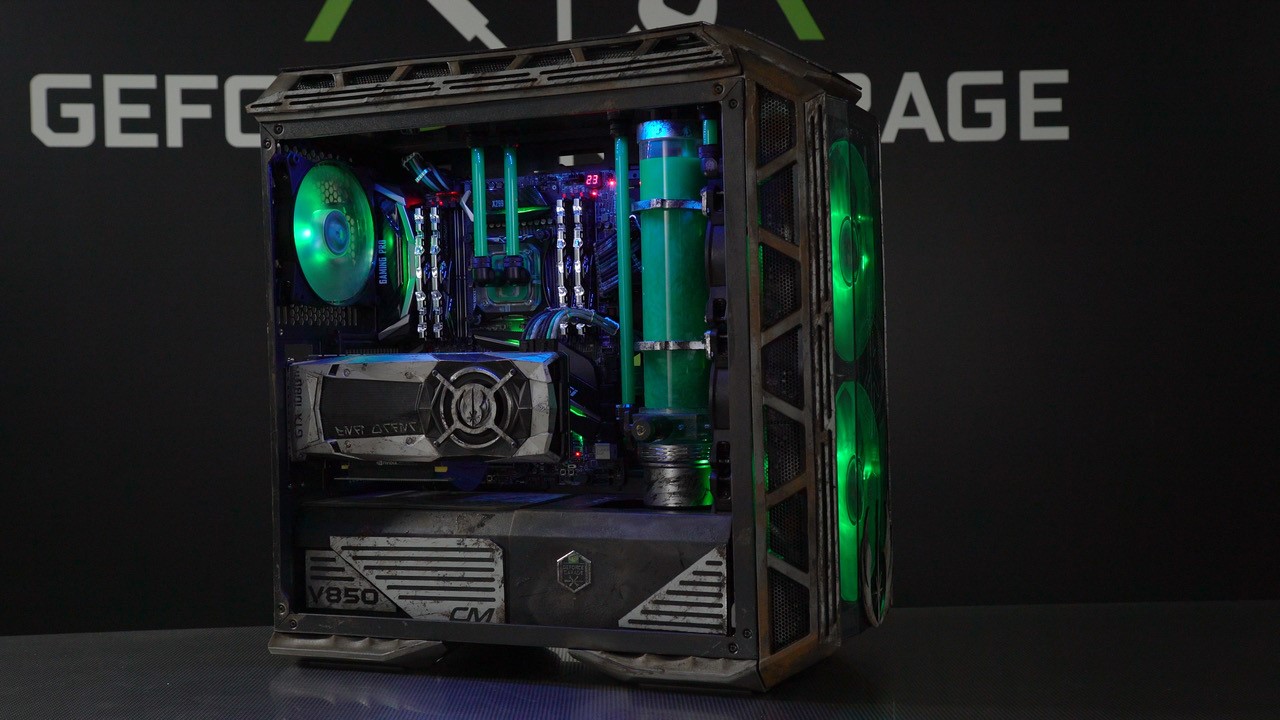 Jedi H500P Specs
Component
Product
Chassis
Cooler Master MasterCase H500P
Graphics Card
GeForce GTX 1080Ti Founders Edition
CPU
Intel Core i9-7900X
Motherboard
MSI X299 Gaming Pro Carbon
RAM
32GB Apacer Panther Rage (4x8) 3000MHz
Storage
240GB Apacer Panther AS330
2x 500GB Samsung 960 EVO
2x 2TB Seagate FireCuda

Power
Cooler Master V850
Other
Custom water cooling by Singularity Computers and Bitspower
Custom cables and lighting by CableMod
When did you first get into PCs?
I've been into PCs my whole life. Growing up in Romania, we only had PCs to game on. Consoles back then were not really popular in my friends group, so I gamed a lot on PC.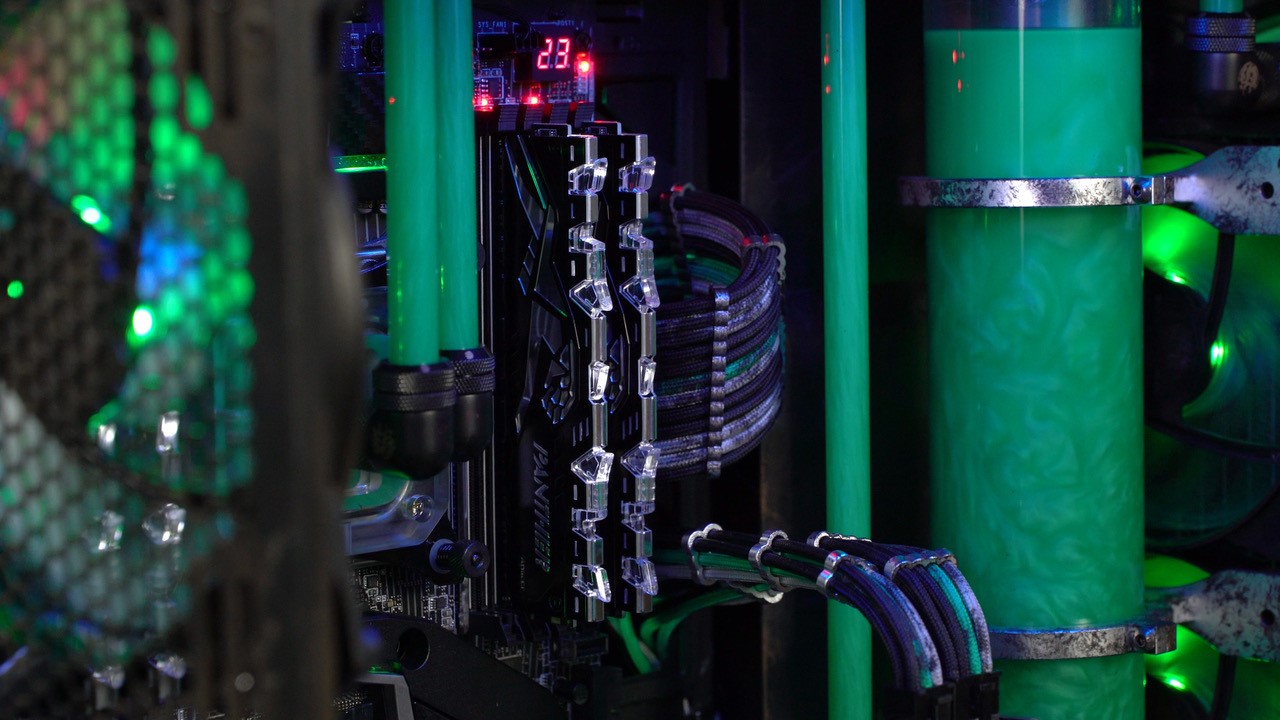 How long have you been modding?
I build my first PC in 2012 and did my first case mod in 2014 – I haven't looked back since.
I always wanted to improve something on my existing PC. Make it look nicer, run faster and cooler or quieter, and once I got the bug I couldn't stop.
My first case mod was the Vault Boy in the Bitfenix Prodigy – I still think it was some of my best work and passion that went into that build :D
I've been modding for over 4 years now and I still feel super excited when I start a new project, and find myself at my best while just enjoying my passion and working on PCs, no matter how much time it takes up out of my day.
What's your favorite part about modding?
I enjoy pretty much all aspects of case modding, but what I enjoy the most is trying out something different, that I've never done before. Whether it's something that I've seen someone else do or something completely new, just trying out something for the first time and giving it your best, then starting at whatever it is you created is a really good feeling, no matter how good or bad it is.
When it comes to the actual stages of case modding however, the best part for me is just before I fill up the loop. At this point all the cable management is pretty much done, which is always a nightmare for me, and I look at the build nearly finished, set up all my paper towel precautions in case there are any accidental leaks and I start filling it.
Flicking the power supply switch for the first time, watching the fluid start flowing as you continue to fill it – it's just all the time and effort that's gone into creating a PC that's truly unique comes to life, and it makes it all worth it!
Who were some modders you looked to for inspiration early in your career? What advice do you now have for aspiring modders?
I used to lurk around PC hardware enthusiast forums quite a bit when I first got into case modding and I really enjoyed seeing the works of Bill Owen, Ron Lee, B-Negative and then also other popular case modders such as Modder Crow and Suchao. All these guys have some pretty insane skills and I still look at their work in awe every time.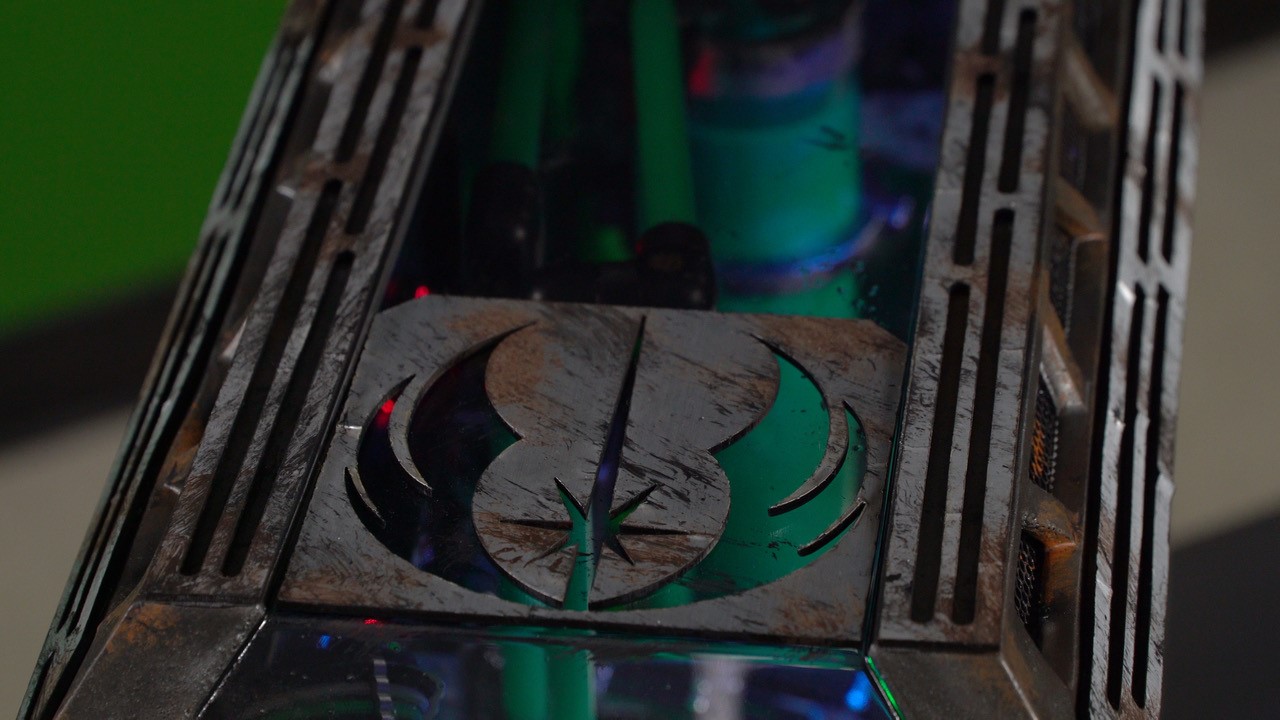 Tell us a little bit about the Jedi Order H500P
The Jedi build was one of the first case mods that I did with a weathered/destroyed look. And minus some laser cutting work done by a good friend of mine, and fellow Aussie case modder Corey from Designs by IFR, all of the weathering was done by hand. I think the effect came out nicely and goes well with the Star Wars theme
The main inspiration for the entire build, down to the weathering and design elements that I used were pulled from the Jedi Order Special Edition Titan Xp.
What did you do to get the case to where you wanted?
Other than the weathering effects, I created some custom acrylic panels to go with the theme, some were cut by hand and some by laser, and I then added various effects with a brushed aluminum vinyl.
The main idea was to use aluminum for this project however acrylic is a lot easier to cut and work with, and with the brushed aluminum vinyl that I picked up on eBay, I was able to create the same effect I was after without actually using any custom aluminum panels in the build.
Also, since I only went with a CPU custom water cooled loop, I didn't need to utilize the second 360mm radiator mounting in the top of the case. Instead, this section of the case was used to do straight hardline tube runs to the top of the case and connect it all in the top using pass-through fittings. This created a nice and clean water cooling loop inside the case and also allows you to see inside the build through the top windowed section of the H500P case as well.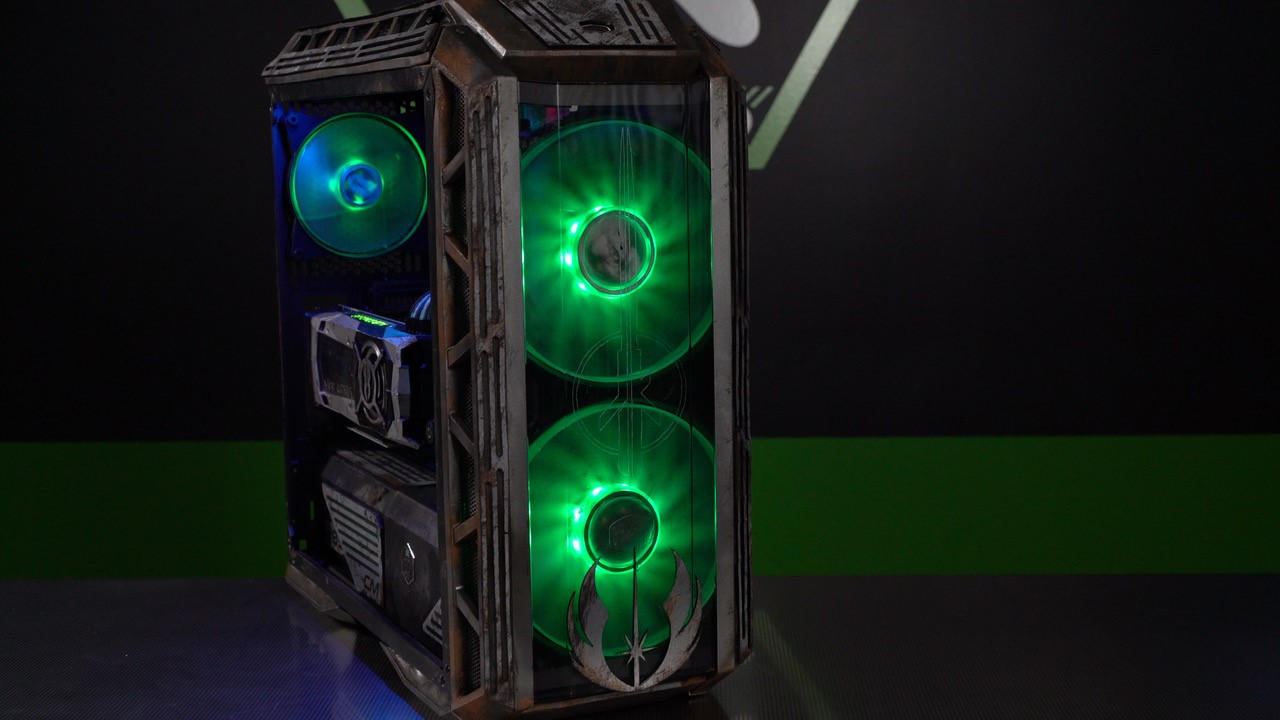 Some other modifications were made to the front of the case where I managed to fit a 60mm thick 360mm radiator behind the two massive 200mm fans that the H500P offers.
The Founders Edition GTX 1080Ti received some customizations of its own, so I didn't want to water cool it. I made it look like my version of the Special Edition Jedi Order card by creating a special grill for the blower style fan and also adding weathering and vinyl effects in order to get the desired look.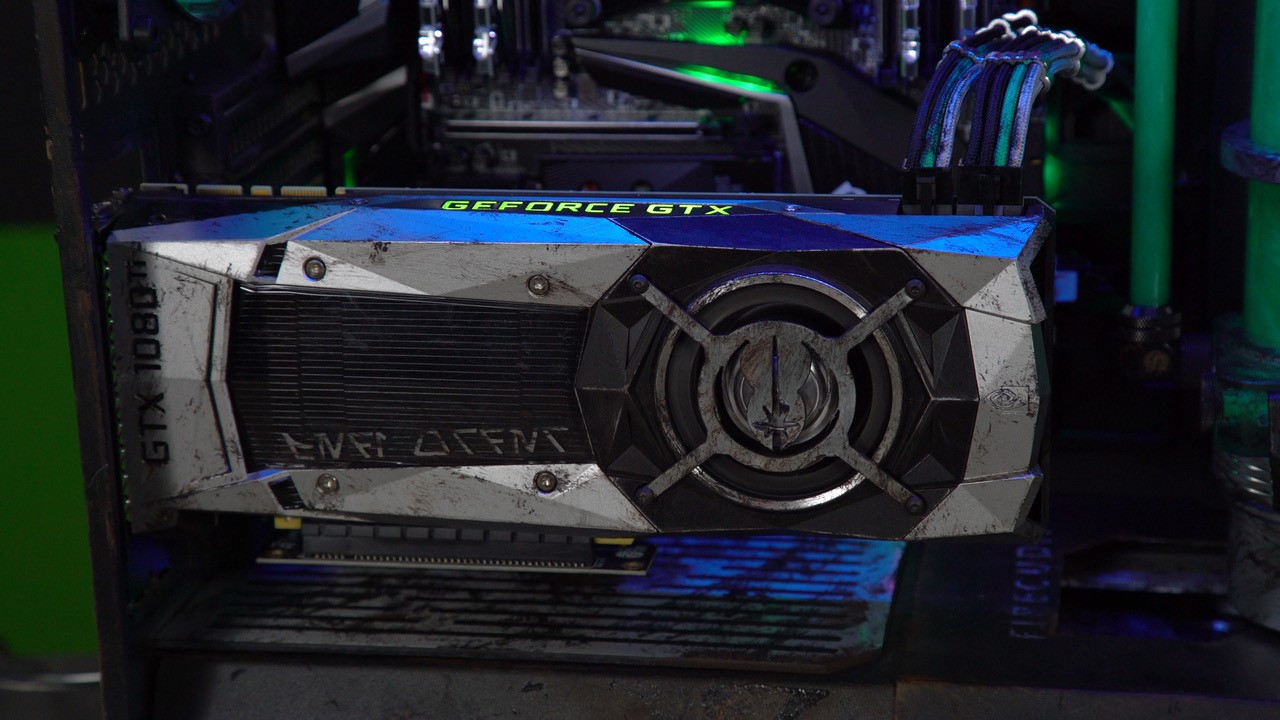 Since you mentioned you like learn something new each time you build, what was it this time?
This was the first time I tried weathering an entire PC case and other components as well, simply with some water based paint and funny enough, a toothbrush. I don't know if the toothbrush actually helped, over using a normal paint brush but in the end I think the effect came out great.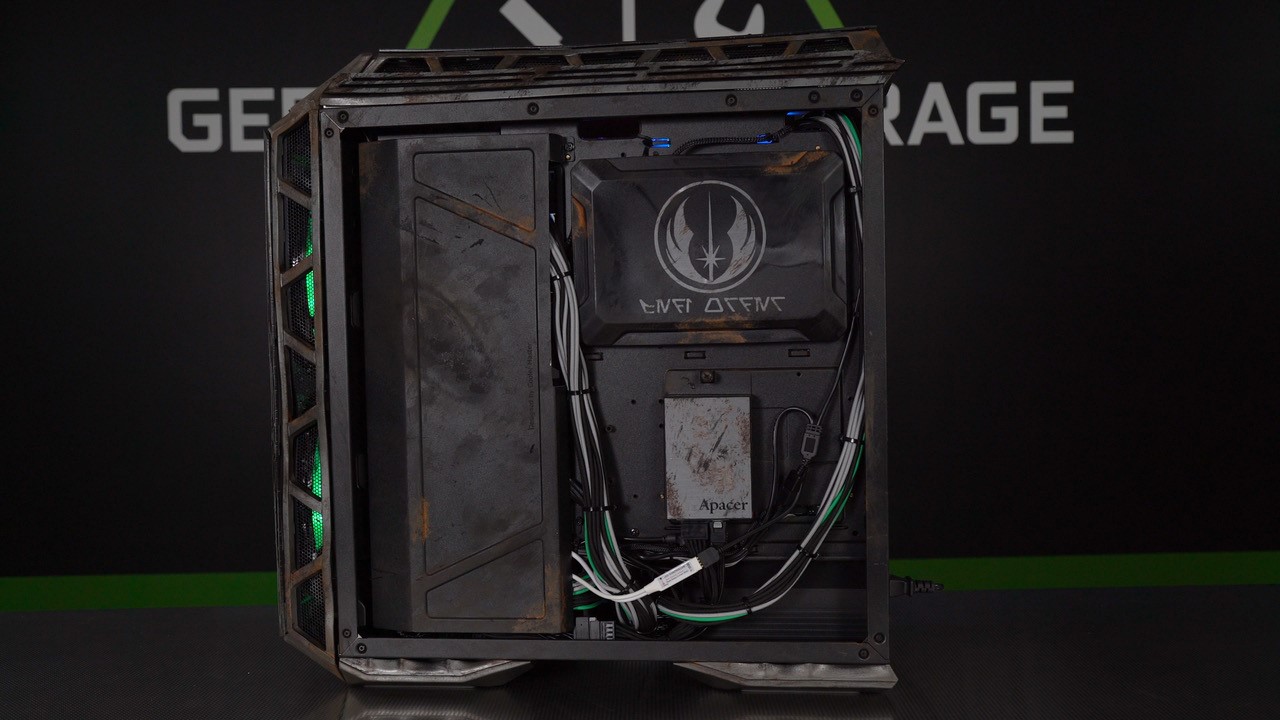 I also had some fun with a blow torch and melted some parts of the case for a more authentic weathered look – this was also a first!
What do you have planned next?
I am currently working on quite a few projects for the Intel Extreme Masters event in Sydney. I've also been working on another H500P case, the Mesh White version, which I'm going for a Stormtrooper theme with a bit of Death Star aspects to it – so yea I'm a pretty big Star Wars fan
Other builds that I've been working on are two Cooler Master COSMOS C700P builds, Counter-Strike themed, as the main game at Intel Extreme Masters in Sydney is of course CS:GO. Given the versatility of the C700P case, one build is a normal ATX form factor and the other in reverse ATX – this way they go nicely side by side, one Terrorists themed and the other Counter-Terrorists.
The main design aspects of the two builds have been pulled from one of the most popular CS maps – Aztec, and I've done a nice Mayan pattern throughout.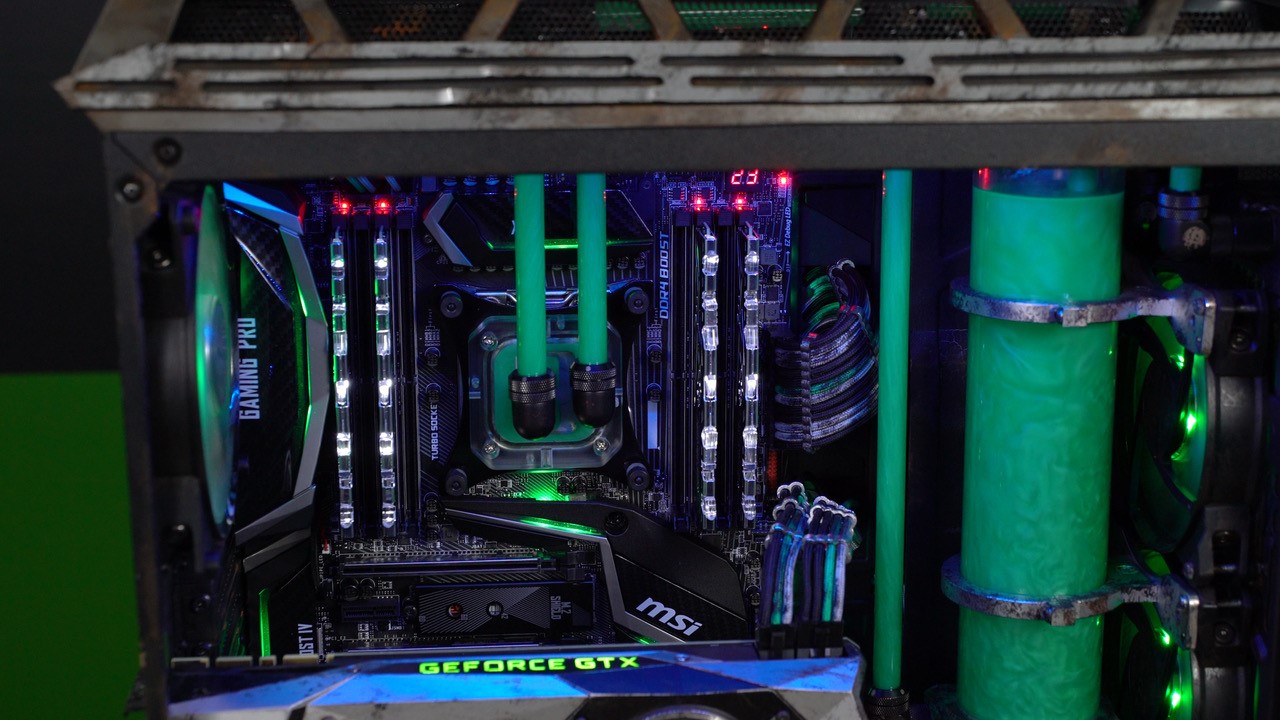 ---
Keep an eye on Alex's Facebook page to check out his latest case mods: http://www.facebook.com/Simpl3Modz.
If you know of a rig that we should feature on GeForce Garage, let us know in the comments below.