YIDIY: Alex Coman & the All-In Project
GeForce Garage
,
Interviews
,
YIDIY
Fans of modding rejoice! In the GeForce Garage today we have Alex Coman, creator of the "All-In" work-desk mod. Many will recognize this spectacular build from our social media channels where it reached close to 1 million people on our NVIDIA Facebook pages, and received tens of thousands of Likes and Shares. The groundswell of enthusiasm was amazing. Plus, we too love a great desk build (Check out GeForce Garage's desk!) and can appreciate the ingenuity and hard work Alex has put into his All-In. As such we knew we had to get him into the Garage in the hopes he would reveal the story behind his masterpiece.
---
The All-In Project
What sparked your interest in modding and tinkering?
I was lucky enough to own a PC from a very early age in my life. I can still remember that beige 386- PC that introduced me to the world of computers, and the DOS and Windows3.11 software. Oh, the memories! Soon after that my parents bought me a more up-to-date model. The first day that I got it I was so curious that I just opened it up - voiding the warranty, mom wasn`t happy about that. The PC featured an Athlon CPU and a GT 5200 FX GPU - that's right, NVIDIA fanboy right from the beginning. It was love at first sight
Can you tell us about your very first modding project?
My first modding project involved painting a PC case. It was absolutely perfect if I may say so myself! The funny thing is that the case is still being used by a friend of mine. After that I started following PC-forums and began to want more and more to create something I could use every day
"The All-In project" - what was your inspiration behind the name?
The All-In project is my best modding yet and I want to thank NVIDIA for promoting it. It's called All-In because it's a term used in gaming but also because everything is included in the desk, from the components to the peripheral devices.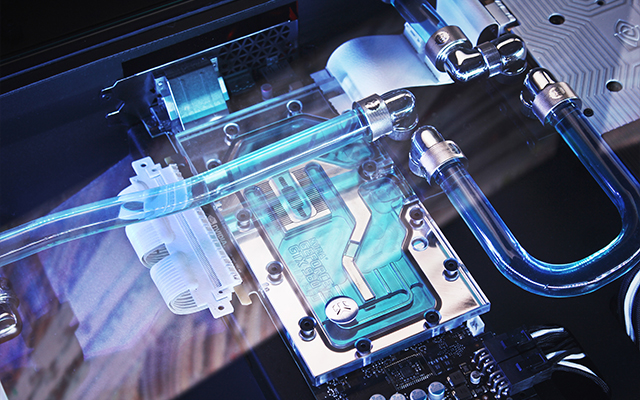 How did you begin the project? Did you work with or create sketches, prototype models etc…?
Initially I wanted to 3D print it, but the technology was not there yet, at least not when I tried. I wanted it to be different, not just a case fitted in a table, as most of the rigs are, but to have a unique design and components layout. While I was designing the blueprint for the 3D model, I changed my mind and decided to use metal for the mod. I think the minimalistic design and the slim lines makes the desk very customizable for the people who want to include it in their furniture set.
Did you have a problem finding all the components you needed for such a unique build?
Most of the components I acquired from suppliers in Romania. For the watercooling part however, I turned to EKWB and Aquatuning from abroad. This project took so much time because at first it started as a side-project. I spent hours and hours trying to develop a minimalistic design but with an industrial look at the same time, clashing, right? I must have dozens of versions for the exterior body as well as for the components layout inside my 3d program and sketchbook. When I started working on the design, I didn`t even know the basics of watercooling, but after careful research on forums and tech youtubers - like Jayztwocents - I caught on and implemented it in the design. Basically, it took me a very long time because I wanted it to be perfect.
What was the most challenging part of the All-In build?
The hardest part was the implementation of the design, especially as I hadn't worked with metal before, I didn't know how to properly measure the pieces, how much it could sustain before it would bend, what were its limitations and so on and so forth. At first I worked with a company specialized in cutting metal but they actually blew it with the first prototype (yes, there was another prototype). The finishing touches were horrible, the desk was extremely heavy, at around 100 kilograms (220 pounds). It gave me the opportunity though to test some essential principles, for example, how good was the airflow and how hot the glass would become upon extended usage of the rig. Will it break? Will it resist scratches? How much dust would it accumulate over time? The first prototype helped me answer all of these questions, so even if it did look horrible, it helped me a lot. The tests had positive results almost every time, so I had the opportunity to fix some of the flaws for the final prototype.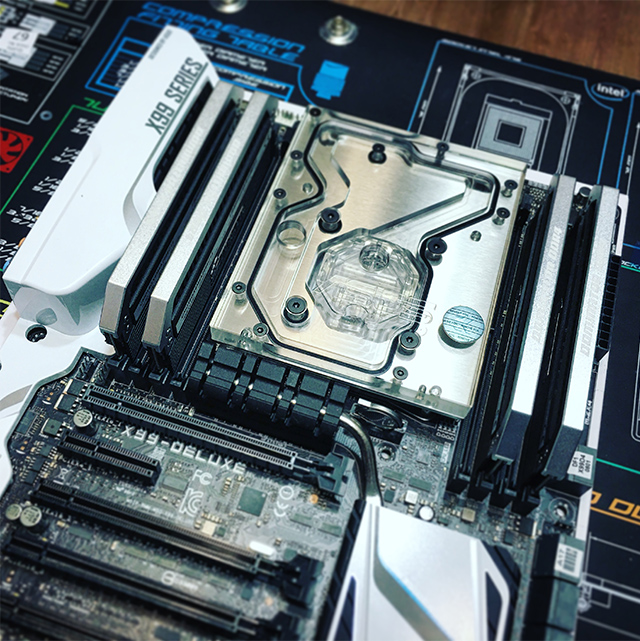 With regard to your out-of-pocket expense, do you have any advice for aspiring modders looking to try a similar build?
Please, let's not talk about this subject, my wallet is still depressed about it. All I can say is that, aside from the main components and the watercooling, trying to create a customized rig, at least on this scale, is very expensive.
What are some of your favorite titles you like to play on the All-In?
I got to know most of my current friend through video games. My favorite titles start with Bomberman, which I use to play on my first 386-PC, and continue with Red Alert, Warcraft series, WoW, League of Legends and many more countless AAA titles.
Are you currently working on any new or similar projects?
I design new stuff every day and try to bring something new, from cases to other work-desks. Nothing public so far, just in my private 3d files. One of the directions that I am currently approaching is how to reduce the vibrations from the moving parts of a build, like fans, pumps and hard drives. Maybe with something suspended. Would be nice. I do post photos of current work all the time on my Facebook profile, so if you want to find out more you can check it out there.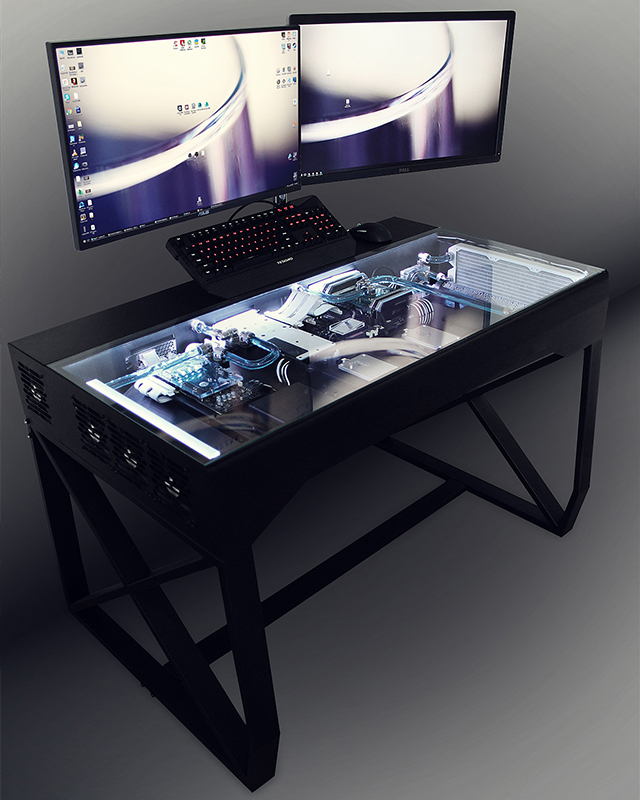 What would you say is/are the best skills you've picked up from modeling?
Haha! Willingness to do hard manual labor.
Do you get to engage with much of Romania's modding community?
Unfortunately, working as a freelance designer keeps me from exploring communities dedicated to modding, in Romania or abroad. So, if there's someone out there interested in talking more about this kind of projects, hit me up. Fortunately, there are some events that help me engage people with similar passions, as Dreamhack and Comic Con.
Got any advice for aspiring modders?
My advice for those trying to create their own rig is to measure twice, cut once, there`s no ctrl-z IRL, not yet.
And share your gaming rig on Instagram and Twitter with #YIDIY and you may be featured next.