YIDIY: Brian "Boddaker" Carter's The Rose
GeForce Garage
,
Interviews
,
YIDIY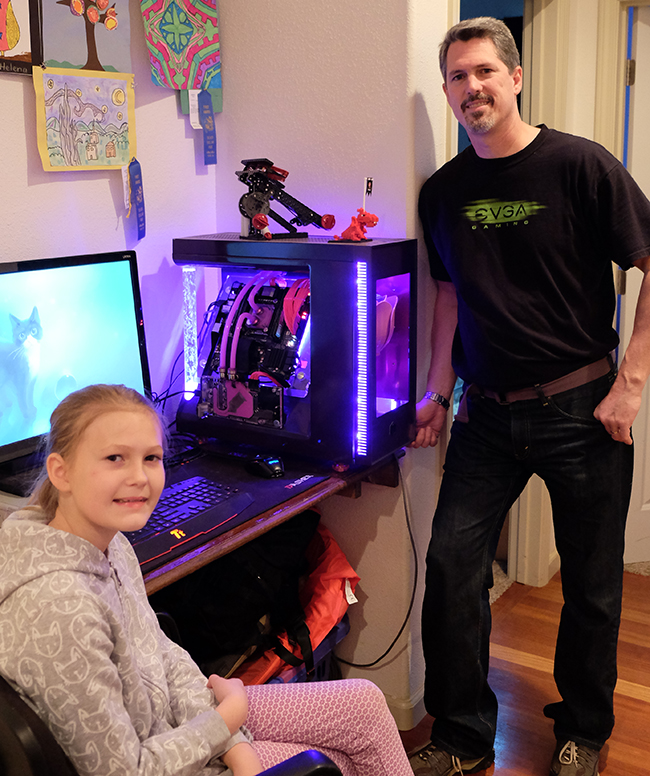 Our hunt for the most incredible mods and the mechanics who build them takes us to Chico, CA, home of two-time GeForce LAN case mod winner Brian "Boddaker" Carter. Brian always brings incredible experience and wild creativity to the Garage. His background modifying muscle cars has honed his technical skills and granted him the confidence needed to tackle some of the most imaginative DIY PC builds.
His latest endeavor, incidentally commissioned by his young daughter, took 3rd place at PDXLAN 28 last July. More recently in October it won 1st place at the Intel Lanfest in Sacramento, CA.
Congrats Brian! Looks like everything is coming up "Roses."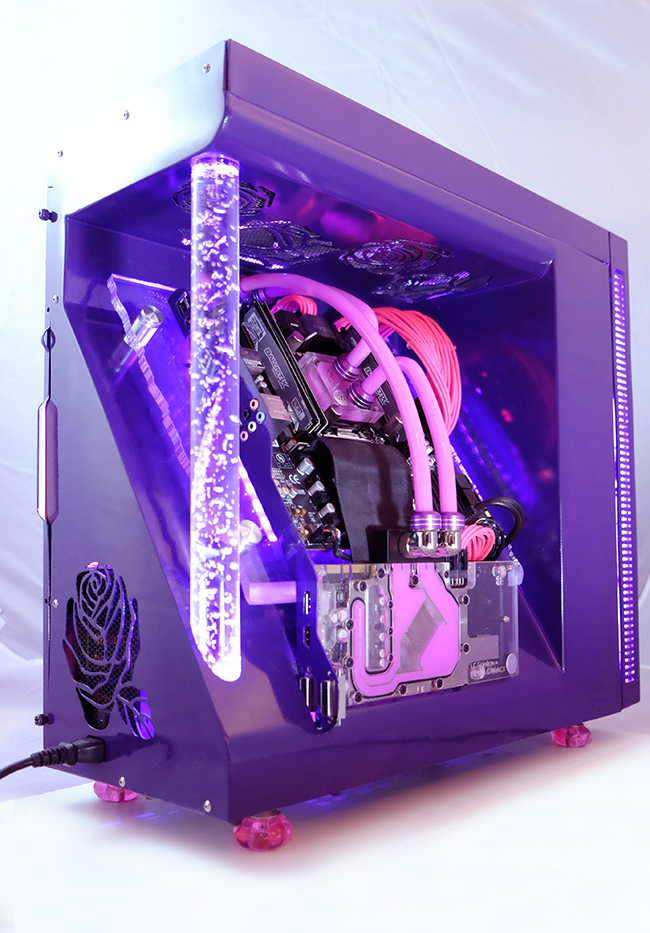 The Rose Specs
What got you into modding?
I come from a hot-rodding background, always tinkering with my muscle car with my buds on the weekends. We eventually got into computers and gaming, and it was just a matter of time before we all started hot-rodding our systems. I was the first of the bunch to add a window kit and blue lights into my case, and I was hooked.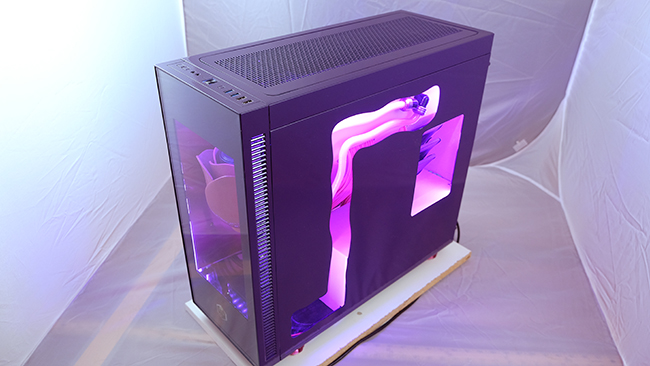 Where do you draw your inspiration from?
I have always been a hot-rod enthusiast. I've been building/working on muscle cars since high school, learning how to do bodywork and mechanical repairs from my father who was a lead mechanic at United Airlines for 35 years.
Where did you get your inspiration for The Rose?
My inspiration for this mod came directly from my daughter, who specifically asked for a pink rose case. She was pretty adamant about it, so I didn't argue! I immediately got the idea for the rose reservoir, with a hollow tube stem that would serve to feed the D5 pump below it. Then I just embellished from there, adding rose cutouts for the radiator and PSU air intakes, curvy tubing, and organic shapes in the custom SSD mount.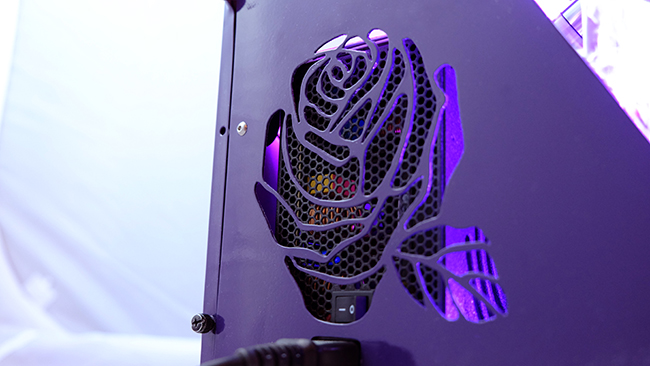 What did your daughter think of the idea? Did she actually help you with any of it?
My daughter was very pleased when she saw my concept renderings, and gave her stamp of approval right away. She couldn't help much with the actual metalwork, but she did pick out the rose templates to use for the cutouts, and her enthusiasm was instrumental in keeping me on track so I would finish the build on time!
Can you tell us a little bit about the build?
I like to challenge myself in every mod I do. Whether it's a new material, process, or using a new tool, I'm always trying to expand my skillset. This mod has a couple 'firsts' for me. I recently added a 3D printer to my arsenal of tools, and this was the first time using it to create the rose reservoir. My original idea was to print a transparent rose so you could see the pink fluid inside it, but I couldn't get the clear filament to cooperate in the short time-frame I had, so a plan-B had to be implemented. I printed a solid pink rose large enough to house the Primochill tube res inside of it, allowing me to still have the stem connect the res to the pump below. I added a piece of 1/4" tempered glass to the front bezel for that high quality contemporary feel.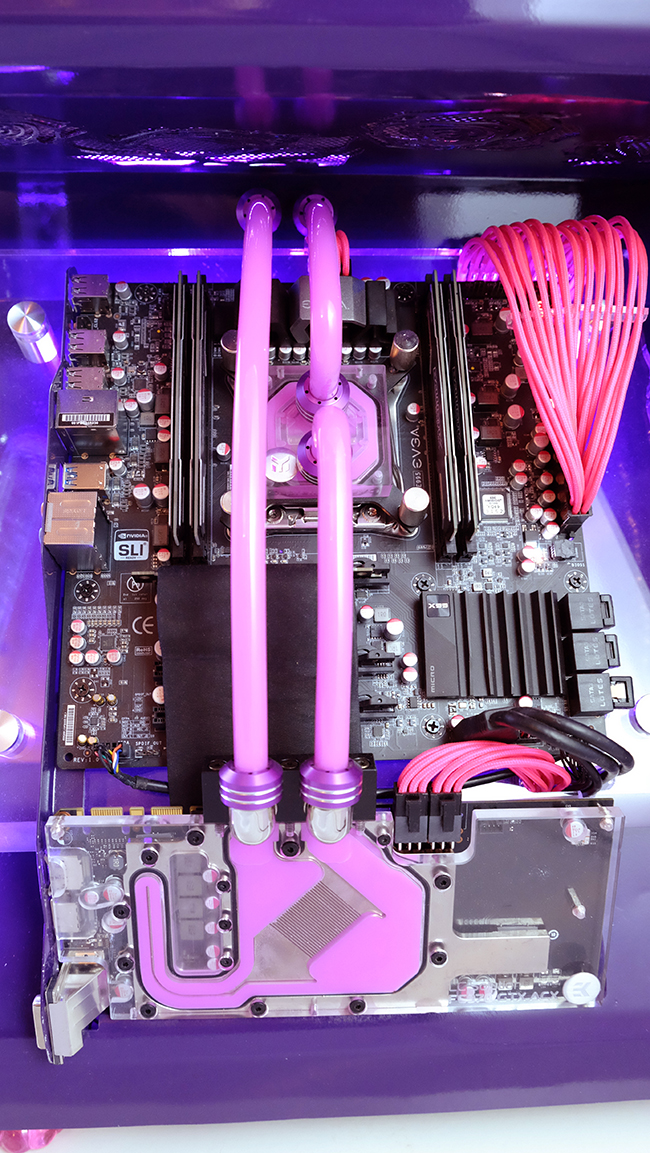 Another first for me was the bubbler feature. After designing the open air one-piece angled side panel, I needed a decorative pillar of some kind to fill in the back corner. So I came up with the bubbler tube idea. It was actually really simple to make! I cut a 1 1/2" acrylic tube to size, and found a small 12v air pump and aerator stone on Amazon. I fit the porous stone into the bottom of the tube and sealed it with hot glue. Made a mount for the 12v pump, connected the hose, and wired it up to the psu. Added a small pink led strip and I was done. :) It turned out to be a very popular feature on the case!
I love open air designs, as evidenced by my previous build, Cosmos Cruizer. They really allow the hardware to be the star, as well as the liquid cooling system. I situated the video card so that its waterblock lined up with the CPU block, and connected them with elegant arcing hard tubes that mimic the look of flex hose. I placed the motherboard onto a 3/8" thick piece of acrylic and used contemporary glass shelving standoffs. To continue the organic theme, I gave the acrylic a natural, rough-cut edge that is emphasized by the pink underlighting. And I applied the same arced treatment to the pink-sleeved motherboard cabling to go along with the tubing.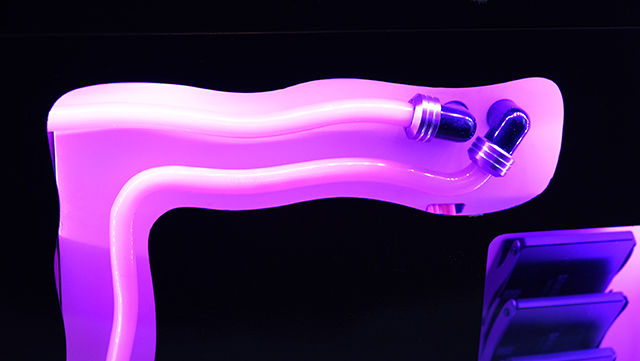 On the back side, I decided to go with an irregular window that focuses on just the curvy tubing emanating from the EK pump top, and a smaller rectangular window to feature the SSDs. The tubes' subtle bends purposely match the wavy shape of the window. For the three SSD drives, I fabricated an organic-looking drive mounting system to keep the theme consistent throughout. Everything else is hidden by the PSU cover. And finally, a set of pink rose drawer-pulls serve as the perfect feet to support the case.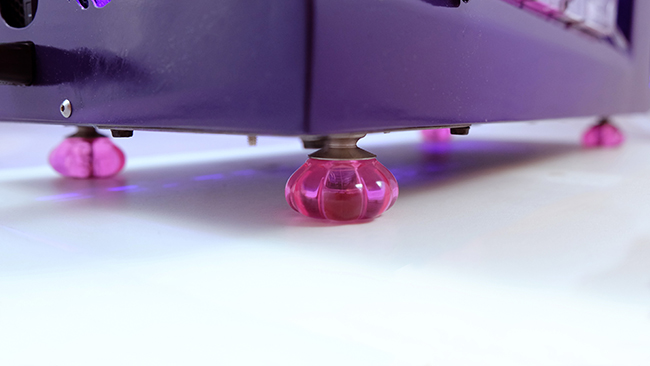 What's your favorite part about modding- The planning, the progress, the final result or something else?
For me, the design process is really where I can let my creative side go wild, and just see what I can come up with. But the most satisfying part is actually implementing that design and seeing it come to fruition. And then watching my daughter's face light up when she sees it for the first time is just priceless. :)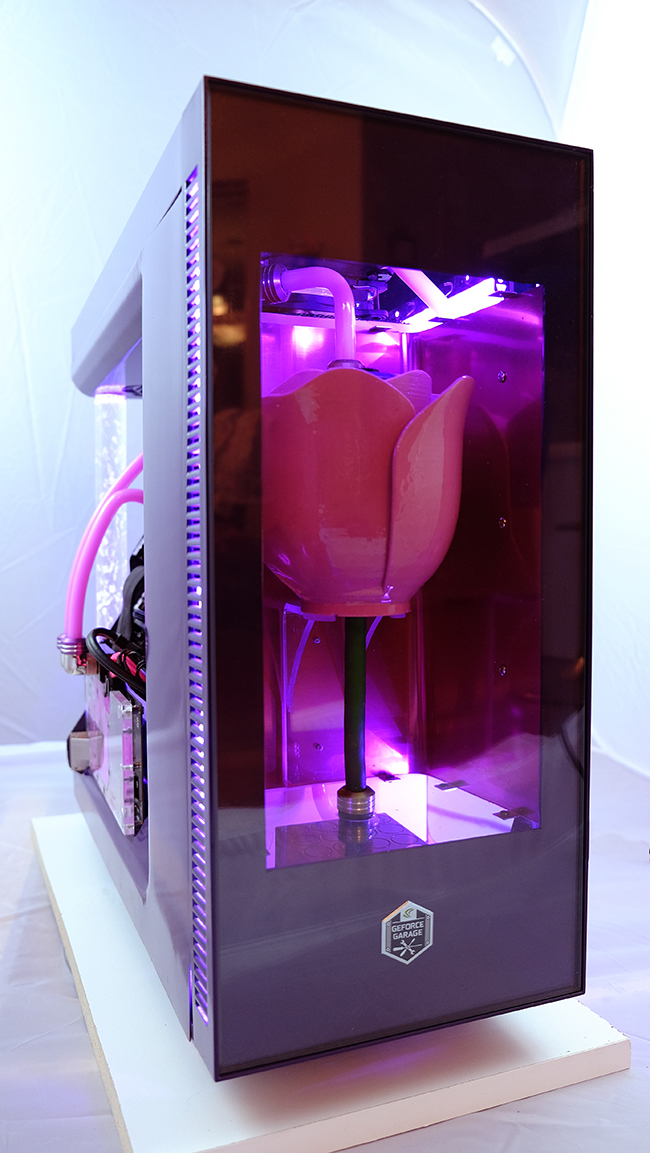 Check out Brian's complete build log at: http://www.pdxlan.net/forums/viewtopic.php?t=21038
GeForce Garage is always looking for new modding talent. Share your gaming rig on Instagram and Twitter with #YIDIY and you may be featured next.