YIDIY: David Cathey's Gigantea
GeForce Garage
,
YIDIY
,
Interviews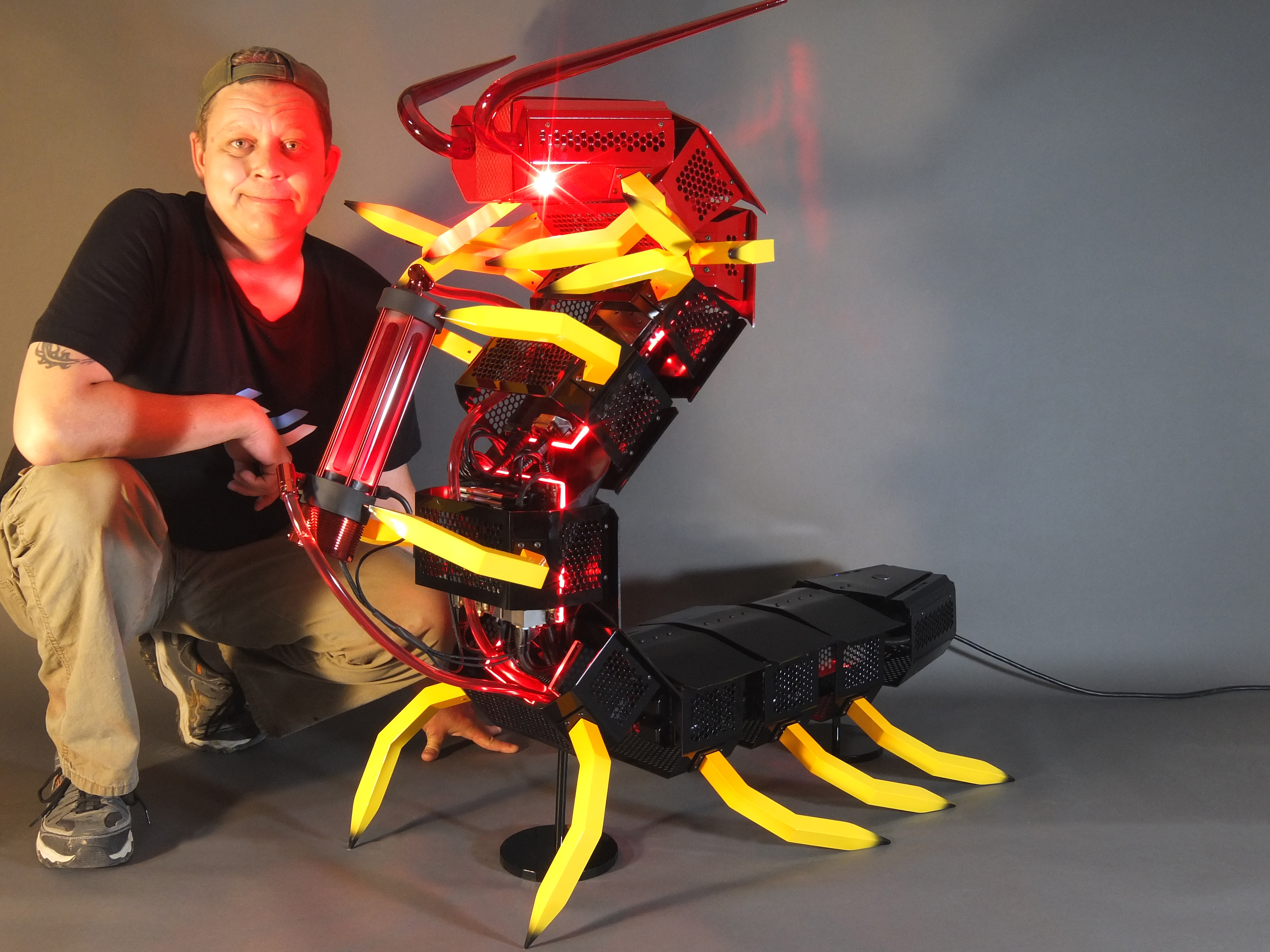 Case modder David "InsolentGnome" Cathey, of Missouri, has only been in the game for a mere 18 months. Yet in that time he has seized a handful of notable awards—one from DreamHack Austin with his Scout build, one from PDXLAN 28 with his Gigantea and two more 2nd place finishes at Cooler Master World Series 2015 & 2016 with his F3 and Gigantea builds, respectively.
David's Gigantea is the focus of this YIDIY Spotlight. It's an awe-inspiring build that defies convention and gravity. Where most modders focus on working with a single PC chassis, the InsolentGnome has repurposed several PC chassis into a single intimidating centipede-like PC case tower. The Gigantea is one "computer bug" we welcome with open arms.
---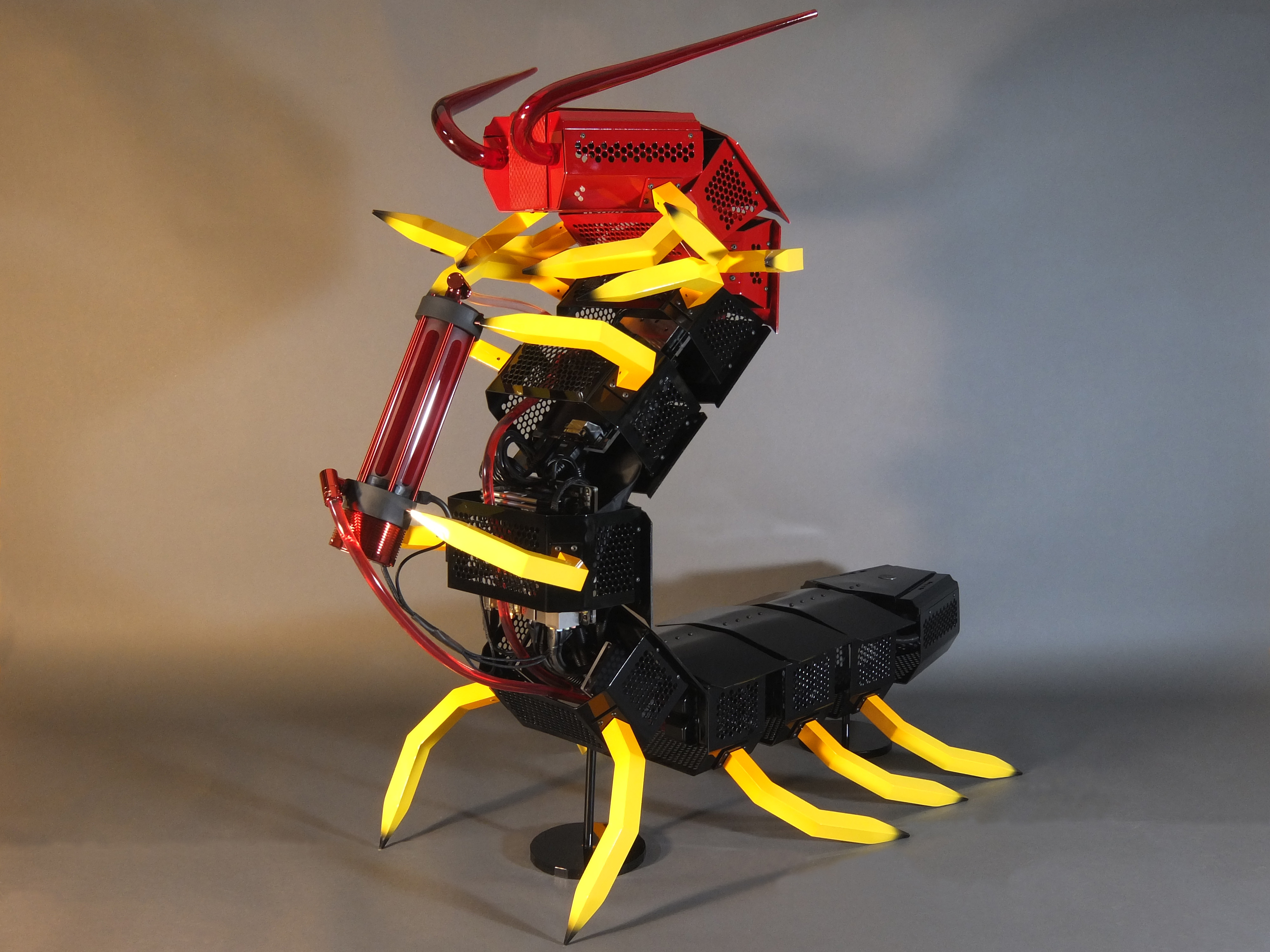 Gigantea
When did you first get into PCs?
I got into PC's pretty young, when I was maybe 13 or 14. The MS-DOS days, pre-Windows. My dad got us a Magnavox 386, one of the first 'cheap' computers with an optical drive. I fumbled around with computers, mostly playing games and doing school work and not really messing with hardware until around 2000. The first hardware I remember buying was, funny enough, a RIVA TNT2. That and needing better modems got me into upgrading computers. Then I had a Mac phase. But around 2008, I got back into PC's building my first system from the ground up.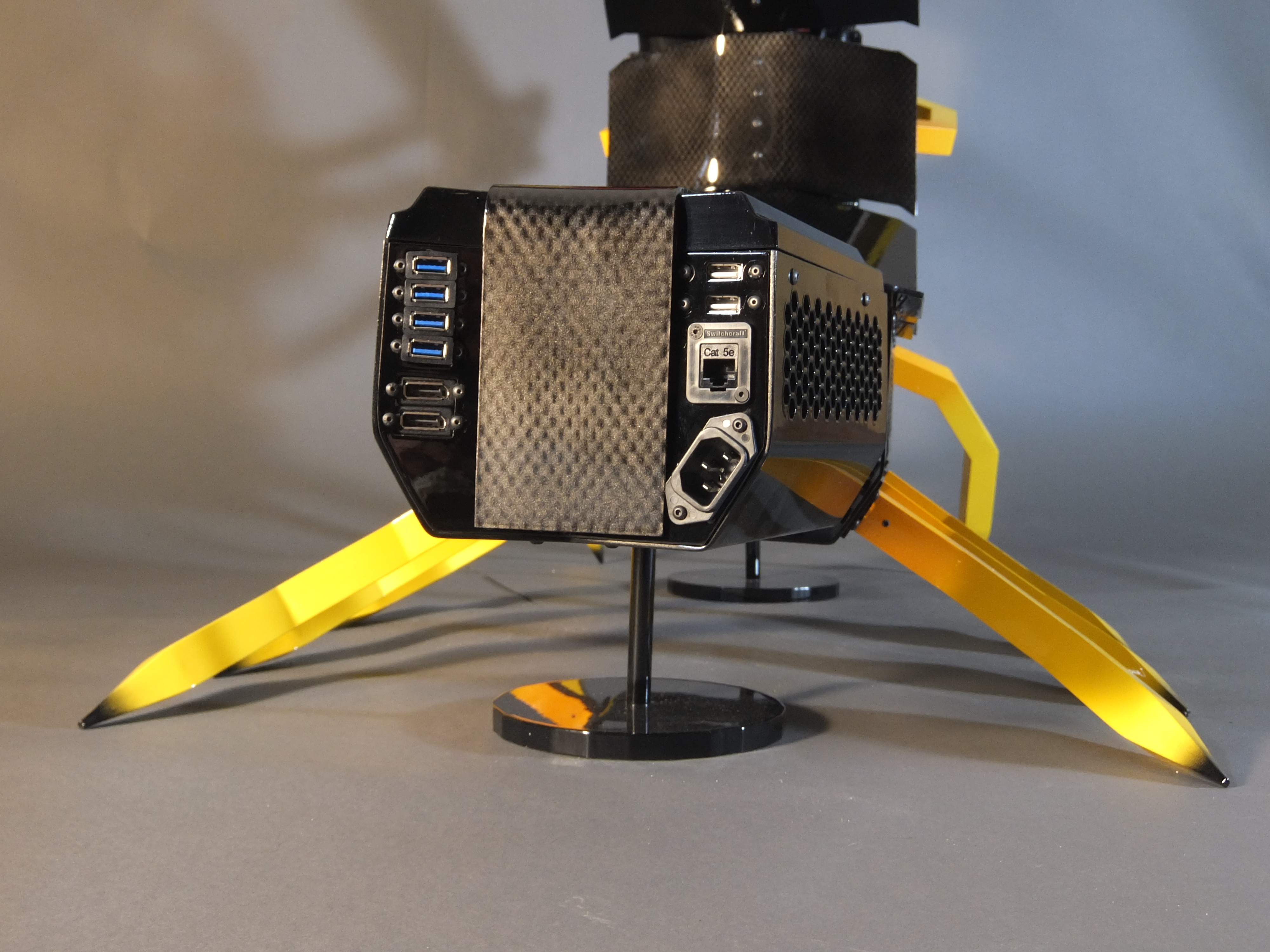 Tell us about your first real mod.
A few builds later, I decided that I should try my hand at case modding by entering the 2015 Cooler Master Casemod World series. It's one of those decisions, that looking back, you realize you had no clue what you were getting into or why you thought it would be a good idea. I had some experience with sleeving and cleaning up interiors of builds, but that was about it. So my first real case mod was a total learning experience. From working with acrylic for the first time to doing my first custom water cooling loop. Everything was new and a challenge. But in the end, I wound up building "F3", based on the MV Agusta F3 motorcycle, and taking 2nd place in the World Series tower category.
How have your other forays into competitve modding turned out?
Overall, I've taken second in the tower category of the Cooler Master World Series twice. Last year with F3 and this year with Gigantea. And I've place second twice at LAN events with mod competitions, at Dreamhack Austin with my Scout build and PDXLAN 28 with Gigantea. No wins yet, but for being at it for a year and a half, I'm OK with second place finishes. I've still got a lot to learn.
Where does your inspiration for modding come from?
I have phases. A couple of cases I focused on using acrylic, a couple have a robotic bug theme, and I'm definitely in a hot rod/automotive phase right now. Who knows what will be next? That's one of the great things about modding and why I enjoy it so much, each build is its own unique piece and the next one can be the polar opposite of the one you just finished. Maybe someday I'll have a signature style, but I kind of hope I don't. I like flying by the seat of my pants and not knowing what my next inspiration will be.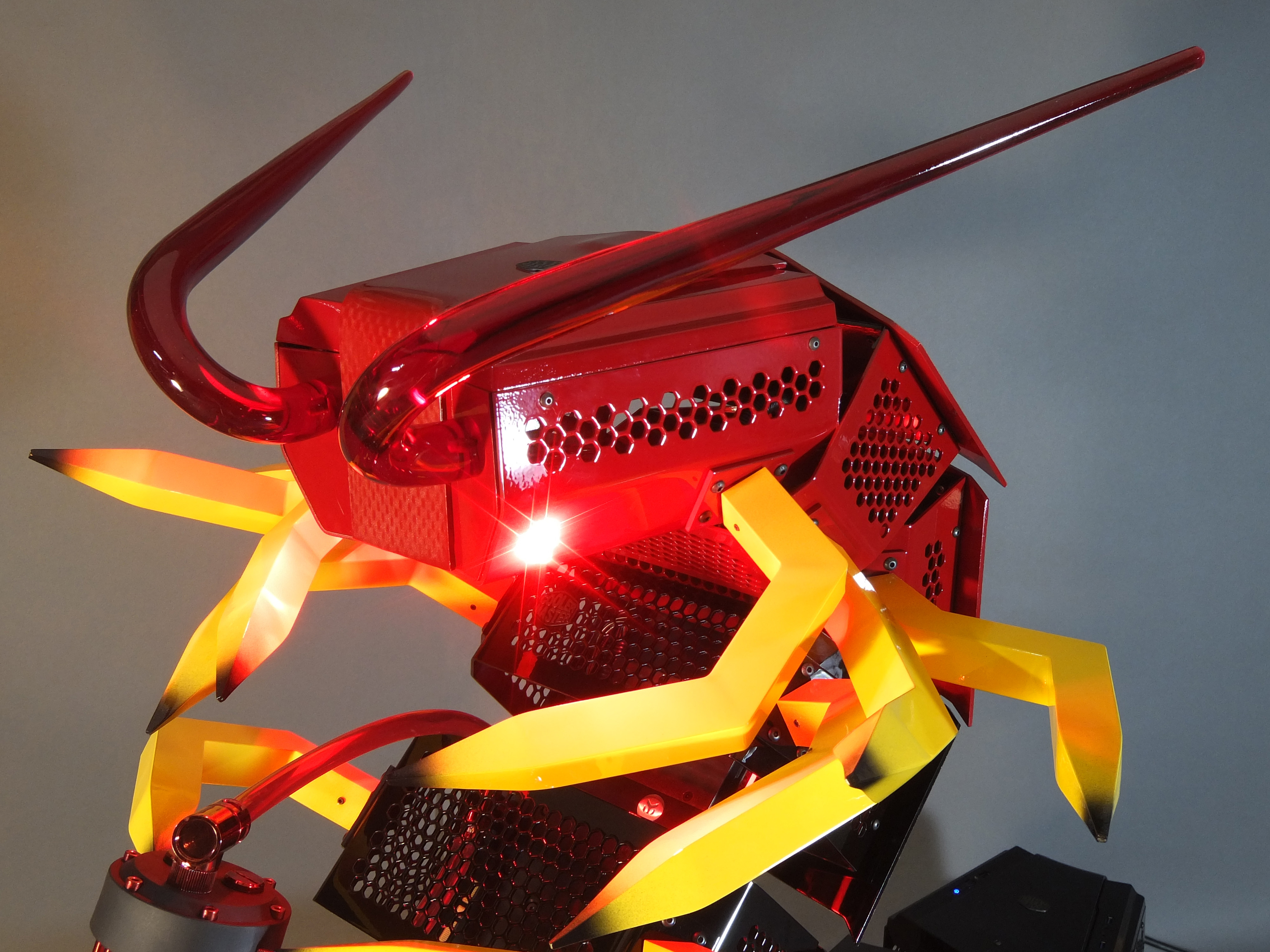 Tell us more about Gigantea.
Gigantea was pretty much built on the fly. The plans consisted of sectioned mITX cases attached together somehow, hardware attached to the sections, and it had to have legs. Beyond that, it was up in the air. I started off with three Cooler Master Elite 130's to get the length I wanted and sectioned the bottom panels into thirds. Those panels were attached to a piece of aluminum rectangle tube which acted as a backbone for the whole case. Just about everything is mounted to the backbone one way or another. To give the mod some shape and character, I cut notches in the backbone, bent it, and then braced the joints to hold them together. The legs were done in a similar fashion, with the ones bearing the weight also being filled with a polyurethane resin for extra strength. Extra strength factored into a lot of decisions on the build.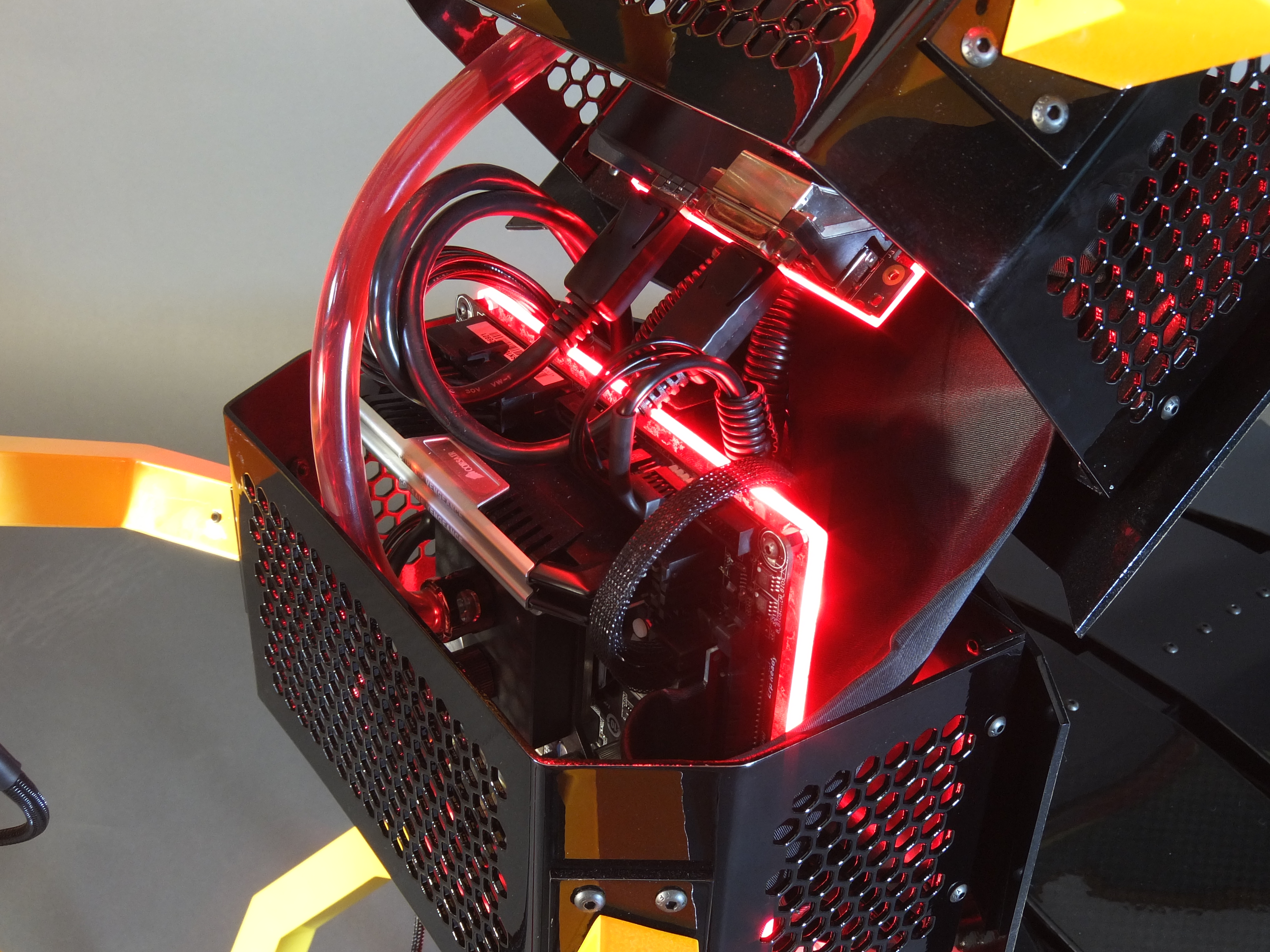 My first ideas had involved using the original side panels as the body pieces, but even early on I knew they weren't going to be able to handle the weight. They were replaced with 2mm aluminum panels that were much stronger and could be opened up to get a better view of the internals. Speaking of the internals, most of the hardware was left stock except for the PSU, which got 1-way acrylic windows and a LED fan to jazz it up. The head and tail of Gigantea are sectioned front panels from the original Elite 130s and use part of the original trim to tie in the original cases. Finally, 1/8" acrylic panels are used on the back to clean everything up and give Gigantea an armored look.
Once the build phase was done, Gigantea was pulled apart and given a few coats of single stage urethane which was topped with a 2K urethane clear coat for extra protection and the back armor features a carbon fiber paint effect as well. Then everything went back together. I didn't feel that individually sleeved cables really suited the build, so for wiring, I went with unsleeved black wire run through spiral wire loom to give it an industrial look. Finally, I finished it all off with the eye grabbing Monsoon reservoir it's holding. I add a strip of LED's around the bottom of the reservoir to really show it off and light up the blood red fluid that it's running. As crazy as the whole build is, the reservoir has to be my favorite part!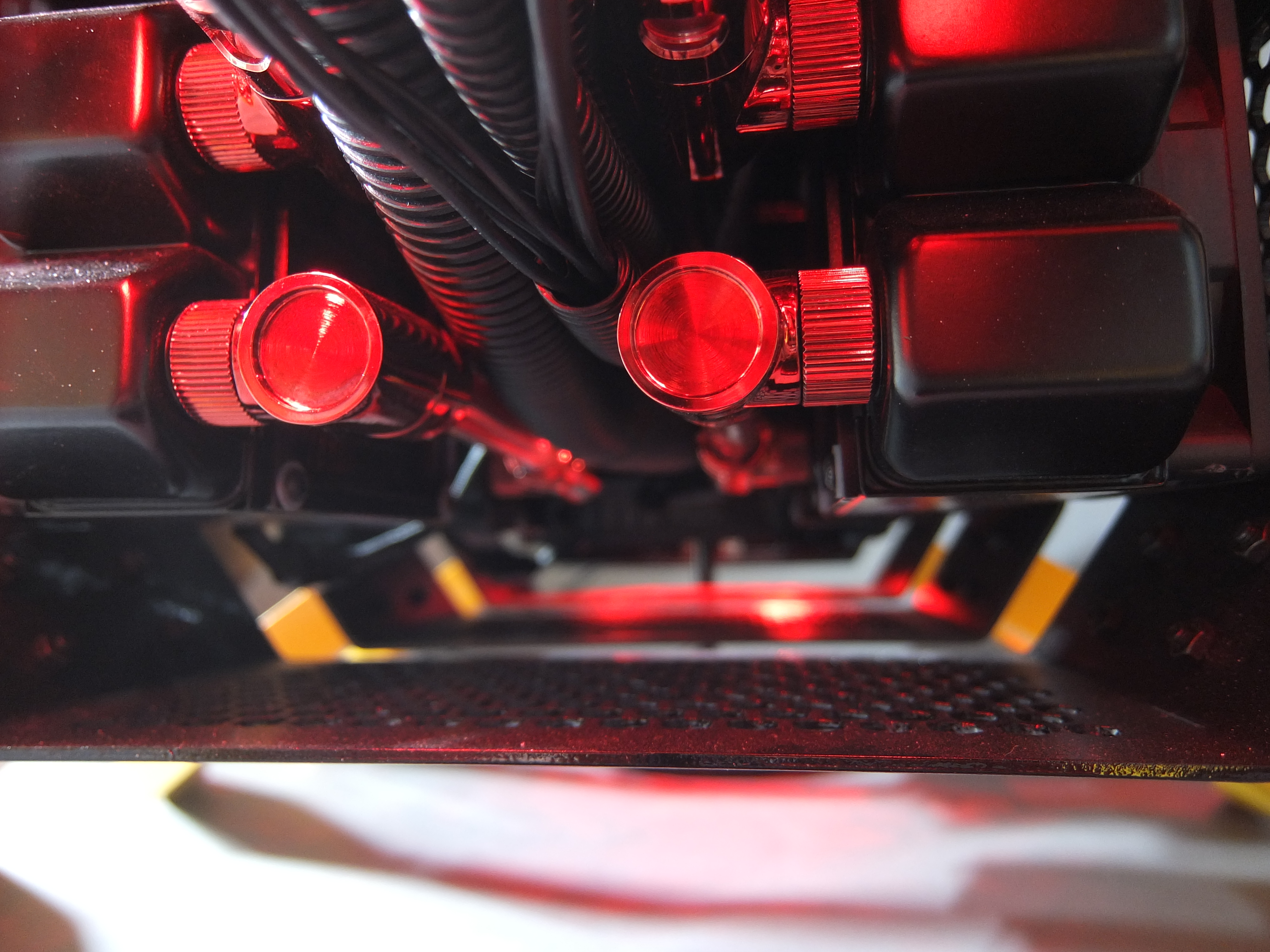 Gigantea lived up to this goal of mine by apparently stirring up some controversy in the CM World Series this year. There was a debate about what class it should be in, tower or scratch build. In the end, it stayed in the tower category, though I think a lot of people still consider it a scratch build. You can read the full build log here.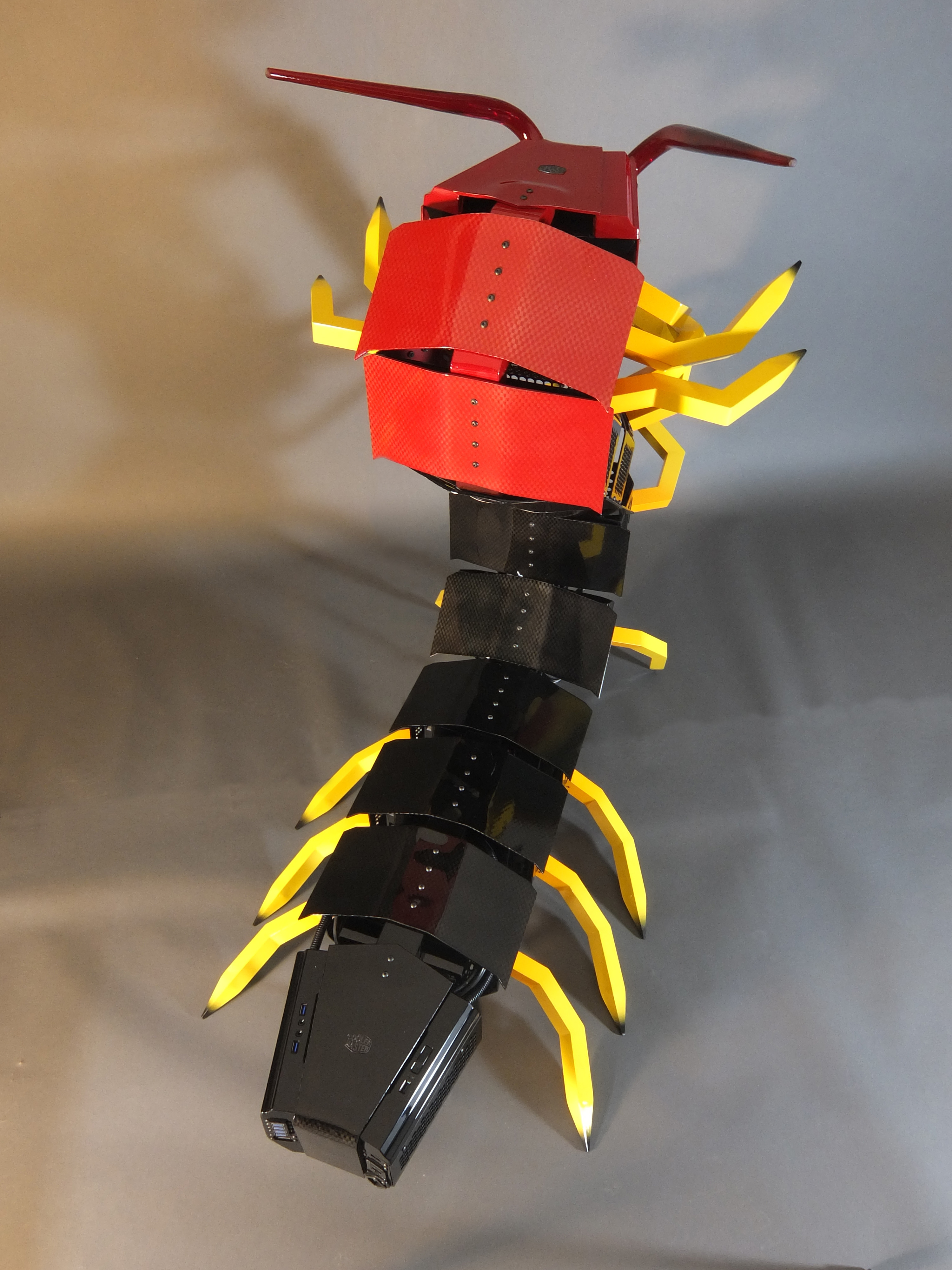 What do you have planned next?
I've got a couple of things I'm working on now. The next case I'm working on is for Gigabyte's 30th Anniversary contest. I'm going for a 30's hot rod coupe theme complete with flames lots of chrome. I'm also talking with some folks about doing some modding demonstrations at LANs and events. Bringing modding to the masses. It's just an idea that's been thrown around, but I think it would be awesome to show people that there are a lot of mods they can do to their cases that look daunting, but are easy enough that anyone can do.
You can catch up on all of David's killer mod builds at his website, insolentmods.com.
Share your gaming rig on Instagram and Twitter with #YIDIY and you may be featured next.