YIDIY: David Cotten & Combine Compensation
GeForce Garage
,
YIDIY
,
Interviews
,
Videos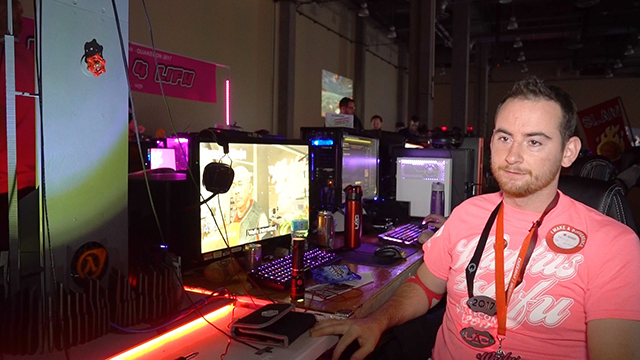 He left us stunned with his DOOM-infused BFG mod at Quakcon 2016. Now, skilled modder David Cotten is back with GeForce Garage to talk about his latest endeavor, a Half-Life 2 inspired scratch build modeled after the game's iconic Citadel.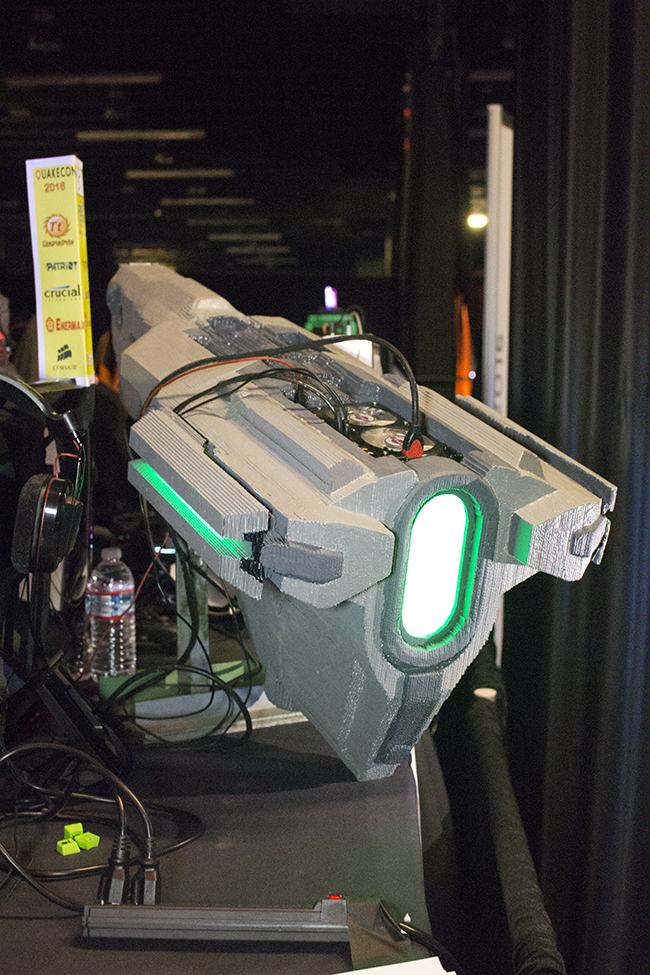 David's BFG from QuakeCon 2016.
Like a piece of architecture reaching for the heavens, David's "Combine Compensation" is an awe-inspiring work of art. When the opportunity presented itself, we couldn't wait to pick his brain and find out just what it took to bring this little piece of Half-Life 2 to the real world.
---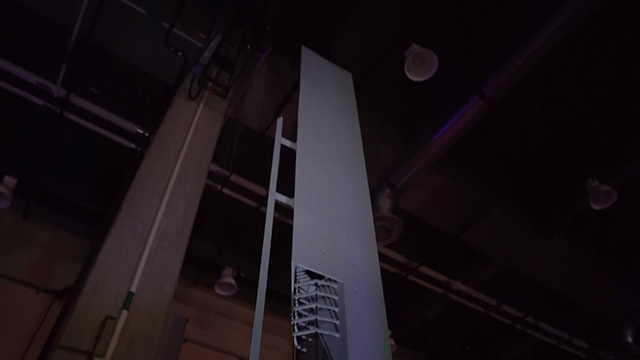 The towering spire tops out at 8 feet.
Combine Compensation Specs
| | |
| --- | --- |
| Component | Product |
| Graphics Cards | GeForce GTX 1080 |
| CPU | Intel i5-6500 |
| Motherboard | GIGABYTE H170N-Wifi |
| Memory | 16GB of HyperX Fury |
| Storage | Samsung 960 EVO 250GB |
| Power | Corsair SF600W |
When did you first get into PCs?
Back in the 90s, I was homeschooled and only had access to my dad's old MAC. The only games were simple puzzle games and a tank game or two. I wasn't able to tinker with it and figure things out since that process usually involved breaking things. When I transferred to public school, I had much more exposure to different systems and began to figure out how they worked. The first game I played regularly on PC was the Halo: Combat Evolved demo. My brother had a very basic store-bought eMachines PC and the game barely ran on the integrated graphics.
I eventually added a mid-range graphics card to the low-end PC to create what I considered at the time to be a 'high-end gaming machine' capable of playing all sorts of Source engine games. Again, I kept playing demos and was pleasantly terrified when I went to Ravenholm.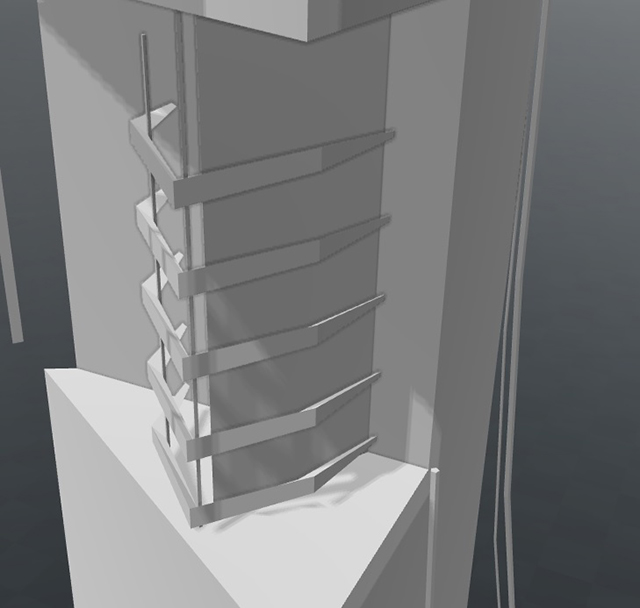 To help with planning, David used 3D modeling. Here's a render of where the GPU would reside.
Was the BFG for QuakeCon 2016 your first mod?
The BFG was not the first but it was the first mod I finished completely. Despite getting 2nd in the Scratch Build category, there are still things about it that I would do differently now, however.
What tips do you have for someone who is thinking about getting into modding?
Get ready to break a lot of parts and try to find solutions that are not intended for the purpose that you need.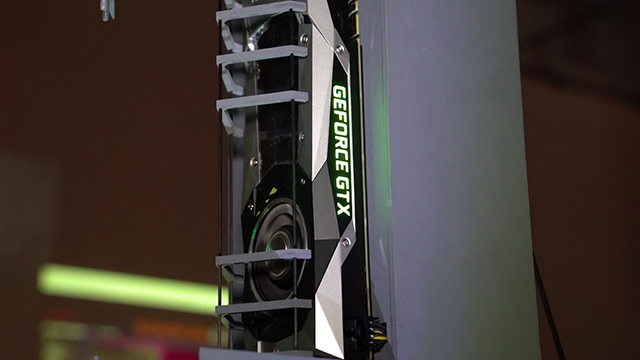 Combine Compensation is powered by a GeForce GTX 1080.
Where did you get the idea to use the Citadel as inspiration?
I began brainstorming ideas shortly after BFG. I was interested in architecture when I was younger so I'm sure that's why the Citadel in the game was so iconic to me. But I've always liked its shape and design and thought it would be a great build.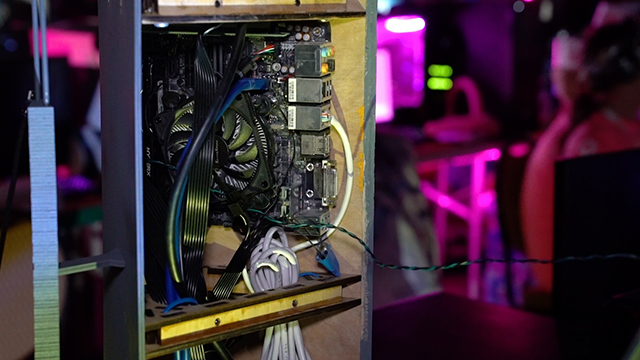 The dimensions of the spire are scaled to fit the size of this mITX board.
Did Combine Compensation turn out pretty much how you envisioned?
For the most part, yes. The structure and placement of the components turned out how I planned but I need to work on the paint and final details in future builds.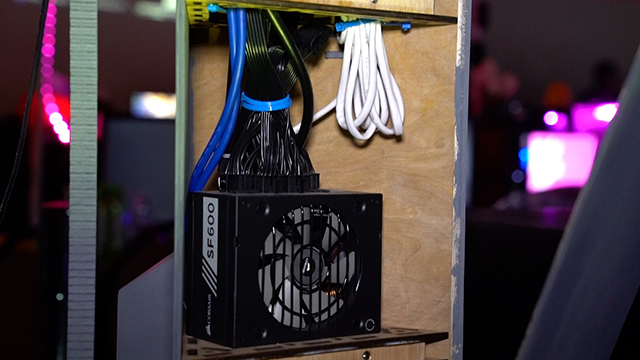 The limited space only allowed for an SFX power supply.
Where is it right now?
Right next to me in the corner of my room. I'm using it as my personal computer. It can be transported but it's not the simplest task. It breaks down into three sections that are roughly 2 ½-feet tall. But there are parts that require extra care.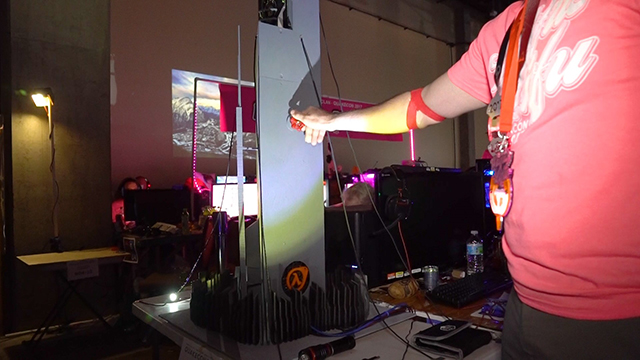 Yes, the valve is the power switch.
Why do you do it? What about DIY that you find so rewarding?
I enjoy tinkering, building things, and working on computers. Especially in ways that I think haven't occurred to anyone else. I love making big crazy builds like the BFG and my towering Combine Compensation.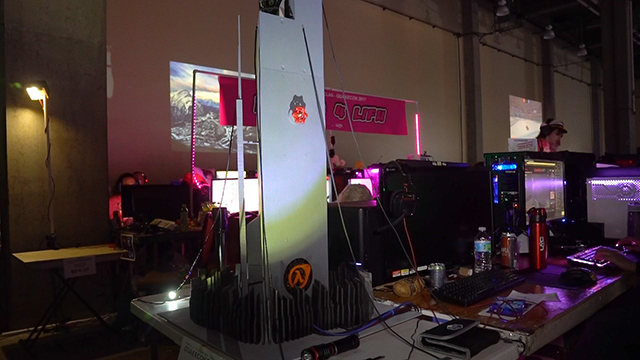 We can't wait to see what David has planned for next year.
---
Interested in David's build process? Check out his photo build log.
Know a modder that just needs to be featured on GeForce Garage? Let us know in the comments below.