YIDIY: Derick Magnusen & Verktøy Cu
GeForce Garage
,
YIDIY
,
Interviews
,
Videos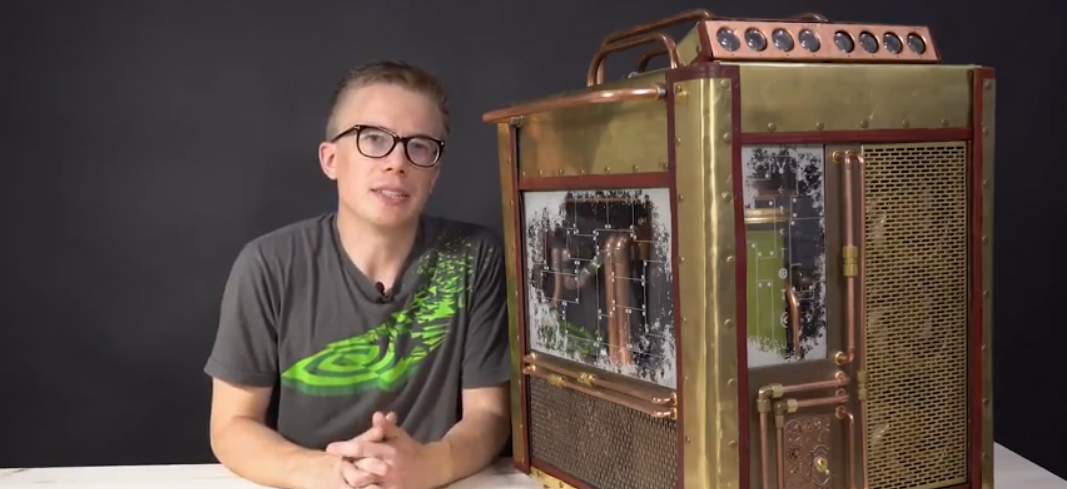 Who says a reliable and efficient workstation can't be dropped-dead gorgeous? This month's #YIDIY features modder Derick Magnusen of Senpai Studios and his steampunk-inspired Verktøy Cu workstation. It's a breathtaking build that looks like it stepped right out of Doctor Who scene. While it may seem like a work of science fiction, what's truly out of this world is how Derick pieced this work of art together.
Derick is a seasoned vet when it comes to computer tinkering. Since graduating high school Derick knew he was destined to work with computers. After four years with EKWB in Slovenia, the man broke out on his own to found the mighty Senpai Studios with his partner, Joe Mercado.
Without further delay, lets jump right into his latest creation, the utterly ambitious, timeless and impressive - Verktøy Cu!
---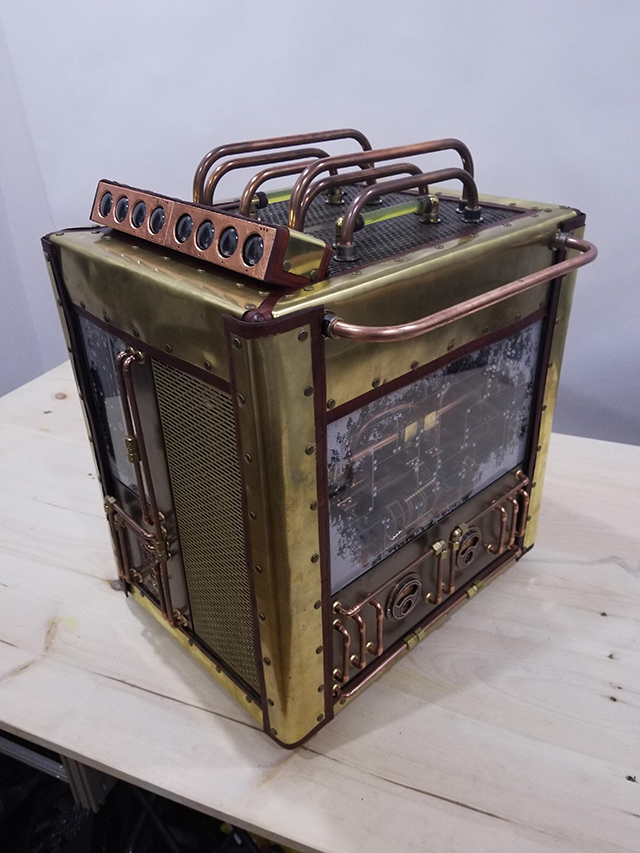 Verktøy Cu Specs
When did you first get into PCs?
I first got into PCs in junior high when I had saved up enough money to buy my first laptop. However, I quickly grew tired of the performance, even after later sinking in money to upgrade the RAM, HDD, and battery. Shortly after selling that laptop I started buying every issue of CPU Magazine and building my first desktop. It took a good chunk of the year to save up enough money for everything but I'll never forget the feeling of turning it on for the first time.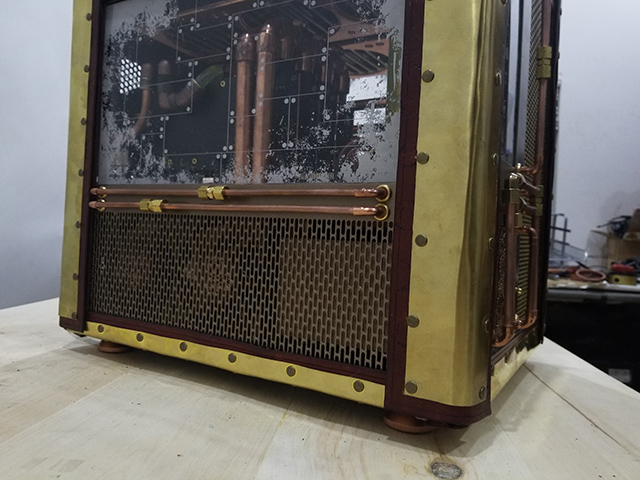 What do you remember about your first mod?
My first "real" mod was a massive PC in a Case Labs STH10 that ended up taking me just over 2 years to complete due to being in college and constantly moving around, started in Arizona, had a period of time in Seattle, and then finished in Boston. I used the epic EVGA SR-2 motherboard and 4x EVGA GTX 580 Classifieds. Back then nothing I bought was new and at that time SR-2s hit their all-time low on price, but to me it was more about the mod, building this massive monster and filling every nook and cranny of that STH10, even if the hardware was slightly outdated. I remember the first time I used a step drill bit for some bulkhead fittings, that was terrifying, but I quickly realized how easy it was and it soon became second nature.
When did you start experimenting with watercooling?
My first liquid cooled build was in 2011 when bitcoin mining was becoming popular for the first time. I had purchased a 6990 and a 5970 for mining and running those two cards in a Corsair 800D, a case notorious for bad airflow, was not a great experience. They were deafening loud and had to be underclocked just to reduce thermal throttling. Putting that loop together for the first time made for a very long night, but everything went together without issue and I was soon mining with silent, overclocked cards. I was hooked after that.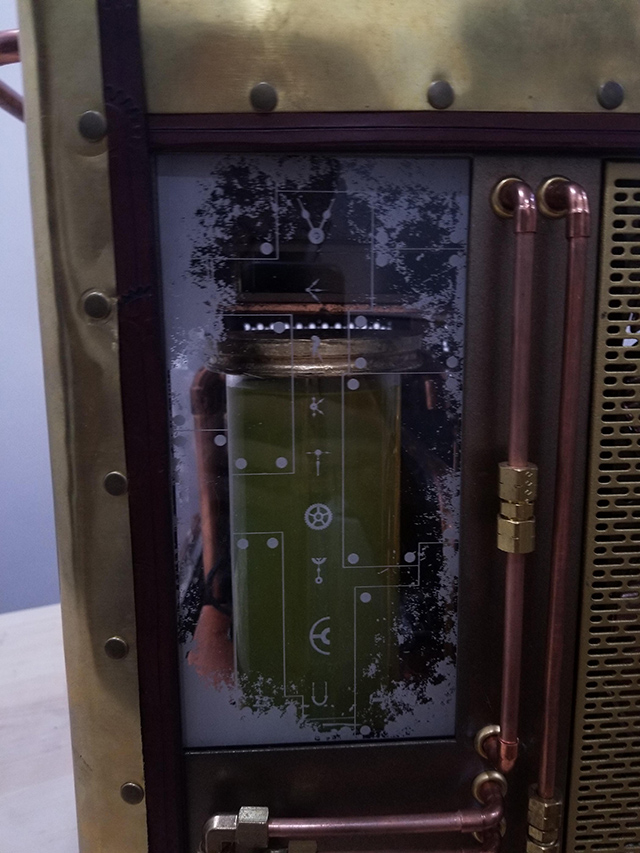 Out of all the builds you've done, which was your most memorable ?
Ironically, the mod that stands out the most to me is one that I don't own and never even made build logs for. It was called Pipe Dream- Gigabyte had given me an extremely tight deadline of about a week and it caused a lot of stress, but the end result ended up being exactly what I wanted to build and for the first time, I was perfectly happy with the end result. It was the first build that I didn't cut corners on, when it was time for the final photos to be taken, I didn't have to Photoshop anything really besides the basic photo edits. While Λείος and Verktøy are a bit more "epic" than it was, I won't ever forget Pipe Dream because it was the first mod that I was proud of and didn't have a single regret about what I did.
What other skills have you picked up along the way?
Before modding, I hadn't really worked with any tools other than the basic screwdrivers with my Dad. He tried to teach me growing up but I didn't have much interest when I was young. Now, I have a whole room dedicated to modding and photography with tools taking up a whole wall and a spare bathroom covered in plastic for painting, drilling and other loud tools. Besides learning how to operate a large variety of tools, my photography has increased substantially since the first mod I shot with a DSLR. I've talked a lot with others who have great photography such as Lukasz, aka "Malik" and am quite proud of the quality of my photos. From a business perspective, I've also picked up some marketing skills as well as communication skills with vendors/sponsors.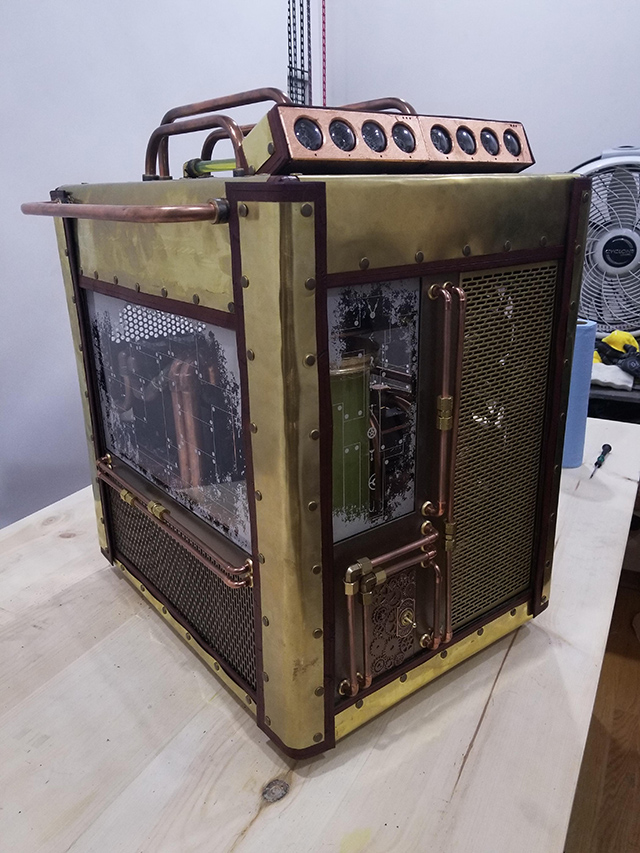 Any advice for a rookie builder?
My advice for a rookie builder would be "Just Do It" as Nike says. I've wasted countless hours trying to visualize the final outcome of a mod in my head and thinking about the "can't turn back now moments" such as taking a dremel to a Titan X in order to make it single slot. I've found that everything gets much easier if you just start and make yourself be comfortable with doing whatever it is you need to do, everything from removing a sticker that voids your warranty to trying out new tools/techniques for the first time. You have to do it anyway, may as well just get it done with. Don't let yourself get anxious about ruining a sheet of metal because you're learning a new tool. These things happen and you just get another sheet. It's near impossible to be a master of a tool you've never used before, and the fastest way to become proficient with it, is to practice.
Tell us about Verktøy Cu
Verktøy Cu for me is the "be-all and end-all" build. I don't anticipate doing a build that will be able to top this one for a very long time. The first time I worked with a Case Labs I saw it as a perfect chassis that didn't need a lot of modding in order to be functional, now I see them as blank canvases.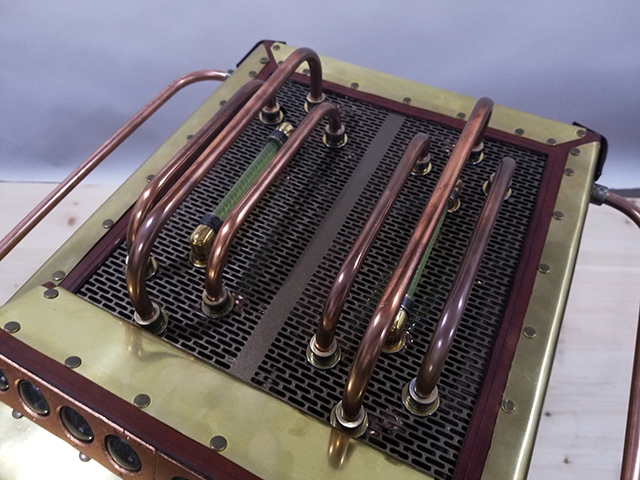 A quick rundown of my favorite hardware and ideas:
2P Motherboards
4-Way SLI
Filling a case to its maximum potential
Liquid Cooling
Steampunk
Copper & Black theme
The functionality and size of the Case Labs S8 is allowing me to check all the boxes. I've loved the Steampunk style ever since I can remember and have always wanted to do a case mod around it, but have never had the opportunity arise until Verktøy Cu. Over the years I've followed artists like SkinzNHydez and modders like copperMod and seen their amazing work and have wanted to do something similar, of course with my own twist. The only Steampunk theme that isn't present in Verktøy is "busy-ness". Steampunk is notoriously very random and busy, but I don't do that. My mods are always based around being as clean as possible. Verktøy has pushed that a little bit and has some "wild" elements but it's relatively conservative compared to classic Steampunk.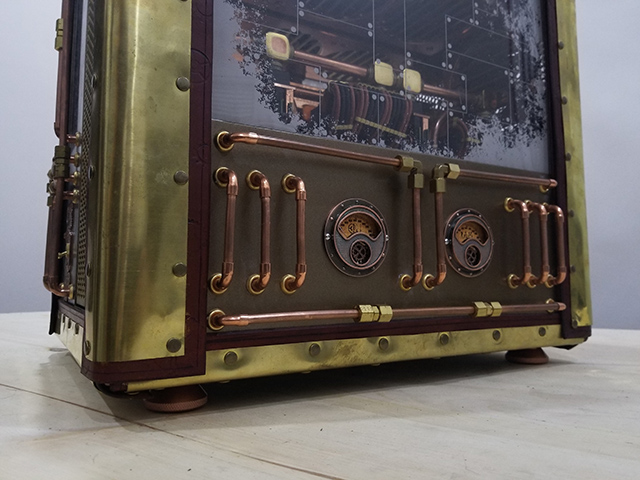 The outside panels are covered in darkened leather layered with a copper sheet and copper rivets, as inspired by SkinzNHydez. Using a pair of the classic Lamptron FC10 units I was able to implement some old fashion nixie tubes that actually have a functional purpose. Alongside the FC10s on the top of the chassis is a mixture of copper and PETG tubing, they don't do a lot functionally (though the copper tubes may dissipate some heat) but are mostly there to serve as a prop for the Steampunk theme. The windows are engraved to reflect another Steampunk element, which is rusted, layered sheet metal riveted together.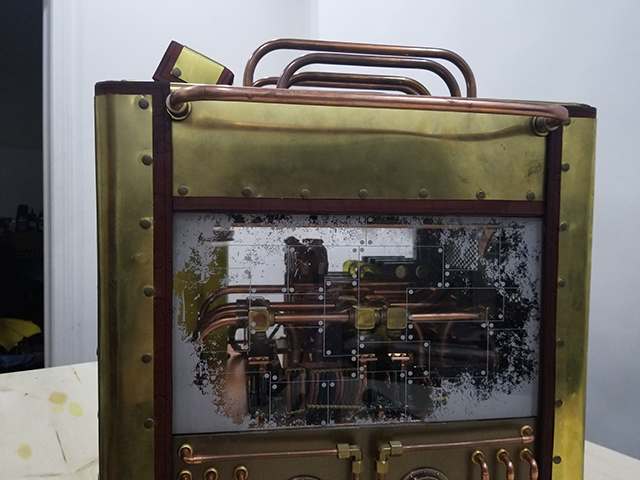 Heading inside the case you've got the massive amount of hardware and a huge glass reservoir custom painted to match the black and copper theme. Both CPUs, all 8 dimms of memory, all 4 GPUs, and 3 of the 4 Intel SSDs are liquid cooled. I custom copper plated a variety of the blocks and backplates to give the build a bit more depth than I would have accomplished with just painting them copper. I constructed a custom copper IO shield to hide the silver outputs on the motherboard, as well as gave the heatsinks on the motherboard a custom paint job with copper accents. All the components are cooled by 2x XE360 and 1 XE240 radiators from EK with dual D5 pumps in the basement of the case.
Why do you still do this? Why do you still DIY?
This may sound odd, but lately it's more about the photography. I love photography, but before I started doing a lot of modding I didn't have a "favorite" thing to shoot. Product photography is quite boring, but taking photos of something that I created allows me to express myself on two different levels of art. I get to build and design the mod itself, and then I get to shoot it. It's similar to the concept of Vertical Integration in business, I have ownership in all parts of what I do this way. If I did wedding photography for example, I can take the photos but I'm not choosing the location, the bride's gown, or the flavor of the cake. With DIY, I get to control every single aspect of the project, from the moment I imagine it in my head, to the final editing of the photos. This is how I like to create and contribute to the community.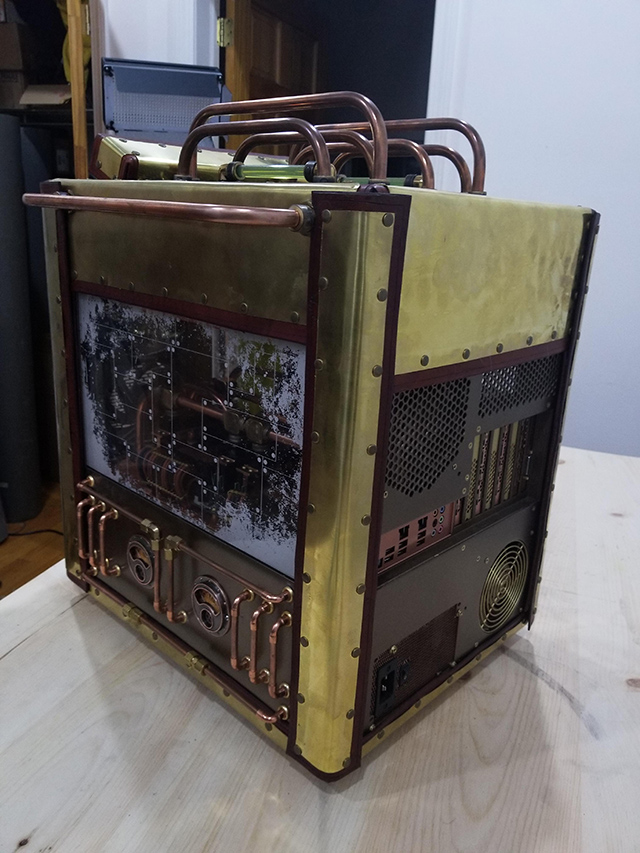 Visit Senpai Studios on their Facebook page to see what other projects they have coming.
---
Know a modder that just needs to be featured on GeForce Garage? Let us know in the comments below.