YIDIY: Gary "NavyChief" Murphy & Glorious PCMR Crystal 570X
GeForce Garage
,
YIDIY
,
Interviews
,
Videos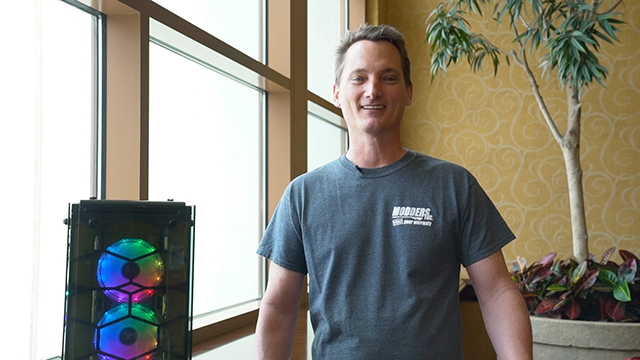 All hands on deck, GeForce Community! This YIDIY feature honors Gary "NavyChief" Murphy, a 52-year old Chief Petty Officer of the U.S. Navy who has been working with computers since the early 80's. When Gary retired from service in 2004 with the impressive rating of "Electronic Warfare Technician" he left with military grade modding skills.
He now works as a Network Administrator with a local college and still finds time to build and mod. His work has earned him 1st place in such grueling modding competitions like QuakeCon in 2012 (DreamHack 800D) and 2014 (Toxic Envi) and Dreamhack Austin 2016 (BAWLS). From judging competitions to his numerous magazine showcases, the NavyChief is well known as a highly decorated officer among the modding community.
With his latest mission complete, he now presents – the Glorious PCMR Crystal 570X, showing that modding can be simple, gorgeous and all your own!
---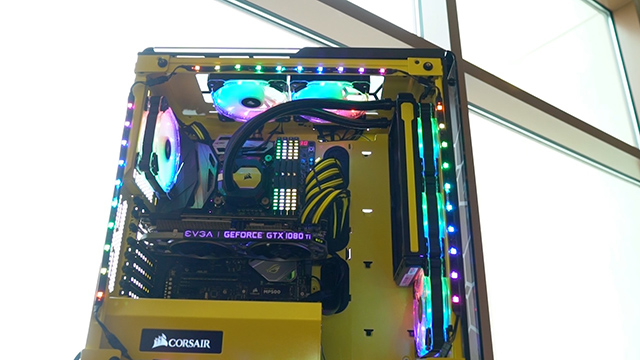 Glorious PCMR Crystal 570X Specs
| | |
| --- | --- |
| Component | Product |
| Chassis | Corsair Crystal 570X RGB |
| Graphics Cards | EVGA GeForce GTX 1080 Ti SC2 |
| CPU | Intel i7-7700K |
| Motherboard | ASUS ROG MAximus IX Hero Z270 |
| Memory | Corsair Vengeance 32GB RGB 3000MHz |
| Storage | 2x Corsair Force MP500 M.2 480GB & Corsair Neutron XT 480GB |
| Power | Corsair HX850i |
| Cooling | Corsair H100i with 6x Corsair HD120 RGB Fans |
When did you first get into PCs?
My first PC wasn't really a PC at all, it was an Apple II back in 1981. I was a junior in high school and the computer community was very small. I was introduced into the PC arena when I joined the Navy in 1984. Since then my passion for PCs has grown exponentially. I started with off-the-shelf computers but grew tired of having to remove their stock components for ones that I preferred (i.e. modems, sound cards, video cards, etc.). Finally in 2001 I decided to build my own custom rig. I was getting close to my military retirement and had plenty of time to order all the components necessary for this first gaming computer. Once everything was assembled, pushing that power button for the first time was a nerve-racking experience. Once it powered up successfully, I was hooked!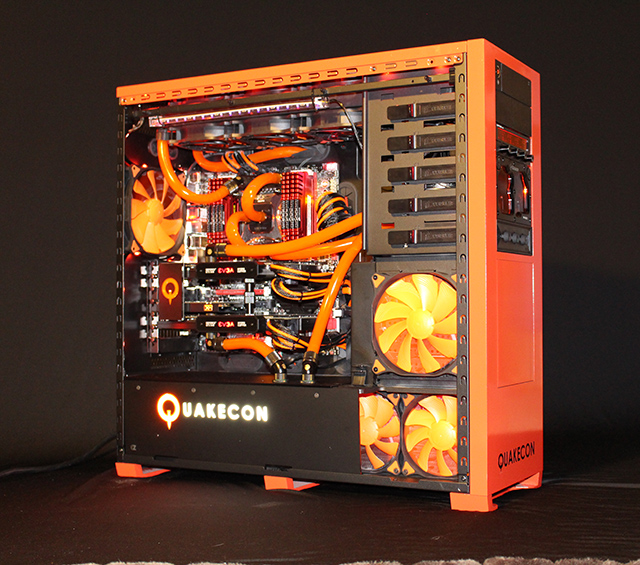 Gary's first mod- QuakeCon 800D
When and how did that evolve into modding?
My first exposure to modding happened at QuakeCon 2009. The BYOC area was filled with thousands of PC computers of all varieties. I was shocked at the sheer variety of computers and was intrigued at the modded ones. I talked with the owners of these modded rigs and asked a lot of questions. As soon as the event was over, I took a long look at my PC and decided to start with something basic such as creating a window in the side panel. After only one weekend the window was in place. That first mod opened up my eyes as to how easy modding was and how I could make the PC truly something just for me.
I started to get more serious into modding once I saw the PC modding competition at QuakeCon 2011. This event was run by Modders Inc and had two modding categories: classic and scratch-built. Classic was modding standard cases and scratch-built were PCs built with no standard case. The classic category looked like something that I could get into and watched closely to see what the winning mod had done. As soon as I got back home I started planning for next year's competition. It took about a year of designing, ordering components and modding to create a cohesive and polished product. I named the mod; 'QUAKECON 800D' since the original case was the Corsair Obsidian 800D and the mod theme was QuakeCon with orange and black. The hard work was worth it as I won 1st place in the classic modding category at QuakeCon 2012. I couldn't believe the attention that this mod was drawing and even made the cover of CPU Magazine.
Since that first experience, I have now completed 5 other case mods. In 2014 I won 1st place at QuakeCon 2014 with my 'TOXIC ENVI' case with an NVIDIA theme. In 2016 I won 1st place at Dreamhack Austin 2016 with my 'BAWLS' build. This case got 2nd place at QuakeCon 2016. During QuakeCon 2016 I also participated in the '24 Hours of Le Mods', a live modding event, and placed 3rd there. Late in 2016 I competed in the Gigabyte 30th Anniversary Mod2Win modding challenge and won the 'Fan Favorite' build with my 'APEIRO' case mod. This case was shown in the Gigabyte booth at CES 2017. My latest build, 'GLORIOUS PCMR' was built for Dreamhack Austin 2017 and QuakeCon 2017, but not for any case modding competition.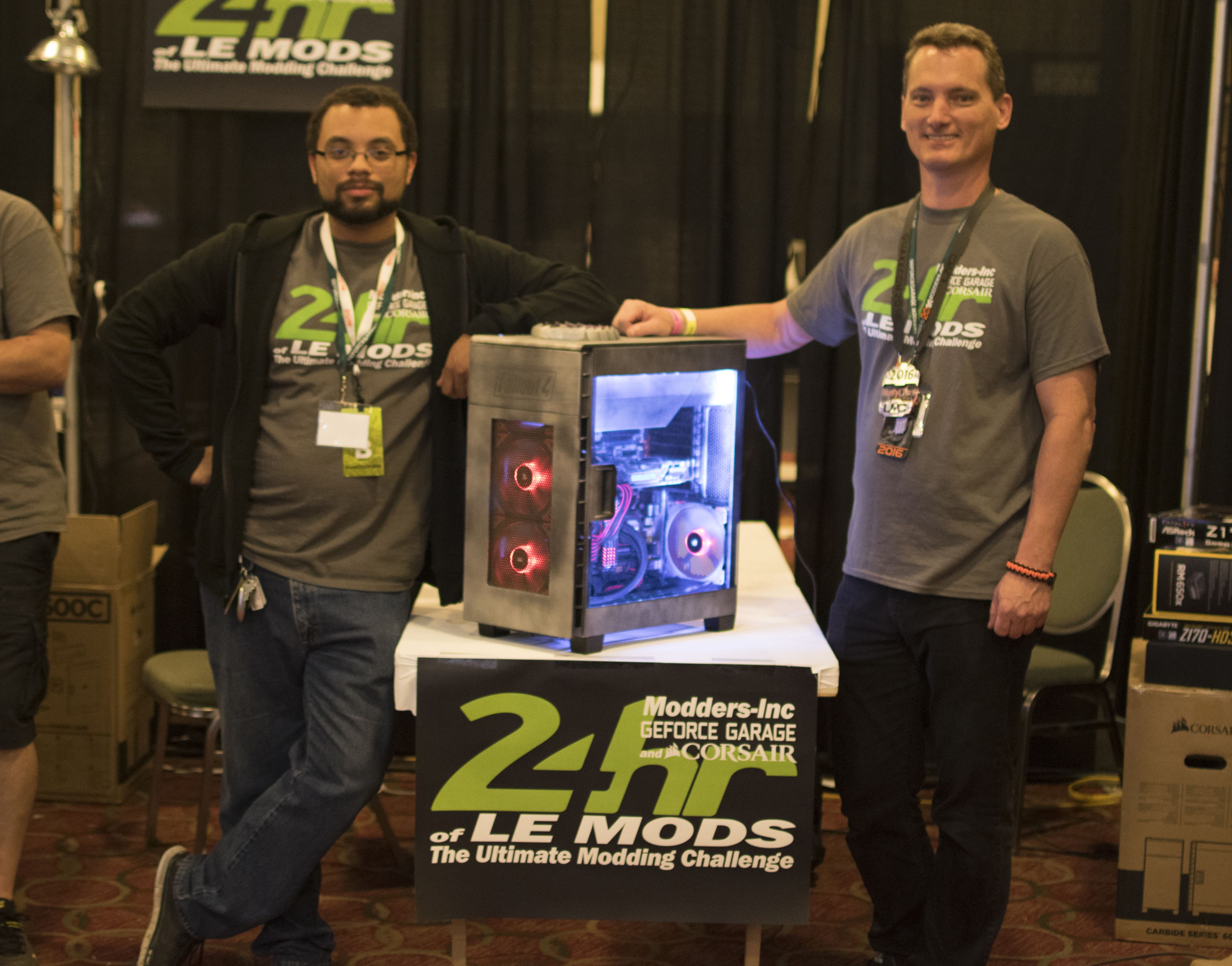 Gary with John Davis at 24 Hours of Le Mods.
What has been one important takeaway that you've learned after all this time?
The most important thing in any custom mod would be careful planning. Don't just jump into a build and 'wing it'. Pick a theme and design the build around that theme. Think of colors and how they would complement each other. Plan cable management at the beginning and don't leave it till the end. If you want to hide all the cables properly, you might have to cut some new routing holes. Complete all cutting prior to painting so as to minimize damaging an already outstanding paint finish. No detail should be overlooked. Even the color of rivets can make the difference between 1st and 2nd place. Most any modding competition is judged strictly on the mods done and not the hardware contained in the mod. Don't worry about having the latest and most powerful hardware. Judges look for a cohesive design that stands on its own. Appearance is everything, leave no detail untouched.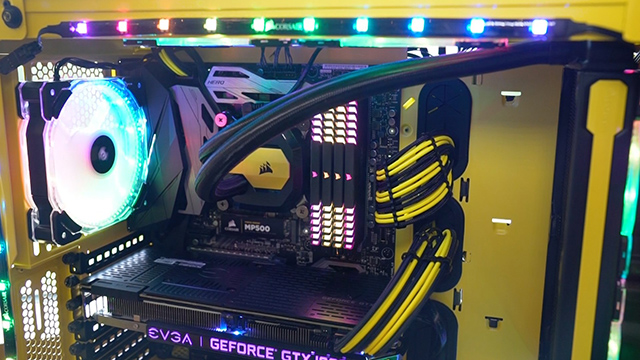 Tell us a little bit about the Glorious PCMR Crystal 570X.
This is probably one of my most basic builds and was done due to many people thinking that modding requires large amounts of time, money and expensive tools. I kept this build as basic as possible, with the exception of cable sleeving and case painting. I wanted to show people that building a cohesive and beautiful rig only requires imagination and planning. The only tools I used were a drill and rivet gun for taking the case apart for painting and reassembling it back with black rivets. The spray paint (primer and top coat) cost about at $20 at Home Depot. As for time, the whole mod took about 2 weeks from start to finish. I did not do any physical modding to the case itself, I wanted to keep it as stock as possible. I have been a fan of the Glorious PC Master Race community and wanted to build a rig with their color scheme (yellow/black) and lots of RGB lighting. I finished the mod just before Dreamhack Austin 2017 and took the case for gaming in the BYOC. Many people were amazed at the clean design and loved all the RGB lighting. Many were shocked when I told them that it was a stock case with the panels painted with normal spray paint.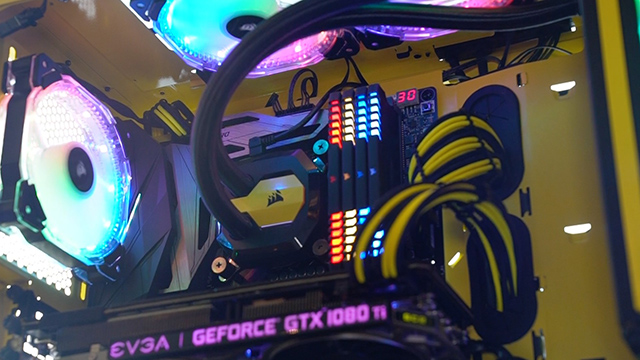 So just paint and cables only?
I only painted the interior aluminum case/SSD drives and sleeved the power supply cables. The painting was pretty straightforward. I de-riveted the case, painted all the metal case components with a flat white primer and then a Sun Yellow top coat. Once all the pieces were dry, I riveted everything back together with black rivets. The yellow / black combination looked great! Another mod was done to the SSD drives located on the back of the motherboard tray. The drives are normally a red color and had to be changed. I removed the decals and outer protective SSD case. The cases were painted the same Sun Yellow color and reassembled again. I created a custom black Glorious PCMR decal and used them instead of the stock SSD label. The only other mod was sleeving on the PSU cabling. I used a yellow/black sleeving pattern on the 24-pin motherboard cable, two PCIe cables and the 8-pin CPU cable.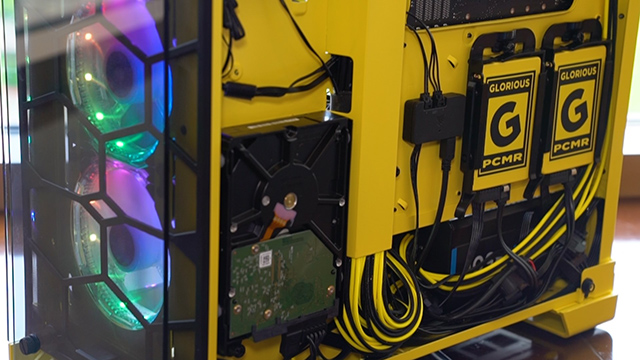 What do you have planned next?
No plans are in the works for a next build...yet. I am currently looking at several theme possibilities and haven't yet settled on one. Once I decide, then the real planning will start. I will probably bring a new build to QuakeCon 2018 next year. You will just have to wait and see what I come up with! Watch for the build log on the NVIDIA forums as I always post it there. You can also see the build logs for all my previous builds there also.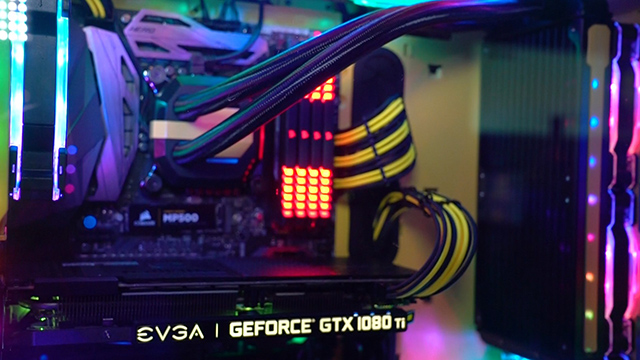 After all these years, why do you still love to mod?
Modding allows me to express my creativity and build something just for me. I don't build custom computers for anyone except myself. It is such a pleasure to design a case theme on paper and slowly watch it evolve into reality with my own two hands. My only limitation is myself. I love to learn new techniques and play with new ideas on the fly. If an idea doesn't work, then I learn from it and carry on. My style of case modding has been described as 'Showroom Ready' by other modders. I prefer to build something that could be seen in a showroom to display a product in all its glory. All of my cases are clean in appearance and design. I will continue to mod as long as I can; no more stock off-the-shelf computers for me!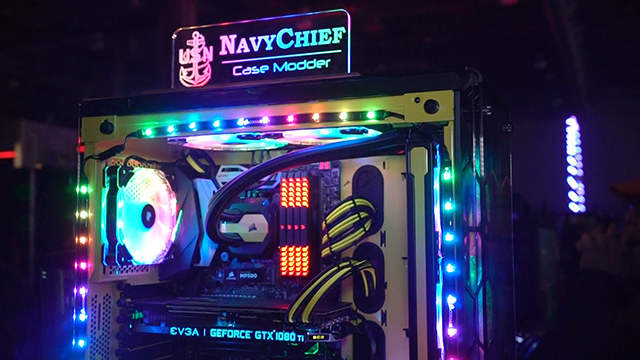 ---
Know a modder that just needs to be featured on GeForce Garage? Let us know in the comments below.