YIDIY: Jim Weist and Celtic Forge
GeForce Garage
,
Interviews
,
YIDIY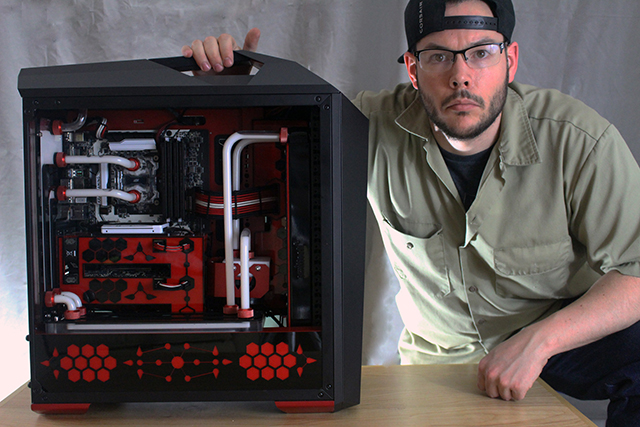 Breaking from the confines of conventional employment, Jim Weist is living the dream. The young entrepreneur parlayed his immense skill as an electric engineering technician, into his own business – Clockwerk Industries LLC, a computer modding online store offering custom fabrications including auto quality custom painting, CO2 laser cutting, manual machine milling, airbrushing and a ton more.
Since he forged his first custom reservoir, James has been receiving requests for custom work. So with a little confidence and a lot of skill, he eventually ditched his 9-to-5 in favor of a full-blown home-grown Mod Shop and Clockwerk Industries was born. The company is an outlet for James' two greatest passions; breathing life into his own mod ideas and helping others do the same. The meticulously crafted Celtic Forge is one of those ideas brought to life and it's a showstopper.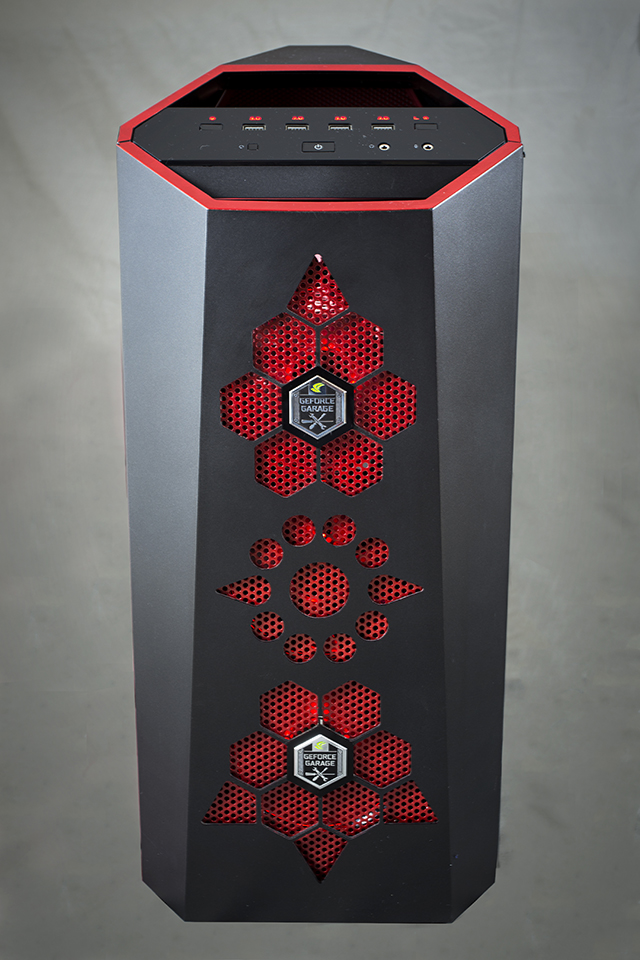 Celtic Forge Specs
When did you first start getting into computers?
I am 30 years old and I have been around PCs my entire life. My dad was building custom PCs in the late 80's so it runs in the family. I think I first started gaming when the original Quake came out and started building my own gaming PCs in the late 90's and early 2000's so I could play Diablo 2.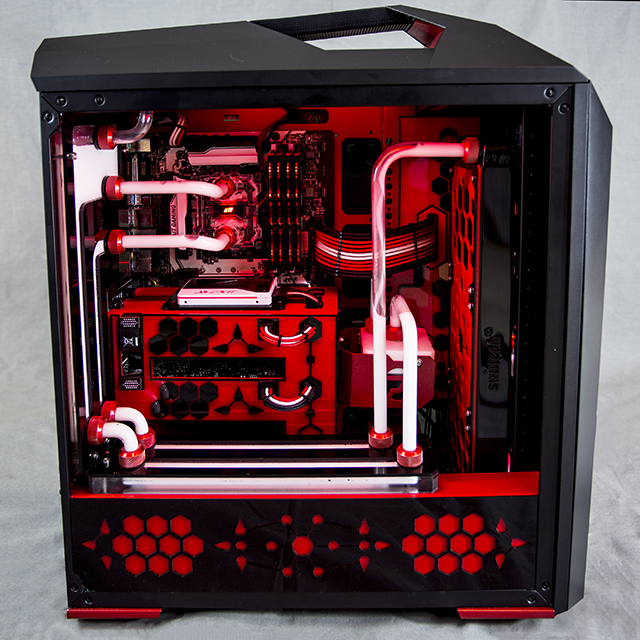 When did that evolve into an interest for modding?
I started modding PCs almost four years ago when I went through some hard times in my early to mid 20's. As I started getting my life back on track, I upgraded my gaming PC and wanted to get into water cooling. So instead of buying a new case, I modded my Cooler Master HAF932 to support extra water cooling gear and added some simple acrylic panels and paint work.
After the mod was done and I got back to gaming, I realized making the mod was so much fun and maybe even more rewarding than gaming was. It was as if modding filled a void I never knew I had, and shortly after I started on my second mod. The rest is history.
Where do you normally get your inspiration from?
I get inspiration from everywhere! Anything I see that I think looks cool, I try to implement into modding. I try to keep my eyes peeled, always looking for cool architecture, or hot rod cars, or modern art, or ancient art. Basically anything and everything. That is what makes modding awesome- it is so unique because it is the expression of the modder, and having modders all over the world brings to life some truly amazing projects from completely different people with different perspectives.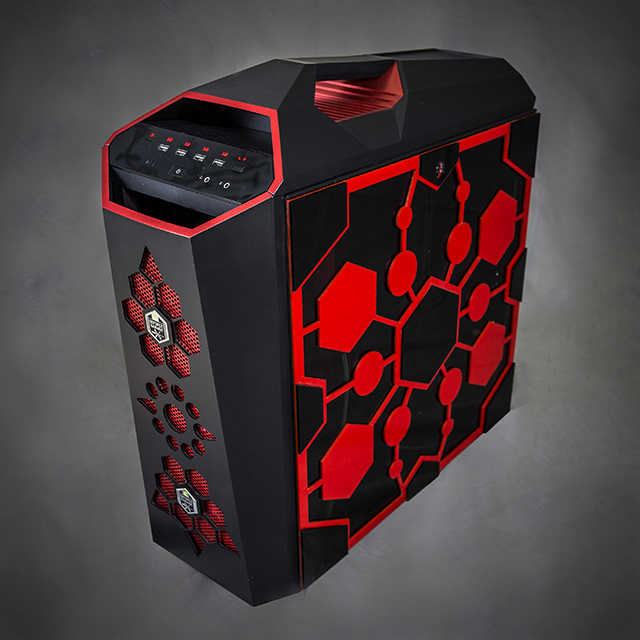 What's something important that you've learned along the way?
Something that took me a while to figure out - but I think is very important - is to focus on progress over perfection. If you are killing yourself trying to make your build perfect, there is a fine line where it starts becoming a waste of time. Your next project will always turn out better. It is the natural process of learning and honing your skills.
Any other advice you would offer to aspiring modders?
Just get your project finished to the best of your ability. The most important thing is to have fun doing what you love! That is what modding is all about in my opinion.
Tell us about Celtic Forge
Celtic Forge was loosely based on ancient geometry and patterns which is why there are many circles, and hexagons patterned throughout the build. I wanted to do something like that for a while now and felt with the time constraint on the project it was something I could accomplish in a short time. On the front panel, I made some cutouts on my CNC router to increase airflow to the front radiator.
The door panels on the Mastercase 5t are made of solid pieces of tempered glass, I wanted to make full use of them so I decided to make a laser cut acrylic door panel skin for the rear window which is held in place with magnets and adds to the theme with polygons and 2 tone red and black color combos.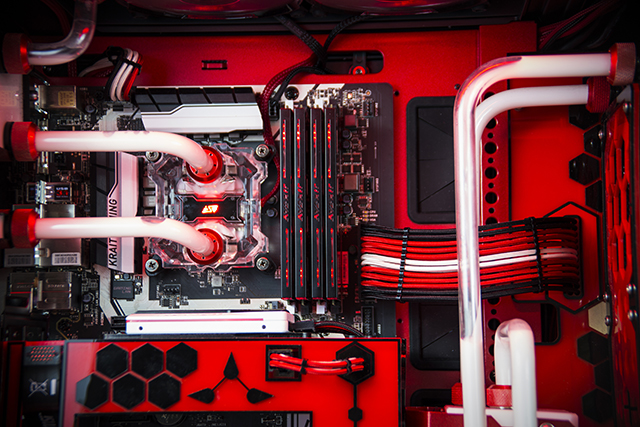 Heading inside the case, the CPU is water cooled with a custom loop. For that, I made and installed two custom water manifolds which are made from thick pieces of acrylic with CNC machined channels that coolant flows through in place of tubing. I also laser cut a custom radiator grill and magnetic power supply shroud.
The last of the interior mods was a graphics card back plate that shrouded the cards and filled out the interior of the case. This graphics shroud also supplied built in wire management, mounting for the solid state hard drive and mounting for the D5 water cooling pump. Despite the very short time frame of less than a week to complete, and dealing with dead hardware late in the build, I am quite satisfied with the outcome and look forward to the next project!
After all these years, why do you still DIY?
I think it boils down to I just love modding! Over the years modding for me has evolved from hobby, to business, and it really is a way of life. I am fortunate enough to wake up every day, go into my garage and fire up the CNC router or the laser cutter and manufacture parts to be sold in stores. Or build a clients custom reservoir, install a window in a clients door panel, or work on my own computer mod projects either personal, contest, or tradeshow. At the end of the day I get to pay my bills because of modding. Every bit of work I put into modding, it has rewarded me tenfold and I can't see myself doing anything else. It wouldn't be possible without the support I have received from the community, and words can't begin to express my gratitude. Thank you to everyone who has helped and supported me since the beginning, I appreciate you all!
---
Check out Clockwerk Industries LLC for some of the best in custom fabrication and PC modding supplies. If you would like to reach out to James for tips, ideas or to just show your love for his work, Mr Weist can be reached via:
GeForce Garage is always looking for new modding talent. Share your gaming rig on Instagram and Twitter with #YIDIY and you may be featured next.