YIDIY: Matthew Paige & Horyzen
GeForce Garage
,
YIDIY
,
Videos
,
Interviews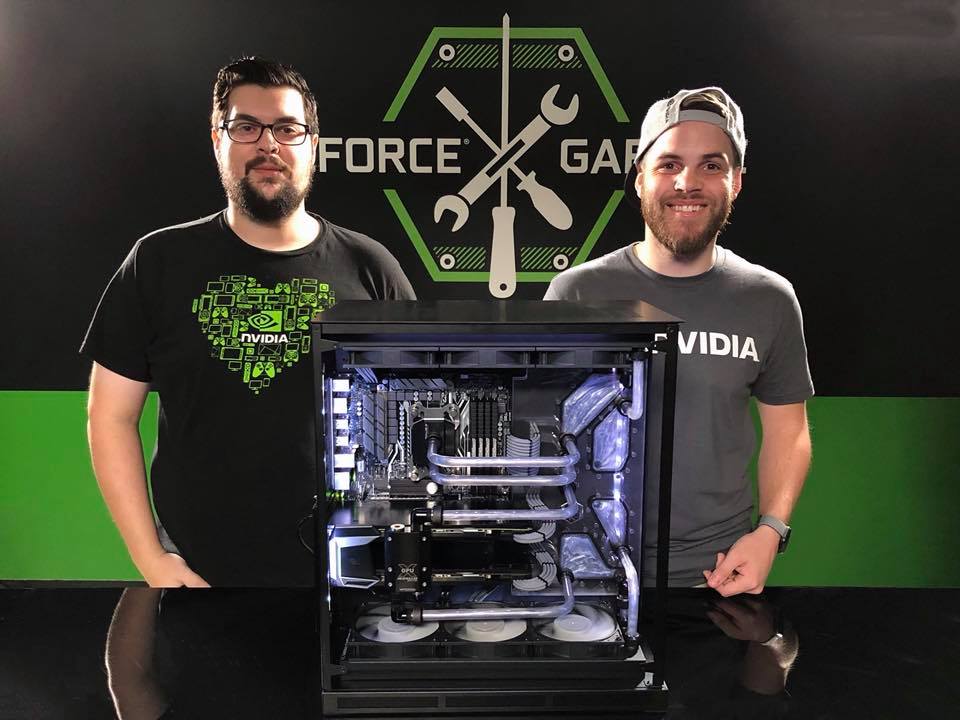 This month's #YIDIY honors 28 year old Matthew Paige of MattModsPCs, for his immaculate Horyzen build. Matt has spent his entire career in technology. He skillfully mashed his preternatural skill in tech, with his handy knowledge of tools and woodworking learned from his Dad while growing up in upstate New York.
Now the skilled modder is a happy husband and new homeowner in Salt Lake City, Utah. When he's not building amazing custom rigs, he's exploring the outdoors, going to Utah Jazz basketball games, or playing Far Cry – his favorite PC game series. Yet most recently he's preparing to put his handy skills to the test by renovating his new home.
Before he gets started on that, he sat down with us to talk modding, his process and his eye-catching Horyzen build powered by an AMD Ryzen CPU and a two-way 1080 SLI GPU setup. These components are woven together in a beautiful custom water-cooled loop. Check it out!
---
PC Specs
Component
Product
Chassis
Lian Li PC-O11
Graphics Card
2x GeForce GTX 1080
CPU
Ryzen 1700x
Motherboard
ASUS X370 Prime
RAM
Ballistix Elite 32GB
Power
EVGA P2 1000W with custom sleeved cables
Cooling
Heatkiller CPU and GPU blocks
Heatkiller reservoir w/D5 pump
2x 360mm EK SE rads
6x Vardar 1800 RPM fans on a Grid+ V2 fan controller
UFO Technologies coolant
Custom water distribution panel
Lighting
NZXT Hue+ lighting controller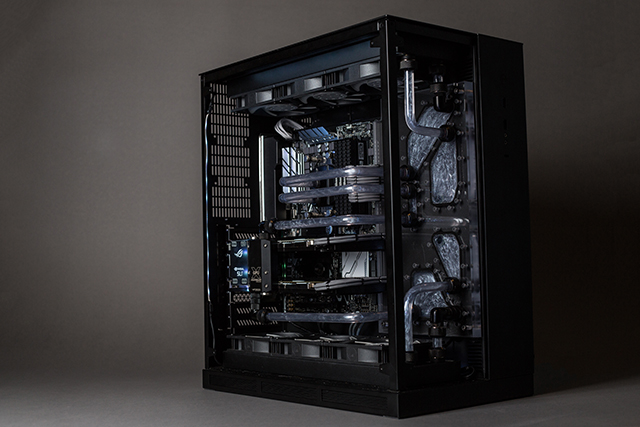 When did you first get into PCs?
The first memory I have of PCs when I was about 12 or 13. I have an uncle that was into building PCs and I was at his house one day when he was doing a build and it was such a fascinating process. It wasn't until I was about 17 or 18 that I was able to afford to build my own custom computer.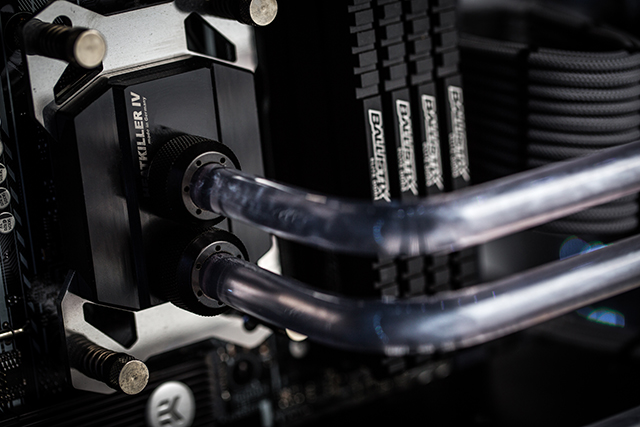 How did that evolve into modding?
My desire to start modding came in about 2014 or so. I have always been technically minded and my father taught me how to work with tools from a young age. We did a lot of projects from woodworking to welding. When I was in high school, I took vocational courses around automotive collision repair and learned a lot about metal work and painting. I apply all that knowledge to modding computers because the tools and techniques are all the same.
How many mods do you think you've done now?
I've probably done about 10 or so custom mods. They range from custom cables to paint to a full form factor conversion. Water cooling is the area of building and modding that I enjoy the most.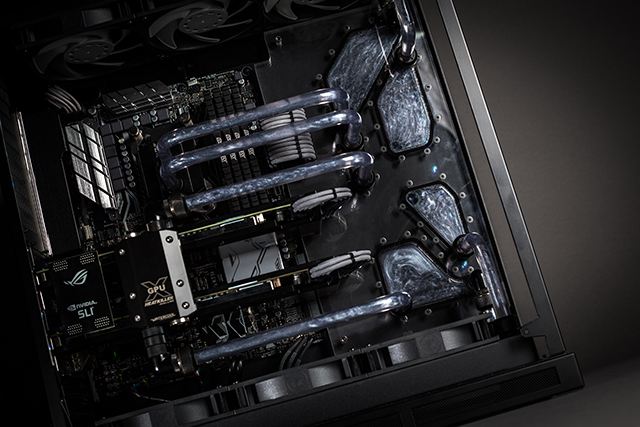 With about a dozen mods under your belt, have you noticed a consistent modding style?
I like to take a clean approach to mods. Modding, for me, is to add a functionality to a case that it didn't have from the factory, without altering the look and feel of the original design. I want my mods to feel like the OEM intended the build to fit and feel as they intended.
Is there a modding technique that you haven't given a try yet, but wish you could do?
One technique that I would like to try in the future is applying an automotive finish to a computer case.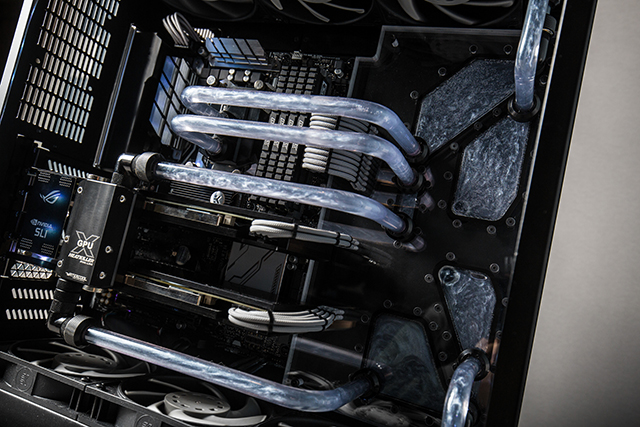 Tell us more about HoRyzen. Where did the idea come from? What did you have to do to get it to where it is now?
I drew a lot of inspiration for the work that Hans Peder Sahl does. He creates the most intricate build that feature some seriously over-designed water cooling loops. Horyzen was the project I've been wanting to do for a few years now, and the Loan Li case I chose had the perfect space for a distribution panel. The center piece for the build is the water distribution panel that required me to learn how to design in programs like Adobe Illustrator and CAD/CAM software. That block was made on a CNC machine, out of acrylic, which is something I have been wanting to do for a long time.
What do you have planned next?
My next build is going to be a scratch design, milled out of wood and aluminum on my CNC machine. The goal of the build is to design a chassis that fits my needs for the build exactly, with no wasted space or design elements. Ideally, that build would fit in a very small form factor. SFF builds are my favorite.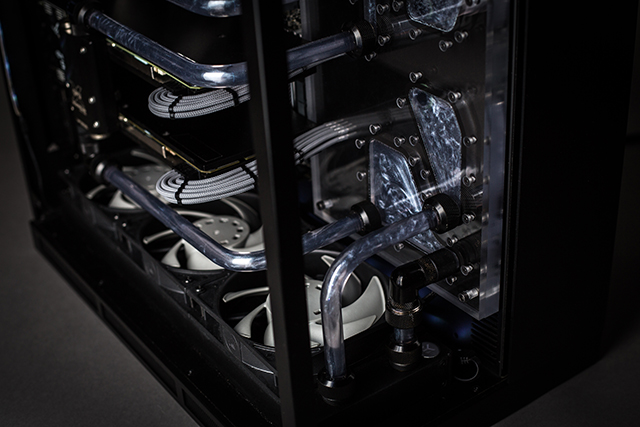 After all this time, why do you still do it?
I continue to design and build computers so I can learn how to use new tools and techniques. I apply the knowledge I use to build computers into most facets of my every day life, so everything has a purpose. Gathering tools and knowledge benefits my life well beyond computers, but who doesn't want a bad-ass computer too?
Any advice for aspiring modders?
A lot of people I see are hesitant to start modding because they aren't sure how to do something, they don't want to mess up, or they can't afford some of the things they see online or in magazines. My advice to them would be to just go for it. There's a significant chance that you can find a build thread or video someone has made that talks about what you want to do with your mods. I've watched videos from painting with spray paint to creating custom designed parts with 3D printers and CNC machines. Mods don't need to be flashy or expensive, either. One of my most popular builds was created with $12 worth of spray paint and some vinyl decals I purchased on Etsy.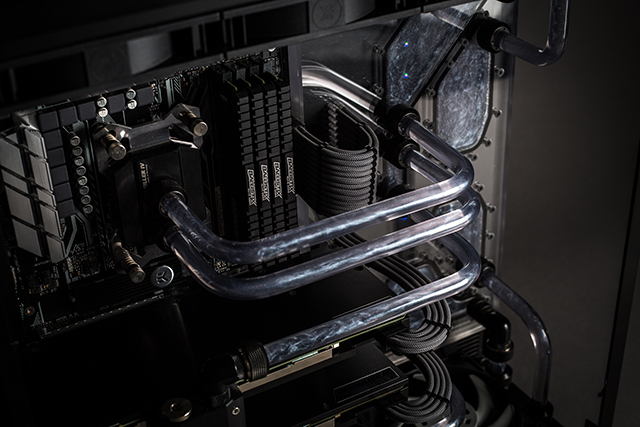 ---
Please check out Matt Mods PC's on his social channels: Instagram | Twitter | Facebook.
If you know of a rig that we should feature on GeForce Garage, let us know in the comments below.