Build A Lightning-Fast GeForce GTX 980 Ti PC For $2,000
GeForce Garage
,
Guides
Check out our previous budget build guides: $1,000 | $450
With a higher-end budget of $2,000, you can build a magnificent PC with a powerful GeForce GTX 980 Ti graphics card at its heart. That means incredibly detailed 4K resolutions with playable framerates, even with graphics-intensive games such as Star Wars Battlefront and Fallout 4. And while the reference GTX 980 Ti is chock-full of blistering fast performance, there are plenty of third-party custom cards as well, each one tailored and tweaked differently than others. No matter what you're looking for, be it a highly overclocked version, a liquid-cooled design, or even a silent-running card, there's a GTX 980 Ti with your name on it, just waiting to be installed into your brand new rig.
And thanks to the GTX 980 Ti's cutting edge Maxwell architecture and DirectX 12 support, you'll be able to witness awesome in-game effects such as VXGI (Voxel Global Illumination), MFAA (multi-frame anti-aliasing), DSR (Dynamic Super Resolution), NVIDIA G-SYNC, and much more. You can also explore GeForce Experience's one-click optimizations and custom sliders to manipulate your in-game settings.
Plus, going with a GTX 980 Ti means you can take part in the GeForce Experience Early Access Share Beta, which comes with GameStream Co-Op, where you can invite a friend into a game you're currently playing. While they're connected, they'll be able to watch the onscreen action as it happens in real time, and—in supported games—they can also take direct control whenever you'd like, so you can take a much-needed breather or get a second set of hands on a particularly tough boss battle.
Of course, when building a new PC, the GTX 980 Ti is only part of the equation, albeit a vital one. You'll also require a sturdy, roomy chassis, a respectable motherboard, a speedy CPU and a trustworthy CPU cooler, plenty of quality RAM, a dependable power supply, and naturally, a surplus of storage space for your games, videos, photos, and other files. That said, hand-picking all of the right parts can be a long and complex task, even with a generous budget. That's why we went ahead and took care of that for you, and even provided some cost-similar alternatives as well. All you need to do is read down the list, click on the links, order the components, and wait for them to arrive.
If this is your first PC-building adventure, don't worry—putting together a rig really isn't that scary, especially when you've got the right tutelage. There are a lot of useful reference guides out there, such as those on our very own GeForce Garage. Perusing technical forums, such as such as Tom's Hardware and [H]ard|OCP, is a great way to gather direct feedback on any questions that might pop up. And since this is a PC, you can always swap out the parts or upgrade them whenever you see fit, very much unlike the consoles. There's nothing quite like the feeling of polishing off a new build, powering on your rig, and seeing it boot for the very first time. It's an exhilarating sensation that you just can't get from unboxing a PlayStation 4 or Xbox One.
The Build
Component

Product

Price*

Graphics Card

Asus Strix GeForce GTX 980 Ti

Chassis

NZXT Phantom 530 ATX Full Tower

CPU

Intel Core i7-6700K 4.0 GHz Quad-Core

CPU Cooler

Corsair H110 Series All-In-One

Motherboard

Asus ROG Maximus VIII Hero LGA 1151

RAM

Crucial Ballistix Sport 16GB (2 x 8GB) DDR4-2400

SSD

OCZ Trion 100 Series 960GB SATA III

PSU

EVGA SuperNova 850W G2 80 Plus Gold Fully Modular

 

 

 

Total Price

$1978.90
*Please note: All prices are those at the time of writing.
---
Graphics Card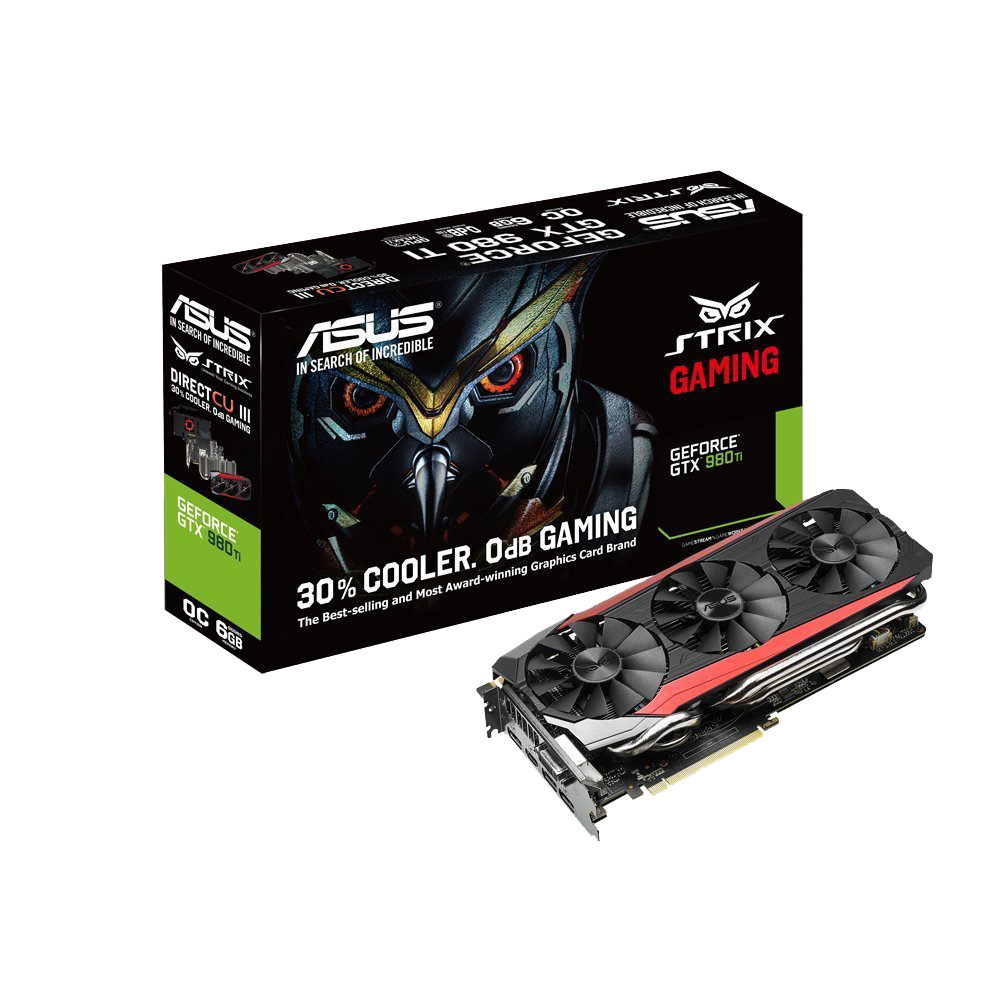 Asus Strix GeForce GTX 980 Ti: $649.99
The GeForce GTX 980 Ti graphics card is the perfect choice for the hardcore gamer looking to crank out maxed graphics settings on high-resolution panels. 4K gaming is absolutely a reality with this card, and it'll absolutely rip through everything else at lower resolutions. While there's certainly nothing wrong with installing a reference card, we decided on the Asus Strix 980 Ti instead. It comes armed with a sizable 1317 MHz boost clock (in OC mode), and a 7200 MHZ memory clock. It also replaces the standard cooler in favor of Asus's DirectCU III, which includes a massive underslung heatsink with a dual 10mm heatpipe. On top of the heatsink there are three patented triple-winged fans. Asus claims that this whole setup results in 30% more cooling performance and up to three times quieter operation than a reference 980 Ti.
If you're looking for even faster clock speeds, and you're okay with a hulking three-slot card resting menacingly inside your rig, try out Zotac's GTX 980 Ti AMP! Extreme. It comes out of the box with a staggering 1355 MHz boost clock and an equally impressive 7220 MHz memory clock, but you can likely push the card even more with some careful overclocking and testing, thanks to the oversized cooler.
For a full list of available GTX 980 Ti's, check out our custom card roundup for all the details. No matter which card you choose though, you'll benefit from all the advanced NVIDIA features, such as MFAA, DSR, NVIDIA G-SYNC, and more.
---
Chassis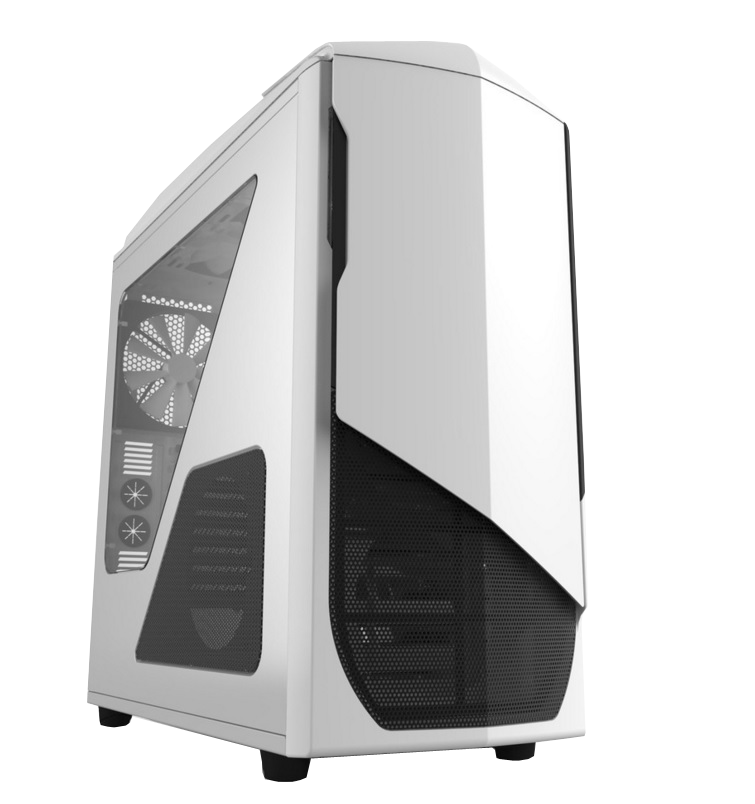 NZXT Phantom 530: $103.99
The Phantom 530 is a shining example of functionality and beauty working in harmony. Inside the artistically curved full-tower ATX chassis there's plenty of open space for your hands and fingers to operate, and loads of useful extras. It has a completely modular hard drive tray, a dedicated SSD mounting spot tucked cleverly behind the motherboard backplane, a 10-port fan hub, 34 mm of clearance for routing all your cables, and a 30 watt fan-controller.
For cooling, the Phantom 530 comes with a 140 mm rear fan, and a 220 mm front fan. It also has built-in liquid cooling support, should you want to head in that direction. On the front panel, you'll have easy access to two USB 3.0 slots and a pair of audio ports. And while the Phantom 530 is gorgeous on the outside, it also has a large side-panel window, so you can peek at all the equally alluring hardware inside it.
As an alternative to the Phantom 530, Corsair's Vengeance Series Black C70 forgoes a futuristic design in favor of a more straightforward black, rectangle motif. It's an ATX mid-tower (compared to the full-tower size of the Phantom), but it's still plenty spacious, and it includes two 120 mm front fans and a 120 mm rear fan. If you find yourself moving your chassis around often, this case has two collapsible handles on top to ease your endeavors. For a paltry few more dollars, you can even get one with a slick military-green paint job.
---
CPU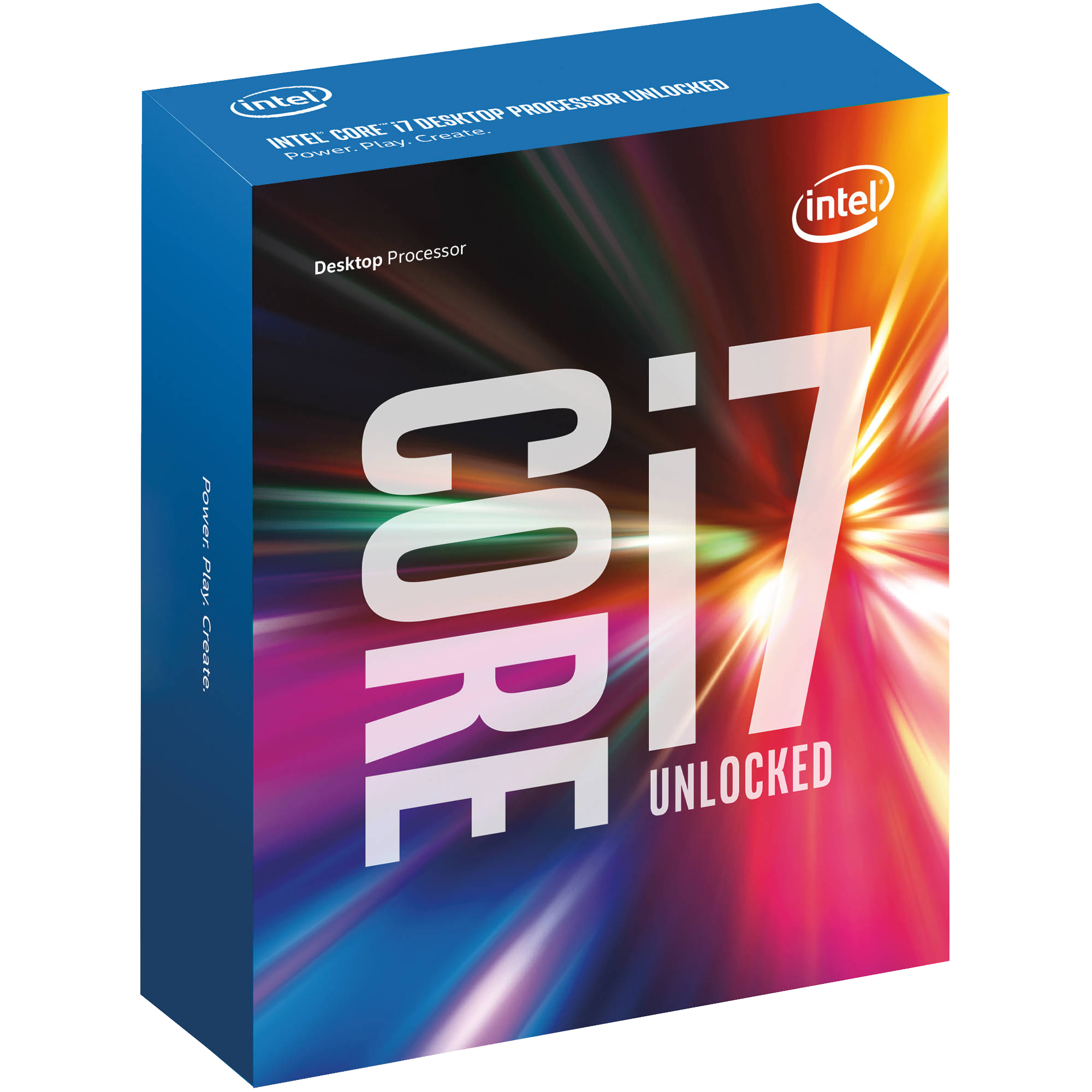 Intel Core i7-6700K 4.0GHz Quad-Core: $409.97
Intel's latest architecture, Skylake, is officially upon us, and a whole new batch of CPUs have come with it. In particular, reviewers have praised the Core i7-6700K for its energy efficiency and raw speed, and we're inclined to agree with them. For the money, the Core i7 6700K is a terrific deal, and it'll likely last you for years. While not as much of a heavy lifter as your GPU in games, many titles will nonetheless benefit greatly from the 6700K's performance increases, especially ones that are multi-thread optimized. The 6700K pops into a brand new socket (LGA1151), and it also unleashes new chipset support, in the form of Z170.
This processor comes configured with a standard 4.0 GHz clock speed, and a 4.20 GHz turbo-boost setting, but thanks to having an unlocked multiplier (that's what the "K" stands for at the end of the part's name), it's easily overclockable given the right cooling to go with it. As Guru3D reports: "The Core i7 6700K is a terrific 14nm desktop CPU with improved instruction sets, better performance, DDR4 compatibility and decent overclocking headroom. I have no doubt that some of you can reach 5 GHz on this CPU."
As of now, the 6700K is the king of the LGA1151 realm, so there aren't many similar alternatives in cost and performance. But if you need to save some room in the budget, and you're still feeling the Skylake tug, you could always opt for a Core i5-6600K instead. It's not quite as powerful as the Core i7-6700K, but its 3.5 GHz clock / 3.9 GHz turbo-boost frequency and 6MB of L3 Cache are nothing to scoff at, and it's straightforward to overclock, since it's unlocked. The Core i5-6600K is also compatible with our selected motherboard, as it's an LGA 1151 part.
---
CPU Cooler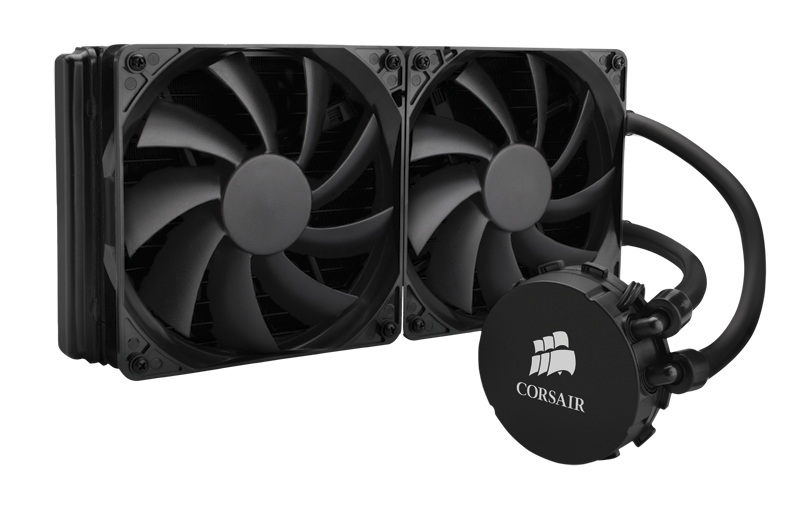 Corsair H110 All-In-One: $114.99
Mid-range and upper tier processors often generate more heat than their budget siblings, especially when stressed during intensive CPU-heavy games or tasks. When a CPU gets too hot, a whole host of issues can crop up, including frustrating system crashes and lockups. That's why it's always a smart plan to purchase a third party cooler rather than installing the standard heatsink and fan that ships with the CPU (although with Skylake's "K" processors, a standard heatsink and fan aren't included, so you'll need to order one regardless). By using Corsair's H110 all-in-one liquid cooler, you'll ensure your stupendous new CPU stays stable and reliable, and OC-ready.
The H110's plus-sized 280 mm radiator and pair of 140 mm fans are a step above many other all-in-one combo units, and Corsair claims it's much quieter as well—only 35 dBA on average. One of the most enticing aspects to all-in-one coolers is how easy they typically are to install. The H110 continues this tradition, and all you need to do to get it pumping away is to pick out the correct mounting bracket (included in the box), secure it to your thermal-paste covered CPU, and then attach the radiator to the rear of your case. You'll never need to worry about servicing it or fiddling with custom-cut coolant tubes.
If you want to push your CPU's clocks to the absolute brink, and you've got a little wiggle room with your budget, NZXT's Kraken X61 all-in-one cooler won't let you down. Like the Corsair H110, it has an oversized radiator and a pair of fans to go with it, and 16 inches of thick, black tubing, making placement and setup easier than ever.
---
Motherboard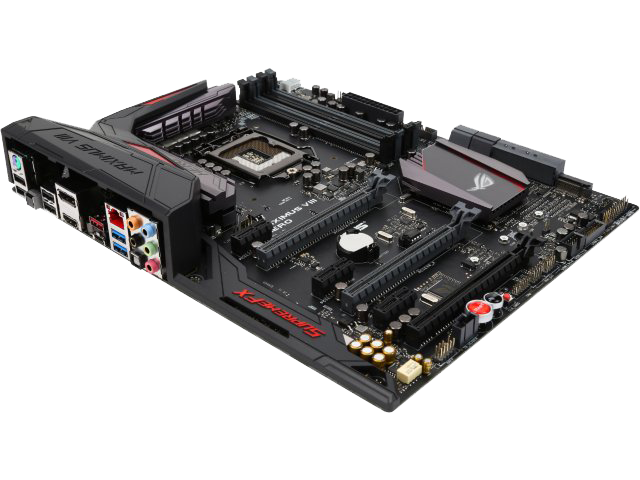 Asus ROG Maximus VIII Hero LGA 1151: $219.99
The Core i7-6700K is an LGA 1151 CPU, and that means it'll only work in an LGA 1151 motherboard. But not just any motherboard will do—our processor deserves one with a ton of supporting features and stellar performance. After all, dropping a fancy processor into a vanilla motherboard would be like sticking a turbocharged V8 engine into a rusty station wagon. The Asus Maximus VIII Hero pairs perfectly with the 6700K. Built off the new Z170 chipset, this board supports four channels of DDR4 memory (up to 3600+ MHz overclocked), and comes with a pair of USB 3.1 ports, allowing up 10 Gb/s speeds with supported devices, and six total USB 3.0 connections.
The Z170 architecture is a huge improvement over last-gen chipsets for PCIe slots. The Maximus VIII has a dedicated x4 PCIe M.2 socket (M.2 looks to be the natural successor to traditional SATA SSDs), three x16 PCIe 3.0 slots (one controlled by the chipset, and two by the CPU), and three x1 PCIe 3.0 slots. The Maximus VIII has good overclocking potential as well, and TweakTown reports: "The board was…able to handle 4.8GHz with 3600MHz on the memory and it did so with ease. Asus's built-in OC profiles and features further sweeten the deal."
ASRock's Z170 Extreme6 is also a strong option for the 6700K, with very similar pricing and features. Tom's Hardware praises the board for its high overclocking potential and impressive value. 
---
RAM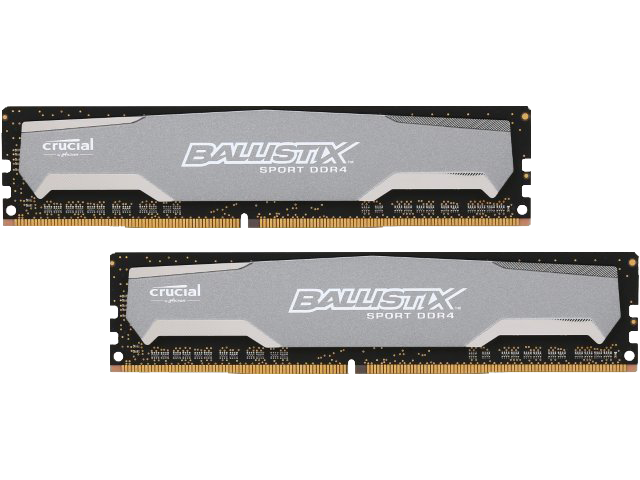 16GB (2 x 8GB) Crucial Ballistix Sport DDR4-2400: $109.99
It's official: 16GB of RAM is the new norm for advanced PCs. Fortunately, DDR4 RAM prices are more affordable than before, which means 16GB doesn't have to put a huge dent in our build's budget. Crucial's Ballistix Sport sticks offer 2400 MHz speed, and the jet-black PCBs are covered by grey heat spreaders to keep the modules cool. An added bonus is that these particular sticks are standard-sized, ensuring that just about any CPU air-cooler will fit over them.
Alternatively, if you plan on always using an all-in-one liquid CPU cooler, the extended height of Corsair's Dominator Platinum Series won't be an issue. The Dominator modules are slightly faster than the Ballistix, resting at 2666 MHZ stock, and they also have nifty customizable lights on top of the bar that covers their heatsinks. The Dominator line is so well respected that Maximum PC used it in their 2015 Dream Machine.
---
SSD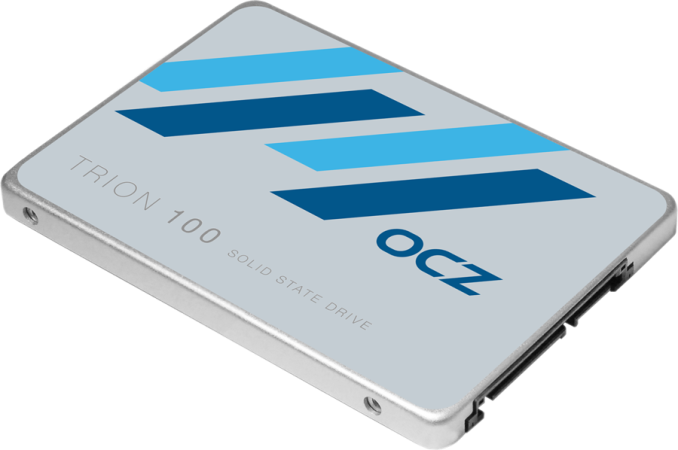 OCZ Trion 100 Series 960GB SATA III: $249.99
Storage enthusiasts rejoice! With the right budget, such as the one for this build, you can safely ditch a mechanical hard drive in favor of a much faster and less error-prone SSD. The OCZ Trion 100 Series is built around the normal 2.5 inch spec, so installing it is a snap. With almost a terabyte of space at its disposal, you can place a gargantuan amount of games on it and still have room left over for photos, videos, and documents. You'll no longer have to wrack your brain over which items to remove to make space for vital software.
Aside from the Trion 100 Series' generous capacity, it has a SATA 6 Gb/s interface, and a max sequential read speed of 550 MB/s, and 530 MB/s for write speed. Plus, OCZ includes a three-year warranty with free RMA shipping and quick replacement should anything happen to go wrong. 
For straight gigabytes-to-dollars, the Trion 100 Series takes first place, but there are still plenty of other SSD options. For example, the Crucial MX200 offers 1 TB of space, and has a sequential read speed of 555 MB/s and a sequential write speed of 500 MB/s. The Samsung 1TB EVO is incredibly similar too, and priced roughly the same.
---
PSU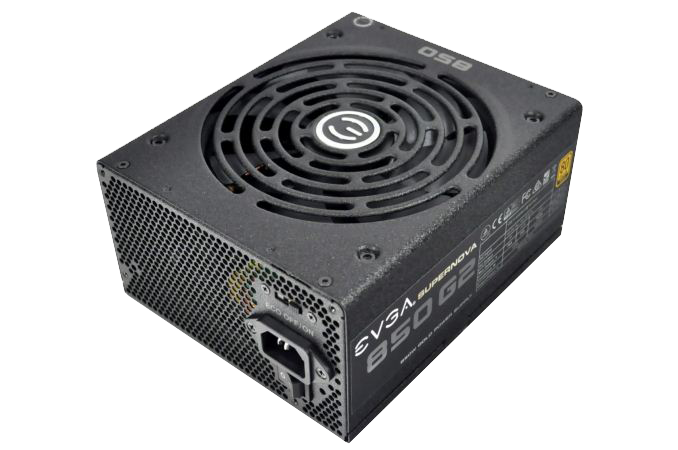 EVGA SuperNova 850W G2 80 Plus Gold Fully Modular: $119.99
When you buy high-end components, it only makes sense to give them the most efficient, cleanest power possible. Going with a no-name, low-wattage PSU is a recipe for disaster, as it can result in damaged and unstable hardware. Your PSU provides the life-blood to the rest of your rig, after all. EVGA's SuperNova 850 Watt G2 is 80 Plus Gold certified, and EVGA claims it's 90% efficient during standard operation.
The electrical current is passed through to the connector cables via a high-amperage single rail, which EVGA claims reduces energy loss and optimizes power flow. Since the PSU is fully modular, you'll only have to plug in the cords you absolutely need, which minimizes cable clutter, freeing up airflow and lessening time spent with zip-ties and Velcro straps. The SuperNova is even strong enough to handle a pair of GeForce GTX graphics cards in SLI, which is a terrific option should you wish to really bump up your framerates.
Corsair's RMx RM850X is also a wonderful power supply, and it shares many of the SuperNova's features, including the 80 Plus Gold certification and fully modular cable connections. It's just about identical in pricing too, so it really comes down to which brand you tend to prefer.
---
Optional Extras
Unless you've built or owned a PC before, you'll need some extra items to accompany your rig. We've included all the most important pieces of gear below. Since turning on a brand-new PC and forgetting to buy an operating system would be a pretty profound buzz-kill, take a look over the list to make sure you're not leaving anything out.
---
Conclusion
By following this guide, you'll have a truly potent PC at your disposal—one that will happily crush just about any game you throw at it, even at high resolutions such as 2560 x 1440 or 4K. With the Maxwell-powered
GTX 980 Ti
, you'll also have access to a whole array of NVIDIA features, such as VXGI, MFAA, DSR, G-SYNC, and more. You'll also be able to take advantage of GeForce Experience, where you can use handy one-click optimizations and automatic driver updates. No matter what kind of games you favor, this build will ensure they run smoothly, and as amazing-looking as possible.
Want to share your own $2,000 build? Have any favorite parts that we might have missed? Let us know in the comments section below!