GeForce Garage: GTX 1070 Ti Build Guide
GeForce Garage
,
Guides
,
Videos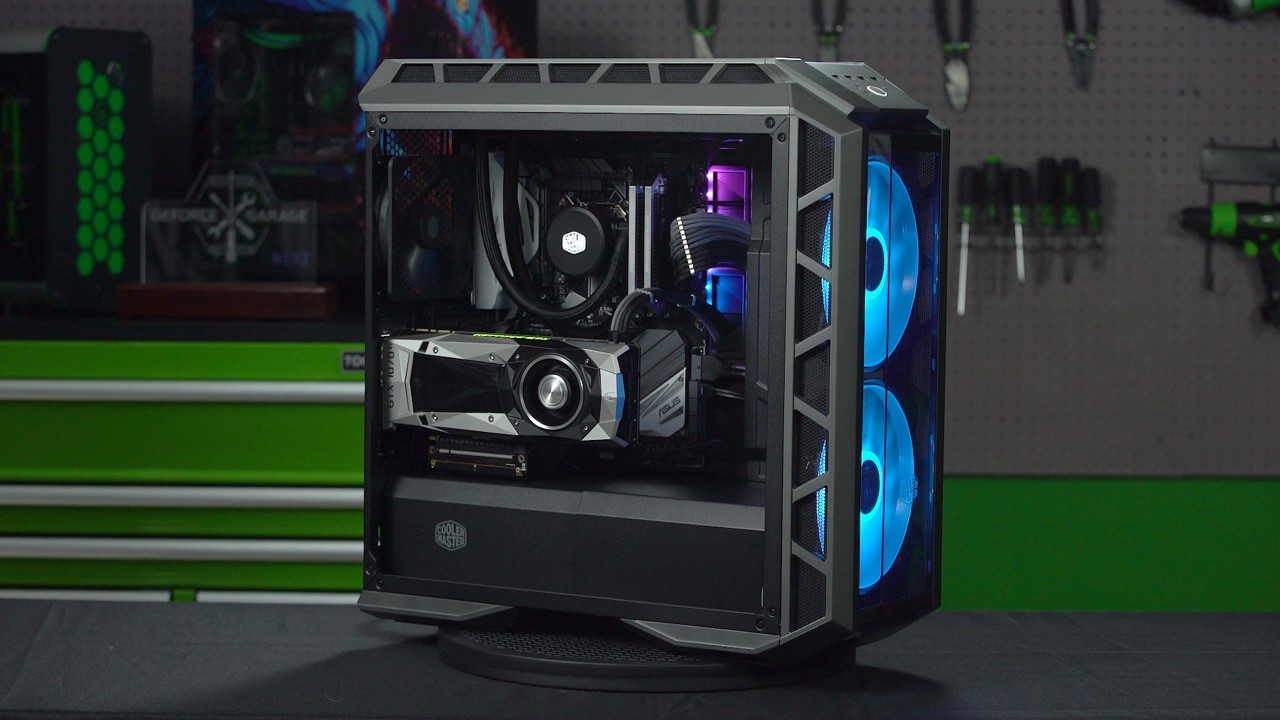 Here in the GeForce Garage, nearly any reason is a good one for building a new killer gaming rig. But this month we couldn't resist. Some of the hottest games and most amazing new hardware have claimed this season for their launch window, including our very own Pascal-powered GTX 1070 Ti video card. The 1070 Ti is an amazing options for gamers looking for uncompromised performance at an affordable price point.
Comprised of hardware fresh to the market, this new build is targeting the most demanding games equally new to gamers. Visual stunners like Assassin's Creed Origins and Destiny 2 are now available for the PC gaming masses. So we're looking towards some recent released components to fully enjoy these and other titles the way they were meant to be played, with all graphics settings maxed and at the highest resolutions possible.
Intel is making big waves with their successful Coffee Lake i7-8700 and i5-8400 processor launches. Of the two, we've dropped the burlier 6-Core/12-Thread i7-8700K in this build. New processors bring new mainboards and the various end partners have not disappointed, each offering a wide range of Z370-chipset motherboards from which builders can choose. Though difficult, we opted for the modest but feature–rich ASUS Prime Z370-A motherboard.
In addition to using Toshiba's latest SSD- the TR200, another brand-spanking new component key to our "All-New" motif for this build, is the new Cooler Master MasterCase H500P PC chassis. With its massive 200mm RGB fans glowing in the front, the H500P makes a striking presentation. It offers more features than much of the competition in its class, leaving us wanting for very little. We get ample room to build with adequate air-flow to keep system temps to a minimum with the style worthy of a killer new GeForce Garage build guide.
So let's dive right and taker closer look at our selected components.
GTX 1070 Ti Build
Component

Product

Price*

Chassis

Cooler Master MasterCase H500P

Graphics Card

GeForce GTX 1070 Ti

CPU

Intel i7-8700k

AIO

Cooler Master MasterLiquid 240

Motherboard

ASUS Z370 Prime-A

RAM

Corsair Dominator Platinum 32GB (2x16) 3000Mhz

Storage

Toshiba TR200 960GB

PSU

EVGA SuperNova G3 850W

 

 

 

Total Price

$2051.89
*Please note: All prices are those at the time of writing.
---
Chassis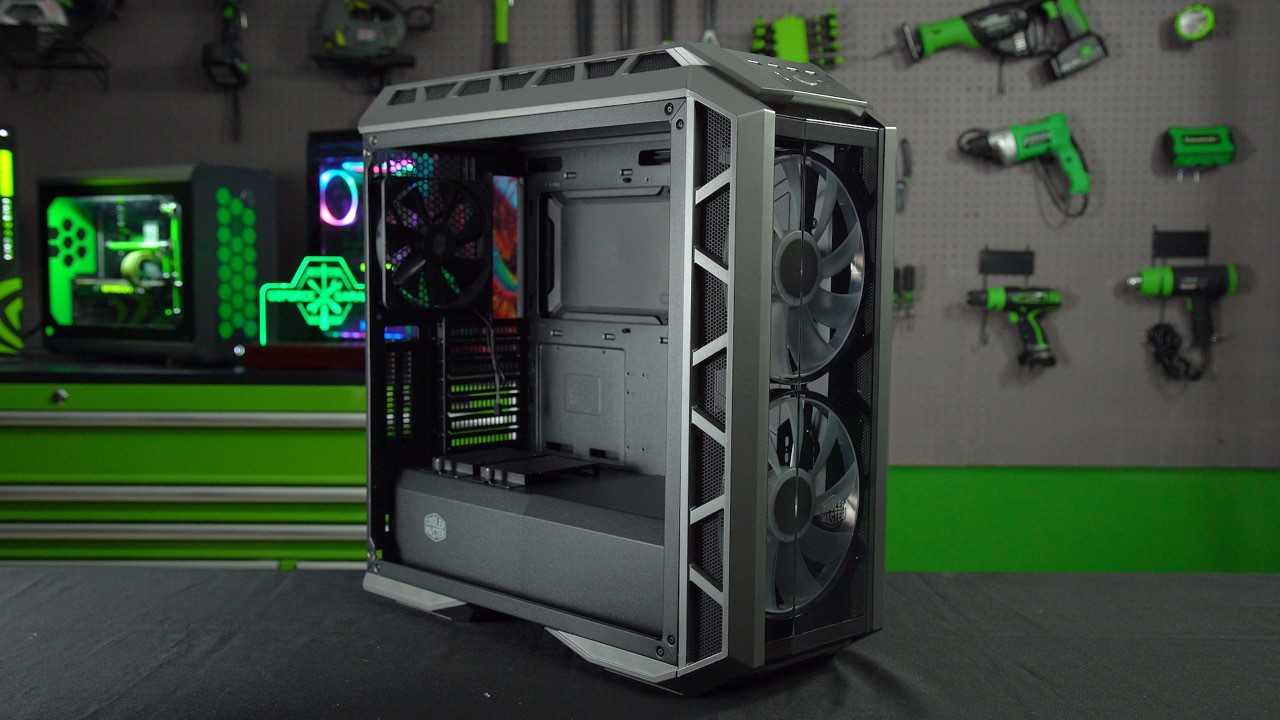 Cooler Master MasterCase H500P: $149.99
The MasterCase H500p lives up to its claim, offering a mind-blowing design. It's elegant and seizes your attention at first glance. This is a full tower ATX PC Chassis with 2x internal 2.5" SSD bays and 2x 3.5" bays. It features accommodations for up to 360mm radiators at the top and front. All fans supports RGB lighting via the included splitter cable with 4-pin adapter. This one even comes with a vertical mount for our 1070 Ti GPU. Just remember, riser cables are sold separately. Connectivity options include 2x USB 3.0 ports and a 2x USB 2.0 as well as audio-in and out ports with HD Audio support.
The MasterCase H500P is an incredible case both visually and in terms of room to work. It's spacious and keeps our component cool for intense gaming sessions.
---
Graphics Card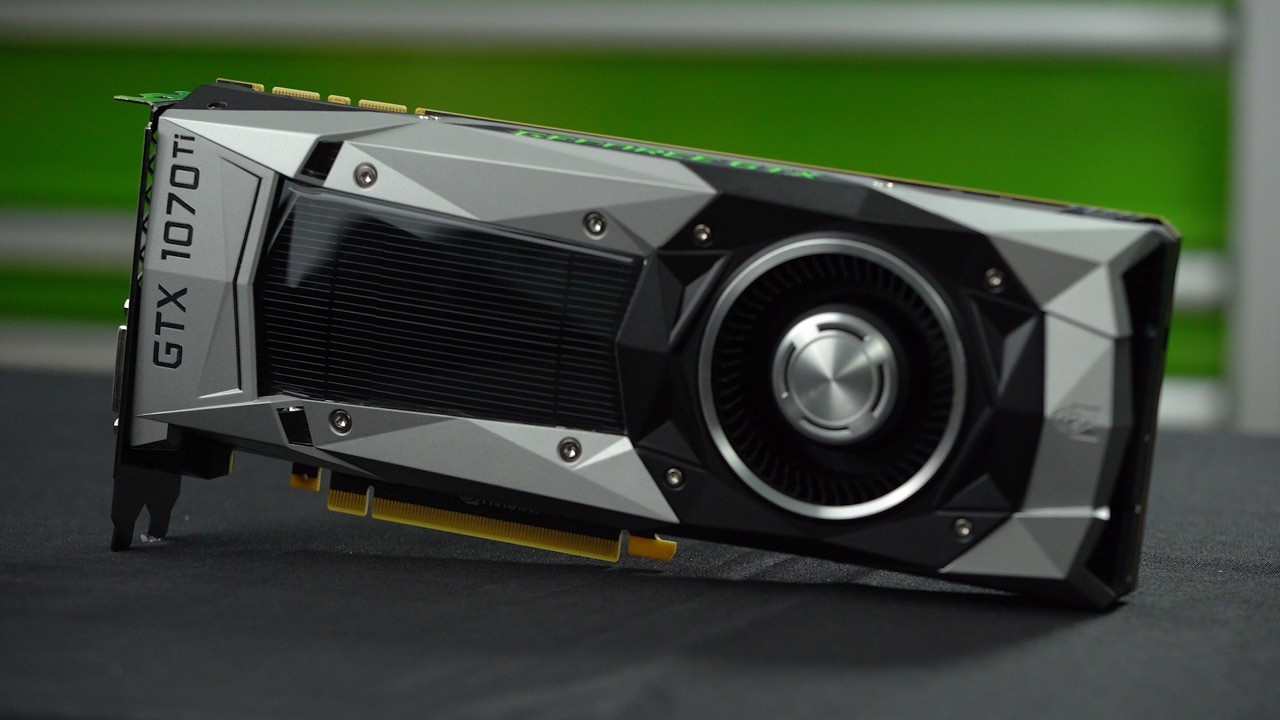 GeForce GTX 1070 Ti: $449.00
It's finally here! The GeForce GTX 1070 Ti is in stores now offering gamers the most affordable solution to dial-up the visuals in this season's most demanding game titles. The GTX 1070 Ti is powered by our award-winning Pascal GPU architecture. It features 2,432 CUDA Cores with 8GB of memory all cranking at a whopping 8GBs, reaching a max bandwidth of 256 GB/s. The Base Clock is 1607 with a Boost Clock of 1683. This allows gamers to push those graphic setting and in-game resolutions further than previous generations.
Get the most out Middle-Earth Shadow of War, Destiny 2, Project CARS 2, Assassin's Creed Origins and many more. The 1070 Ti is VR and SLI ready with full support for all the customary NVIDIA GeForce bells and whistles that gamers love like GeForce Experience game management and tools, ShadowPlay video capture, G-Sync frame rate and refresh rate syncing, GameStream, NVIDIA Ansel and more. The video card features a single DisplayPort 1.4 port, HDMI 2.0b and DL-DVI for your connectivity options.
---
CPU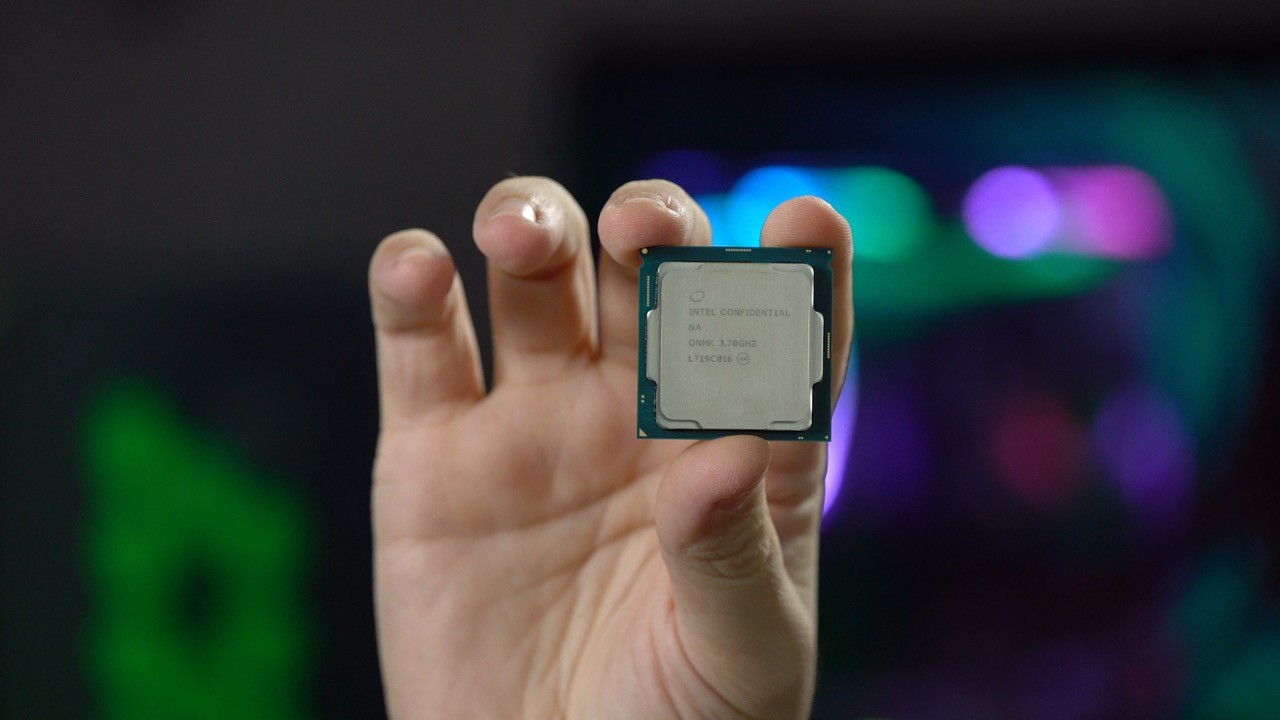 Intel i7-8700k: $399.99
The 8700K is the unlocked flagship variant of the recent Coffee Lake processor launch. While the entire Coffee Lake line sees significant improvements over previous generations, the 8700K specifically is a 64-bit 14nm hexacore processor boasting 12 threads to burn through multithreaded applications and games. Its default speed clock is 3.7GHz with a max clock of 4.7Ghz. With adequate cooling Intel's newest can hit 5GHz and above with ease. The CPU supports DDR-2666 memory, which can reach well over 4000Mhz with kits from specific manufacturers like Corsair and GSKill. This is the perfect processor to the take the captain's chair in this all-new build guide.
---
AIO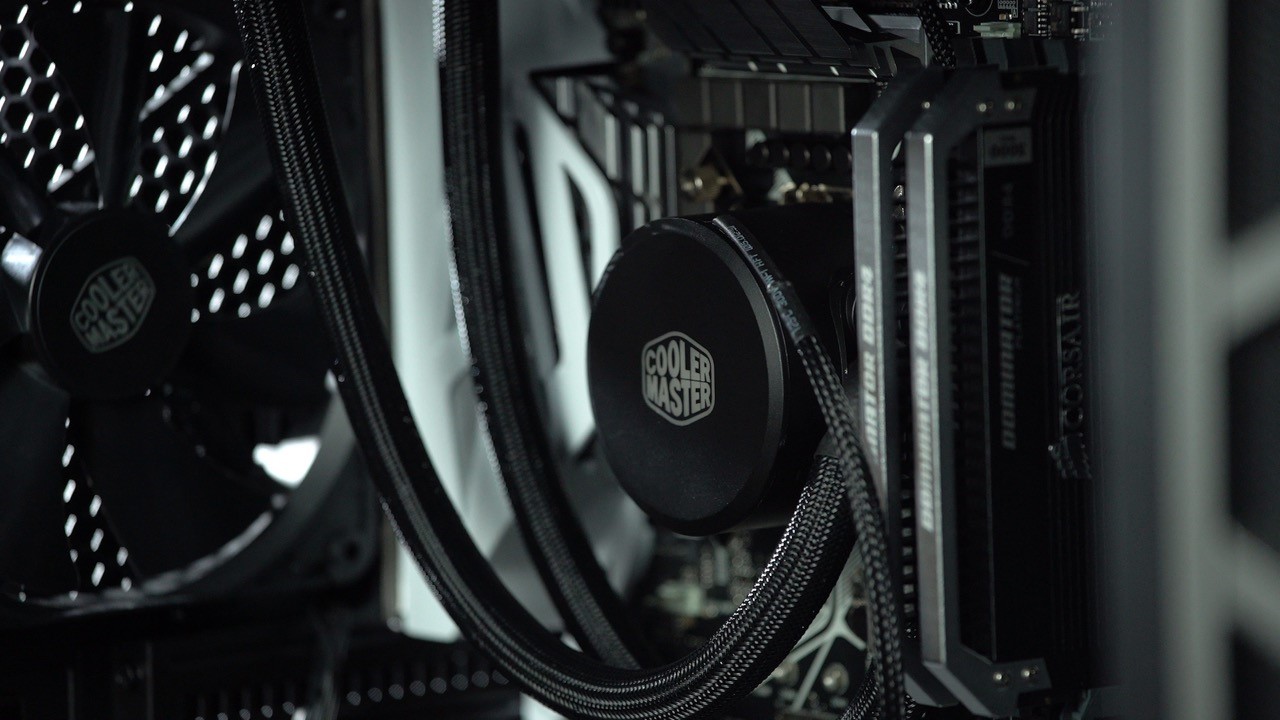 Cooler Master MasterLiquid 240: $87.95
If you're looking for an efficient hassle-free cooling solution beyond conventional air coolers, then a solid all-in-one liquid cooling option is your best bet. The MasterLiquid 240 is one of the latest coolers from Cooler Master. It features a set of low-profile dual chamber pumps to increase performance and durability over single pump solutions, push-pull fans and sleeved FEP rubber tubing. The MasterLiquid 240 is efficient affordable and super simple to install with a single screwdriver.
---
Motherboard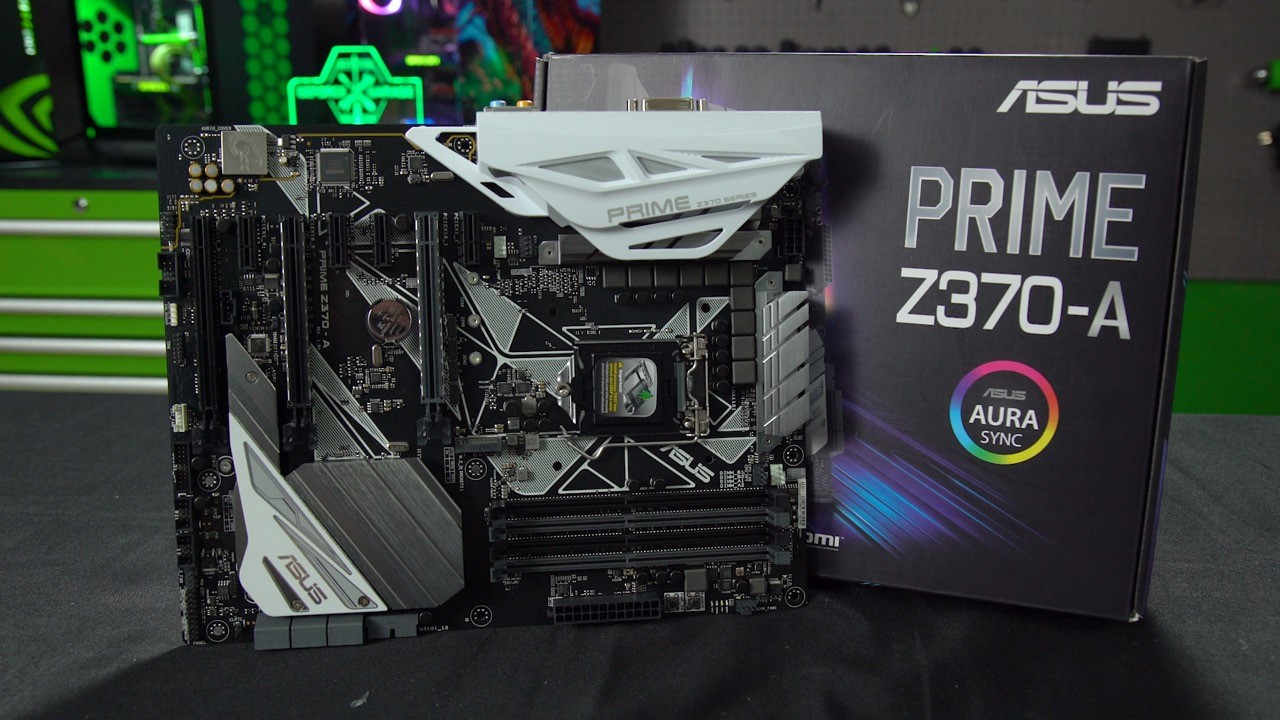 ASUS Z370 Prime-A: $174.99
The company has built the Prime Z370-A motherboard exclusively to leverage the most that the 8th generation Intel Core Coffee Lake processors have to offer with support for Thunderbolt 2 and Intel's new Optane Memory modules. The board serves up support for DDR 4000 overclocked memory. We get dual 32GB/s M.2 x4 NVMe storage, dual front USB 3.1 internal connections, 6x SATA 6GB/s.
ASUS has tossed in a Realtek S1220A Crystal Sound 3 audio processor with 120dB SNR stero playback output and 113dB SNR input support, with De-pop circuit and premium capacitors to add life to your music and games.
Other connectivity options around the back I/O port include 2x USB 3.1 Gen 2 Type-A/C, DisplayPort, DVI port, HDMI port, 2x USB 2.0 ports, Intel LAN, 2x USB 3.1 Gen 1 ports and 8-channel audio DTS optical-out. To seat your GPU/s the board has 3x PCIe 3.0 GEN 3.0 for single GPU with support up to 3-Way SLI.
The ASUS Prime Z370-A is a cutting-edge foundation for any Coffee Lake gaming system. Take it to the next level with the company's customary suite of overclocking utilities and management tools available for download from the ASUS website.
---
RAM
Corsair Dominator Platinum 32GB (2x16) 3000Mhz: $379.99
Arguably the leading name in PC memory module, Corsair is our choice here for performance and reliability. This 32GB kit of DDR4-3000 RAM ships with built-in XMP 2.0 support for simple one-click overclocking. We can also monitor temps using the company's Corsair Link desktop application. Plus the patented heatspreaders keep heat down and temps in check.
---
Storage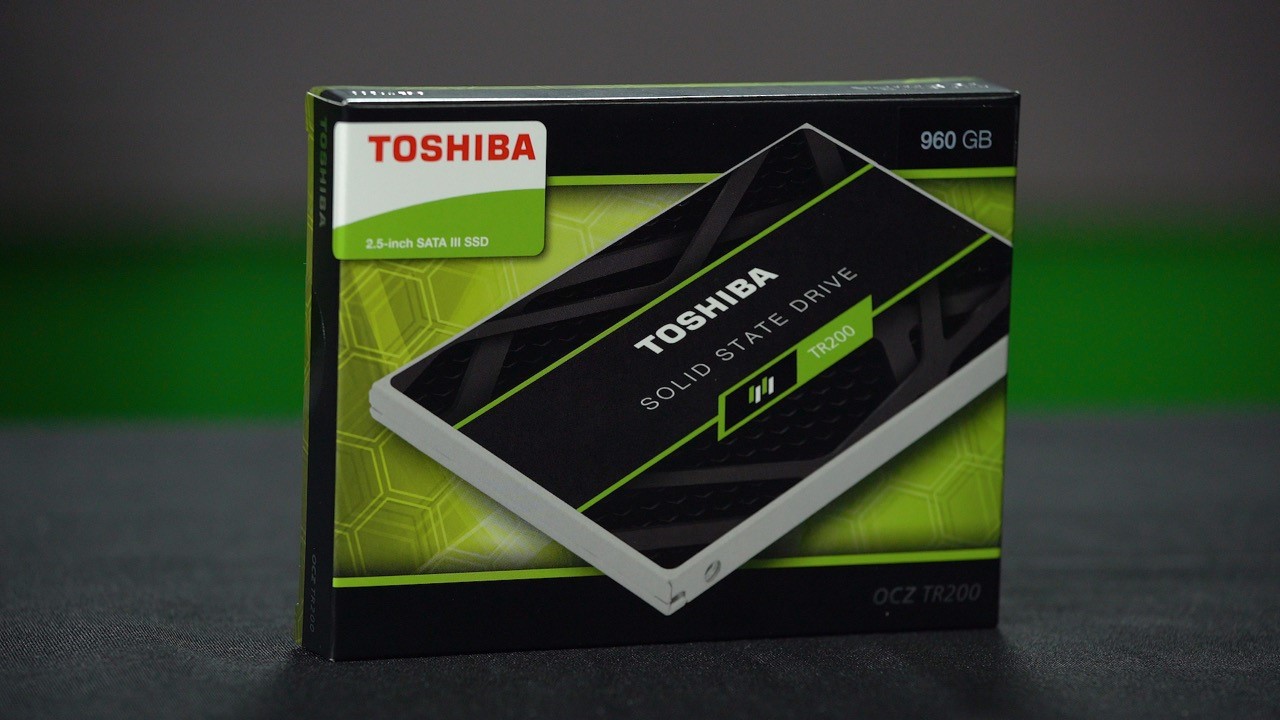 Toshiba TR200 960GB: $289.99
Here we wanted a single solution that was not only deep enough for a fresh Windows 10 installation as well as to comfortably house several of today's hottest games. But we also needed something fast and worthy of this completely all-new component build. So we went with Toshiba's new OCZ TR200 SATA SSD. Sitting on 960GB of capacity makes this a great succinct option for our storage and gaming needs. Plus can push sequential read/write up to 555Mb/540Mb respectively. Smokin!
---
Power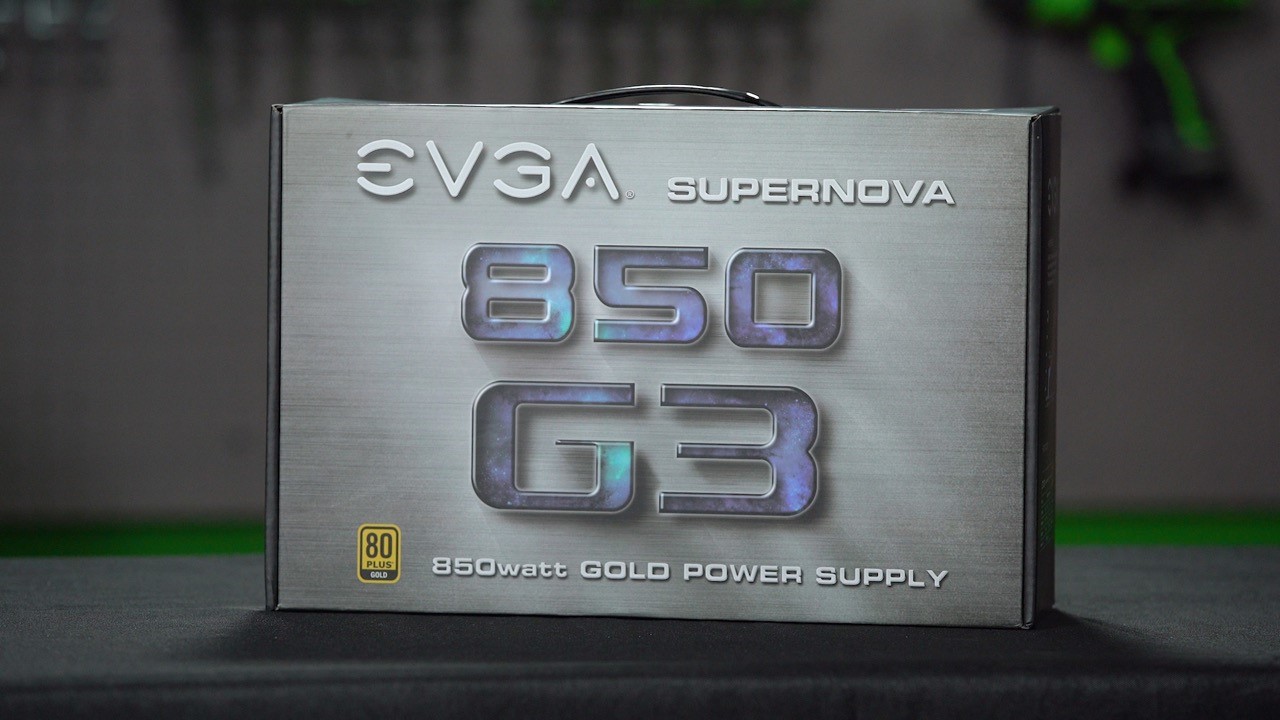 EVGA SuperNova G3 850W: $119.99
We love modular power supplies. They can often help us perfect that Spartan interior look with clean cable management for which most builders strive and EVGA is one of best in the biz having won over 70 awards for their SuperNOVA line of PSUs. Their SuperNOVA 850 G3 is an 80 Plus Gold certified 850w modular PSU. It features a convenient Power-On "Self Tester", hydraulic dynamic bearing fan for near-silent operation. The 850 G3 is extremely reliable and efficient, even offering an ECO power option for users as an alternative to powering the system down.
---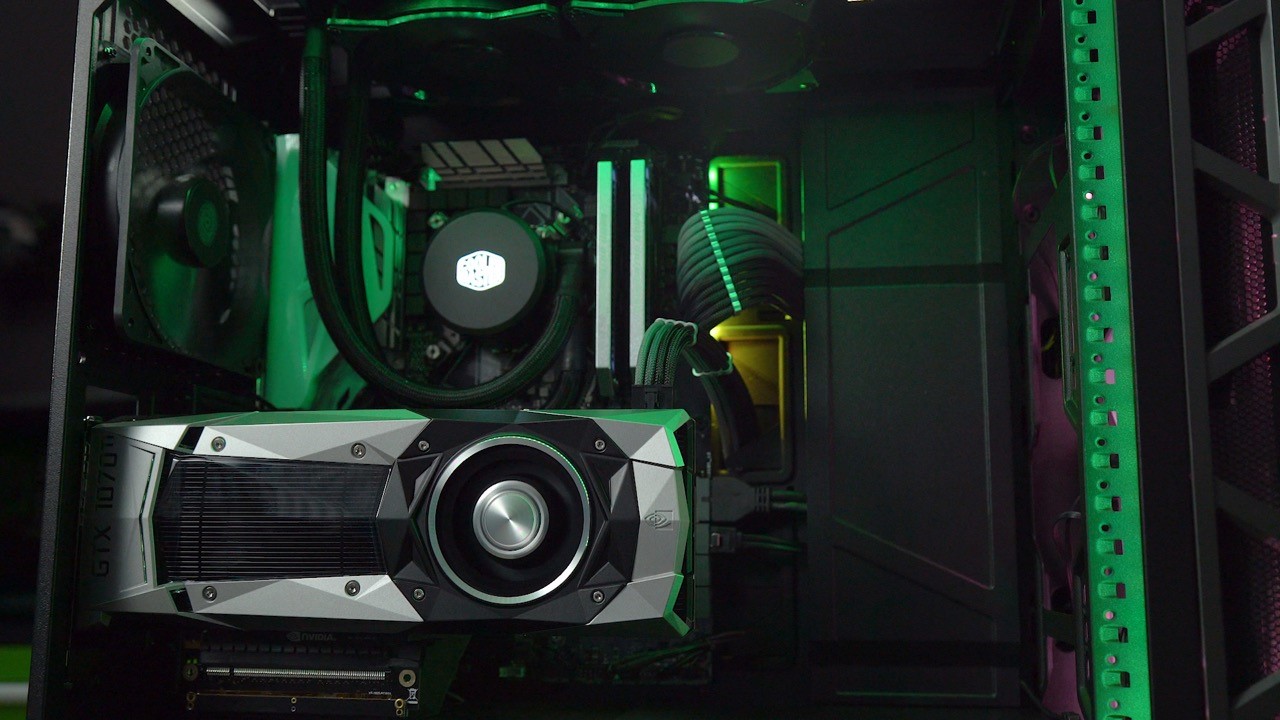 Conclusion
The end of each gaming build means the beginning of some great fragging sessions as we bring this one to a close. We have another gorgeous high-performing gaming rig with NVIDIA at its core. Pairing our brand new GeForce GTX 1070 Ti GPU with the flagship Coffee Lake CPU from Intel leaves gamers with a clear-cut winner, raising the performance bar while maintaining that attractive affordability.
Have plans for a GeForce GTX 1070 Ti-powered build of your own? Share in the comments below.